The 'Shroom
:
Issue 167/The 'Shroom Spotlight
From the Super Mario Wiki, the Mario encyclopedia
Jump to navigation
Jump to search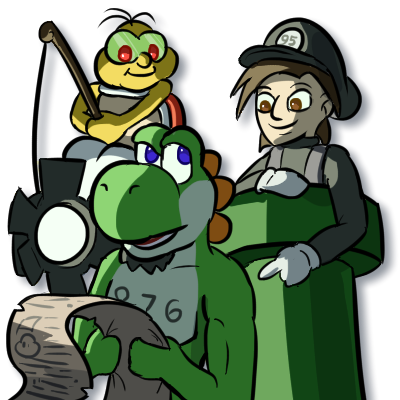 Hello readers of The 'Shroom, and welcome to Spotlight. Spotlight is a community project which aims to fix up the articles on the wiki which have issues. These issues can range from poor writing to a lack of images, to even just needing a credible source.
There are many reasons to celebrate February. Black History Month, Groundhog's Day, and Valentine's Day, to name a few. But as far as video games go, it's the anniversary of The Legend of Zelda and Pokemon series! So for this Spotlight, we'll be taking a look at some crossover elements that need some help.
And we have many reasons to celebrate January as well, as we had an amazing start to 2021's Spotlight! All of our goals were completed! The Shiny Ice Flower article (which looks beautiful, by the way) was created by RHG1951 (talk), The Mansion (talk) added the much-needed information for Nintendo Village, we got the extra information for Frozen Wario from 0blivion (talk), Doomhiker (talk) proved me wrong by finding a source for the Porky the Pig claim on Sneeze, Please!, 7feetunder (talk) not only uploaded more images for Bluey's Course, but they also corrected an incorrect claim on the article, and finally, DarkNight (talk) uploaded a much better quality version of File:BulletBill1upBounce.jpg.
And now onto this month's focuses:
| Article | Category | Focuses |
| --- | --- | --- |
| Paper Mushroom | Wanted article | The articles for the Mario Kart Arcade series have come a long way since several years ago when there was barely anything, but there's still some work to be done. Like the Paper Mushroom, an item in Mario Kart Arcade GP DX; I'd love to know what this item does, so could we get an article up on it? Pretty please. |
| Patty (Dragon Quest) | Stub article | I'd say this article is actually quite close to completion, and potentially doesn't deserve this stub tag overall. I think it could do with Patty's ranking in the games, and perhaps some explanation about her dialogue in the game, as the characters of Fortune Street love to chat. |
| Dragoon | Rewrite and expansion required | The Dragoon page has a mix of information, going back and forth between what it can do and the limits it has. There's no history from the Kirby series and there's very little Super Smash Bros. Ultimate information, too. |
| Falco Lombardi | Citation needed | Falco being named after one of the crewmembers who worked on the Super Mario Bros. movie has been a rumor that lasted a while, but is there anything that actually says that's true? |
| Fortune Street | Articles that need more images | We have a lot of lists here, but no real images to show them. The boards all have their images on their individual articles, but could use a nice table to show them on the game's article. |
| File:SSE Skyworld.png | Image quality requested | Clouds may give lower visibility, but there are ways to improve this image. For one, it could certainly be a lot clearer, and I feel that it would be better with Pit on the ground rather than in the air. As this image is just for Skyworld, the reupload doesn't have to be of this specific part of the level, and it doesn't even have to be of Pit! |
Now just before I leave you, I'd like to tell you about unimplemented proposals. There are currently sixteen that need to be implemented, one of which dates back to 2018, so think of this as a continuous Spotlight goal until they're all completed.
Thanks for tuning in to the newest edition of The 'Shroom Spotlight! Be sure to turn up next month, where we'll be reviewing the progress on the above focuses. If you have any questions or suggestions about this month's set of the article focuses, then please get in touch through the dedicated topic if you have a forum account. If not, then please contact us on Yoshi876's talk page or Alex95's talk page, but you are far more likely to get a quick response if you go through the forums. You are also welcome to make suggestions on what you think we could focus on in our next edition! Thank you, and good luck!