Warp Pipe Dreams
From the Super Mario Wiki, the Mario encyclopedia
Jump to navigation
Jump to search
Warp Pipe Dreams
Appears in
Mario Party 7
Type
Duel minigame
Music track
Fun in the Sun
Warp Pipe Dreams is a Duel minigame in Mario Party 7. Its name is a portmanteau of "Warp Pipe" and "pipe dreams," fanciful yet unrealistic hopes for things to come. It takes place in a square maze that has Warp Pipes in it.
Introduction
[
edit
]
The camera shows the Warp Pipe goal platform out of the maze and then switches to the players' view.
Gameplay
[
edit
]
In this minigame, both players are in separated mazes made of Warp Pipes (Player 1's are colored red, and Player 2's are blue), and each player has to escape the maze by going through Warp Pipes and eventually finding the right one to get into the center area, which both players can access. There is a larger green Warp Pipe that gets the player out of the maze. The first player to get out of the maze wins. If neither player does so within a certain time limit, the minigame ends in a tie.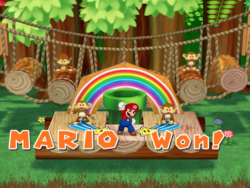 The winning player is at the goal platform, performing their winning animation with the Ukikis cheering.
Controls
[
edit
]
In-game text
[
edit
]
Rules – "Head for the goal by jumping in and out of Warp Pipes."
Advice – "Remember the pipes that you use so you don't double back on yourself."
Names in other languages
[
edit
]
Language
Name
Meaning
Japanese
どかんでめいろ
Dokan de meiro
Maze with Pipes
French
Labyrinthe & Tuyaux
Maze and Pipes
German
Rohrpost
Pipe Post
Italian
Labirintiadi
Labyrinth
Spanish
Tuberías locas
Crazy Pipes