The 'Shroom
:
Issue LX/Pipe Plaza
From the Super Mario Wiki, the Mario encyclopedia
Jump to navigation
Jump to search

Wow! Somehow it's been two years already! Two years ago (and a few months), I started writing for The 'Shroom as the Pipe Plaza director (after having been the sole updater of the original Pipe Plaza for several months) and now, I'm moving on. A new position - the Activities Director - has been created (using ideas from my directorial campaign) and SMB thought I would best be able to use these ideas, being as I conceived them. So I'm moving on from the Pipe Plaza.
However I am definitely not leaving you under bad supervision. My successor has been writing for the Pipe Plaza for over a year, he continues to produce not one but TWO excellent sections each month and he has had experience on various staff teams before. Please welcome Paper Yoshi (talk) as the new Pipe Plaza director (feel free to spam his talk page with congratulation messages)!
As for other news, there are still a few writer spots open so fill-fill-fill. I'm sure you'll enjoy Paper Yoshi's reign, so make sure to sign up under him!
More Info
Hey, everyone, and welcome to Forum Update! February was a pretty busy month for the Super Mario Boards, so let's begin!
Top Stories: Marwikedor (Marwikedor (talk)) was unbanned. However, he was soon revealed to be a sockpuppet of famous troll, RudnickiMarioX06. After this, he was banned infinitely. He even ban evaded once. On a similar subject, Majin Vegeta (GalacticPetey (talk)) was banned for a second time from the forum, this time for two months.
The Post Ranks, given for posts on the forum, were updated. The changed parts of the list are:
[...]
Luma = 900
Bowser Jr. = 950
King Bowser = 1000
Dry Bowser = 3000
Shine Sprite = 5000
Power Star = 7000
Star Spirit = 10000
Celestial Guide = 14999
Donkey Kong = 20000
Mushroom Attendant = 35000
Mushroom Princess = 50000
Yoshi = 75000
Sh*tposter = 100000

The General Entertainment board was renamed to Entertainment & Media.
Stats: In February, 587 topics were made, and 28564 posts. 43 users registered, and the most online was 129.
TOP 10 POSTERS
Smasher (Smasher (talk)) – 25717
Sharks Territory (Ralphfan (talk)) – 23541
UltraMario (UltraMario3000 (talk))– 21727
Nega-Man (Mileycyrussoulja (talk)) – 20017
Solar Blaze (SolarBlaze (talk)) – 15730
Buster Baxter (Superjeff64 (talk)) – 13885
Herr Shyguy (Shyguy27 (talk)) – 12031
Lily (Legend of Lily (talk)) – 11786
Christian Brutal Sniper (Marcelagus (talk)) – 11680
Baby Luigi (BabyLuigiOnFire (talk)) – 11632




Green signifies the user is at a higher position than last month.
Blue signifies the user is at the same position as last month.
Red signifies the user is at a lower position than last month.
Bold signifies the user is a new entry to the top 10.
Mafia: Currently ongoing are Marioguy1's (Marioguy1 (talk) Mafia Mafia, Viceroy Bubbles von Salamancer's (Nabber (talk)) The Simpsons Mafia, and Detective Dick Gumshoe's (QuizmoManiac (talk)) Mafia. And Xzealia Exdementia's (Xzealio (talk)) XzMafia 3...could be still ongoing?
Godot's (my) My Little Pony: Friendship is Mafia was won by the Mafia.
The Legend of Zelda: Spirit Tracks Mafia, hosted by Lily (Legend of Lily (talk)) was won by the Innocents and Lokomos.
Lily was accepted into the Mafia Hosts Guild.
---
Thanks for reading, and bye!
Tip of the Month: If you are repeatedly making small edits to a page and not marking them as "minor edits" you may get a warning from an administrator. Mark your edits as minor and don't make too many on the same page too many times, because a warning on a talk page does not look good for your reputation.
Hello, readers, and welcome to the March Issue of The 'Shroom! Paper Yoshi is here again, now showing you the Mario games released in the third month of the year.
March 1st, 1997 (EU): Super Mario 64 (N64)
March 6th
March 8th, 2007 (JP): Yoshi's Island DS (NDS)
March 9th
March 11th, 2005 (EU):
March 12th, 1998 (NA): Yoshi's Story (N64)
March 14th
March 18th, 2005 (EU): Mario Party 6 (GCN)
March 21st, 2000 (JP): Wario Land 3: Fushigi na Orgel (GBC)
March 25th, 2008 (JP): Dr. Mario & Saikin Bokumetsu (WiiWare)
March 26th
March 27th, 2007 (JP): Donkey Kong Jr. Math (NES-VC)
March 28th (NA)
March 29th, 2010 (NA): WarioWare: D.I.Y. Showcase (WiiWare)
March 30th, 2006 (AU): Super Princess Peach (NDS)
March 31st, 2005 (JP): Yakuman DS (NDS)
March 1995 (NA): Mario's Picross (GB)
March 1998 (NA): Wario Land II (GB)
March 2001 (JP): Super Mario Advance (GBA)
And that concludes the list for March! We shall meet again in Upcoming Games!
Hello again, readers, and welcome to the March Issue of Upcoming Games! More gaming news come as we advance deeper into the year, and that's also the case for 2012.
The Upcoming Game of the month is the eleventh in its series, however quite different from the previous ten installments. That game is none other than...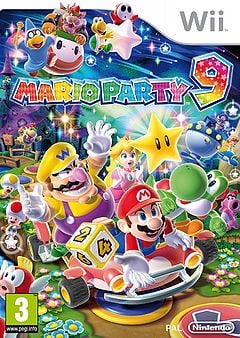 Mario Party... Nine!
Nine already? Seriously?
Mario Party 9 is the ninth home console installment of the Mario Party series, the second for the Nintendo Wii. It features twelve playable characters, two of which, the newcomers, are unlockable. The core "board game gameplay" remains virtually unchanged, but it differs from other Mario Party games in some aspects.
Players now move at the same time in a vehicle while taking turns to roll a Dice Block instead of moving individually through the board. Additionally, the objective is now to collect Mini Stars rather than the regular stars present in previous games. Those can be obtained by simply being passed by, among other means. MP9 also features new spaces, along with "old" ones, such as the Blue Space. Some returning spaces, however, have different effects, especially due to the changes in gameplay.
Aside from the usual Story and Party modes, Mario Party 9 contains various types of challenges within the Minigame Mode. It also features other game modes, such as the Extra Mode.
Release Dates
Europe: March 2nd
Australia: March 8th
North America: March 11th
Japan: April 26th
---
And that's all for this issue, folks! We'll meet again in April!
"Stay tuned to Upcoming Games for news on the games you'll be playing soon!"
Hello, and welcome to March's edition of Community Report.
Policy Changes and Updates
MarioWiki:Image use policy was modified to state that forced aspect ratios in images taken from emulators are not allowed and will be deleted.
Proposals That Ran
Currently Running Proposals and TPPs
Promotions and Demotions
There were no promotions or demotions in the past month.
Hey guys! Marioguy1 covering the NIWA News again this month! And boy do we have some news from NIWA. Not one, not two, but three new members have joined NIWA!
The first member is the F-Zero Wiki! Found at http://mutecity.org, the wiki is an up-and-coming wiki about the F-Zero series with over 200 articles on the world of F-Zero. Want to learn more about the amazing Captain Falcon (other than FALCON PAWNCH), be sure to check them out! They need contributors too, so if you're looking for something to do...
The second member will be revealed on March 23rd.
The third member will be revealed on March 30th.
That's all for NIWA News this month. Read again next month to find out who these other two mysterious members are...