The 'Shroom
:
Issue 148/The 'Shroom Spotlight
From the Super Mario Wiki, the Mario encyclopedia
Jump to navigation
Jump to search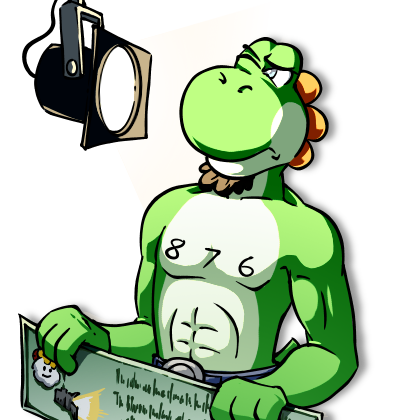 Hello readers of The 'Shroom, and welcome to Spotlight. Spotlight is a community project which aims to fix up the articles on the wiki which have issues. These issues can range from poor writing to a lack of images, to even just needing a credible source.
Welcome to July's edition of Spotlight. And this edition comes to you from a Yoshi876 who needs to say that the IP address who fixed up Lakitu Valley was in fact WigglyWiggler (talk). Thank you Mario jc (talk) for informing me on this.
We might not have achieved a full house like last month, but we did nearly complete our focuses. The two untouched focuses were our stub and rewrite-expand ones, with Piranha Grove and Hot Lips. But on the plus side, 7feetunder (talk) completed our wanted article focus, More Shocking Than the Next Episode? (three days before it even was a focus), they also added the images to Water Land. Mario jc (talk) found a source for the claim on Brawl Doll, so now hopefully I'll never have to look at that creepy article again. And finally, Revilime (talk) improved the quality on File:ToadBiddybuggy.png so it's no longer a starting blur.
And now onto this month's focuses:
| Article | Category | Focuses |
| --- | --- | --- |
| Beach Burt | Wanted article | The only non-Shy guy enemy that doesn't have an article from Yoshi's Crafted World. And given how it's Summer, maybe you can give this enemy an article while relaxing on the beach. Or sat at your computer at home. Whichever one suits you best. |
| Miss Endless | Rewrite required | The bad writing here is endless, okay not endless given the article's size, but just a skip skim-through shows plenty of flowery, unnecessary writing and a few pieces of irrelevant information. |
| Roy (Fire Emblem) | Rewrite and expansion required | Roy's our boy! But not if he's missing Super Smash Bros. Ultimate's Palutena's Guidance. This should hopefully be a small fix. |
| Pom Pom | Citation needed | According to the Prima guide of Super Mario 3D World, Pom Pom is the sister of Boom Boom. But he need a source to back this up, so if any of you have the Prima guide for this game, get sourcing! |
| Chaos | Articles that need more images | Chaos is often how my office for Spotlight looks with all the articles that need fixing. But some images of Chaos in the Mario & Sonic at the Olympic Winter Games will at least lessen the amount of chaos around me. Its spirit in Smash Ultimate wouldn't go amiss either. |
| File:Yoshifurystrike.jpg | Image quality requested | The main thing to take care of here is the watermark, that needs to go ASAP. The image could also do with losing the border, and be re-captured to be of a higher quality. |
Now just before I leave you, I'd like to tell you about the NIWA Spotlight. This is a project being run by Alex95 (talk) and can be found in this paper's Pipe Plaza section. Much like this Spotlight, the NIWA Spotlight aims to fix up articles across various Nintendo franchises, that are all part of our NIWA group. I'd also like to tell you about unimplemented proposals. There are currently eight, which is two more than last month, that need to be implemented, some of which date back to 2015, so think of this as a continuous Spotlight goal until they're all completed.
Thanks for tuning in to the newest edition of The 'Shroom Spotlight! Be sure to turn up next month, where we'll be reviewing the progress on the above focuses. If you have any questions or suggestions about this month's set of the article focuses, then please get in touch through the dedicated topic if you have a forum account. If not, then please contact myself on my wiki talk page, but you are far more likely to get a quick response if you go through the forums. You are also welcome to make suggestions on what you think we could focus on in our next edition. Thank you, and good luck!