The 'Shroom:Issue 148/Critic Corner
From the Super Mario Wiki, the Mario encyclopedia
Jump to navigation
Jump to search

Director's Notes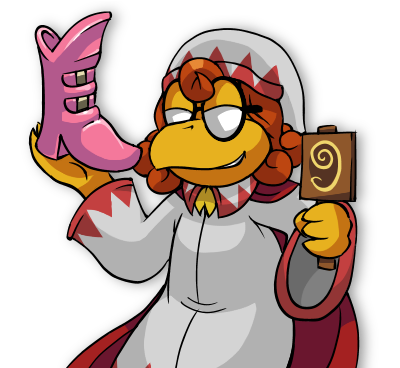 It's July, the month of my birthday! 🥳🎉🎈 We have a nice pick of sections for you this month, and pretty much all of them are long, so ditch those rainy weather boots and sink your feet in the sand and spend the rest of your hot summer with us, your friends, Critic Corner! For those of you in the global South that are experiencing winter, I'm sure you're still baking, so get some Vacation Juice and join in!
Thank you for your votes to make Half-Baked Reviews Critic Corner's Section of the Month again! Be sure to give your love to all of our sections here, and give a shout out to our writers whether in chat or in their forum threads dedicated to their sections. Be sure to vote vote vote!
The Anniversary polls have closed by now, which means it's time to sign up for presentations! You can find more information by checking out the main Anniversary page already linked, but basically what they are is a bunch of peeps in the community get together each year to do some small creative works to present the results of an award (or a few) that they've chosen. Drawings, comics, short stories, videos, even games have been done, but there is no expectation for you to create a lifetime masterpiece to do this. Just have fun with it! If there are any questions, please don't hesitate to ask me. August 16th is the big day everything is posted and the ceremony is held, so join us on the forum for it and more this month!
If you would like to help Critic Corner, we always have openings for more writers! There's no pressure to have a huge section; they can be shorter and concise! The application process is very simple, starting with reading the Sign-Up page, and sending your application to LudwigVon, our Stats Manager on the forum. On the Sign Up page, there is a list of "vacancies" that provide you with examples of the types of sections we're looking for that would fit into Critic Corner. Any idea you have is welcome!
Oh, and last thing! Coming up in September is Issue 150! We will be celebrating it in several ways with special sections and all that, but here in Critic Corner we'll have something else - a movie night! Using rabb.it or some other group video watching service, I'll be hosting a movie night some time around the release of Issue 150 where we can get together and watch some movies, tv shows, whatever you guys want to watch! After, I encourage you to take to your keyboard and type up a review of something you saw and share it with us for the next month or so; it's not required to do this to participate, but it would help support us here and show some community camaraderie. In the poll below just write in the Other category whatever movie, tv show, game, let's play, series, anything that you want to watch with whoever it is that may show up! As we get closer to the date we will set some specific times for this all.
Section of the Month
---

Visiting New York City: Part 2
Sightseeing
Despite being a photographer who is also interested in architecture, I opted not to bring my big DSLR camera, in part due to fears of it getting broken, lost, or stolen, but also that it would be a burden to carry, and ultimately a crushing moral dilemma of not really wanting to photograph in an artful manner stuff that has been photographed countless of times to complete exhaustion. Maybe if I became more familiar with the locale I would be able to spend the time and hone in the focus on things that would be worthwhile to photograph instead of just taking high quality tourist shots that I wouldn't be sharing with much of anyone anyways. A lot of my smartphone photos are regrettably blurry as we never exactly stopped or slowed down, and as I was compiling these review notes I realized there was a lot I never actually got pictures of. This feeling of not really knowing what to do with myself upon a first visit is a recurring feeling, and I believe an encompassing one as well. There is just so much diversity to take in, and no winning debate between a specialized or generalized approach, except in the fact that I had limited time, limited money, limited knowledge, limited (touristy) desire, and limited opportunity, steering me into a perspective of checking out a bunch of stuff I already felt I would like without taking too daring of a jump in fears of wasting time with abject disappointment. I felt that a regular likelihood of mild meh to a bunch of things would be safer than risking a colossal letdown, at least in a first visit where I had no major plan of attack. Definitely in a prospective second (or third, or more) visit I would be a bit more daring, have more of a direction and plan, and more of the chutzpah and nerve to do what I want to do with shameless hedonism and self-centeredness. Also maybe more cash.
Additionally, as with last month, there will only be a Final Word for the section as a whole, rather than delving into each part individually. This is due to me not really doing a full experience with each of these, as I was mostly transient and rapidly going through all of this stuff without much of a clue, and thus don't feel like I would be able to give a full and fair review of each individual location or thing. That is not to say that these are useless reviews, but rather that this whole shindig is better to be viewed as a whole.
Pokémon GO
Battery Park
Right nearby is Battery Park, apparently renamed to "The Battery" in 2015 but literally who calls it that? It's also apparently not that whole strip of green on Google Maps, sharing that space with a Wagner Park and South Cove Park, because in Manhattan even the parks need to split rent with roommates. I guess there's a whole lot of touristy stuff to do if you book tickets and sign up for stuff, but just walking into it it's just a regular park, really. The City definitely looks prettier at night, and isn't bogged down with tourists and fancy important businessmen, so I guess I'm fine with the park. It also seems a lot safer than what basically every cop drama makes it out to be. Could it be that I'm a straight-presenting white male? Possibly, but more likely is that I've observed that the City That Never Sleeps has a 9pm bedtime.
Also there's lots of Squirtles here.
Bowling Green
Literally right next to Battery Park, basically. I'm not sure how we ended up here, maybe we came to this part of town so I could see
Charging Bull
but I really can't remember. Maybe, as a tourist, Bowling Green is just a place you inevitably find yourself, much like in
Skyrim
with going to sleep in Raven Rock and waking up as a mindless thrall compelled to worship a rock. The park itself is incredibly tiny and cramped, even by NYC standards, really only comprising of an expanded median between diverging streets, feathered by the sidewalks and fencing around the perimeter.
link to the Google Maps of this location
to see how small it is and how many landmarks just happen to be nearby. Grabbing this link also informed me that this is NYC's oldest public park since 1733! Neat, I guess! Speaking of mindless thralls worshiping a rock, Bowling Green is now host to your monthly Anton Tangent!
Fearless Girl
was there, which is a load of hooey and a bunch of charged fake feminism messages that twist art in knots around a debate of message, intent, and integrity. It's a shame that it dumped on an artist whose work had no ill intent or power, twisting its message into something malevolent, by a company who was using social justice as a shield to hide their own skeletons and make themselves look good right as they went on the market. They used women as a product, not as a member party. Feel free to dive down this rabbit hole with
all of
these
links
to articles
that I like
about it
, and feel free to diverge your way onto Google to find ones that you may find more interest in.
"too big to fail"
bank, State Street Corporation, a
pat on the back
for using sanitized feminism as an advertisement and overlooking the fact that this company itself
"(...) has agreed to pay $5 million to resolve a federal investigation into whether it discriminated against female and black executives by paying them less than their colleagues,"
then we can go on our merry way. With companies like
Wendy's actively courting pedophiles
, and
others following in their footsteps
because it's actually working, we can serve to be a bit more critical of corporate intentions. As minorities become more of a marketable audience, we need to take care to not become the marketed product. Either way, the guerilla statue
Charging Bull
serving as a symbol of New York's, and America's as a whole, strength in powering through the 1987 stock market crash, already has its message muddled by the presence of an enormous set of testicles bestowed upon this bronze bovine. Sure, a sign of masculine bravado testes may be, but they're still pretty goofy to
point at and chuckle
.
Finally, outside of Times Square which I didn't really visit, this was the only place I saw in NYC that was completely flanked by all kinds of sketchy street vendors. The real vacation experience.
Cooper Hewitt Smithsonian Design Museum
ogling some shiny rocks
? So from the Upper West Side instead we went to the Upper East Side, right across Central Park where the Metropolitan Museum of Art sits. While we were that way we figured we could walk up from 81st to 91st to see this museum, the Cooper Hewitt Smithsonian Design Museum.
a vase
showing its inspiration from Japanese print in its design,
a cocktail wallpaper
exhibiting a design meant to temper an otherwise explosive period in American history,
a Power Suit
to help people with mobility, and
a stool
that looks like what you use to sit on it. I was able to scan stuff to save pictures online to view your trip later, which was neat. Not only does it save an image of the thing you looked at, but it includes a snippet of its technical details, with some going a bit deeper into the works intent and importance. I enjoyed this museum's purpose, as we often forget that art and design is not entirely for aesthetics, and how forms can influence the function, and vice versa. And even that within the aesthetics there is a framework and intent in the way it is made, shaped, and finished.
Additionally, if you actually click those links to check them out like I assume all of my faithful readers religiously do, you can scroll down and see tags and similar items, effectively browsing their collections all online.
Metropolitan Museum of Art
So here I am at the Met, as it's colloquially called, and the building is probably the largest building horizontally instead of vertically that I've seen in Manhattan. It didn't look too busy outside of the building, just kinda standard fare for a popular location in Manhattan, which honestly there's like two or three every block. Inside, though, was ridiculous, with what felt like, and easily could've been, hundreds of people in the front lobby either waiting to pay for admission or just straight-up loitering.
David Hockney
, a (still alive!) British artist who explores homosexuality through the mediums of printmaking, painting, photography, and designing, helped round out Pop Art as a movement beyond commercialized Warholism. It was a pretty neat exhibit, introduced me to the work of a gay artist who I probably should've known more about in the first place, but I will defend myself by saying that western art history doesn't exactly touch upon subjects such as homosexuality, or even acknowledge that it exists and is a contributing factor behind a staggering amount of work. Speaking of the homosexuality of prominent artists who shaped our culture being swept under the rug,
Michelangelo: Divine Draftsman and Designer
was the other notable exhibition, and also the most heavily advertised of the bunch, gracing the cover of The Met's seasonal brochure as well as countless banners on the building and surrounding area. As the brochure details:
This once-in-a-lifetime exhibition presents a stunning range and number of his works: over one hundred of his drawings, three of his marble sculptures, his earliest painting, and more, along with a substantial body of works by other artists for comparison and context.
After navigating the labyrinth to locate this exhibit, it immediately had the stuffy and constipated feeling of a traffic jam. Incredibly cramped, incredibly dark, smelled horrifically like sweat, didn't even really get to look at any of the artwork or exhibits because they were so crowded with people, a complete waste of time because just the mere act of being present in the room with these works was overshadowed by having to avoid getting trampled by the flow of people who either didn't understand how the curator set up the direction of movement or the curator just sucked with placement ultimately allowing the flow of traffic to become fractured and confused. The Hockney exhibit flowed naturally and felt spacious and free. It still had a flock of people there, but I was still able to view the art in my own peace and reasonable time without being herded or trampled, and subsequently enjoyed it more fully and learned from it.
The Met is the largest art museum in the United States, and I only visited the Fifth Avenue location. There are two others placed across the city that are part of the same museum, apparently: The Met Cloisters at Fort Tyron Park in Washington Heights, and The Met Breuer just a couple blocks away from Fifth Avenue over on Madison. There was so much variety and just pure quantity of art that it's difficult for me to really remember individual aspects like I usually can from smaller museums and their permanent collections, but I also didn't go in there with a focus and goal of what to see, which mutes the fault. It's really just a large museum with more stuff, impressive in its weight and gravity to draw in well-curated exhibitions.

Central Park
Walking to and from those museums, along our side was Central Park the whole way. The perimeter is really nice, raised stone walls and lined with beautiful trees, blending nature with the towering skyscrapers directly next. That's about where its glimmer ends for me. I couldn't tell if just no one was there at all, or if it was large enough to not notice if other people were there. I guess it was the middle of February, but it really wasn't that cold, and tourists still should've been flocking to it. Not even any of the fabled homeless or unreasonably hostile bench sitters were lurking about. Central Park is absolutely huge, yeah, but I'm not sure what the hype is about it being a forest oasis in a sprawling concrete desert given that every other block has its own miniature park. Whoever says that NYC has no trees hasn't been to NYC, or is just trying to impress you with how cosmopolitan they are. In all actuality, it's not huge at all, not making its way onto any largest park lists; it's not even the largest in NYC. It just feels that way as everything else in Manhattan is so compacted that any void feels like open sea. Perhaps that's how Bowling Green can get away with it. The park was actually kinda dreary and nothing really was happening. Maybe I was there at the wrong time? Maybe I didn't have enough of a plan? Maybe I didn't know what to look for? How do I know? Well, I Google "things to do in Central Park", of course! Well, I checked out a few lists and a majority of them boil down to "walk around and look at stuff" or "enjoy a limited time and/or exclusive event" so, _. There's the Central Park Zoo, I guess, but they don't even have a lizard exhibit. There's many picturesque locations and stuff to take photos of, but, as I said in my intro, wasn't really my focus this time around. Don't get me wrong, Central Park is cute and all and whatever, but it seems like less of a tourist attraction, and more of a place for locals to escape to while still having the higher standards of living in Manhattan, as well as serving as a basis for hiking up the rent in apartments nearby, allowing for such a thing as Billionaires' Row, home of a bunch of really expensive buildings that everyone thinks are ugly. I will always argue that One57 is gorgeous, though. Not really anything to do that sets it apart from your local city park unless what you're here for is to snap a pic of a setting from a movie or show with how cool it is that you're standing in the same spot Mariska Hargitay did, but that's not really something for me. Hard to double as an attraction and a reprieve when the entire rest of the five boroughs are an attraction. I've lived in New York most of my life and I can say there are much better parks covering basically the entire upstate. Central Park's entire splendor and magnificence are relative only to its proximity, history, and good PR.
Stonewall
Despite this being a destination I wanted to go to, I literally only walked in the doors for like 15 seconds because Blocky didn't want to be in a bar, so as I turned to leave I bashfully took a really awful picture of that sign. The Gay Liberation Monument is out front, which I sat around and ogled for a bit. It's also a Pokémon Go gym. As a gay man, it's validating simply just seeing our history still standing strong, and even as far as properly recognizing that it wasn't just gay men, and that the whole LGBT rights movement was spearheaded and sustained by the power of trans women of color challenging the abusive authority imposed by the NYPD. If I had the opportunity to go again, I'd at least get a drink or two from there just to say I did. Dunno if I'd see a show since I'm still a bit awkward and nervous when it comes to those as it's not really my kind of scene and I'm afraid a drag queen will make me do stuff on stage.
Never forget, Stonewall was a riot.
Have a gallery of images because I have too many to fit within the paragraph spacing and the large amount of blank space that this makes is preferable to a feeling of cramping and claustrophobia.
Grand Central Station
Grand Central Market
has a basic well-rounded collection of shops you'd expect to get out of a farmers market food hall whatever kinda place, including
a cheese shop
that I'm regretting having speedwalked past. As for the
'what to see'
here, there's not exactly a lot and this list feels kinda drawn out to appear more impressive than it actually is, but I do highly regret not taking the time or being able to appreciate the architecture as much as I should've. I didn't even see the outside of it, and instead just passed through its bowels on my way from one place to another.
Times Square
Briefly looked in the direction of it, and walked past the huge H&M there that I wanted to go into but didn't because I guess Blocky took my "I don't really care if I see Times Square" that was more in the spirit of me not being too interested in the most basic of tourist spots instead as "Anton doesn't want to see literally anything in the half-mile radius around Times Square", and ran instead to the Nintendo NY store and Rockefeller Plaza. I guess this is in partial fault to things such as not really knowing what I was doing, being ignorant of what was around, and not being as much of snob about food places because as I look at the map of that area now there's absolutely some bakeries I would've wanted to go to. Hindsight. Still don't think I'd be interested in standing around the square for long, but exploring what's around couldn't hurt.
New York Public Library
Final Word: It's a tough mix having a list of things you want to do that aren't typical and standard visitor or touristy things because really no one else wants to do them with you, but also they're just not that fun to do on your own. Maybe this is why Instagram and Vlogs took off because you could make your followers exist with you in some form. In terms of sights to see in NYC, it's a unique case of quantity over quality, in that there's some cool stuff to see and do, but everywhere has that; NYC just has that x1000. I guess you can never get bored?
---
Tune in next month for Part 3: Shopping! Also, tell me what to review next! You can tell me to do can also be movies, shows, physical actions, trying new foods, music, literally anything and I'll cover it eventually if it's not too ridiculous. Just send me a message here on my talk page or PM it to me on the forum. Don't like what I have to say? That's fine, and probably bound to happen because I've been told about how much people like Super Mario 64 and how they feel about any criticism of it! We at Critic Corner will welcome your alternate review of it as a new section for the next issue!
Graphic Novel Review
Batman and Harley Quinn
Author
Ty Templeton, Rick Burchett, various artists and authors
Release date
2018
Genre
graphic novel, action, superheroes
Pages
136
Available From
Greetings, readers, welcome back to another issue of Graphic Novel Reviews! This month, I will be reviewing the Batman and Harley Quinn collection graphic novel!
Honestly, I've been so superhero-crazy the past couple of months, so this seemed like the perfect idea. Batman is my favorite, and anything decent with Harley Quinn (i.e. not Suicide Squad) is a good read for me. So, here we go!
The first five chapters of this book cover the "Batman and Harley Quinn" arc of the comics, drawn by Rick Burchett and written by Ty Templeton. The second half of the book, in DC fashion, is a collection of assorted other comics, some of which feature Batman, some of which feature Harley, and one of which doesn't feature either of them at all, but is a bit of a side piece to the titular arc, so we'll let it slide. DC really doesn't seem all too organized sometimes.
Batman and Harley Quinn features Harley finally leaving the Joker. She's had enough of him paying more attention to Batman than her, and she's fed up and helps Batman and Nightwing trap him. After that, she escapes to pal around with her BFF Poison Ivy. What kind of hijinks do they get into? I won't spoil that for you if you haven't read this one, or seen the accompanying movie special. One thing I like about this arc is that Batman and Nightwing are working together. I don't know a whole lot about Nightwing, but what I have read of him, he doesn't like Batman much, just barely tolerates him so they can get the job done. The two of them palling around like this is fun, even if Nightwing wears a mullet for most of the story.
The highlight of this book for me was the art by Rick Burchett. He's done a lot of other great work, including the first few volumes of Superman Adventures and the Jinx series for Archie. His lines are always very clear, and he's got that Bruce Timm/Dan DeCarlo vibe to his art that I really love. Colors are vibrant and mesh well, characters are expressive, and actions are easy to read and follow. Ty Templeton is always a pleasure to read as well, no matter who his artist is, and he's worked with some of the best.
The other stories are all of varying villains and heroes- not all of them seem to be related to the titular arc, there are a couple that I was scratching my head as to why they were in there. Either way, it's nice to see different art styles and new stories that you haven't seen before. Also, Swamp Thing makes an appearance. I've always had a soft spot for him, ever since Whatever Happened to the Man of Tomorrow? But that's another story.
All in all, if you're a Batman or Harley Quinn fan, this one isn't to be missed. If you're a Rick Burchett fan, like I am, you also shouldn't miss this one. If you like superhero comics in general, you'd like this one. I give it two thumbs up.
See you next time, readers!
Rising Sun Reviews
Written by: Mariofan169 (talk)
Let's take a nostalgic trip to the year of 2018, back when people still had faith in Fortnite and Todd Howard wasn't a complete laughing stock. Since I'm still relatively new to the anime scene, I'm too busy watching classic shows to really keep up with seasonal shows as they're airing, and as such I haven't seen a single anime from 2018 (barring sequels to shows that came out before this year such as My Hero Academia S3 or JoJo Part 5). This wouldn't be so criminal if it weren't for the fact that last year happened to be one of the best years for the fandom this decade. Whether you were a fan of action, comedy, mecha, or anything in between, there were many good shows across all genres that would appeal to you, and it's very likely several classics in the making were born during this time. It helps that this was the year where Netflix threw its hat into the ring, bringing its own "original" anime to a platform more mainstream than Crunchyroll or Funimation. In an effort to not become officially unhip with the kids, today I'll be looking at just a small sample of the shows that came out in 2018, and I'll be darned if there's not even at least one that would suit your fancy.

And that's that, those were all the shows from last year. I went into crash course mode for. I for one can't wait for next year, where they fade into obscurity like every other yearly show. And this only the tip of the iceberg when it comes to 2018's standout shows. Basically, if you go to Myanimelist and look for "2018", any show that's a 7-8 is probably worth watching. Thank you for reading, and have a good one!
Hot Pot Reviews
Written by: Chibiki Daisy (talk)
Date no Hi wa Nido Kurai Shower Shite Dekaketai / Junjou cm / Konya Dake Ukaretakatta
Media
Single
Artist(s)
Tsubaki Factory
Release date
July 18, 2018
Genres
J-pop
Producer(s)
Hello!Project
Hello everyone, and welcome back to another Hot Pot Reviews, straight off the presses! It's summer (in the Northern Hemisphere, anyways), which means it's time for swimming, barbeques, theme park roadtrips, and most importantly, some killer summer tunes. That's obviously the most important part of any summer!! And trust me, the tunes we are reviewing today just ooze that summer vibe. We have not one, not two, but three whole songs today for that summer feeling. And they're all conveniently located on the not-so-conveniently-titled single Date no Hi wa Nido Kurai Shower Shite Dekaketai / Junjou cm / Konya Dake Ukaretakatta from none other than Tsubaki Factory.
If you are completely clueless on what Tsubaki Factory is, they're an idol group under the massive idol umbrella that is Hello!Project. They were formed with six girls (leader Yamagishi Riko, sub-leader Ogata Risa, Niinuma Kisora, Tanimoto Ami, Kishimoto Yumeno, and Asakura Kiki) in mid-2015 but for some reason, didn't make their major debut until the beginning of 2017. Their major debut took so long to happen that three more girls (Ono Mizuho, Onoda Saori, and Akiyama Mao) were added to the group before then. As for their songs, most, if not all, of their songs that I've listened to have a very shoujo anime-like feel to them. This single is certainly no exception.
Onto the songs contained in this single, first we have Date no Hi wa Nido Kurai Shower Shite Dekaketai (translating to "I Want to Shower Twice Before I Go Out on the Day of My Date"), which is a very long title that I'm not typing out in full anymore. It's definitely not the worst, but still. Anyways, this song portrays a girl who is very self conscious about various aspects of herself leading up to and during a date, all because she loves this guy. She is, in fact, so conscious about all this that she wants to shower twice a day before going on dates… weird, I know, but I promise the other two songs are better. Back on the self-conscious bit, she's self conscious to the point of not wanting to see this boy on the way home from school, and not wanting to go to convenience stores because she's seriously worried about how her hair will smell after leaving… It's fine to be a bit conscious about some aspects of your appearance, but geez if Protagonist-chan isn't going a bit overboard here, good grief.
The next song is Junjou cm, or "Innocent cm" in English. The title of this one has some interesting wordplay going on too, due to how centimeter and sentimental are both pronounced in Japanese. Wordplay aside, this song is quite different from Date no Hi. Instead of a girl being worried about herself and her looks, the girl in this song is worried about her crush ending up with someone that isn't her. It's very pure-hearted, and probably the most shoujo-esque of the songs on this single. Also in this song is a lot of camera imagery… and I mean a LOT. Seriously, it mentions shutters and lenses and all that stuff so much in this song. I'm not entirely certain how that fits with the song, but it does and I'm certainly not complaining. It's actually a good break from all the freakish levels of self-consciousness from the last song! The camera imagery does add a nice touch to this song, however, and it'd be nice to see it in a future song.
The last song on this single is Konya Dake Ukaretakatta, which translates to "I Wanted to Be Festive Just for Tonight". Without a doubt, this is the song that oozes that summer vibe most of all on this single. In this song, our protagonist is trying to confess her love to her crush during a summer festival. However, she ends up not doing so, mainly due to her own personality and not wanting to take away from her crush's experience of the night. She desperately wants her feelings to slip out though, and feels that this is the only night that they can. This song is quite similar to Junjou cm, as the protagonist in both songs have pure-hearted desires. The largest difference is that Protagonist-chan is a bit more tsundere in this song. Tsundere may not even be the proper word for it, but either way, the protagonist does not tell her crush of any feelings she has for them, though she greatly wants to.
That's all for the songs on this single… but there are technically still three tracks to talk about. If you're wondering how that could be, it's because those tracks are the instrumentals of these songs. So we get to actually talk about the sound of the songs now instead just what they're about!
For Date no Hi, it's in the realm of electropop and EDM. It sounds very similar to what a couple other Hello!Project groups have released in the past, and had this gone to another group instead of Tsubaki, I wouldn't have been too surprised. A few other H!P groups have songs that sound strikingly similar to this one. It's not unheard of territory in this group, but within the company, it's horrendously overdone by this point.
Junjou cm sounds a lot like what several mainstream idol groups could be putting out. Specifically, for all you Love Live fans out there, it reminds me of Printemps' material quite a bit. This song does have its electronic influences, but they're much softer or muted than in Date no Hi. Part of that is helped by the piano and what I believe is a violin undertones that can be heard if you keep an ear out for them. Regardless, if say, AKB48 put out a song that sounded similar to this, I probably wouldn't be too shocked.
Konya Dake is quite unique in its sound. First off, it's got a ska beat. A SKA BEAT. That's right, this shares a characteristic with Smash Mouth's All Star of all songs. Aside from that, there's some sweet bass guitar in there, the piano undertones make a much welcome return, and while this song does have its electronic influences, they're at an almost minimum in this song. This song focuses more on the bass, ska, and other percussion. And did I mention the guitar riff in the bridge and near the end?? It's also one of those songs that's perfect for listening to while driving, so maybe try that after you finish reading.
And if you thought we were stopping there, then you are dead wrong because there's a visual aspect to this single as well! That's right, all the songs on this single have their own PV that will be talked about too because hey, they're part of the single, we gotta talk about them!
Date no Hi's PV is interesting. It's currently the least viewed PV on Tsubaki Factory's YouTube channel. That's not necessarily without reason, because three of the four types of scenes in this video have the members wearing the same white outfits. The first type of scene is the dance shot, which is standard for a lot of H!P PVs. This one is set against a backdrop of deep blue fabric columns, and the floor looks to be reflective, which is actually pretty cool. At some parts, the dance shot is slowed down to put some emphasis on a certain movement, which I don't recall seeing in another PV so that's something unique here. The second type of scene is solo shots of the members, which is also fairly standard. The solo shots feature each member in one of three sets (red, pink, or green) with different white props set up around them. For example, the green set has a bunch of white picture frames on the wall. The third type of scene still has the white outfits, but this is where it gets more interesting. It features sets of members leaning against each other looking out a rainy window. The most disappointing thing about this type of scene is that it only shows up during the transitions from verse to chorus, and nowhere else. It's a little sad, because they're genuinely nice shots, too.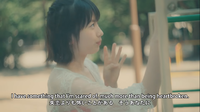 Now, the fourth type of scene is really where it gets diverse. We split away from the white outfits and plain backdrops and head out into the real world! That's right, these scenes have two of the members, Ogata Risa and Asakura Kiki, in casual clothes being cute while walking around and such in the real world. There's one scene in particular with Kiki on a playground that is the cutest thing ever. And these show up more often than the rainy window scenes, which is nice because these are also some really nice scenes! I'd even go as far as saying they're the highlight of the entire video, because who wants to watch nine girls clad in white dance against a dark backdrop for four minutes straight? I wouldn't, anyways. The real world scenes are what make this video actually somewhat interesting.
Onto Junjou cm's PV, if you were hoping the camera imagery was just in the song, then you are about to be highly disappointed. All nine girls have something to do with a camera in this video, be it posing for a picture or being the one taking the picture. There's whole scenes dedicated to moments like this. Hell, one of the girls even holds the camera flash at one point! And I can't decide if this is supposed to be a play on the song title or going with all the camera usage, but for the vast majority of this PV, there is a centimeter border across the top and bottom of the video, which is a really nice touch!
Onto the other scenes in this video, the dance shot is set in front of three large windows and the solo shots in front of a plain white wall. It's mainly just for purposes of having some extra light, nothing special. However, in addition to the regular dance shot, there's also three trio dance shots based on the color of outfit each member has. Each color of outfit has its own mini dance shot. Even better, these mini dance shots also play to the camera aspects of this video. There's a part where each trio has a turn on screen, they pose, a flash happens, and then the trio is frozen like a picture. It works perfectly with the rest of the camera imagery in the video, and I'm really glad they put that moment in. Were it just the main dance shot and the solo shots in this PV, it would probably be really bland. However, with all the camera imagery and such and the trio dance shots, this video is a lot better than what it could have been.
Once again, Konya Dake Ukaretakatta is the interesting one out of the bunch. For starters, all scenes except the dance shot are real world shots. A lot of the solo shots are taken from shots of small groups (or if your name is Asakura Kiki, you get an actual solo shot) with the girls taking a break from what they're doing to look at the camera for a few seconds and sing. And the variety of what the girls are doing when they aren't looking at the camera is nice as well. You've got one group just hanging out and having a good time, another group taking selfies in a park, Kiki's walking down some path and enjoying what it has to offer, and the last group is playing with sparklers and enjoying themselves! And later on, they all get a chance for an actual solo shot using a familiar scene from somewhere in the video. For example, leader Yamagishi Riko's shot has the lamps that might look familiar from Kiki's solo shots.
Onto the dance shot, this one's probably the most interesting of the three. It's still set inside, yes, but the background isn't all just one plain color. Instead, there's an abundance of parasols, lanterns, and fans all hanging on the wall behind the girls. They even set some of the parasols on the floor and put lights behind them! Now that is how you do a creative dance shot!! The fact that their outfits are silver and blue in the dance shot and accent all the lights nicely just goes to show how much thought was put into that shot for this song!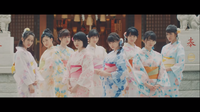 Speaking of outfits, the girls all wear yukata in this PV, mainly to fit with the summer/night festival aspect of the song. The yukata in this video are absolutely beautiful. The floral prints are to die for, and the hairstyles the girls have while wearing them are gorgeous. The fact that they're even wearing yukata in the first place really helps bring this song and the video to life. It just further cements Konya Dake Ukaretakatta as the epitome of that summer feeling song, at least by Japanese standards.
Overall, this single is thriving with that summer feeling, though some of the songs certainly have it more than others. Definitely check it out on your own at least once before summer ends, because you will not be disappointed.
Spacing Out
Written by: Stargazing (talk)
Welcome back to Spacing Out for yet another month of space-filled trivia. To fully adjust to my Critic Corner placement, I will also be spinning up the ending a little bit. Two long months ago, we talked about black holes. During that time, the recent photos had released from NASA, so I was able to fully utilize them and talk about that. However, for this issue, and the two more afterwards, I will be using this to express my thoughts about each miracle of space I stumble across.
On the hot and humid nights of July, staring up into the loneliness of space, most cities can only see a darkened sky with a bright moon escaping the horizons. In other, less light-polluted, areas, one can maybe see bright dots of light in the sky. To many people, they just call them stars. However, there are more visible objects in the night sky than just stars. Let's talk about one of these objects: pulsars.
Pulsating Light
A pulsar is a type of neutron star, stars that are formed when a massive star collapses after running out of fuel. As a star collapses, if the center is a certain weight, it can be stopped, leaving behind a neutron star. Any bigger, and the star continues its descent into a supermassive black hole, like described in May's issue.
How does this work? As this star collapses, every proton and electron combine into a neutron, due to the gravitational force of its center, or core, caving in on itself. At a certain weight of the core, 1 to 3 solar masses, these neutrons can intercept. It's not explained how exactly they're able to stop the collapse. This leaves behind an object with an extreme density; think the Sun's mass compressed into the size of a city.
As much as I painted a picture of visible night objects in my introduction: you really can't see most neutron stars, as they're simply unable to emit enough radiation. Most observable neutron stars are pulsars, called that due to scientists' observation of them pulsing radiation, or light, at very regular intervals. The magnetic field around a pulsar is very great, funneling these jets of particles out along the two poles. What I find super interesting, though, is the fact that their magnetic field (the angle the light pulses at) and spin axis (the angle the star spins at) are often not aligned. This means as the star "spins" (rotates), the particle beams spin around. If a beam shines on Earth, you see a pulse of light! If they were aligned, however, the light would only be able to shine in a singular direction, as the spin axis is the angle in which the pulsar spins, not the direction it's spinning in. [3]


Beam Me Up!
I think pulsars are super interesting. As I stated before, what I personally find super cool is how the magnetic field and spin axis are different, which can fully give off this spin effect. Since the star is smaller than it was at a massive size, it's able to spin much faster, and we're able to see that pulsing effect easier. I'm one of those people that are kind of sensitive to strobe lighting, and they can cause me rather nasty headaches. I think pulsars are a natural kind of strobe light, with the difference being a smaller light flash that's constant to us. Strobe lights flash extremely bright, extremely fast, and map all over whatever room they're in, pulsars can't do the first or last thing with our distance to them, so that's already a good thing.
However, to build off what I just said about distance, we can't see many pulsars, and that's rather disappointing. They're quite small, to the point where many telescopes struggle viewing them, as well. I can't really criticize natural things for existing, and I can't really tell it to bring a pulsar here. That would mean we'd have to deal with a massive star, and the force of the initial explosion. It would be cool to see the pulsar, you know, if we survive all that.
It being a natural thing that exists is also why I'm not adding some kind of numbered or comparison final stamp to this issue. I can't really do that, as I vibe more with speaking my mind and having my general mood with the object being realized. Instead, I want you to reflect on what I've read and what I've said, and form your own opinions. What do you find the most interesting about it?
Conclusion
This section wasn't as information-based as last time, and had a split focus between the subject and my opinion of the subject. I really hope that you like this section's direction, and will keep on spacing out until I put down my metaphorical pen for the last time!
Movie Reviews
Toy Story 4
Toy Story
Genres
Computer-animated, comedy
Release date
June 2019
Starring
Tom Hanks, Tim Allen, Annie Potts, Tony Hale
Runtime
100 minutes
Ratings
U (UK)
So, in one of my last reviews for this section, I shared my worries for what Toy Story 4 would be like. And having now watched the film, although it certainly did have its moments, I feel that I was correct to be worried about its quality.
Much as with Finding Dory, it feels like the film was put out just to make the money, not entertain people. There was always a small amount of stakes in a Toy Story film when they would have to try and avoid being noticed by the humans, but in this one they're practically brazenly walking around in places where a human could plainly see them.
The franchise has also expanded with so many characters that there are too many of them to properly feature without overcrowding. So, I hope your favourite character is either Woody or Buzz, because if its any of the others you'll only be seeing them for about a maximum of ten minutes – and to be honest that's probably a push.
However, despite the obviousness that this is a simple cashgrab film, the plot is certainly serviceable; although it's not entirely believable that a toy can somehow travel five miles in one night. The only issue with it is that the villain, Gabby Gabby is too much of a sympathetic villain for you to want to root against her. Although the way she goes about conducting her business is certainly evil, her overall aim is agreeable enough. What might've worked better is if there was a twist involving the ventriloquist dummies turning against them, especially since they make entirely believable villains.
Although the old characters are left behind in the dust, the newly introduced characters are pretty good. Although it might take a small while to warm to Forky, I have never related more to a character who spends most of the movie seeing himself as trash and wanting to throw himself into a bin. Meanwhile, Ducky and Bunny actually made really good comic relief, and their 'Plush Rush' scene, and their post-credits scene is definitely one of the film's funniest moments. As for Giggle McDimples and Duke Caboom, they're good enough characters, but overall they don't really make a mark in the film, especially Giggles who could've been absent with no discernible difference.
And speaking of humour, the film does have it in bundles. As repetitive as some of Forky's gags are in his opening scenes, they are funny, the aforementioned 'Plush Rush' had an entire cinema laughing, and Buttercup's desire to see Bonnie's dad go to jail, however strange, is again a massive crowdpleaser. One joke that does consistency fail to land is Buzz's intelligence. Other than the first film in which he believed himself to be an actual space ranger, he has shown pretty good intelligence, but here he is practically an imbecile, and can easily get on your nerves.
Toy Story 4 isn't a bad movie, but it's a stretch to call it a good movie, and it is easily the weakest out of the Toy Story films. As much as some of the newer characters are able to carry the film, it would have been nice to see other previous central characters like Jessie, or even one of the newer toys from Toy Story 3 take centre stage in this one as well. Like with Finding Dory, if you like Disney / Pixar, you'll probably find stuff to enjoy here, but it's clear that the film doesn't have the same heart that its predecessors had.