Cannonball Fun
From the Super Mario Wiki, the Mario encyclopedia
Jump to navigation
Jump to search
Cannonball Fun
Appears in
Mario Party 6
Type
4-Player mini-game
Time limit
60 seconds
Music track
Frantic
Cannonball Fun is a 4-Player minigame in Mario Party 6. The name is a reference to Cannonball Run, the name of a few related movies.
The only difference between the day and night versions of this minigame is the decorations on the side of the arena; during the day, the decorations resemble suns, and at night, they are partially lit up to appear as moons.
Introduction
[
edit
]
The first player flies in their hovercraft around the arena and comes to a stop before the camera zooms to the angle seen in the minigame and the screen splits in four.
Gameplay
[
edit
]
Players pilot hovercrafts around an arena, firing cannonballs at each other. Each hovercraft has a cannon on the left and right sides, and the cannons fire alternately. When a player hits an opponent, that player earns a point. When a player is hit, that player is stunned for a moment. The first player to obtain five points wins.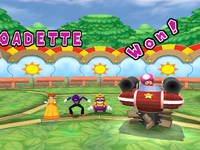 The players are lined up, with only the winner in their hovercraft. The winner waves while the losers do losing animations. If a tie occurs, all players are lined up and do their losing animation with none of them being in a hovercraft.
Controls
[
edit
]
– Move
– Fire
– Tilt left
– Tilt right
In-game text
[
edit
]
Rules – "Hop in a hovership and open fire on your opponents! Each hit on a foe is worth one point. Whoever earns five points first wins!"
Advice – "The left and right cannons on your hovership will fire alternately. Aim carefully!"
Gallery
[
edit
]
See also
[
edit
]
Names in other languages
[
edit
]
Language
Name
Meaning
Japanese
ドカドカ!ホバーバトル
Dokadoka! Hobā batoru
Kaboom! Hover Battle
French
Canons Tamponneurs
Bumper Cannons
German
Luftkissen-Bomber
Bomber Hovercraft
Italian
Cannonata
Cannon Fire
Spanish
Cañonazos sin rencor
Cannon Shots Without Bitterness