Battle Royal
From the Super Mario Wiki, the Mario encyclopedia
Jump to navigation
Jump to search
This article is about the challenge in Mario + Rabbids Kingdom Battle. For the area in Paper Mario: Color Splash whose challenge is referred to as "Battle Royal", see The Golden Coliseum.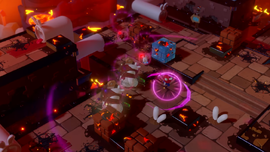 Battle Royal is the tenth challenge of the Lava Pit in Mario + Rabbids Kingdom Battle.
Overview
[
edit
]
Mario and co. must defeat thirty enemies within eighteen turns. Only one Ziggy initially appears, though the rest spawn over time. After the Pyroclasts fall, four Smashers of the Spooky variant will spawn in different areas; one spawns near a pipe to the first upper platform, the second spawns right by the battle entrance, the third spawns right near the pipes to the second and third upper platforms, and the fourth spawns just behind the heroes' starting area. After more Pyroclasts fall, four more Spooky Smashers will spawn, though this time, they all spawn on the four upper platforms. After more Pyroclasts fall, six more enemies appear, consisting of two Bucklers and four Supporters. The Bucklers are of the Spooky variants and the Supporters are of the Spooky and Lava variants. Two more Bucklers spawn following another Pyroclast rain, and two Peek-a-Boos of their Spooky variant spawn on two of the upper platforms following another. After the final Pyroclast wave, three Spooky Valkyries and Pirabbid Plant spawn.
Afterwards, Blizzy and Sandy make their appearance, and a short period of time later, Calavera joins in. Bwaluigi will spawn right in the middle, followed by Bwario and the Lava Queen. The last enemy to spawn is a Ziggy of the Garden variant.
Enemies
[
edit
]
Battle map
[
edit
]
Names in other languages
[
edit
]
| Language | Name | Meaning |
| --- | --- | --- |
| Italian | Battle Royal | - |