The 'Shroom
:
Issue 153/The 'Shroom Spotlight
From the Super Mario Wiki, the Mario encyclopedia
Jump to navigation
Jump to search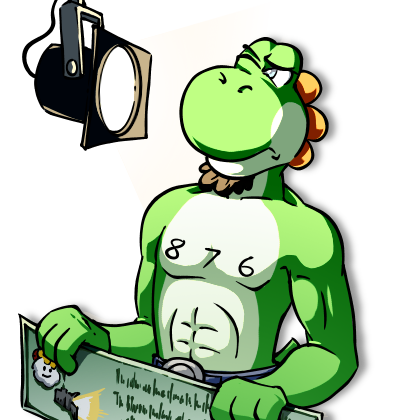 Hello readers of The 'Shroom, and welcome to Spotlight. Spotlight is a community project which aims to fix up the articles on the wiki which have issues. These issues can range from poor writing to a lack of images, to even just needing a credible source.
Welcome to December's not-so-chilly edition of Spotlight. You may have noticed that over the past few years when it comes to the month of December, we embrace all of our cold Spotlight goals, and attempt to warm them up. But, as you may have noticed this month, we've actually gone ape for Donkey Kong, so this month we're highlighting all things DK, well not all. It might take a while, so instead we'll just focus on six things from Donkey Kong.
October was a spooky success, and while November was a little bit less spooky, it was still a massive success with five out of our six goals completed. Ironically, the only goal not completed last month was Jack Peg, which was a DK-related focus. Anyway, Windward Way found its way onto the wiki thanks to Obsessive Mario Fan (talk), Piro Dangle had the Yoshi's New Island information put onto it by Doc von Schmeltwick (talk) and The Mansion (talk), who even found time to make the whole article flow better. Power Flotzo (talk) managed to find a source for the claim on Franklin Badge, and Yoshi the SSM (talk) added additional images to Prickly Goomba. Finally, Scrooge200 (talk) improved the quality on File:Blue Spike Top.png.
And now onto this month's focuses:
| Article | Category | Focuses |
| --- | --- | --- |
| Letter (Mario vs. Donkey Kong) | Wanted article | These collectibles help unlock doors in Mario vs. Donkey Kong and yet we haven't unlocked a way for them to exist on the wiki. Obviously, we're not looking for the location of every letter in the game, just an article that explains their function, how to be collected, and any other neat facts you can fit it! |
| Konga Coliseum | Stub article | Not only is there barely information on this article, is it a default stadium in any of the Striker Cups or Event Matches? Are there any hazards, including the electric fence? But there are also a couple of claims I'd like some verification for, is 31,000 an official capacity, and was there any proof this took place on Donkey Kong Island? |
| Spacedust Alley | Rewrite and expansion required | Snowball Valley is the perfect representation for where this article should be, a layout section, Silver Coin locations, and images of the track from both the N64 and DS versions of the course. And of course, if there are any differences between the N64 and Ds versions, make sure those are listed as well. |
| Snaps | Citation needed | As our stub focus deals with a lot of citations, I thought I might make the citation goal for this month a little bit easier. All we need for this to be completed, is the page number from the Donkey Kong Country 3D Prima guide that says this enemy is called a Snippy. |
| Poison Pond | Articles that need more images | Although this article has a lot of images, for its collectibles it only has generic pictures of them. The specifics are asking for just the K-O-N-G location pictures, but I think ones for the Expresso and Rambi Tokens wouldn't go amiss. |
| File:DKCR Peaceful Pier Puzzle Piece 2.png | Image quality requested | There a whole host of this kind of image clogging up the Category:Images to be reuploaded with higher quality tag. The issue is, this images are considerably blurry, to the point where it's difficult to see that those are Bananas in the bottom corner. Make this image a bit sharper so we can fully take in the game's beauty, and get a Puzzle Piece. |
Now just before I leave you, I'd like to tell you about unimplemented proposals. There are currently thirteen, which is one more than last month, that need to be implemented, some of which date back to 2015, so think of this as a continuous Spotlight goal until they're all completed.
Thanks for tuning in to the newest edition of The 'Shroom Spotlight! Be sure to turn up next month, where we'll be reviewing the progress on the above focuses. If you have any questions or suggestions about this month's set of the article focuses, then please get in touch through the dedicated topic if you have a forum account. If not, then please contact myself on my wiki talk page, but you are far more likely to get a quick response if you go through the forums. You are also welcome to make suggestions on what you think we could focus on in our next edition, and as the next one is Halloween, we will be focusing on spooky focuses only! Thank you, and good luck!