The 'Shroom
:
Issue 153/Fake News
From the Super Mario Wiki, the Mario encyclopedia
Jump to navigation
Jump to search

Editorial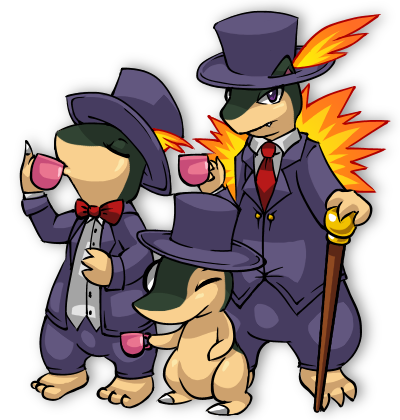 Hey!! Big news in the editorial here.
Welcome to the Fake News AGAIN, I'm MCD AGAIN, and it's Christmas AGAIN! It's the last issue of the year! It's the last year of the decade!! Hope you're all having a superb holiday, whatever you're doing - even if it's nothing. If you're doing nothing, then at least you're reading the Fake News. That's the main bit, anyway, I'm told. All this Santa and Jesus and New Year stuff is just a distraction. I've got a feeling 2020 is gonna be the Year of Fake News!! As in, this sort of Fake News. Not the depressing kind.
And what a decade it's been for the 'Shroom - we've seen so many different sections come and go, so many writers, so many different sub-team directors, considerably less Fake News directors. I've been directing this section since 2011, and writing for Fake News since uhhh some point in 2010 probably. I think I've held the longest consecutive position on the paper. I was 14 when I became director. I'm now 22. I finished school, I finished university, I went back for a masters degree, I finished my masters degree, and now I'm sitting here looking for jobs. Jobs other than Fake News director, of course.
Fake News has also... well, sort of grown in that time. Sure, Critic Corner has slowly overtaken us in the awards - despite our regular, massive amount of SOTM voters, what are you guys even doing smh - writers have come and gone both for the section and the paper as a whole, but releasing an issue full of genuinely pretty high-quality stuff every month for over a decade, that's a massive undertaking. I did creative writing at university and it was a HUGE headstart for me to actually get stuff I'd written out there, even if it was just jokes about the Mario series, or the terrible fiction I wrote on Userpedia.
So yeah, maybe pretty obvious what this is all leading to, but uhhhh I'm retiring as director of Fake News. That's right. Next issue is my last issue as director of the Fake News. Not only my last, next issue is also my HUNDREDTH issue in charge of the thing. Honestly, this is way later than I thought it'd be - I thought by the time I got to university it'd get a bit too much, then I thought when I started my masters degree. But now with an actual career hopefully looming in the distance, I think it's time to move on. Not move on entirely, I'm definitely still gonna be around the community and I'll hopefully still write stuff for The 'Shroom (maybe even more than one section per year), but I feel like I've spent long enough in this role and now I'm excited because SOMEBODY ELSE has to keep ALL OF MY WRITERS in line. Ha ha. Just kidding, they're fine. They're great, in fact. They make up most of this sub-team, that's for sure. There's more of them than there is me.
But yeah! We need a new Fake News director, because I am GONE. So, have you ever wanted to write for the Fake News? I can do you one better than that, this is your BIG CHANCE to DIRECT THE WHOLE THING!! Your big chance to sit in the seat I've been sitting in for 8 years, Christ my legs hurt; your chance to drink from the ceremonial Fake News tea cups I stole inherited from my precedecessor (see image), who also had excellent taste in teacups; and most of all, your chance to direct the top sub-team of The 'Shroom - if not in terms of votes at the awards, then definitely in terms of how they're listed on the main page! Details about the application process should be around somewhere, maybe in the Director's Notes, or you'll probably find them on the Forum somewhere. You don't have to write for the Fake News or write for The 'Shroom to apply, just get your applications in! Please
I've got one of these things left to direct, so I'll see you then, when I'll be rewriting this whole thing as a big farewell speech. Or maybe I'll just uhh write one word. Come back next month to find out!! See ya then!
Section of the Month
FAKE NEWS SECTION OF THE MONTH
Place
Section
Votes
%
Writer
1st
TV Tomorrow
40
70.18%
Quizmelon
2nd
Obituaries
17
29.82%
Yoshi876
---
Entertainment Features
---
Quizmelon tells us what to watch on the telly.
[read more]
---
Take a look at this week's Mushroom Kingdom singles chart!
[read more]

| Day | Predicted | Temperatures | Forecast | Chance of Precipitation |
| --- | --- | --- | --- | --- |
| Monday | | High: 23 Low: 11 | Bright sunlight will bring warmer temperatures, but still very cold. | 0% |
| Tuesday | | High:20 Low: 8 | Cloud cover moving in early afternoon. Breezy starting overnight. | 10% |
| Wednesday | | High: 15 Low: 5 | Thick cloud cover with chances of snow flurries. Snow accumulating less than one inch. | 30% |
| Thursday | | High: 12 Low: 4 | Snow flurries all day. Snow accumulation around 1-2 inches. | 60% |
| Friday | | High: 13 Low: 3 | Snowfall will become heavier starting early. 5-7 inches of snow expected. | 90% |
| Saturday | | High: 12 Low: 5 | Snow stopping overnight. Winds picking up early. | 10% |
| Sunday | | High: 13 Low: 4 | Clouds parting midday. Expect cold weather to continue into the week. | 10% |
This week will bring very cold temperatures and a good amount of snow near the end of the week. We will see nearly a foot of snow hitting the ground by the week's end, so make sure you have your snow shovels and snow plows all ready. Wind speeds will be increasing throughout the week as well, so wind chills will likely drop below zero. Make sure to bundle up whenever you have to go outside! Blowing snow will also reduce visibility, so take it slow on your morning commute and be careful. Looking towards next week, we will be seeing a few more snow showers around Wednesday and Thursday, but towards the weekend things should clear up for a few sunny days.
This month, we are happy to bring you your barrel-racing forecast for the week ahead, so you can enjoy the races knowing what weather to expect.
| Day | Predicted | Temperatures | Forecast | Chance of Precipitation |
| --- | --- | --- | --- | --- |
| Monday | | High: 85 Low: 73 | Very humid and muggy. High chance of rain in the afternoon. | 70% |
| Tuesday | | High: 79 Low: 72 | Wet and rainy, with a good chance of lightning strikes. | 100% |
| Wednesday | | High: 82 Low: 73 | Constant rain showers. Winds picking up in the afternoon. | 90% |
| Thursday | | High: 75 Low: 71 | Thick cloud cover will help increase humidity | 10% |
| Friday | | High: 86 Low: 76 | Bright and hot. Very muggy. | 10% |
| Saturday | | High: 89 Low: 79 | Hot and humid. Few clouds to shield from the sun. | 0% |
| Sunday | | High: 92 Low: 78 | Temperatures continue to rise as the day goes on. Humidity will rise as well. | 10% |

Enguarde the Swordfish
As King K. Rool threatens Donkey Kong Island again, now that he's been revived in Super Smash Bros. Ultimate many residents have taken up arms to fend him off. However, as they gathered their troops, they discovered that the great Enguarde the Swordfish has died. Despite many attempted arguments, I was told that the 'the swordfish' was part of this name, and therefore had to stay.
Experts are baffled by how Enguarde died, after his body was washed up on shore, some believe that he may have died years ago, and nobody even noticed. When Donkey Kong was asked in Enguarde was present when he fought off the Tiki Tak Tribe or the Snowmads, all he could give me was a shrug. I would try and demonstrate, but I am not versed enough in the ways of the internet to accurately type that down.
Some experts believe that Enguarde died in 1999, shortly after coming into contact with Lanky Kong, in the Gloomy Galleon, as he bravely fought to restore peace to DK Island after K. Rool invaded. I decided to avoid talking to Lanky, and not just because he has a funny face. The guy genuinely creeps me so I actively avoid going near him. Enemies in the area like Kabooms, Oysters and Shuris also ran away as soon as I mentioned Lanky.
After doing some digging, I discovered that the famed Mario once met Enguarde and defeated a Croctopus with him. I attempted to get some comment from Mario about the death of his friend, but it turns out that Mario read the obituary I did on him some issues ago, didn't find it funny and was now ignoring me. I also informed that Mario intends to take me to court for some of the things I wrote.
Experts believe that given Enguarde died back in 1999, there is no point in giving him an actual funeral, as we are twenty years late, and it turns out that corpses left out in the sun for that period of time start to smell a bit. Instead, what was suggested is to hold some sort of commemoration ceremony for him, although on a completely separate island as DK Island now smells entirely of dead fish. At least K. Rool won't want to be invading anytime soon now.

TV was all-go in 2019, with every TV producer working 22 hours a day to make as much Mushroom Kingdom television as they could, regardless of quality. But now they're all a little overwhelmed, and have taken the month of December off. At the same time. There could have been no television this month, had it not been for Donkey Kong, who valiantly stepped in to take over TV production... and has themed it all around himself. View my top three shows for this Donkey Kong Christmas below, and decide for yourself which is better: DKTV, or no TV?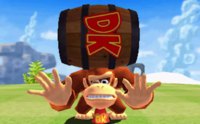 New: The Wacky World of Konkey Dong
All channels, 8pm
Genre: Comedy
Apparently, Donkey Kong commissioned, wrote, filmed and produced this series in less than two weeks, and it shows. The Wacky World of Konkey Dong comedy show starring Donkey Kong as his not-so-subtle clone Konkey Dong, a hapless ape who always finds himself in shenanigans, that derives most of its humour from unfunny slapstick and risqué jokes. And yet it still somehow manages to be one of tomorrow's top three shows. (This is why TV producers shouldn't all take holidays at the same time!)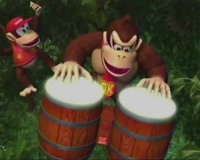 The Crazy Kongs: World of Music
Party Channel, 10pm
Genre: Reality show
Music-based reality show The Crazy Kongs has been a staple of the Party Channel's programming for a while now, and tomorrow's episode is supposed to be a Christmas special, although the degree to which a jungle can be made to look Christmassy is not high. The ragtag band of musical apes put together a selection of Christmas pop songs for a Christmas charity concert - but tensions are running high, or at least that's what the editors want you to believe.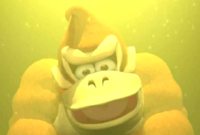 Donkey Kong is an Amazing Star who Everyone Loves
MKBC1, 9pm
Genre: One-ape talent show
This show - which I will call DKIAASWEL - makes Konkey Dong look like a well-thought out concept. It's basically just a talent show where Donkey Kong does various things like singing and dancing in front of an audience of Ukikis, who all love him anyway no matter what he does. It was literally filmed yesterday. I was there. It was awful. Please, never let Donkey Kong do what he wants again. Limit him to guest appearances on game shows. Please.
So? Did you make your decision between DKTV and No TV? Obviously the answer is No TV. Spend this December with your family, seated around the fireplace drinking hot chocolate and opening presents from each other as the snow falls lightly outside the window. Do not watch anything produced by Donkey Kong ever. It will ruin your Christmas. I am now going to spend the rest of 2019 in a deep hole. See you next year!

Written by:

MrConcreteDonkey (talk)
After a fiercely fought chart battle, with mud being slung from both sides, we can reveal at last that Waluigi has topped the charts this Christmas with Mistletoe and WAAA, beating out Wario's WAAA-st Christmas, which has stagnated at a tepid #6. The feud between the two began when Wario compared Waluigi's track to 'the feeling you get when you see garlic on the menu at a restaurant but it's actually garlic bread and not just a whole clove of garlic', which earned him widespread backlash from both Waluigi fans and the industry at large. Waluigi then stated that Wario was jealous, as his parody single was clearly the better of the two.
Elsewhere on the charts, it seems Ludwig von Koopa's run at #1 with Symphony No. -1 is finally coming to a close after well over a month at the top. Not only has it been overtaken by Waluigi, but it's also dropped a further eight places and landed at #10. It all remains to be seen whether Daisy and Toadette, who've been stuck at #2 for three weeks, can hold it out in the top spot until the holiday season is over.
Lakithunder's recent chart dominance, in the wake of his most recent album Buzz, also seems to be floundering: despite System Shock reaching a new high at #3, his other singles have been falling to somewhere around the middle of the top 40.
MUSHROOM KINGDOM SINGLES CHART - TOP 40
#
Artist
Single
Last Week
1
Waluigi
Mistletoe and WAAA
NEW
2
Princess Daisy ft. Toadette
Orange Christmas
= 2
3
Lakithunder ft. The Lakitu Bros.
System Shock
▲ 4
4
Funky Kong
Funky Khristmas ASMR (Remix)
▼ 3
5
Michael Bub-ulbé
Don't Let It Snow, Please
▲ 7
6
Wario
WAAA-st Christmas
NEW
7
The Skewers
Crushing
▼ 5
8
Lakithunder
Cloud 10
▼ 6
9
Kart Kountry
You're Like a B Dasher
NEW
10
Ludwig von Koopa
Symphony No. -1
▼ 1
11
Rosalina and the Lumas
Dance Star
▼ 8
12
Snow Spike Boys
Snowballing for You
▼ 11
13
The Luigi Memorial Community Choir
(We Need) Another Year of Luigi
▼ 9
14
Death ft. Luigi
Luigi is Okay
= 14
15
Boo Buddy
Sunken Ship
▼ 12
16
The Raccoons
Gliding Home for Christmas
= 16
17
Wonky
Secrets
▼ 15
18
Harry T.
Whacka's Bump Sugar
▲ 47
19
Davy Bones' Locker
A Davy Bones' Locker Christmas EP
▲ 24
20
Lakithunder
There's a Storm Coming to World 7
▼ 17
21
Ridley
Opening Kraid's Presents
▼ 19
22
Lakithunder ft. The Spinies
It Hurts
▼ 21
23
Tiptron
I'm Not a Clone (Maybe)
= 23
24
Michael Bulb-ulbé
I Just Want a Warm Christmas (Warm)
▲ 25
25
Rainbow Ride
Any Carpet Can Be a Magic Carpet
▲ 29
26
Bundt ft. Booster
You're Too Sweet
▲ 35
27
Flurrie
Up Yours!
▲ 51
28
Dashell
Running
▲ 31
29
Meta Knight
Mask On
▲ 34
30
Lakithunder ft. Pichu
I Shock Myself
▼ 26
31
Many Enimies
In the Clouds
▲ 36
32
Ernest Cline
Ready Santa One
= 32
33
Doopliss
All I Want for Christmas is You
▲ 39
34
Mini Mario and Mini Pauline ft. Mini DK
Don't Toy with Me
▲ 41
35
Solid Snake
Clap (Alerting the Guards)
▼ 22
36
Michael Bub-ulbé
I Need the Sun to Live, Please (Christmas)
▲ 43
37
World 6-4
Fire Bar
▼ 30
38
Captain Lou Albano
Say No to Drugs E.P.
▼ 27
39
Dr. Crygor and Mike
Turn It Up!
NEW
40
Francis
Shadowban Blues
▼ 28
All information accurate as of December 21st, 2019.