The 'Shroom:Issue 149/The 'Shroom Spotlight
From the Super Mario Wiki, the Mario encyclopedia
Jump to navigation
Jump to search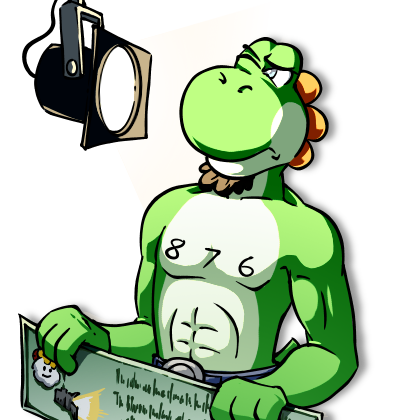 Hello readers of The 'Shroom, and welcome to Spotlight. Spotlight is a community project which aims to fix up the articles on the wiki which have issues. These issues can range from poor writing to a lack of images, to even just needing a credible source.
Welcome to August's edition of Spotlight. And this edition comes to you from a Yoshi876 is currently enjoying the 2019 Nintendo World Championships. Yes, it was streamed on June 8, but I have been busy the past few months so this is my first time catching it. I would also like to note that Hot Lips was fixed by WigglyWiggler (talk) on 'Shroom release day, so we managed to achieve 5/6 of our goals, rather than 4/6.
And once again we managed to complete 5/6 of our focuses, with only Chaos, who could still do with images from its appearance in the Olympic Games, still needing fixing. Beach Burt was created by FanOfYoshi (talk), although if anyone can get an image of the enemy that would be great; Miss Endless was written by Lord Grammaticus (talk); Power Flotzo (talk) added Palutena's Guidance to Roy (Fire Emblem); on a side note I'd like to thank Power Flotzo for putting the Spotlight template up last month as I was unavailable on the day to do so; Toadette the Achiever (talk) found a source for the claim on Pom Pom and Reviilime (talk) reuploaded File:Yoshifurystrike.jpg
And now onto this month's focuses:
| Article | Category | Focuses |
| --- | --- | --- |
| United Kingdom Quiz! | Wanted article | Mario & Sonic at the London 2012 Olympic Games had a lot of missions, a lot of which need articles. However, as someone from the United Kingdom, I am slightly biased toward this article, especially since I'd love to know what sort of questions are around. Please let me find out. |
| Poison Canal Cannon Run | Stub article | The article says what the level has, but not really what it does. How is Toadette meant to progress through here? It doesn't have to be massively detailed, something like Walleye Tumble Temple should work. |
| 10-Coin | Rewrite and expansion required | These coins give you ten extra coins, but these coins are only giving me nine extra ones. This is because it's missing information about 'Mario & Luigi: Superstar Saga, so get that information and maybe we'll start getting the ten coins we want. |
| Red Balloon | Citation needed | Balloons are vital items in the Donkey Kong series, and these red ones are the most given how they give an extra life. There's a claim that the Red Balloons featured in Donkey Kong Land III are based off of prototypes from Donkey Kong Country 3, however there's no source for this. Maybe it came from an interview, or something similar, but it'd be great if we could find it. |
| Cute Tail Fail | Image requested | I love cute things, especially those with tails, however we don't have any image from Mario & Luigi: Bowser's Inside Story + Bowser Jr.'s Journey to show how cute these tail-having enemies are. Let's grab an image from that level so we can all enjoy cute tailed things. |
| File:Green Rabbit.png | Image quality requested | The DS has small screens, and it looks like this picture was took on one of them. The rabbit looks quite squished, and a little blurry. We need that blurriness fixed up, and preferably capture an image where the rabbit doesn't look so squished. |
Now just before I leave you, I'd like to tell you about the NIWA Spotlight. This is a project being run by Alex95 (talk) and can be found in this paper's Pipe Plaza section. Much like this Spotlight, the NIWA Spotlight aims to fix up articles across various Nintendo franchises, that are all part of our NIWA group. I'd also like to tell you about unimplemented proposals. There are currently ten, which is two more than last month, that need to be implemented, some of which date back to 2015, so think of this as a continuous Spotlight goal until they're all completed.
Thanks for tuning in to the newest edition of The 'Shroom Spotlight! Be sure to turn up next month, where we'll be reviewing the progress on the above focuses. If you have any questions or suggestions about this month's set of the article focuses, then please get in touch through the dedicated topic if you have a forum account. If not, then please contact myself on my wiki talk page, but you are far more likely to get a quick response if you go through the forums. You are also welcome to make suggestions on what you think we could focus on in our next edition. Thank you, and good luck!