The 'Shroom
:
Issue 149/Fake News
From the Super Mario Wiki, the Mario encyclopedia
Jump to navigation
Jump to search

Editorial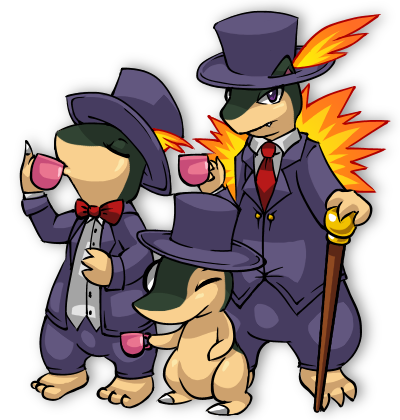 Welcome to the 149th - that's right, 149th edition of The 'Shroom, and the Fake News by association even though there's technically been a few less. 149 is an important milestone; much more important than 150, that's for sure! But for whatever reason, the rest of us have decided that Issue 150 is to be the 'special issue'. Pfft. What an unremarkable number. Either way, next month there'll be a load of fun stuff (and not just in the sub-team Fun Stuff) for you to read and get involved in!
Also remember that you can submit a special section anytime, and next issue would be a particularly good time to do so!
Section of the Month
FAKE NEWS SECTION OF THE MONTH
Place
Section
Votes
%
Writer
1st
TV Tomorrow
30
58.82%
Quizmelon
2nd
Obituaries
15
29.41%
Yoshi876
3rd
Travel Guide
6
11.76%
Koops
---
News Report
---
A death like this only happens every thousand years!
[read more]
Entertainment Features
---
Quizmelon tells us what to watch on the telly.
[read more]

Good evening, viewers, from MKBC6, with your weather forecast for the week ahead.
| Day | Predicted | Temperatures | Forecast | Chance of Precipitation |
| --- | --- | --- | --- | --- |
| Monday | | High: 75 Low: 52 | Overcast skies throughout the day. Winds picking up overnight. | 0% |
| Tuesday | | High: 74 Low: 51 | High winds expected. Slight chance of rain in the evening. | 30% |
| Wednesday | | High: 70 Low: 47 | Rain moves through the region starting early morning. Expect winds to grow stronger. | 70% |
| Thursday | | High: 76 Low: 54 | Storms starting in the afternoon. Some storms could bring damaging hail. | 90% |
| Friday | | High: 75 Low: 58 | Storms slowing but rain will continue. High winds are still a threat. | 100% |
| Saturday | | High: 76 Low: 60 | Rain stopping by midday. Cloud cover breaking overnight. | 60% |
| Sunday | | High: 75 Low: 58 | Chance for high winds, otherwise breezy with patches of sun. | 10% |
Temperatures will stay in the 70s this week as clouds and rain move through the region in the middle of the week. There will be a threat of damaging high winds throughout the week, so tie down anything outside that could blow away and be prepared for possible flooding. Next week is looking to be dry and very sunny, so any flooding that happens this week will get a chance to dry up.

This week, we are bringing you the forecast for Yggdrasil's Altar for all of your heroic smash viewing.
| Day | Predicted | Temperatures | Forecast | Chance of Precipitation |
| --- | --- | --- | --- | --- |
| Monday | | High: 76 Low: 57 | Stormy and windy. Bad weather for fighting. | 90% |
| Tuesday | | High: 80 Low: 67 | Sunny and warm. Good weather for fighting. | 0% |
| Wednesday | | High: 75 Low: 54 | Watch for lightning strikes. Bad weather for fighting. | 100% |
| Thursday | | High: 70 Low: 51 | Cloudy and still. Good fighting weather. | 20% |
| Friday | | High: 72 Low: 54 | Blindingly sunny and bright. Good weather for fighting. | 0% |
| Saturday | | High: 72 Low: 53 | Cloudy with high winds. Average fighting conditions. | 20% |
| Sunday | | High: 75 Low: 54 | Sunny and breezy. Good fighting conditions. | 0% |

Millennium Star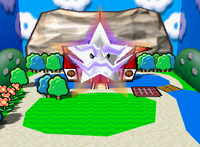 Hello 'Shroom readers! The old saying goes 'be careful what you wish for' and other sayings say that if you wish upon a star, then your dreams will all come true. Well, this month I did wish upon a star. You see, no one in the Mushroom Kingdom, or faraway places like the Beabean Kingdom, Sarasaland or Rogueport had died in the past month, and I desperately needed to get an Obituary written up. So, I looked at the stars, and wished that someone would die so I could write about it. Moments later, a large star fell from the heavens, and landed right in front of me. I thought it was a normal meteor strike, or just some Falling Debris that got lost, but instead it was the Millennium Star.
I shan't go into the details of the Millennium Star's death, as I might be a little bit more involved than I would like to admit, and I'd really rather not get into the semantics of whether I now count as a killer. After consulting some astronomers, like Rosalina and Russ T., they came to the conclusion that the Millennium Star had been falling for several millennia and I shouldn't feel too guilty. Does seem a bit like a cowinkydink though, doesn't it?
I attempted to ask Rosalina and Russ T. if they wanted to share any memories they had of the Millennium Star, but both told me that I couldn't use them to make up the majority of my Obituary. So, I had to go and ask others. Unfortunately, the Mushroom Genie had died several years back, I even did an obituary on him, and the Mushroom Jeanie instead moved the goalposts and further reduced my deadline for writing this.
The Millennium Star thankfully buried itself six-foot underground, so there doesn't need to be a burial ceremony, but anyone who wants to come and pay their respects can do so in my back-garden. Just to let you know, there is a 5-coin admittance fee, yes I know it's ridiculous but imagine having to pay to constantly access your home, and the body will be there until my new trampoline is delivered and I can put it over the massive crater that the Millennium Star made in my garden. Apparently, most Mushroom Kingdom gardeners don't like working around bodies, so if there are any gardening experts out there, do pop over, as I do need some advice on how best to cover this massive crater, besides a trampoline.

Your agonising month-long wait is over; TV Tomorrow is back for August and you can once again bask in the fresh delights of Mushroom Kingdom television. Where would the 'Shroom be without it? (Probably in exactly the same place, but that's not the point.) And so, as per usual, I am here to dish out tomorrow's best selection of fictional programming. Here they are: tomorrow's top three!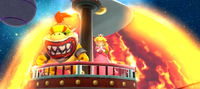 New: The Intergalactic Adventures of Jr. and Peach
Party Channel, 9pm
Genre: Sci-fi sitcom
This unique show is a spin-off from the popular sci-fi sitcom Saving the Universe, focused around the series' two most popular characters, Bowser Jr. and Princess Peach, and their adventures to do... something. In this pilot episode, Jr. accidentally saves Peach when her royal cruise spaceship plunges into the sun. Needless to say, this is not an entirely sensible show, but then again no sitcoms really are.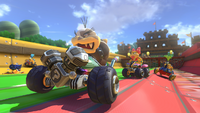 100 Greatest Mario Kart Moments: Part 2
MKBC Sports, 7pm
Genre: Clip show
When there's no actual sport to show, MKBC Sports resorts to filler programmes. But this one is actually quite captivating - an intriguing look back at the history of Mario Kart. This part only deals with moments 50-1 (100-51 were dealt with in Part 1) and includes great moments such as Rosalina coming from behind to win the inaugural Egg Cup and the Spiny Shell that caused chaos at Shy Guy Falls.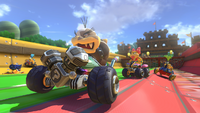 Princess Peach's Magical Adventures
MKBC Kids, 4.30pm
Genre: Children's
The princess and her glittery pink world are back for more magical adventures. Now infamous for its popularity with young girls - and also, perhaps concerningly, a growing community of adult males - the show stars the same Peach from The Intergalactic Adventures of Jr. and Peach (see above) but with a different, more sparkly art style, and also more kid-friendly plotlines. In tomorrow's episode, Peach loses her umbrella, and learns how to cope with loss.
Now that you have basked in the delights of TV Tomorrow, I'm afraid it will be another month-long wait until the next one. But don't worry! You can just print this column out and read it over and over again to yourself until you know it off by heart, as you surely do with all the other ones, and then I'll be back in September with another fresh batch of fictional programming. See you then!