The 'Shroom
:
Issue 138/The 'Shroom Spotlight
From the Super Mario Wiki, the Mario encyclopedia
Jump to navigation
Jump to search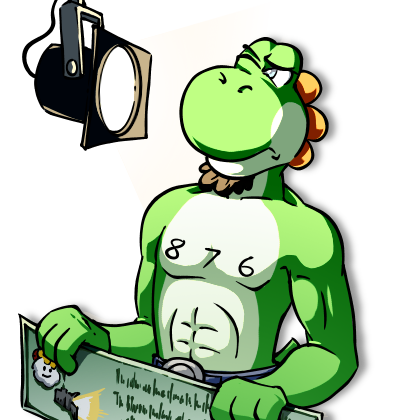 Hello readers of The 'Shroom, and welcome to Spotlight. Spotlight is a community project which aims to fix up the articles on the wiki which have issues. These issues can range from poor writing, to a lack of images, to even just needing a credible source.
Welcome to this September edition of Spotlight. Nights are certainly getting darker over here, but the weather is remaining surprisingly consistent. It's still reasonably warm, and considering that the UK prides itself on having unpredictable weather this is certainly a change.
Last month was an incredibly successful month. Wii Menu was created within hours by LuigiMaster123 (talk), Klevar was expanded by TheFlameChomp (talk) and Baby Luigi (talk), FanOfYoshi (talk) successfully reuploaded a better quality version of File:YNI Hootie the Blue Fish.png and Papercraft had a whole load of additional images added to it and was expanded. The users who worked on this were Doomhiker (talk), Yoshi the SSM (talk) and DyeffersonAz (talk). Mario jc (talk), Alex95 (talk), YoshiEgg1990 (talk) and L151 (talk) also worked to make sure all the grammar was correct among other things. Although some images are still missing, I would count this as a success.
Sadly, the name Goal Gate is still unsourced for Giant Gate and Figure Skating was untouched since the notice went up on it.
And now onto this month's focuses:
| Article | Category | Focuses |
| --- | --- | --- |
| Sumo Slap Stick | Wanted article | Mario Kart Arcade GP DX isn't the most well-covered game on our wiki for obvious reasons. However, it might still be possible to give this item that you throw forward an article. |
| Living Room Rally | Rewrite required | This Spotlight goal is easy... is exactly how this article is written. Why is the course easy? Is it because of a lack of obstacles, or course length? And then how does it get harder? We can't assume that our readers will automatically know this. |
| Victory Parade | Rewrite and expansion required | All of the other parade sections on this article mention in detail what happens on the parade, the Mario & Luigi: Paper Jam Bros. section is just one single sentence. Expand it out to more resemble the other sections. Bonus points if you can manage to rewrite the existing sections as well. |
| Nintendo 64DD | Citation needed | This console failed massively, in fact the company had 85,000 of them left unsold. Now, the article claims that only 15,000 of these were melted down for scrap. We need you to find out whether this is true, or whether someone just heard an internet rumour. |
| File:Going after Guppy.png | Image quality requested | Are we going after Guppy in this? The image is so blurry it's hard to tell that the black blob in the distance is Guppy. |
| Kingdom of Bask | Image requested | The Kingdom of Bask seems to be the hubworld for Mario Tennis Aces, and yet even though it's from a fairly recent game we still have no actual image of what the kingdom looks like. Maybe King Bask had to remove it entirely after it was attacked... |
Now just before I leave you, I'd like to tell you about the NIWA Spotlight. This is a project being run by Alex95 (talk) and can be found in this paper's Pipe Plaza section. Much like this Spotlight, the NIWA Spotlight aims to fix up articles across various Nintendo franchises, that are all part of our NIWA group. Now, Alex struggles to get people actually contributing to the project, so if you can, give him a hand!
Thanks for tuning in to the newest edition of The 'Shroom Spotlight! Be sure to turn up next month, where we'll be reviewing the progress on the above focuses. If you have any questions or suggestions about this month's set of article focuses, then please get in touch through the dedicated topic if you have a forum account. If not, then please contact myself on my wiki talk page. You are also welcome to make suggestions on what you think we could focus on in our next edition. Thank you, and good luck!