The 'Shroom
:
Issue 138/Palette Swap
From the Super Mario Wiki, the Mario encyclopedia
Jump to navigation
Jump to search

Director's Notes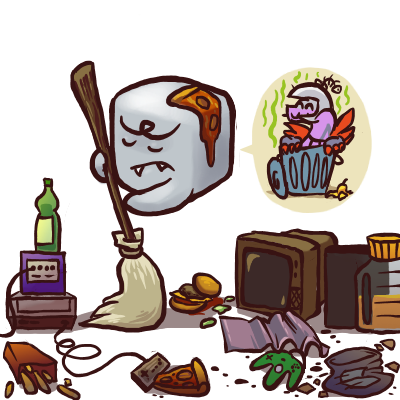 Critic Corner. Fun Stuff. Fake News. Strategy Wing. Pipe Plaza. And now, Palette Swap. When one person directs all six of these in a single year, the prophecy will be fulfilled. The 'Shroomfinity Gauntlet is complete!
By which I mean, hello, 'Shroom readers! It's Superchao here, directing Palette Swap for an issue! Honestly, Funky didn't really need to take it off, but hey, I was this close to running every subteam in the 'Shroom for one issue in place of the proper directors. Might as well finish the job and attain ultimate power over all 'Shroom, right? Right. Anyhow, no Ongoing Fan Projects this month, since TPG was consumed by the Poll Committee. He'll be fine, don't worry - I'll just fix him with a fingersnap
Well, next month Funky will be back, and I'll return to just being the subdirector. But with the Gauntlet completed, my reign shall be eternal! (Or until I decide to not run again.)
Section of the Month
Yoshi876 (talk) continues to crush it, with What's on the Box? claiming victory yet again. Good work, man!
---
What's on the Box?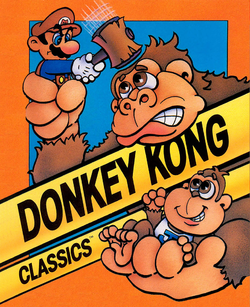 Hello readers, and welcome back to What's on the Box.
I don't have a lot of experience with the Donkey Kong series, although that's probably more to do with the fact that I have never beaten a first-world boss. Yes, I suck at the Donkey Kong series. However, that doesn't mean that I won't be examining their boxarts.
The game we'll be looking at this month is Donkey Kong Classics for the Nintendo Entertainment System. This game is a compilation of both Donkey Kong and Donkey Kong Jr. and the boxart shows this by having those games' central characters appearing on the boxart. That said, the boxart seems to draw more inspiration from Donkey Kong Jr. over Donkey Kong as Mario seems to be portrayed as the villain as he's hitting Donkey Kong with his hammer, while Donkey Kong looks fairly destressed. Thankfully, Donkey Kong Jr. seems to be enjoying the whole experience. I like how the text of the boxart works with the overall picture, with Donkey Kong's chin just about touching some of the text.
Overall, this is a very solid boxart. Although it is simplistic with only having the three characters on there, a story is still being told what with Mario attacking Donkey Kong. That said, the only issue I have with it is the portrayal of Mario as the villain. Although he is the villain in Donkey Kong Jr., his justification is seen in Donkey Kong and with that omission a first time player might not have any idea.