The 'Shroom
:
Issue 125/Pipe Plaza
From the Super Mario Wiki, the Mario encyclopedia
Jump to navigation
Jump to search

Director's Notes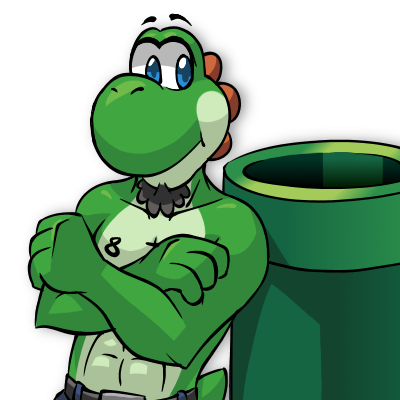 Hello readers! Welcome to Pipe Plaza, the 'Shroom team that's more summery than Summer itself. Don't believe me? Well, I've just had a massive rainstorm pass over, so what's more summery than that?
Sadly, we weren't able to capitalize on our third placement for Favourite Sub-Team last year, and instead fell down to joint last alongside Palette Swap. But no matter, we shall continue to rebuild Pipe Plaza, and eventually all of the other teams shall fear us. Fear us, I say!
Anyway, things to talk about. You may notice that we're missing a couple of sections this month. That's because LudwigVon (talk) has been incredibly busy, and thus unable to send them in. We look forward to welcoming him back next month. Also, despite it being one of my first ever sections, I have decided to stand down from Featured. Other than that, I hope you enjoyed the Awards ceremony, and I hope you continue to have a pleasant Summer.
Section of the Month
Pipe Plaza SECTION OF THE MONTH
Place
Section
Votes
%
Writer
1st
Forum Update
6
43%
MrConcreteDonkey
2nd
Upcoming Game
3
21%
Alex95
3rd
Retro Feature
2
14%
Yoshi876
---
Featured
Hello 'Shroom readers and welcome back to another edition of Featured, the only place this side of the Mario Wiki where you'll get news about the Mario Wiki Featured Articles.
Featured Articles
No new articles have been featured in the past month.
Re-Featured Articles
No new articles have become re-featured.
FA Nominations
There are no ongoing Featured Article Nominations.
Failed FA Nominations
No new articles have failed the featuring process.
Unfeatured Articles
No new articles have been unfeatured in the past month.
Unfeaturing Nominations
There are no ongoing Unfeature nominations.
Failed Unfeaturing Nominations
Two new articles have failed the unfeaturing process in the past month.
---
Thanks for reading see you next month, for more Featured Articles news.
Tip of the Month
As an autoconfirmed user, you are allowed four personal images plus one small (no taller than 35 pixels) image for your signature. Make sure your images aren't explicit, and it's recommended that you be careful with your personal information. Please also note that any personal images you upload must be used within 24 hours or they may be marked as unused images and deleted.
Upcoming Game
Fire Emblem Warriors
Developer
Team Ninja/Omega Force/Nintendo
Publisher
Nintendo
Platform(s)
New Nintendo 3DS, Nintendo Switch
Release date
Fall 2017
September 28th, 2017
Fall 2017

Genre
Hack-and-Slash (that's what this is called, right?)
Rating(s)

| | |
| --- | --- |
| ESRB: | - Rating Pending |

(though will likely end up "T")
Input

Nintendo Switch:

Joy-Con

Nintendo Switch Pro Controller

Nintendo 3DS:

Gamepad
Greetings everyone! Alex95 here to tell you all about an upcoming game and my thoughts about it. Fire Emblem Warriors has been teased for a while before its official reveal, and has been receiving a steady increase of screenshots and new info since. So let's take a look at it, why don't we?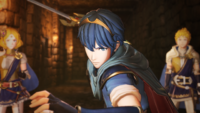 The initial reveal for the game showed Chrom pulling his sword, Falchion, from the ground, and I think that's all we got at first. Fast forward a few months later and we got the official name, Fire Emblem Warriors, as well as a few additional tidbits. Marth will be joining alongside his descendant on the battlefield, and the game also showed the two new protagonists for this adventure. Twins Rowan and Lianna were living a peaceful life in their nation, when suddenly, the Fire Nation unknown forces attacked and took their mother. With nowhere else to turn, they called upon heroes from the past to aid them. Perfectly acceptable Fire Emblem logic at this point.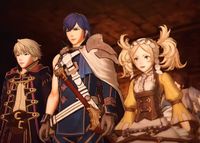 As you may have guessed from the "Warriors" part in the title, Fire Emblem Warriors is based on Koei Tecmo's Dynasty Warriors series. Since Hyrule Warriors released for the Wii U, there's been a sudden increase of support for the series: Hyrule Warriors received several DLC packs and even a second game, and Square Enix followed with Dragon Quest Heroes I and II (which I still think they should've called Dragon Warriors), with those games also receiving expansions and a compilation. Now it seems Fire Emblem is jumping onto the Warriors trend with a game on both the New Nintendo 3DS and the Nintendo Switch.
If you've played any of the aforementioned Warriors titles before, you probably know what to expect here. A small army, though you only control one character at a time, goes against hoards of enemies to take bases and defeat commanders. The more you fight, the more you level up and the more rewards you can gain. The Fire Emblem part of this comes into play in a few different ways. First, you can switch between main characters on your team, a mechanic introduced in Hyrule Warriors Legends (as far as I know) and fits perfectly well with the Fire Emblem series mechanics, allowing you to cover areas quickly. A unique mechanic is the "Pair Up": introduced into the Fire Emblem series through Fire Emblem Awakening, the Pair Up in Fire Emblem Warriors allows two characters to team up during a special attack and wipe out many enemies around them. The graphics in the game also appears to be based on how the cutscenes from Awakening and Fates were done, drawn by Anima. Also coming in from Fire Emblem are support scenes. Not sure how those work at the moment, but it sounds like it'll be how it has been in recent titles. I, honestly, would love to see the conversations between Marth and Chrom or Robin and Corrin. Some of the cutscenes were shown off earlier, showing Marth & Chrom and F!Corrin & Ryoma. Still not sure how they are activated, but the conversations seem more like moral support between the two, consisting of one or two lines for each character.
Speaking of characters, the Warriors series is known for having a lot! And Fire Emblem Warriors, at the moment, disappoints. Characters revealed so far are Marth from Fire Emblem: Shadow Dragon; Chrom, male Robin, Lissa, Frederick, Lucina, Cordelia, and female Robin from Fire Emblem Awakening; and female Corrin, Ryoma, and Xander from Fire Emblem Fates; along with the two original heroes. Certainly impressive, but it feels restrictive, though it makes sense from a development stand point. Shadow Dragon was the first game in the Fire Emblem series and Marth is a popular character among the Smash community, Awakening was the game that brought Fire Emblem from the brink of extinction, and Fates is the popular one. It seems the developers are afraid of alienating fans who aren't familiar with anything before Awakening or outside of Smash, with characters like Roy and Ike nowhere to be seen despite being popular characters among Fire Emblem fans in Smash. Hopefully, more is revealed about the game before release and shows characters from other games. Chrom and Tiki will also be getting amiibo of their own, with Tiki's possibly hinting at a playable role, and Roy's and Ike's (along with the others) Smash amiibo are compatible, so what could this mean?
Thoughts
Hyrule Warriors was fun, but I quickly got board of the repetitive gameplay. I think I'll feel the same way about Fire Emblem Warriors, but, overall, it still looks like a great game. The only thing that'll sell me on this game is more characters from pre-Awakening, and it's not just me that feels that way. Also, I hope they don't restrict them to DLC… If you want to find out more, check out the pages on the Fire Emblem Wiki, or the pages on Serenes Forest. The game releases in Fall of 2017 in the Americas, so there's not long to wait if you want the game, though the dual-release on the N3DS and Switch is a little strange. Which one will you get? Faster processing and HD graphics, or dual screen functionality (or is the choice based on what system you have at the moment)? And let me know what game you want me to cover next!
Poll Committee Discussion
Written by: Lord Bowser (talk)
Greetings, 'Shroom readers! This is Lord Bowser here with Poll Committee Discussion for you all! There's a decent bit of news on our end, so I hope you enjoy!
Poll Committee News
As you've likely heard by now, the Eighth Poll Committee is now fully in session, with myself as Chairperson and Henry Tucayo Clay (talk) as Vice-Chairperson. We have a big project set to be shown next month for you all; an analysis of the Awards Ceremony polls! This will be its own special section in the next issue of The 'Shroom, so make sure to watch for and read it!
The Pyro Guy (talk) is also working on a banner for the Committee this year, as he did for last year's Committee. We're excited to see how it'll turn out! Make sure to check our page for it as soon as it's up!
Archives
What is your favorite game in the Mario & Luigi series? (mario2018 and Tucayo (talk), July 2nd, 2017)
What is your favorite game in the Mario & Luigi series?
Mario & Luigi: Superstar Saga 18.6% (415 votes)
Mario & Luigi: Partners in Time 10.04% (224 votes)
Mario & Luigi: Bowser's Inside Story 36.17% (807 votes)
Mario & Luigi: Dream Team 13.94% (311 votes)
Mario & Luigi: Paper Jam 7.31% (163 votes)
I have never played any of them. 13.94% (311 votes)
Total Votes: 2,231
Besides the games, what is your favorite Mario-related media?
The Super Mario Bros. Super Show! 24.85% (426 votes)
The Adventures of Super Mario Bros. 3 14.12% (242 votes)
Super Mario World (cartoon) 8.87% (152 votes)
Super Mario Bros. (movie) 4.55% (78 votes)
Super Mario-Kun 6.88% (118 votes)
Nintendo Adventure Books 3.79% (65 votes)
Other 8.4% (144 votes)
I'm not interested in other Mario media. 28.53% (489 votes)
Total Votes: 1,714
Favorite genre in Mario games. (Tucayo (talk), July 16th, 2017)
The Mario franchise has touched on different genres throughout its history. Which one do you like best?
2D Platformer (Sidescroller) 13.49% (276 votes)
3D Platformer 41.74% (854 votes)
RPG 24.34% (498 votes)
Party 3.81% (78 votes)
Racing 10.8% (221 votes)
Sports 1.47% (30 votes)
Puzzle 0.88% (18 votes)
Fighting 1.71% (35 votes)
Edutainment (Educational) 1.22% (25 votes)
Rhythm 0.54% (11 votes)
Total Votes: 2,046
What are your opinions on the New Nintendo 2DS? (Stargazing (talk) and Shokora (talk), July 23rd, 2017)
What are your opinions on the New Nintendo 2DS?
It's a great addition to the Nintendo 3DS family, and I'm willing to buy one. 12.03% (181 votes)
It looks pretty good, and I'll think about buying one. 12.62% (190 votes)
It looks decent and has potential, but there are other Nintendo products that I'd rather buy. 33.55% (505 votes)
It's not important to me at all. It's an unnecessary addition, or too late in the 3DS's lifetime. 27.04% (407 votes)
I don't have an opinion. 14.75% (222 votes)
Total Votes: 1,505
What is your favorite kind of Mario merchandise? (Lord Bowser (talk), July 30th, 2017)
What is your favorite kind of Mario merchandise?
General accessories (school supplies, wallets, watches, etc.). 3.36% (49 votes)
Game accessories (game cases, styluses, stylised Wii remotes, etc.). 18.7% (273 votes)
Collectible games (Super Mario Chess, Nintendo Monopoly, etc.). 6.1% (89 votes)
Clothing (T-shirts, jackets, shoes, etc.). 10.75% (157 votes)
Figurines (plastic figures, keychains, amiibo, etc.). 25.62% (374 votes)
Food (Mario-sponsored gummies, candies, meals, etc.). 2.05% (30 votes)
Toys (Mario Kart playsets, plush toys, etc.). 22.74% (332 votes)
Posters (stickers, wallpapers, etc.). 3.97% (58 votes)
Miscellaneous items (house supplies, backpacks, ornaments, etc.). 1.23% (18 votes)
Other. 5.48% (80 votes)
Total Votes: 1,460
How did you find the MarioWiki? (Baby Luigi (talk), August 6th, 2017)
How did you find the MarioWiki?
I discovered it while using a search engine. 76.59% (1,292 votes)
A friend informed me about the site. 2.96% (50 votes)
It was linked or mentioned on an external website or article. 10.55% (178 votes)
I saw a video that referenced the site. 0.89% (15 votes)
I saw it on social media, such as the wiki's Twitter page in my feed. 0.41% (7 votes)
Other. 8.6% (145 votes)
Total Votes: 1,687
Analysis
What is your favorite game in the Mario & Luigi series? -- From the beginning, Bowser's Inside Story held a strong lead over the rest of the series, and continued to hold it throughout the entire run of the poll. For obvious reasons, it got my vote as well, though I also enjoyed Partners in Time. Coming in second was Superstar Saga; many of our voters still seem to enjoy the original the most, and I can't blame them with how quirky it is. About 14% of our voters have never even touched the series, however; you really ought to! They're quite charming and silly games, and I'm sure you wouldn't be disappointed.
Besides the games, what is your favorite Mario-related media? -- While a significant portion of our voters weren't particularly interested in Mario media, those who were seemed to take a liking to the franchise's first show, The Super Mario Bros. Super Show!. Indeed, the cartoons seemed to be the favorites among the voters, gaining a majority of the total votes combined. I personally never got into them, but I can see their appeal; they're creative, quirky, and fun, definitely much more experimental than today. Too bad Bowser's design in all of them is a pity...
Favorite genre in Mario games. -- 3D platformers were the clear fan favorite here, quickly surpassing even the staple 2D platformers and the cult classic RPGs. RPGs still took home a nice sum of votes in second place. My vote went to the RPGs, as it's quite difficult to top gems such as Paper Mario: The Thousand-Year Door and Mario & Luigi: Bowser's Inside Story, but I still enjoy the 3D platformers quite a bit, and they definitely would've been my second choice. I'm still genuinely surprised at the fact that the edutainment games received any votes, let alone 25...
What are your opinions on the New Nintendo 2DS? -- Most of our voters seem to support the New Nintendo 2DS, while a little over a quarter of them seem to disapprove. I'm one of those who don't feel that it's very necessary; after all, it's a downgrade of an upgrade of a system that's over 6 years old now. There's a whole bunch of variations that all kind of seem redundant, even moreso when you consider the fact that the 3DS, while still a strong seller, is getting old. I'm glad that they made the New 3DS more affordable this way, but I feel like they could've simply cut the price of the original instead of manufacturing an entirely new device.
What is your favorite kind of Mario merchandise? -- This poll was a little bit more divisive, with figurines only maintaining a slight lead over toys and game accessories. My vote went to clothing, as I own some Mario-series clothes that I love to wear, and like hunting for more of them, though figurines are a close second; amiibo are definitely a hot commodity. I never really bought many Mario toys or playsets, minus a few plushies that were given to me as gifts, but I can definitely see why they were a favorite; they for sure look fun!
How did you find the MarioWiki? -- As expected, the vast majority of our voters found us through search engines. Whether it was looking specifically for a wiki about Mario, or stumbling upon us while looking up Mario facts, search engines are the reason why many of our voters is here right now, myself included. At a very distant second place was having the wiki linked or mentioned externally, which is good, as it means our advertising is working and people are getting interested in us because of it.
And that's it for this edition of Poll Committee Discussion. Stargazing (talk) will be taking the reins next month, so stay tuned for them. Also, make sure to look at our Awards Analysis special section next month! Thanks for reading!
Retro Feature
Written by: Yoshi876 (talk)
Hello, readers! I'm your Spotlight manager and Pipe Plaza Director, Yoshi876. Welcome to Retro Feature, a section in which I delve deep into the archives to bring you the best blasts from the past. As many of you may have noticed, we've been celebrating our Anniversary this past month, and have had a massive awards ceremony, as per usual. And, as per usual, following this event we get lots of reflections, and commentaries, and the like. Well, that's what I bring to you this month, one of Tucayo's recaps of an anniversary of a year that's already passed.
HI, London! Errr... MarioWiki! I'm your musical Statistics Manager, Tucayo, and I am here to bring you this year's Awards Recap.

This year's preparations began in January, with our largest Awards Committee so far. Around 30 people signed up to help in this year's ceremony. They were all directed by Turboo, who took over Ralphfan's role after the complications that arose with the latter. Turboo was aided by Awards Sub-Director, SMB; and Official Organizer, Superchao.

The first thing the AC had to deal with was the number of the awards. After much discussion, they settled for an unprecedented reduction in the Mario Awards, bringing them down to 25 awards. Fail and Userpedia Awards got a 5-awards increment, leaving them at 15 and 10, respectively, and 'Shroom stayed at 10.

There is always controversy surrounding the AC and this year was no exception. Former Awards Director, Ralphan, and FireEevee were kicked out of the AC for their misbehavior and lack of cooperation. Pyro and Skulldug (the latter of whom wasn't in the AC) were banned from getting tokens and prizes after cheating in the Mafia game.

Now to the actual ceremony. This year's hosts were Turboo, SMB, Gamefreak and myself; hosting the Mario, Userpedia, Fail and 'Shroom Awards, respectively. The ceremony kicked off at 4:00 pm (ET) with the Userpedia Awards. Highlights of the ceremony included SMB's intro, telling the story of Userpedia; a great U1 script by Snack; a satiric and cameo-filled script by MCD, where he revealed New Sherlock Mario had shockingly won Best Written Fiction; SMB's second Lifetime Achievement Award and much more. For the full details you'll have to check the forum.

Next were the amazing 'Shroom Awards, hosted by the moth handsome Koopa around. There were also many surprises and memorable moments, like SMB yielding his Favorite Main Team writer award or General Bob-Omb winning Favorite Fun Stuff Writer. But there were also the predictable results, like Fake News winning Favorite Sub-Team for the third year in a row. Presenters included Crocodile Dippy, with a detailed S1 script; MCD, whose presentations would have killed you had you not been looking; Bop, who presented two awards; SMB, presenting the final award; and more great presentations.

Then came the Fourth Fail Awards, hosted by Gamefreak75. Some of the presenters were Uniju, Toadbert, Paper Jorge, Edo and more. Some of this year's unlucky winners were Birdo, Goombario, Wendy O. and Mario Pinball Land. As always, it's nice to see you're not the only one who hates a certain character/game. Or worse, when you see some of your favorite games/characters are really hated. I'm talking about Mario Golf.

To close the night we had the main attraction of the night, the Sixth Mario Awards. After letting five awards go, like Favorite PM Partner, we were up for a two-and-a-half-hour ceremony packed with great scripts and some shocking results. And for the first time ever, two Favorite Game presentations! And of course, the classic bloopers. These votes covered everything from Waluigi's Taco Stand to the "fucking dragon from SMG2." But of course, no ceremony is complete without the never-ending rants against new games. Super Mario Galaxy 2 won a bunch of awards, including Favorite Game, which cause a massive uproar by some users. Well, that's the way things are.

But the awards festivities weren't limited to the ceremonies. We also had four other events. The Team Fortress 2 tournament, won by Garlic Man, Gorden and S-Y; the Mario Kart 7 tournament, won by Lakituthequick; the traditional Guess The Results, won by Gamefreak; and the Mafia game, won by the Werewolves, Mafia, 3K and MM15. SonicMario won the Overall MVP. As of now, prizes are being picked by those with enough tokens. No one better take the two remaining iTunes cards, I want one

To end this recap, this month we have the first ever Awards Director Election, so be sure to vote and participate in the debates. That's all from me, thanks to everyone who made this Awards possible, and be sure to check out the AC Commentaries. BYE!
The 'Shroom Report
HI, everyone! I'm your natural Statistics Manager, Tucayo, here with your monthly dose of The 'Shroom Report! As a reminder, in the Milestones section, writers will get mentioned every 10 team sections and every 50 overall sections, teams will get mentioned every 100 sections, and The 'Shroom will get mentioned every 500 sections. All information is based off our Historical Sheets. This section will cover Issue 124.
Tables are based off the End-of-the-Year Awards tables, so credit goes out to Crocodile Dippy (talk).
With this last issue, I have passed my good friend Super Mario Bros. (talk) for most Staff/Main sections. I have to say, it's only because SMB retired from the community a year ago, otherwise he would have kept on writing sections!
'Shroom Trivia
Andymii (talk) holds the record for most SOTM wins, with 27.
Anniversary Announcements
Written by: Lakituthequick (talk)

"'We Still Don't Like Sticker Star' – A motto for our generation."
Goood daaay! This is Lakituthequick reporting the latest Anniversary Announcements to you, from the comfort of my own home.
The Bessie Basses
The Mario Awards 2017 are over! Last week, 60 presentations have been shown, revealing the best and worst of the Mario series and the best of our community! Congratulations go out to the presenters and winners!
If you haven't already read them, go read them now! They are great!
It is also almost the end of the Awards season! Tournaments are slowly wrapping up, and tokens are being hand out.
Several months back, we mentioned that Steam changed the way it handles the purchase and gifting of items, mostly rendering our use of it unusable. We are currently still figuring out the best way to counter that.
We are hoping that Humble Bundle will be a good source of items if they have a summer sale, but otherwise we may have to change how prizes work, and be more dependent on monetary donations and gift cards.
Prizes already in our catalogus from last year are not affected by this.
Tournaments
Since last month, the tournament scene hasn't sat still! Let's see what's new. The hard deadline for all tournaments is the end of August.
Anniversary Scavenger
Lakituthequick
A scavenger hunt for stickers of items related to the Mario series and a few closely related items. These items are hidden in several ways within the forums and a few related areas.
Only a few stickers remain to be hidden, and on

25 August

the sign-ups will close! On

30 August

the hunt will end.
Season
Forum topic
Art Contest
Hypnotoad
The voting for the best art submission has ended on

12 August

, and the results are in! Congratulations to Uniju on winning the beginner tier, Turboo on winning amateur and to The Pyro Guy for winning the experienced tier! Read the full details in the special section in this edition of The 'Shroom.
Finished
Forum topic
Guest section
Awards Mafia 6
GBAToad
Superchao
The game has proceeded into the eight night, and in this time ten people have been eliminated, two of whom were Mafia!

6 July

Forum topic
The Binding of Isaac: Afterbirth
DragonFreak
The tournament has concluded, and we can congratulate DragonFreak on her win! Following up are Lord Bowser and Meta Knight!
Finished
Forum topic
Guess the Results
Forum topic
As the Awards Ceremony has happened, it is not possible to enter this game anymore. The results are still being tallied at this moment, so keep an eye out for the results.
The Legend of Zelda: Breath of the Wild Photo Hunt
GBAToad
No news for this tournament since last month, so let's reiterate what this one is about.
Very much alike to one of the main missions in the game, in this tournament you will search for 12 locations based on 12 pictures, and you in turn take pictures of them as well. Points will be awarded for each photographed and each named location, as well as finding it first and for making an original picture of it.
Forum topic
Mario Kart 7
Stargazing
The finals have been raced and the winner is in! Congratulations to Cirdec for winning the Mario Kart 7 Tournament this year! Running up are Turboo and Alex95!
Finished
Forum topic
Mario Kart 8
Lakituthequick
Freakworld
The finals have been raced and we can congratulate Infinite8 for winning this year's Mario Kart 8 Tournament! Following up are Cirdec in second and a shared third place is for Ninelevendo and Crackin355!
Finished
Forum topic
Mario Kart 8 Deluxe Battles
Freakworld
Lakituthequick
The finals have been battled and Cirdec has come out as the winner of the first ever Battles Tournament in Mario Kart 8 Deluxe! Luigi 64DD and Lakituthequick are following up. Congratulations to all!
Finished
Forum topic
Mario Awards Killing Game I
Lord Bowser
This game ended last month, and next month's edition of The 'Shroom will feature a special section from the host detailing his thoughts.
Finished
Forum topic
Minecraft Games
Uniju
Toadbert101
This tournament will be played between 25 and 27 August. Specific times are to be determined.

25 August

to

27 August

Forum topic
Pokémon Sun and Pokémon Moon
Meta Knight
Palkia47
The game is in the fourth round at the moment of writing.

21 June

to

15 July

Forum topic
Super Smash Bros. for Wii U
Alex95
Only one battle remains to be battled! After that, we will know how is the winner of the Super Smash Bros. for Wii U Tournament this year.

10 July

Forum topic
The Awards season is slowly coming to an end now, but no fear, I'll be here next month once more to tell you about the final happenings for this season!
Until then, I want to wish you a happy month, and good luck if you are going back to school or work begin September!
See you next time! Bye!
All information above was correct as of 17 August 2017.