Slimenia
From the Super Mario Wiki, the Mario encyclopedia
Jump to navigation
Jump to search
Slimenia

Slimenia as it appears in Fortune Street
Appears in
Itadaki Street DS
Fortune Street
Availability
Unlocked by beating Slimenia in Alena's scenario in Tour mode (Itadaki Street DS)
Default (Fortune Street)
Description
"A teardrop-shaped island that could only bring tears of joy, as its slimy inhabitants live in a fun-filled, gooey paradise!"

Music sample
Itadaki Street DS:
Fortune Street:
"Yoshi. Yoshi! (Those slimes look like yummy pieces of candy. I'll try not to eat any!)"
Slimenia is an island home to a large population of Slimes, as well as numerous other monsters. It is the main location in which the Slime series of the Dragon Quest franchise takes place. It appears as a board in Itadaki Street DS and Fortune Street. The island itself is based off of Slimenia's appearance in the Game Boy Advance title Slime Morimori Dragon Quest: Shōgeki no Shippo Dan, as its depiction varies between entries in the series. Multiple locations from the game can be seen on the island from above, including Surlun Town, Nokke Woods, Nikomisky Mine, Ul-Otter River, Cara Cara Pool, Mt. Merazoma, and the Slime Tail.
History
[
edit
]
Itadaki Street DS

[

edit

]
In Itadaki Street DS, the board is in the outline of a Slime with a line of shops stretching across the middle to make its mouth. The part of the board that makes up the eyes is isolated from the rest of the board and is only accessible by using the warp squares. This part of the board also features its only cannon square. In Tour mode, the player needs to come in first place against Bianca, Alena, and Pudding. Beating the board unlocks its use in Free Play mode, unlocks Bianca as a possible opponent, and gives the player's avatar the bunny ear band and bunny suit clothing items.
Squares
[
edit
]
Type of square
Number of squares
Bank
1
Shop
36 in 6 areas
4 in each area
Spade suit
2
Heart suit
2
Diamond suit
2
Club suit
2
Chance
2
Break
1
Vacant plot
1 in an area
Boon
1
Boom
1
Casino
1
Die
2
Warp
4
Broker
2
Cannon
1
Total
61
Starting values, salaries & targets
[
edit
]
The salaries in this board are as follows:
| | |
| --- | --- |
| Starting value | 2000 G |
| Basic salary | 300 G |
| Promotion bonus | 150 G x promotion |
| Default target | 20000 G |
Fortune Street

[

edit

]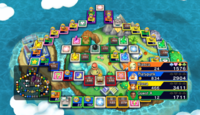 In Fortune Street, various monsters were added in this version of the board. Multiple She-slimes, Lime slimes, and Men o' war can be seen on the main part of the island, while a Golem and a Dracky are seen on the Slime Tail near the Plob's headquarters. In easy rules, the board makes an outline of a Slime with 2 circles of 4 shops to make eyes. In standard rules, the board is identical to its Itadaki Street DS layout. In Tour mode, the player has to get at least second against Slime, Stella and Carver to beat the board.
Squares
[
edit
]
Type of square
Number of squares
Standard rules
Easy rules

Bank
1

Shop
36 in 6 districts
4 in Districts A-F
24 in 8 sections
Max length: 4

Spade suit
2
1

Heart suit
2
1

Diamond suit
2
1

Club suit
2
1

Venture
2
0

Take-a-break
1
0

Vacant plot
1 in District F
0

Boon
1

Boom
1
0

Arcade
1

Roll-on
2

Backstreet
4
0

Stockbroker
2
0

Cannon
1
Total
61
34
Starting values, salaries & targets
[
edit
]
The salaries in this board are as follows:
| | Standard rules | Easy rules |
| --- | --- | --- |
| Starting value | 2000 G | 1800 G |
| Basic salary | 300 G | 500 G |
| Promotion bonus | 150 G x promotion | 100 G x promotion |
| Default target | 20000 G | 12000 G |
Gallery
[
edit
]
Itadaki Street DS

[

edit

]
Fortune Street

[

edit

]
Names in other languages
[
edit
]
Language
Name
Meaning
Japanese
スラバッカ島
Surabakka-tō
"Surabacca" Island; portmanteau of「スライム」(Suraimu, Slime) and「ばっか」(bakka, merely), referencing the island's population consisting almost entirely of Slimes
Spanish
Limenia
Combination of the English name and "limo" (slime)