The 'Shroom:Issue L/Pipe Plaza
From the Super Mario Wiki, the Mario encyclopedia
Jump to navigation
Jump to search
Hey guys! Welcome to Issue L's Pipe Plaza! This month is a great one for The 'Shroom, with the Spotlights, the Section of the Month and the feedback survey; lots of new stuff going around! More related to the Pipe Plaza, a new section – Anniversary Announcements (written by Ralphfan) – has been created, make sure to read it to stay up to date on the MarioWiki's Sixth Anniversary!
Now please take time to enjoy this picture!
Anyways, we still have a few spots open in the Pipe Plaza so make sure to sign up: as always, my Pipe Plaza description page is still up – it has many interesting facts about the Pipe Plaza that you may not know. Aside from that, have a great Issue L!
Tip of the Month: Always try to get involved with the community! If you're an active member of the wiki with good contributions, it will help you gain credibility with the administrators so they know they can trust you.
First of all, I apologize for not writing my section last month. I was very busy with homework both from school and German course, aside from personal stuff. I'd also like to say I won't be able to include the letter "L" in my section, since Iwata did not announce a new Luigi's Mansion game. WHY NOT, IWATA? :'( I'll sort of deviate from my original plan and write not only about Mario Kart 3DS and Paper Mario 3DS but also about the newly announced Mario & Sonic at the London 2012 Olympic Games (yay for the letter L :D)!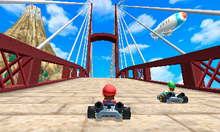 Mario Kart 3DS
Mario Kart 3DS will be the ninth Mario Kart game overall, third on a handheld. Not many details about it are known at the moment, since more will be revealed at this year's E3, in June.
It is scheduled to be released sometime in 2011 with, as Nintendo says, many elements new to the Mario Kart series. Only two characters have been confirmed to appear in MK3DS. As with most games, those are the well-known brothers Mario and Luigi.
The screenshots reveal three tracks: an unnamed course featuring Peach's Castle, a mountainous course with pipes, boulders and a forest and Wuhu Island from Wii Sports Resort.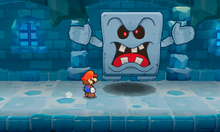 Paper Mario 3DS
Paper Mario 3DS, the fourth Paper Mario game, will bring back the original RPG gameplay from the N64 and GCN installments. It will also be the first title of its series to be released for a handheld.
Partners will return, replacing the Pixls from Super Paper Mario. One of them is assumed to be a Chain Chomp, as seen in the game's screenshots. Confirmed enemies include Goomba, Koopa Troopa, Pokey and a crowned Monty Mole. A screenshot shows Mario and a Wiggler walking together in a forest, indicating the Wiggler may help Mario instead of fighting him.
According to the Official Nintendo Magazine in Europe, "stickers" are a major element in gameplay. They will appear in puzzles and will also give power-ups to Mario. One can be seen outlined in another screenshot, suggesting players will be able to move them using the stylus.
Confirmed locations include a town similar to Toad Town, a volcano similar to Mt. Lavalava and an area similar to Pleasant Path from the first Paper Mario.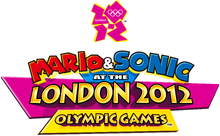 Mario & Sonic at the London 2012 Olympic Games
M&S London 2012, the third installment of the Mario & Sonic series, will be released for the Nintendo Wii and the Nintendo 3DS. It has been confirmed that many sports, such as football/soccer and equestrian, will debut in this game, while the 3DS version is expected to feature over 50 Olympic themed events. While twenty characters will be playable in the game, only three have been confirmed to appear until now: Mario, Luigi and Sonic.
---
Starting next month, I'll just write updates on the games currently in development until Nintendo announces another game.
Also, as you may know, the E3 will be held in Los Angeles from June 7th to June 9th. Considering the deadline for sending 'Shroom sections will probably be June 11th (one week before it's released), I will try to delay writing my section as much as I need (and can) so that I can include E3 info about the four games I've covered here until now (excluding Sports Mix, which was already released).
And that's all for May! I hope you all enjoyed this month's section!
PipeProjects Seeking Contributors (Yoshiwaker (talk))
There are quite a few new PipeProjects this month that need more people to join. I'm here to draw your attention to them and see if you can help!
First, the Super Paper Mario PipeProject, started by JayRed2486. This will add more information to articles pertaining to Super Paper Mario. This PipeProject currently has 3 contributors.
Next, the Mario Racing PipeProject, by MARIOMAN. This will add information to articles such as karts, tracks, etc. This PipeProject currently has 2 contributors.
Third, the Mario Page PipeProject, started by Superfiremario. This will expand and clean up the Mario Page. This PipeProject currently has 2 contributors.
Last, but not least, the Paper Mario: The Thousand-Year Door Page Construction PipeProject(what a long name!), started by Al24136. This will make the Paper Mario: The Thousand Year Door article eligible to become a Featured Article. This PipeProject currently has only 1 contributor.
Hey guys! RAP (talk) is taking the month off, so I'm filling in for him instead!
The last month has been a pretty successful one for NIWA – a few notable things happened:
NIWA welcomes the addition of not one, but two new members – wikis dedicated to two Japanese Nintendo series; Fire Emblem and Starfy.

The first wiki is the Fire Emblem Wiki! This wiki, with fewer than 500 articles on the entire Fire Emblem series, joined NIWA on April 20th becoming the 17th member! Visit them here!
8 days after the Fire Emblem Wiki, NIWA welcomed a new member; the Starfy Wiki (with over 600 articles on The Legendary Starfy series)! The Starfy Wiki became the 18th member on April 28th, and can be visited here.

Sadly, several NIWA staff members have retired. Make sure to wish them bon voyage over at the NIWA forums.
And that's all the news for NIWA this month!
Current ongoing Mafia games: MW Werewolf: Take III – Stooben Rooben Nintendo Mafia – New Super Mario Super Mario Sunshine Mafia – Yoshiwaker
Anniversary Announcements (Ralphfan (talk))
Welcome to the first edition of our newest section, Anniversary Announcements! The Mario Awards are an annual festival held in August to celebrate our Wiki's anniversary. We are currently in the planning stages of our fifth awards show. Each year, we form an Awards Committee of 11 to 15 members in late March. The committee then meets every Friday night in the chatroom for two hours to pick the awards that users will be able to vote on as well as the nominees. This year, we have 30 awards for the Mario series. We also have 15 Fail Awards that showcase the worst of the Mario series. We have 10 'Shroom Awards to celebrate the newspaper you are reading right now and we also have 5 Userpedia Awards for our fanon site.
Here is the list of the awards we have chosen for this year.
You can get involved by visiting this board (yes, this one) on the forums. It includes all sorts of info and announcements. You'll definitely want to check here as we go through the next few months because there will be lots of surprises!
General calendar: June 13 – Polls open July 1 – Sign-ups open to present awards July 13 – Polls close, results tallied and sent to presenters August 5 – Presentations due August 12 – Awards show!
Over the next few months, you'll be hearing a lot about presentations. Users can sign up for presentations beginning on July 1. In a presentation, a user reveals the results of an award by either writing a story, making a comic or using some other digital medium. Last year included a slideshow and a playable game!
There will be lots of info released in the coming months to be sure to check back next issue!
Hello everyone, welcome to Featured!
This month has been an excellent one – the first two articles of the year have been featured! What could these articles be, you ask? Well, none other than:
Unfeatured recently were:
And there have been no failed nominations. Anyways, thanks for reading Issue L of the Pipe Plaza and have a great month!