The 'Shroom
:
Issue 171/The 'Shroom Spotlight
From the Super Mario Wiki, the Mario encyclopedia
Jump to navigation
Jump to search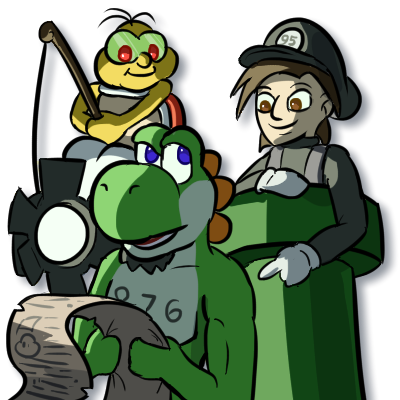 Hello readers of The 'Shroom, and welcome to Spotlight. Spotlight is a community project which aims to fix up the articles on the wiki which have issues. These issues can range from poor writing, to a lack of images, to even just needing a credible source.
How are we already almost halfway through the year? Ah well, another month, another Spotlight! Hope you are all staying safe and having fun during this PRIDE Month as businesses and social gathering spots are starting to open again. And hey, our Mario Wiki Awards are starting to kick off! Go take a look at those! But don't take too long looking at them, we got some stuff here for you to do, too.
May was quite a good month, despite lots of dreary rain on my end, but perhaps that's why we managed to get most of focuses completed. Might as well complete Spotlight goals if the weather outside is horrid. We will start by mentioning that sadly Kelsey Hutchison was mostly unchanged while Kremling Krew was entirely untouched. But on the good side of things, we managed to get an article going for House of Riddles, thanks to Paper Plumm (talk), we must also give credit to The Mansion (talk) for adding a lot to the page as well. Archivist Toadette (talk) noted the lack of evidence for Yoshi Coin being used, so removed the false information from the article, while Scrooge200 (talk) added an image to Stage 2 (DK: Jungle Climber) and Pasta937 (talk) added an English version for File:StarCarnival2.png.
And now onto this month's focuses:
| Article | Category | Focuses |
| --- | --- | --- |
| Maybi | Wanted article | Maybi is a minor character in Super Paper Mario. From the name, they appear to be one of the Nimbi fellows. |
| Octoomba | Stub article | The Dr. Mario World section for this enemy consists of eight words, including the game's title. We should really focus in on what an assistant does, as presumably it has some actual benefits to the player as opposed to just being a background element. |
| Count Bleck | Rewrite required | Super Paper Mario articles have a history on this wiki of being overly and excessively thought out, being filled with unnecessary story details and looking too much into characters' personalities and development. Count Bleck is no exception. |
| Funky's Store | Citation needed | Got two things that need to be looked into here. Is it true that you can only carry ten rounds of Homing Ammo? Where does the German name of Funky's Store come from? |
| Purloined Parts | Articles that need more images | With a new Mario + Rabbids Kingdom Battle game on the way, let's try and get some of the articles of the original in shipshape order, starting here. We need the battle maps for this level, and it might also help to have enemy portraits like articles on earlier levels in the game have. |
| File:NoCashDash.jpg | Image quality requested | Your mission is to complete this level without collecting any coins, and while you're at it, grab a sharper image of the level. |
Now just before I leave you, we'd like to tell you about unimplemented proposals. There are currently eighteen that need to be implemented, some of which date back to 2018, so think of this as a continuous Spotlight goal until they're all completed.
Thanks for tuning in to the newest edition of The 'Shroom Spotlight! Be sure to turn up next month, where we'll be reviewing the progress on the above focuses. If you have any questions or suggestions about this month's set of the article focuses, then please get in touch through the dedicated topic if you have a forum account. If not, then please contact us on Yoshi876's talk page or Alex95's talk page, but you are far more likely to get a quick response if you go through the forums. You are also welcome to make suggestions on what you think we could focus on in our next edition! Thank you, and good luck!