The 'Shroom
:
Issue 171/Fun Stuff
From the Super Mario Wiki, the Mario encyclopedia
Jump to navigation
Jump to search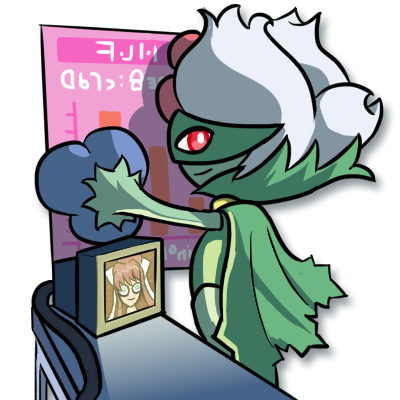 Staff Notes
Greetings, beautiful 'Shroom readers! Welcome to this June edition of Fun Stuff. I'm happy to be back in the office today, since I was mysteriously locked out last month. I wonder who could've done that to me.
Things are really shaking up over here in Rose Town. I've graduated high school, which means that I'm both legally an adult and out of public schooling, so that's pretty unbelievable. It felt like my time at my school would last forever, but here I am a week later, completely rid of it. In some ways, I'm saddened to leave, but in other ways, good riddance. I was ready to move on, and after the lackluster graduation I got, I'm happy to be home free. It's also bizarre to think that I (most likely) have so much more life ahead of me, and that everything I've experienced for the past seven years is just a small piece of that. The dilemma of aging.
World-shattering revelations aside, it's 'Shroom time! Firstly, I want to extend my fullest congratulations to resident writer and coworker FunkyK38 (talk) for reaching 100 issues of The 'Shroom!! That's a monumental number to achieve, and the fact that you want to keep going says a lot about your character. It's been a joy having you write for Fun Stuff all this time, and I adore all that you do for Palette Swap and new writers, so thank you.
Now onto Fun Stuff news. We have an entirely new writer this month, so I'd like you all to please give a warm welcome to MarioMorty (talk)! Crosswords are always super fun for me, so I'm glad to see you bring them back, and I hope our readers enjoy it as well. In addition, Chester Alan Arthur (talk) (Shoey) has supplied us with an additional Trivia section this month, bringing us up to a grand total of eight sections! This Fun Stuff is brimming with guessing games, word games, and graphic games, so make sure to check it all out!
That's it for me this month. I've got a Sunny Day I need to go enjoy. All of you take care, and happy summer!
Section of the Month
Congratulations to FunkyK38 (talk) for getting first place! It's wonderful to be able to announce it for this issue in particular. Additional congratulations go to Ninja Squid (talk) and Chester Alan Arthur (talk) for second and third place respectively. Thank you so much to all of our readers, writers, and voters, and make sure to vote for your favorite section in the poll!
FUN STUFF SECTION OF THE MONTH
Place
Section
Votes
%
Writer
1st
Where in the Marioverse is Carmen Sandiego?
20
43.48%
FunkyK38
2nd
Hiding Koopa
9
19.57%
Ninja Squid
3rd
Word Search
8
17.39%
Shoey
---
Word Activities
---
I hope this section doesn't include any colorful language.
[read more]
---
Super Mar-i-o-o R-P-G, this is the word search that's just for me...
[read more]
---
There's no reason to be cross with this new feature!
[read more]
Graphic Activities
---
What's wrong with the Koopas wanting to party?
[read more]
Mind Games
---
Everybody say "thank you Shoey for ten sections"
[read more]
Anagrams
Written by: BBQ Turtle (talk)
Hello everyone, welcome to this month's edition of anagrams! To fit with the arts and crafts theme of the rest of the issue to celebrate FunkyK38's 100th issue as the director of Palette Swap (which I almost completely forgot about), I've made a set of anagrams based on Paper Mario: Colour Splash for you to have a go at (It's been a while since I've done some Paper Mario anagrams anyway). On an unrelated note that I think is also worth celebrating, the wiki managed to hit 25,000 articles the other day! That's a lot of pages about Mario. Anyway, as long as I haven't forgotten about the theme for next month, suggestions are open as always, to feel free to make me aware of any that you might have on my talk page or on a PM to me on the forums. Funny Mario-related anagrams that I could make use of are welcome too!
How it works... Basically, this puzzle consists of solving the anagrams. Each month has a specific theme, which will give you a clue about what sort of words or phrases the anagrams will be. I've also included the boxes that the anagrams will fit into, so you'll be able to tell how many words it will solve to be and how many letters will be in each word, which should give you a hand too. You'll also notice that within each set of boxes, one of the squares are yellow. As you solve each anagram, note down the letter which appears in the yellow squares, and if you can solve all of the anagrams, you'll also get a bonus anagram to solve from completing all of the others. I've included the letter configuration for this one at the bottom too, just to give you an extra helping hand. Best of luck!
1. IMPORT RAPS
2. CABLED TART
3. RENTING GORILLA
4. PLIANT BACK
5. BOLT FACTOR
6. BAITING TRAPS
7. APE HEART PAIN
8. PRIZED ARROW PACK
9. SHANTY BID
10. LUG SYRUP
11. BOTHERSOME LAMP
Bonus anagram:
Answers
Port Prisma
Battle Card
Tangerino Grill
Black Paint
Fort Cobalt
Big Paint Star
Petea Piranha
Rock Paper Wizard
Shy Bandit
Slurp Guy
Roshambo Temple
Bonus anagram: Mustard Café
Word Search
Written by: Chester Alan Arthur (talk)
Welcome back to another thrilling word search! Last month, our search was some quality shilling, shilling so fine even Hooded would be proud of it. I thought about doing more shilling this month, but I decided instead to do another Mario related one. So this month's word search is about the bad guys from my favorite Mario RPG, Super Mario RPG! Same rules as always: words can be found diagonally, vertically, horizontally, backwards, and within other words. As always stay safe have fun!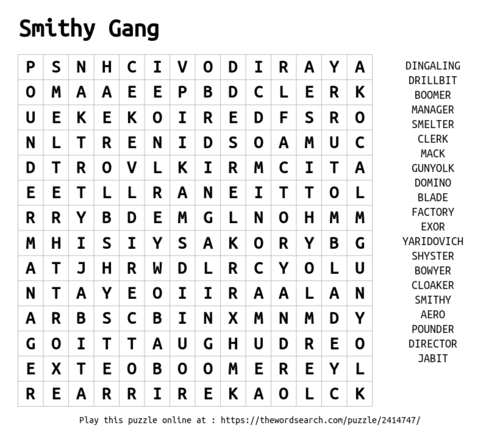 Answers
Crossword
Written by: MarioMorty (talk)
Hello everybody, and welcome to the first edition of crosswords, presented by MarioMorty. This was one heck of a project, especially around my birthday, so there's that.
A couple notes: #1. some answers you'll need to write in twice, and #2. write "3D" as "Threed".
That's all, so without further ado, enjoy this edition of crosswords! This month is themed after mainline Mario games.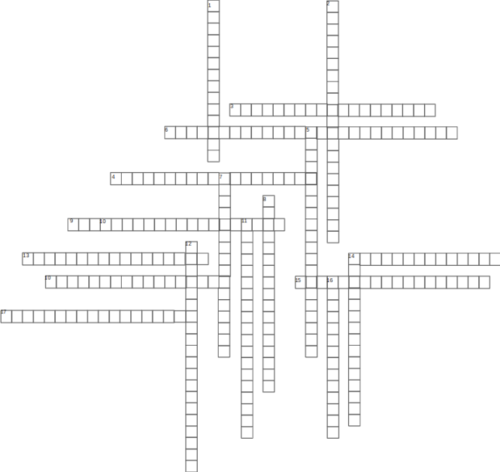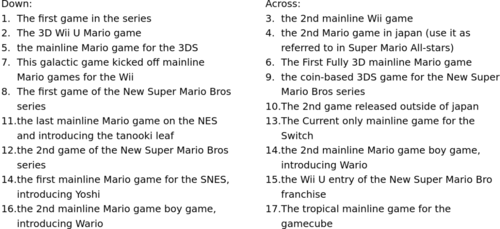 Answers
Hiding Koopa
Written by: Ninja Squid (talk)

Hello there, 'Shroom readers! I am here again with another round of Hiding Koopa.
It's time for celebration here in the newspaper! FunkyK38, our beloved Palette Swap Director is celebrating 100 issues at the helm of the Palette Swap team, and this is a pretty huge milestone! It deserves quite a celebration, doesn't it? And a time to celebration is also a time to party, right? Party... hmm... There is a Mario series with the word Party in its name, but I can't remember the name... Aargh... Come on NS, you can do it... Oh, right! Mario Party! ;-)
As if this isn't enough, there is a new Mario Party game called Mario Party Superstars coming to the Switch later this year, and I am pretty excited to get it. Although, for now, my five handsome Koopas have decided to hide in an artwork of that game. Make sure to find them all!

Answer:
Did you find them all? Regardless, thank you very much for your support, and I hope you will come back next month! In the meantime, look at our sign up page, and apply to the 'Shroom!
Picross
Welcome to Issue 171, the issue of art! Are picrosses considered to be art? Probably not, but have some anyway. You can probably guess what the picrosses are themed around for this month, considering the theme of the paper. Despite that, I've tried to make the section this time a bit more special. I hope you enjoy it.
Note: To enhance the experience, please solve the picrosses in order. For this edition, the solutions for each puzzle are located directly below them, rather than at the end of the section, as usual.
For new readers:
For new readers to this section, here's a short explanation about it: Every issue, you'll find two to four picross puzzles based on a certain theme, based on a Mario game, series, character, or item. If you have any ideas for themes, feel free to suggest them here. If you're new to picross, or need a refresher on the rules, here is a step-by-step walkthrough. You can also find many tutorials online. To play, download the picture and print it, or open it in a drawing program of your choice. Happy solving!
Goombuigi: Alright, for this issue, I decided to make a huge Picross! Here it is!
Goombuigi pulls out a huge piece of blank paper.
Goombuigi: Oh, oh dear! I forgot to actually design it! Well, I'm in a bit of trouble, aren't I… Oh, now I'm going to get fired or something…
Goombuigi: Hm, what will I - that's it! I can use my super paintbrush to paint it all in record time! Except, I locked it behind a picross for security measures.
Goombuigi: Could you do me a favor and solve this picross for me? I have to find my sketches for it so I know what to paint.
Level 1
Solution: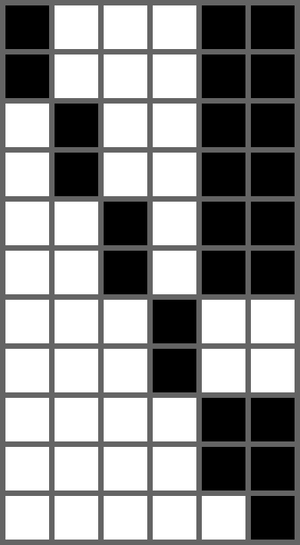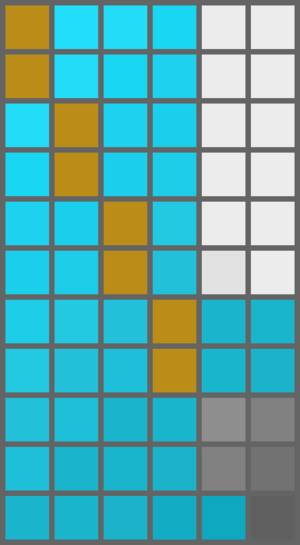 Paintbrush

Goombuigi: Nice, you did it! Now I can paint the picross, and we can get solving in no time!
Goombuigi got right into painting, when he had a horrible realization.
Goombuigi: Oh no! I forgot about the numbers! You see, I don't paint the numbers on the picrosses, because they end up looking sloppy, so I stamp them instead. Except my stamp is locked behind a picross also! Hopefully this isn't too much to ask, but could you solve it for me? Thanks a lot.
Level 2
Solution:

Goombuigi: Thanks again, I knew you'd be able to do it! Now I can put all of the numbers on the picross.
Goombuigi stamps the numbers on, then stares at the picross, with the feeling that he forgot something.
Goombuigi: Oh, of course! The picross is still not completed. I need to color it! And my palette is, well, locked behind another picross. Since you've done so well on the other ones, could you solve this one while I sort other things out?
Level 3
Solution: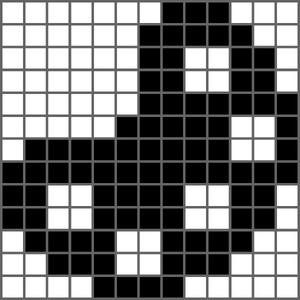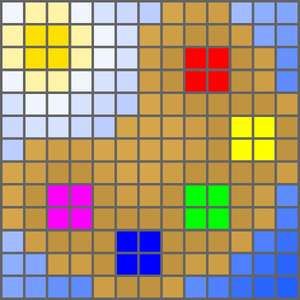 Palette

Goombuigi: You did it! Now, wait just a moment to color the numbers on the picross…
Goombuigi: Alright, now it's completely complete! At last, you can solve this amazing colorful picross! The rules for the color picross are the same as normal picross, with one exception - numbers next to each other that have different colors may or may not have white spaces between them.
Level 4
Solution:


And that concludes the picrosses for this month! I hope you enjoyed them, and I'll see you next month with another round of them!
Trivia Time!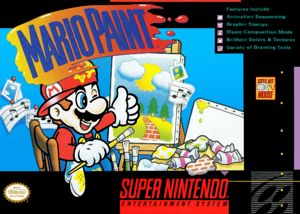 Trivia Time!
Hello, it's me Kirbyo, and this is a very special edition of Trivia Time! You see, this is FunkyK38's 100th issue as Palette Swap's director! For the occasion, I made two sections for this issue! This is obviously one of them, but if you want to see my other section where I review some Kirby songs, then go over to Palette Swap! As for this section, I had to go for Mario Paint, and there's more than you'd think. So, without further ado, let's-a go! (Bonus: get all five right without the help of the wiki.)
Question 1: On the title screen, you can click each of the letters, and they'll produce different effects. What does the O do?
Answer:
The O grows a fuse and explodes, followed by Totaka's song playing.
Question 2: In Mario Paint, there is a music mode where you can make music using things like a cat, a Baby Yoshi, and even a Game Boy! Each of the "instruments" produces a different sound. What sound does the car make?
Hint:
It's kind of like if you combined bagpipes with a piano.
Answer:
The organ (as in the instrument).
Question 3: Mario Paint is controlled using the Super NES Mouse, but you probably already knew that. Did you know, however, that Mario Paint isn't the only game to use the SNES Mouse? But that isn't the question; the actual question is how many games used the SNES Mouse?
Hint:
One of the titles has a number in it that is a multiple of the answer.
Answer:
Six games used the SNES mouse, including Mario Paint, Mario & Wario, and the Mario's Early Years! series.
Question 4: Mario Paint made it into Nintendo Power's Top 200 Games list, but what place did it get?
Hint:
/13,122 * /2 (/ is supposed to be a square root)
Answer:
Mario Paint got 162nd place.
Question 5: In Mario Paint BS Ban, Nintendo held a contest in which people made art using Mario Paint. Mario Paint Yuushou Naizou Ban was similar to Mario Paint BS Ban except it had a hidden art piece from the contest made by Mizota Hiroko that could be accessed via selecting Load in Save/Load/Coloring book. What was the name of the secret painting?
Hint:
It's the opposite of "Staring at the Sun".
Answer:
The name of the hidden picture is "Dreaming of the Moon".
Well, that took longer than expected, but it's finally done. Sorry for not appearing in the last issue, but testing season does that to you. Thank you so, so much for playing, congratulations to FunkyK38 on 100 issues as Palette Swap's director, and I'll see you…NEXT TIME! (Next issue will be a special treat, as I'll be doing a game I've played and have always known as a safe haven from the grindy RPG's of old and new that I hate so much… stay tuned ;).)
Where in the Marioverse is Carmen Sandiego?
HOW TO PLAY
Each issue, you will be given a case to solve and clues to use to help you find the solution! Use your Mario knowledge to crack the case!
You will begin each case at the scene of the crime, and you will be given three clues from passerby as to where the next hot spot is and what game it's from. Using your knowledge of Mario games and the Super Mario Wiki, figure out where the crook is and go track them down! There are four locations each round: the crime scene (1) at the start, two locations (2 and 3) with clues, and the hideout for the crook of the month (4). Answers for locations will be given with the corresponding round, for example, the clues from the crime scene will lead you to location 2, and once you open the spoiler bubbles for location 2, you will be given the correct answer. You can open the clues for each location in any order you'd like, but be careful! You may encounter an incorrect clue that could throw you off the case!
Clues offered will give you a hint either about the next location or the game it's in. Unlike a regular Carmen Sandiego game, you do not have to collect information about the crook you are tracking down.
Challenge round (optional):
-Find all locations and games correctly in two minutes or less
-Find all locations and games correctly without using the rest of the Wiki for help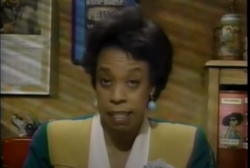 "Gumshoe, there's been another crime committed! A team of Carmen's cronies has made off with the Music Keys! These little keys hold the power of music, and their retrieval is the goal in
Dance Dance Revolution: Mario Mix
. In that game, Waluigi had stolen and scattered them around the world, and Mario and Luigi had to get them back by busting a move on the dance pad. But now, they're in Carmen's hands, or at least, they will be if we don't stop the group of Nabbits that stole them- and I don't think we can stop them by throwing down on the dance floor. Time to get to work, gumshoe, before the keys, and all the music, is lost to Carmen forever!"
Crime Scene

The Crime

Get back the stolen Music Keys!

CLUE 1

"Hey, how about a souvenir to remember your pilgrimage with?"

CLUE 2

"Drip, drip, drip, gotta get the water moving through again!"

CLUE 3

"This game was basically organizing your messy crafting supplies- with boss battles!"
Location 2

CORRECT ANSWER

Water Vellumental Shrine from Paper Mario: The Origami King

CLUE 1

"A lush forest, full of… watering cans?"

CLUE 2

"There be dark dangers if you go deeper"

CLUE 3

"With a flick of your cap, you can save the princess!"
Location 3

CORRECT ANSWER

Steam Gardens from Super Mario Odyssey

CLUE 1

"This game is full of neon!"

CLUE 2

"Needs to be more dragons, that's all I'm saying. Not enough dragons!"

CLUE 3

"You should be able to drive a dragon in this stage!"
CASE CLOSED
HIDEOUT ANSWER: Dragon Driftway from Mario Kart 8 Deluxe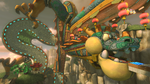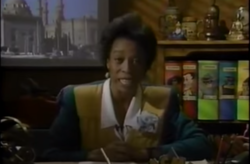 "Good work, gumshoe, you got the keys back! We found the crowd of Nabbits stuck in the zero gravity section of Dragon Driftway- seems like they were trying to use Double Dash karts that weren't equipped for the 0G sections of Mario Kart 8. Looks like Carmen might be struggling to provide her crew with up-to-date getaway karts that can travel the newer Mario Kart games thanks to how you foiled her plans last time. This is a good sign, gumshoe! Keep up the good work for the future, and we'll let you know when you have a new case to solve!"
(Thanks for playing in this special edition section using the author's favorite Mario series music tracks!)
Trivia
Written by: Chester Alan Arthur (talk)
Welcome 'Shroom readers to a special one-off trivia section to go along with a special 'Shroom issue! This month, we've got ten little trivia points from around the Marioverse hand-picked for your enjoyment. Before we get to those, just a little reminder that the Awards polls are up, so make sure you vote and then vote again and then again (come on, you get a vote a week.) Anyways, did you know...
That from 1992 to 2016 Nintendo were the majority owners of the Seattle Mariners?
That Diddy Kong was originally supposed to be a redesigned Donkey Kong Jr.?
That according to Super Mario Bros. 2 and Paper Mario Bob-omb's actually have rarely seen arms?
That according to the Mario Kart Wii Prima guide Princess Daisy and Princess Peach are cousins?
That Banjor Pilot originally started off as Diddy Kong Pilot?
That the Stork in Super Mario World 2: Yoshi's Island accidentally brought the Mario Bros. to the wrong parents?
That, despite being known for his love of money, Wario's original goal was to secure himself a castle?
That Princess Peach was originally going to be the secret boss in Punch-Out!! on the Wii?
That Yoshi's Safari is the first game in which Princess Peach is referred to as Princess Peach in North America?