The 'Shroom:Issue 120/Fun Stuff
From the Super Mario Wiki, the Mario encyclopedia
Jump to navigation
Jump to search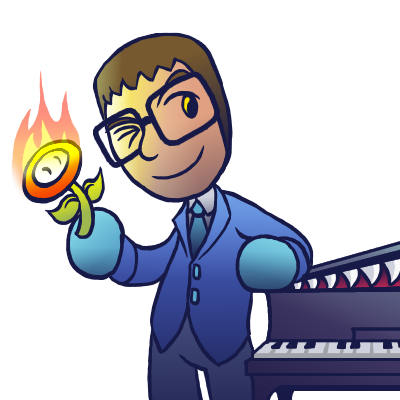 Staff Notes
As your dutiful Fun Stuff Director, I present to you another compilation of our writers' puzzles, quizzes, and activities. Because some of you are on spring break, I'm sure you'll have plenty of time to enjoy our articles. As such, the Staff has prepared a special 120th issue for all of you! Many of our sections today deal with the 3D Mario games, which happen to be among my favorite games. And with Super Mario Odyssey around the corner, there's no better time for this issue to roll around! I hope you enjoy this issue as much as we enjoyed creating it.
Section of the Month
Thanks for voting Guess Who! Section of the Month again! It means a lot. Additionally, congratulations to Mr Squid (talk), who got 9 votes, and Marshal Dan Troop (talk), The Pyro Guy (talk), and LudwigVon (talk), who share a three-way tie for third place with four votes each. Keep up the great work!
FUN STUFF SECTION OF THE MONTH
Place
Section
Votes
%
Writer
1st
Guess Who!
13
35.14%
Andymii
2nd
Guess That Game!
9
24.32%
Mr Squid
3rd
Trivia
4
10.81%
Marshal Dan Troop
3rd
Picross
4
10.81%
The Pyro Guy
3rd
Mystery Images
4
10.81%
LudwigVon
---
Word Activities
---
It's a classic puzzle! Can you find all the words?
[read more]
Mind Games
---
Can you guess Mr Squid's games with the clues provided?
[read more]
---
Andymii challenges your character knowledge!
[read more]
Word Search
Hi! Welcome to Word Search. This month, The 'Shroom celebrates the 3D Super Mario games. I made this Word Search with things related to every 3D Super Mario game released to date. Have fun!
Answers:
Crossword
Written by: Rosalina1999 (talk)
Hi everyone! Have you gotten the Nintendo Switch yet? It's amazing! One game that I'm excited about is Mario Kart 8 Deluxe, which releases on April 28. Anyway, enjoy the 3D-themed crossword puzzle! All answers are Mario games.

Clues
Across
Down
5. The 3D Adventure in Space
1. The Console that brought 3D without glasses
7. The Awesome 3D 2002 Mario Adventure
2. The Awesome 3D Game (Wii U)
3. The Awesome 3D Game (3DS)
4. The first 3D Mario Game
6. The first 3D Race
Answers:
Trivia
By: Marshal Dan Troop (talk)
Welcome to another issue of Trivia. By orders of our wonderful press tsar, Meta Knight (talk), this month's Trivia section will be about 3D Mario games.

Did you know that:
It's aMAZEing
Written by: Meta Knight (talk)

Hello everyone, and welcome to this month's maze! This is Issue 120, celebrating 3D Mario games. One prominent feature of Super Mario 64 and Sunshine are the eight red coin missions. So for this month's maze I have provided a Red Coin. Additionally, I have an announcement. Something new I want to do is I'll start taking requests! Have a maze you'd like me to do? Send me a message on my talk page or message me on the forums and you could be mentioned in next month's edition!

How to play:
Copy the image into an art program (such as Paint, Photoshop, paint.net, etc.)
Click the line tool and adjust the size as needed
Use the line tool to get from arrow to arrow
Zoom in and out as needed
Answer:
Picross
Written by: The Pyro Guy (talk)

Heya! As you may already know, this month marks 120 issues of The 'Shroom. And if you knew that, then chances are you've been told that this special issue's theme is all about the 3D titles, where Mario often collects 120 of something, whether it be Power Stars, Shine Sprites, or other things. My picrosses also carry that theme of characters or collectables from those titles, so enjoy!
How to play:
Any program with a fill tool works for this (even Paint); just copy and paste the pictures onto the program and follow these steps.
Each number on a row or column (called hints) represents a line of filled in squares on that row or column; for example, a row starting with "6" would have a row of six black squares with no white between them.
There must be at least one blank square between each line of filled in squares.
Each square is filled with either black or white; you can fill confirmed white squares with gray to help you keep track.
It's easier to start with the larger numbers.
Every now and then, I might throw in a revealing hint to assist your progress, like the Pokémon in Pokémon Picross. These hints are shapes or lines that fill in squares on the grid. This time, I used Diagonal Reveal on the Hard Picross.
Answers:
Find the Differences!
Written by: Lord Bowser (talk)
Greetings, 'Shroom readers. This is Lord Bowser here with a new edition of Find the Differences for you to enjoy!
As you may have seen last issue, my computer was out of commission, rendering me unable to submit any sections. Fortunately, I was able to get a backup this time around, so I've got a new challenge for you!
In the spirit of the 3D theme, I've chosen an image from Super Mario Galaxy 2, and made 120 changes to it!
...Not actually. I don't hate myself that much.
Anywho, this is the original image...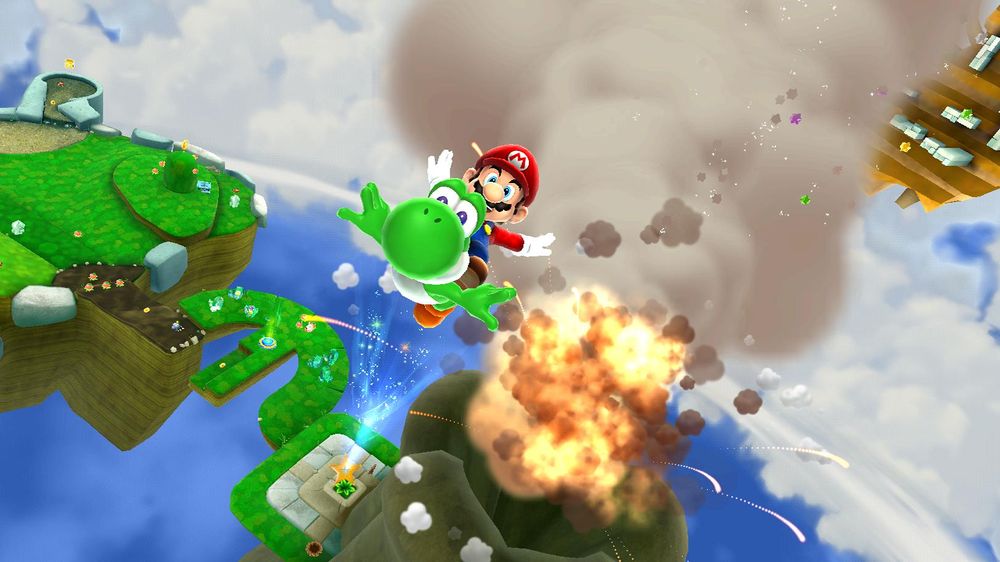 ...and this is the edited version.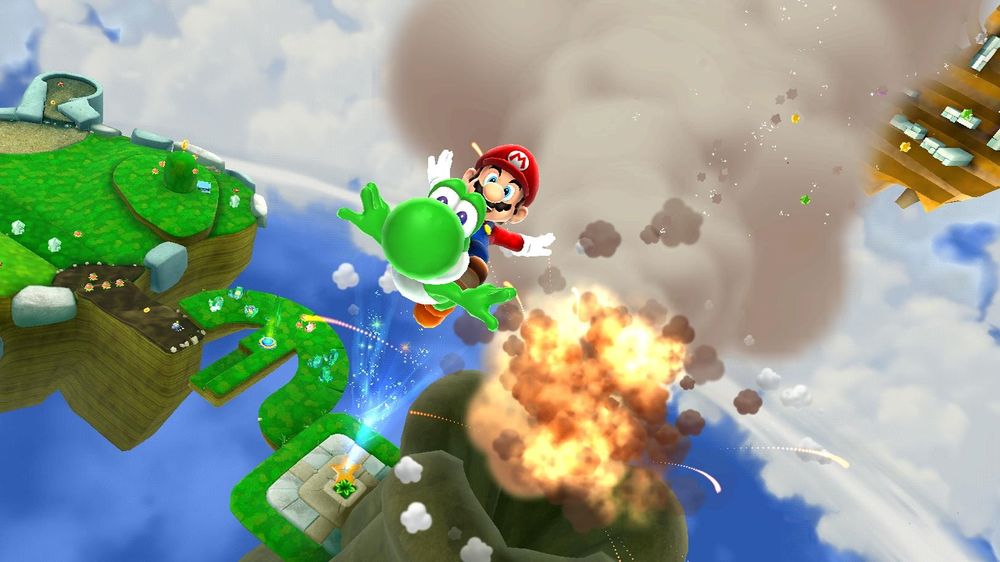 Good luck finding all ten differences! As usual, answers are shown below, but no cheating allowed! Thanks for playing, and I hope to see you again next issue!
Mystery Images
Hi readers! Welcome to Mystery Images. As always, the goal is to identify a character, place, and game by using the following images. Have fun!

Game 1 - The character
Game 2 - The location
Game 3 - The game

Answers:
Thanks for playing! Come again next month for more puzzles.
Guess That Game!
Welcome to Guess That Game! This is actually my fifth time I've wrote this section. And it's The 'Shroom's 120th issue! And the Nintendo Switch just came out! Due to such amazing circumstances, I've now included a Special Round, where there is only one clue. Enjoy!
Round 1
This is a Yoshi game.
It is for the Wii U.
This game has special amiibo that is not made of plastic.
Round 2
This game is in the Paper Mario series.
This game is the fifth in its series.
This game has black paint in it.
Round 3'
This game is a Yoshi game.
This game has two main modes.
The main aim of this game is to eat fruit.
Round 4
This is a Mario educational game for the computer and the NES.
This game has Yoshi in it.
Koopas are the main enemy in this game.
Special Round
There is only one clue:
Mario Kart Mario Kart Mario Kart Mario Kart Mario Kart Mario Kart Mario Kart Mario Kart Mario Kart Mario Kart Mario Kart Mario Kart Mario Kart Mario Kart Mario Kart Mario Kart Mario Kart Mario Kart Mario Kart Mario Kart Mario Kart Mario Kart Mario Kart Mario Kart Mario Kart Mario Kart Mario Kart Mario Kart Mario Kart Mario Kart Mario Kart Mario Kart Mario Kart Mario Kart Mario Kart Mario Kart Mario Kart Mario Kart Mario Kart Mario Kart Mario Kart Mario Kart Mario Kart Mario Kart Mario Kart Mario Kart Mario Kart Mario Kart Mario Kart Mario Kart Mario Kart Mario Kart Mario Kart Mario Kart Mario Kart Mario Kart Mario Kart Mario Kart Mario Kart Mario Kart Mario Kart Mario Kart Mario Kart Mario Kart
Bonus Round
This is not a Mario game, but still a Nintendo game.
This is a game for that new Nintendo Switch console.
This game has two numbers in its title.
Thanks for reading! Don't be a cheetah! Even if you can run fast, remember that the Fun Stuff police have jet planes! Also, please vote this section for SOTM (at the bottom of this page).
Answers:
Guess Who!

Have an idea for a theme? Suggest it here!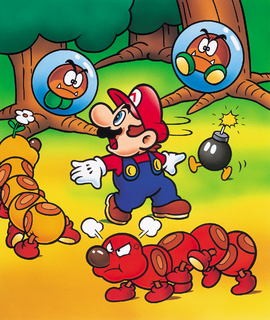 Since the original Super Mario Bros., Nintendo designers have had an odd fascination of making characters that are animal-plant hybrids. Since spring is just around the corner, I suppose it's a good time to examine these oddities of Mushroom World evolution.
As always, I've split this month's Guess Who into multiple levels, and have included an answer key. Get ready to start guessing!
Guess Who! March 2017:

Theme:
Plantimals!
Level 1: Easy
When this character sleeps, a lullaby sometimes plays; you can see this character nodding to the sick beat. Of the lullaby.
In some games, this enemy doesn't attack if you stand near it… a pretty dumb move, if you ask me.
In Mario Kart 8, they appear as an item and bite other players.
Level 2: Medium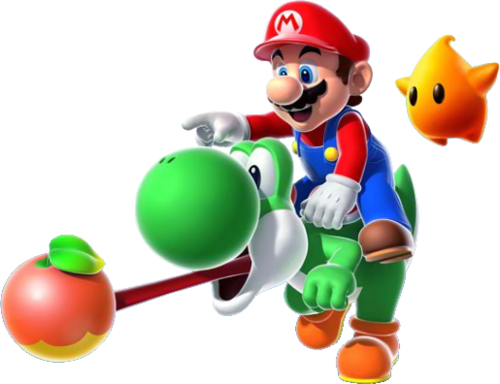 This character was originally green, but in later games became yellow. I'm not sure why this change was made, seeing that the plant this enemy is based off of is usually green.
In Super Mario Sunshine, they have some serious head-smacking skills.
In many games, you can attack this character's body segments one by one.

Level 3: Hard
These characters don't have hair, instead having something a bit more… organic.
Many of them have super strength! Some of these characters will chuck you without warning.
These characters are the only friendly species to not get a representative on Starship Mario… an issue of diplomacy, maybe?

BONUS QUESTION: Guess That (3D) Game!
This game stems in part from the tech demo Super Mario 128.
This was one of the first Mario games to have a full orchestral soundtrack.
This game technically has a two-player mode. Of course, one player is doing substantially more than the other…

Answers:
How did you do? Regardless, thanks for playing this month's Guess Who. Please join me again in April!
Quiz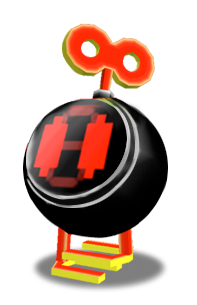 Howdy 'Shroom readers, and welcome to the Quiz! As you may have figured out from the name, this is a section where I quiz your Mario knowledge. What's the reward? Bragging rights! – to be honest, I don't have a lot of fancy things to give away, sadly. To celebrate March, and our small dedication to 3D Mario collect-a-thons, I have gone for a 3D-themed quiz. I'm well aware that I did one of these back in January to celebrate the announcement of Super Mario Odyssey, but don't worry, as this is one is very different.
Easy
What is the first world in Super Mario 64 and Super Mario 64 DS?
On what console was Super Mario Sunshine released?
Who is the first boss of Super Mario Galaxy 2?
Medium
Who makes a grammatical error while speaking in the ending to Super Mario 64?
What enemy is depicted in the picture to the right?
How many galaxies do the Hungry Lumas create?
Hard
What is the name of the cloud enemy that only appears on Tall Tall Mountain?
Name the five rides in Pinna Park.
The small Chain Chomps in the Super Mario Galaxy games don't have an English name, but what is their Japanese name?
Answers:
Easy
Bob-omb Battlefield.
The GameCube.
Peewee Piranha.
Medium
Yoshi.
Bob-omb.
Seven.
Hard
Fwoosh.
Clam Cups, Ferris Wheel, Pirate Ships, Roller Coaster, Yoshi-Go-Round.
Chibi Wanwan.