The 'Shroom
:
Issue 117/The 'Shroom Spotlight
From the Super Mario Wiki, the Mario encyclopedia
Jump to navigation
Jump to search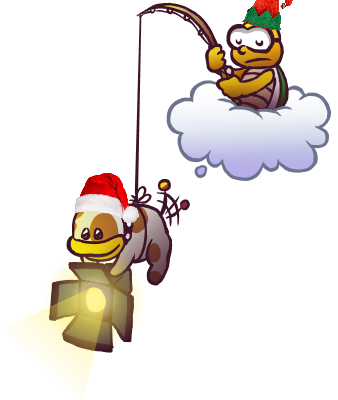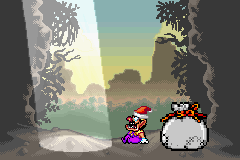 WELCOME to this special holiday-themed edition of The 'Shroom Spotlight! What we do here is bring attention to a small number of articles drawn from a range of different maintenance categories. All users are invited to help improve any articles which meets their interests, abilities and Christmas shopping budget.
So while most of you are already tossing snowballs and drinking hot chocolate, the Aussies down under are seeking refuge at the nearest beaches and barbecues. But regardless, we're gonna try and keep this edition as chill and demographically-accurate as possible! Let me pass you over to Yoshi876 who is going to give you an update on last month's snowstorm warnings.
Last month was another roaring success, which helps keep my fire roaring this Christmas (and Shokora's barbecue). Keep Walking was created by Wildgoosespeeder (talk), Lake Shore Paradise was cleaned up by the amazing at everything he ever does, super cool, practically perfect modest Yoshi876 (talk), Owencrazyboy9 (talk) fixed up Shiny Goomba, the trivia on Starbeans Cafe was fixed by Baby Luigi (talk) and Yoshi the Space Station Manager (talk), LudwigVon (talk) added an image to Mama Saw, whilst Super Radio (talk) added some information to it, and finally Alex95 (talk) added images to Mario of the Deep.
What a great month we had! This season, we've drawn a list of articles from ten different improvement categories (consider it our take on a colored Christmas light display). Let's see how many we can plow through...
| Article | Category | Focuses |
| --- | --- | --- |
| Sumo Robots! | Wanted article | I wouldn't mind getting an entertaining pair of Sumo Robots in my stocking. I think my chances are pretty good, since my name's the top of Santa's Nice List. Speaking of which, "Sumo Robots" is at the top of the wiki's list of wanted articles! |
| World Star-2 | Stub article | Stars belong on the top of the Christmas tree, not the stub list! Help us to create a "layout" section, so we can shine up this article. |
| Speed Skating | Rewrite required | Perhaps this article was done in a speedy rush, but it's incredibly hard to follow what to actually do in this event. Maybe you can clear it up and bring back the Olympic and Christmas joy. |
| Shivering Mountains | Rewrite and expansion required | Even this frigid place needs to be properly presented. A nice layout section for the article could definitely improve it. |
| Mario Party 3 | Long trivia section | It's not much of a Christmas party until someone's drunk too much eggnog, had an argument over presents, and reciting Christmas cracker jokes as if they came from the Mario Party 3 trivia section. |
| Blockstopper! | Image requested | Try your luck at finding an image for this Paper Mario: Color Splash minigame! |
| Vanilla Lake 1 | Articles that need more images | There is only one screenshot of the course being played in this article. Perhaps, the rest of the images are hiding in the big frozen lake in the middle. Best grab your fishing hooks and thermal clothing, because guess where you'll be going! |
| File:Climate control.png | Image quality requested | This penguin just wants to be home for Christmas, unfortunately his map is too small for him to know where home is. Help make his map bigger and get him home in time. |
| Super Smash Bros. | Citation needed | For some time, there has been a request for a valid source showing the Australian release date of Super Smash Bros. Help us find one! |
| Super Mario 3D Land | Unfeature nomination | This unfeature nomination brings attention to some organizational issues with the Super Mario 3D Land article, such as the "gameplay" and "transformation" sections. The "reception" section should be formatted using the recommended table seen at MarioWiki:Reception and sales, and the "trivia" section is also quite long. |
Thanks for tuning in to our special holiday edition of The 'Shroom Spotlight! Be sure to turn up next month, where we'll be reviewing the progress on the above focuses. If you have any presents to give us questions or suggestions about this month's set of article focuses, then please get in touch through the dedicated topic if you have a forum account. If not, then please contact Yoshi876 or Shokora on their wiki talk pages. You are also welcome to make suggestions on what you think we could focus on in our next edition. Merry Christmas, and a safe and happy new year!