Mega Micro Golf
From the Super Mario Wiki, the Mario encyclopedia
Jump to navigation
Jump to search
Mega Micro Golf
Appears in
WarioWare: Twisted!
Type
Game Souvenir
Info
"Finish the course with as few shots as possible."
Controls
– Swing club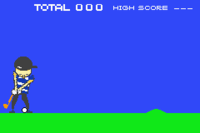 Mega Micro Golf is a minigame found in the game folder in the game WarioWare: Twisted!. As the name implies, it is an extended version of the microgame Micro Golf. The objective of the game is to hit the golf ball in the least amount of strokes on 18 holes. When the ball enters the cup, the amount of strokes is added to the total. The game ends when all 18 holes have been played.
Similar versions of the minigame appear in WarioWare Gold; they are called Micro Golf Open and Micro Golf Tour. The music in both these minigames is also an extended version of the original.
If the player hits the ball more than 999 times, the total score will change to '---'.