Face It!
From the Super Mario Wiki, the Mario encyclopedia
Jump to navigation
Jump to search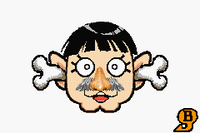 Face It! is a souvenir in the Toys folder of WarioWare: Twisted!. It features a blank face with a variety of hairs, noses, mouths, and other facial features for the player to select. The player has six different hairstyles, five ears, eight eyes, seven noses, eight moustaches, and seven mouths to choose from. They must be selected in the previous order, and only one of each can be chosen. They are selected by sharply tilting the console, and they are placed on the face by subtly tilting the console for precise placement and pressing

to confirm it. The souvenir does not take into account exactly where each part is placed, which may result in some aspects of the face floating to the side. All of Wario's unique aspects can be used in the face's creation.