Half-Pipe (souvenir)
From the Super Mario Wiki, the Mario encyclopedia
Jump to navigation
Jump to search
This article is about the souvenir in WarioWare: Twisted!. For the ramps in Mario Kart Wii and Mario Kart Tour, see Half-pipe (object).
Half-Pipe
Appears in
WarioWare: Twisted!
Type
Game Souvenir
Info
My legs are too stubby to snowboard. Hmph.
Controls
– Change direction
– Jump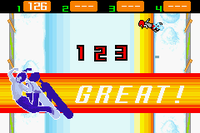 Half-Pipe is a souvenir in WarioWare: Twisted! located in the Games section. It features a snowboarder with a red beanie, a grey shirt, and red pants sliding down a snowy half-pipe. The player controls the snowboarder by tipping the console in the direction they want him to move, and they can make him jump by tapping

. The souvenir's objective is to jump off the ramps in the glowing sections to rack up points. The player can only jump four times off of the ramps, no more and no less, and they cannot control at what angle they enter the ramp, only how fast they slide towards it. The amount of points they get depends on when they jump: jumping in the last possible moments nets a "Great!" and a large score, jumping a bit early earns a "Cool!" and slightly less points, jumping too early nets a "Good" and a few points, and not jumping at all nets a "Bad" and zero points. Each rank is backed up by an announcer shouting out the word. After the four jumps, the points from each jump are tallied up and prominently displayed after the snowboarder crosses the finish line.