Radio
From the Super Mario Wiki, the Mario encyclopedia
Jump to navigation
Jump to search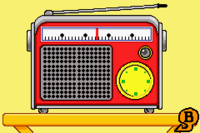 The Radio is a souvenir located in the Other folder in WarioWare: Twisted! It is an analog radio, and can pick up two stations: one that plays a jazz tune and one that broadcasts a baseball game.
Baseball game transcript
[
edit
]
And up to the plate comes 9-Volt.

Organ jingle

Uh, this young man has been having a stellar year; he's hitting .327 home runs. He's made a huge addition to this team this year.

Yeah, 9-Volt really stepped up to the task. He's, uh, taking the ball out deep when he needs to, making good plays out in the outfield. Uh, the kid, he's the total package. He's gonna make a big impact on this team in the years to come and I'm really looking forward watching this kid play some more.

I have to agree with you. And here comes the first pitch. And it's a strike, just inside. And that's gonna be 0-1 to 9-Volt. He's uh, looking a little frazzled out there, but I think, y'know again, he's got good eyes and he's knows when it's hit. Now here comes the 0-1 pitch and he hits it hard! Holy cow, that ball is going and going, goodbye baseball! A deep home run! The right field! That kid just crushed that pitch!

Yeah, with-with power like that you just- you can't be hanging 'em over the plate like that. It, eh, it's too risky and, uh, 9-Volt made that pitcher pay the price.

And here comes to the plate Wario, batting in the number one position, who has quite frankly had an absolute terrible year. He's batting .010, no home runs, no RBIs, with 97 strike-outs to lead the league.

Yeah, Wario has, uh, really stunk up the baseball diamond this year. He's, uh, quite frankly an embarrassment, and he's a terrible ball player. His fans were expecting a whole lot more from him, but uh, they got rewarded with a big fat raspberry; absolutely nothing.

I have to agree with you there. And, uh, here comes the first pitch to Wario. And he hits it! And it's foul. Down the first base line.

Uh, he hooked- he swung way too early, hooked the ball... uh, again, terrible play from Wario.

And here comes the windup and the second pitch. And that ball is belted! Holy cow, Wario has nailed one! Deep in center field! That ball is gone! Wario breaks his slump with a huge home run! In center field! This ball game is tied at 2-2.
Baseball Game Station - Japanese version

File info
3:24
Baseball Game Station - English version

File info
2:27