User talk:ChaosNinji
From the Super Mario Wiki
i think you should get a welcome...
Welcome, ChaosNinji!
Hi i'm Master Crash and welcome to the Mariowiki! the place where you can create anything aboout the Marioverse! If you have any questions, just post it on the FAQ talk page or ask an experienced member and/or Sysop.
The following articles contain guidance and information about reading, authoring, and participating in the Super Mario Wiki community. If this is your first time visiting, please read our Introduction.
How do I do that?
Specific Help
Categories
You are welcome to browse through the following categories:
External Resources
Things you can do
Feel free to delete this message when you're done reading it. After all, your user space belongs to you. I hope this information is helpful, and that you'll have a great experience contributing to our knowledge-base and our community. Remember to enjoy your experience here and also have fun!
Also if you need further help feel free to leave a message at a welcome committee member's talk page or drop me a Message.
Sprites
[
edit
]
Yo Ninji Where are your sprites at I'm just about ready to upload the comic cover I'm just waiting on you and a couple others.--Luigibros2 16:34, 30 September 2007 (EDT)
SIG!!!!!!!!!!!
[
edit
]
Yo Ninji heres what uv been waiting for:
now juat copy this:
http://img37.picoodle.com/img/img37/5/12/3/f_cm_767603a.png'''[[User:ChaosNinji|<span style="font-Family:font;color:Silver;">ChaosNinji</span>]]''' [[User talk:ChaosNinji|<span style="font-Family:font;color:LightGrey;">Need More Ninji</span>]] http://img37.picoodle.com/img/img37/5/12/3/f_cm_767603a.png
User art
[
edit
]
here you go
Alphaclaw11 i couldnt find any Biospark pics so... yeah.
and
Alphaclaw11
You,liked it? Alphaclaw11 but it isnt een biospark.
ok Alphaclaw11 the pic looks cool anyway
Something cool
[
edit
]
i found this somewhere:
just copy this.

http://members.aol.com/ewjim4/tredox.gif
Explosive Pants Modifier What a stupid name!
Sprites
[
edit
]
U still want the ninji sprites?
Merry Christmas!
[
edit
]
And may you have a wonderful new year! — Stooben Rooben
Yes, the comic will definatly still be in development. Please come on chat and we can discuss it. Snack 17:51, 24 December 2007 (EST)
Reminder
[
edit
]
Um ChaosNinji,after yer done recoloring the sprites,put it on my talk page under Comments. Bitter..Sour Talk!!!
Hi ChaosNinji
Okay Hey maybe some time today? I got a Orange from my Mom so when it grows i will give some to you. Just tell me to when your gate is open. And Crash didnt tell me your friend code. :(
Oh and Happy New Years Eve!
kk!
maybe alittle later.
Wanna play?
HAPPY NEW YEAR!












~Lil ' Boo
Ciao!
Wanna play now? :D
Ok, what is it?
sorry for getting off, anyway, did you get off too?
oh, my mom kicked me off the computer for a bit. And wheres your town?
Hi ChaosNinji :D
What happend :(?
Here it is!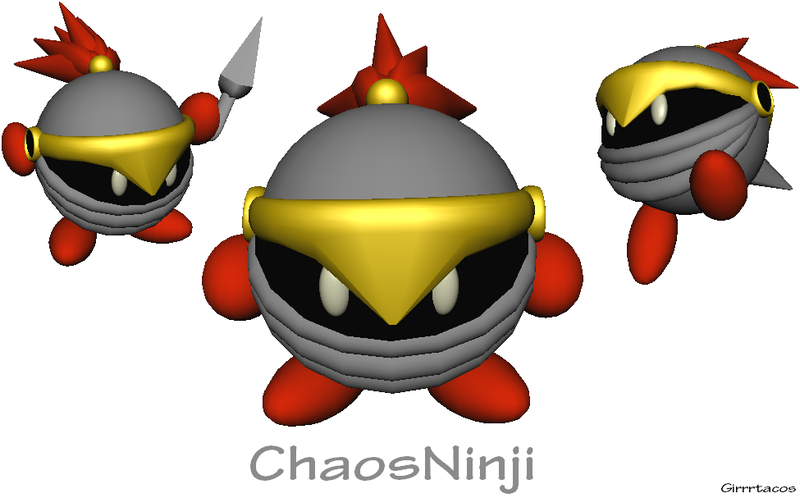 cum see your doodle user:Koopa-Troopa
Dunno know a title
[
edit
]
yes I did find them on userpedia and no I don't think I know you and I'll get started on Cobold Koopa-Troopa
Hey ChaosNinji long time no see. So how were things?
Gissy
Super Azumanga RPG

Oh, it's all right. Nice to know everyone's honest with me. But seriously, I don't care just so long as he's gone, or inactive, or on hiatus. Just as long as he's not here. Happy Easter. -Munchy
Thanks for what you wrote in my defense on the Main Page. Your support is much appreciated.
XzelionETC
oooooooooooooooooh my bad. Happy Halloween. -Munchy
You signed up just in time! Today's the last day! So, just give me your sprites and tell me if you're a good guy or a bad guy. Thanks for signing up! — Stooben Rooben Glad to have you!
Thanks! — Stooben Rooben Userpedia rawks!
Hi. I'm Nega-Mario. Anyway, can I use your sprites in a comic? You are really cool, and I think you would be perfect for a Smashbros comic. Please tell at my talk
I'm in a dilema! EVERYTHING for Super Mario Wiki Adventures and MarioWiki Story is lost. My USB pen died. So I could either make a comeback (It'll take a LOONG time) or quit cause If I do make a comeback, My PC will be filled with Images and My PC is slow so what should I do? Continue or Quit?
hi im new and i just wanna meet nice people so Hi :D user:Cutiepie
Chaos, my password on Userpedia doesn't work any more. Would you please help me???-
KP Shadow
Sprite Request
[
edit
]
Hey,Ninji, it's me, Nega-Mario. Um... I have a big sprite job to do, and Master Crash recommended you, cause all 4 of these are recolors. First, Nega-Luigi. For him, take a MLSS Luigi sprite, and turn the cap and shirt black, and give him green overalls. Second, Shadic. For him, take a Sonic Battle Shadow sprite, and color his black fur white. For Nazo, do the same to a Sonic sprite, with white replacing the blue. Finally, I'd like a Dark Fire sprite. To do that, take a Red Fire sprite, and change the red to black ,and change the blue to red. Reply at my talk pager.Bye-q!(That is "goodbye" in Ham-Chat, the language which Hamtaro speaks)DarkMario
Hamtaro PWNS|
'Shroom
[
edit
]
'Ello ChaosNinji, just wanted to inform you that you've been "selected" (I remember you saying on chat that you wanted to be interviewed) to be interviewed for this month's 'Shroom. So, what time will you be available to be on chat??
Glitchman (talk · contribs)
gots to turn in this section pronto DX
News Sprites
[
edit
]
Yo Chaos Ninji! ...What? Me? I'm just some random guy that like sprites and all... I made that for you:
It's sprites of you in MaLSS style!
Hope you like it.
Welcome Back
[
edit
]
U know Marioty? I'm him! U liek leading MWiki?
Boozooka
Ummmmmm... K'? Did you tell him I'd remove his powers if this continues? My Bloody Valentine
Why was I blocked on chat. If it was for any event in particular, the I've forgotten what it is.-KP Blue 23:22, 29 June 2008 (EDT)
Userpedia
[
edit
]
PLEASE DON'T BLOCK ME FOREVER!!! JUST GIVE ME ANOTHER CHANCE!!! I PROMISE TO BE GOOD!!!! YOU CAN EVEN EXTEND MY BLOCK BY TWO DAYS, JUST DON'T PERMABLOCK ME!!! I'M ON MY KNEES BEGGING FOR MERCY!!! *BURSTS INTO TEARS*-KP Blue 21:07, 5 July 2008 (EDT)
WHOE WHOE WHOE! WHY DID YOU BLOCK ME ON USERPEDIA. HOW COOL DO U THINK YOU ARE WITH YOUR SYSOP POWERS? BLOKCING EVRYONE YOU CAN? I AM NOT BLOCKED HERE AND I CAUSED MORE SPAM HERE! SO UNBLOCK ME NOW!!!--Yoshi Speedstar 21:14, 5 July 2008 (EDT)
Please. I'll be good. I promise. *puppy face* I didn't know. I've been being good, and was being helpful. I don't deserve this. I just wanted to prove that I can be a good user. It seemed like a good idea at the time. Why won't you give me another chance? I'm truly good on the inside. I just have a tendency to get out of control. Why won't you give me another chance. I will even alert the Sysops of spam attacks. If there is more that I could do to have my block be temporary again, then tell me.-KP Blue 21:50, 5 July 2008 (EDT)
Just unblock me. I won't cause more problems? If someone says that if you unblock them, that they'll be good and won't cause problems, then the right thing to do is UNBLOCK THEM!! If you don't unblock me, I'll start refering to you as "Demon"-KP Blue 21:08, 10 July 2008 (EDT)
In that case I'll call you "Silver Hater" which I KNOW that you'll hate, because it's untrue.-KP Blue 21:16, 10 July 2008 (EDT)
Look, You're going to unblock me on userpedia, and that's final!!!-KP Blue 22:31, 10 July 2008 (EDT)
Yeah, good luck with that KP. SJ

derp :P

This conversation is epicly hilarious because 3 times in a row, he's messaged me with no response.

Chaos

NEEDS MOAR NINJI
Hey, unfortunately, there's a chance that Murzon might be able to get my password. So, if I suddenly start spamming on Userpedia, only block his IP, not me. 1337Yoshi I think if u do unblock him one spam attack and he is banned!--User:Luigi3000|Luigi3000 19:36, 22 July 2008 (EDT)
On second thought, disregard. I changed my password. =3 1337Yoshi
Please answer it.
Goldenyoshi144
Sorry, I got out of control again. Um, CN, is it okay if I give your sonic form a minor cameo in my sonic fangame?-KP Blue 20:02, 28 August 2008 (EDT)
I was browsing the forum from a completely different IP, when I noticed that on one thread, you were repeatedly posting an image of Gregory House, in the same manner I posted that picture of a sockpuppet that got me banned. Care to justify? - SiFi 16:28, 9 January 2009 (EST)
You are cordially invited...
[
edit
]
Dear ChaosNinji
You have been cordially invited to participate as a special guest writer in the Special Issue of The 'Shroom conmemorating the 30th Issue.

You were chosen by the public to participate, so it would be great to have you in our staff for this issue. If you would like to participate, plase tell me so, you can write any section of your liking, or write about anything you want. You will recieve further information, such as the issue date.

Have a nice day.
Yours Truly:
Thanks a lot :)
Dear ChaosNinji
The 'Shroom's special issue is coming out on September 12th, please PM me your sections by not later than September 7th (also PM them to Stooben Rooben); it is of great importance that you send it in time; no late sections will be allowed.
If you won't be able to send your sections in time, please tell me as soon as possible so we can work something out.
Please remember to follow these rules:
Write your sections with perfect grammar, spelling and punctuation.
Your sections must be good in length and quality.
Yours Truly:
Here are some suggestions, but you can write anything you like :)
Season's Greetings!
[
edit
]
Yours truly, the Core 'Shroom Staff
You are hereby invited to be a guest writer for Issue XLV of The 'Shroom, the official newspaper of the Super Mario Wiki. We would be overjoyed if you accept. Please send your response to Super Mario Bros. by December 12, 2010.
Hello ChaosNinji
You are invited...!
[
edit
]
Dear ChaosNinji,
The 'Shroom is celebrating the release of its Fiftieth issue on May 21st, 2011. To celebrate this special occasion, the Core 'Shroom Staff has decided to host a number of events. One of these events involves inviting special guests to write a special section. We discussed a list of possible guest writers to invite, and you have been selected as one of them.
Since this is a very special event, the subject of these special sections does not particularly have to pertain to Mario or the wiki, although it can if desired. Should you accept our invitation, our only request will be that you make your section contain appropriate content and that it be well-written, of decent length, with acceptable grammar, spelling, and punctuation. Sections may be accepted by the Director and Sub-director until May 18th, 2011.
We would like to see you participate. If it is possible, please inform the Director as to whether you are interested or not. We will look forward to hearing from you soon.
Sincerely,