If you wish to proceed, take caution. There are random stuffs within...!
From the Super Mario Wiki, the Mario encyclopedia
Jump to navigation
Jump to search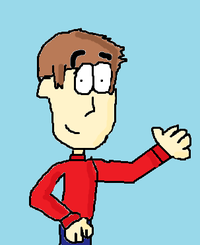 Giga12
Age: 14
Gender: Male
Favourite Mario Game: Super Mario Galaxy: An absolute masterpiece.
Favourite Non-Mario Game: EarthBound: I absolutely love this game. Great plot, and a decent RPG as well.
Favourite Character: Luigi/Mario. The Bros. are the best!
Least Favourite Game: Mario Party 9: Just no.
Status: Currently on-and-off active. If you need me, ask on the forums.
Who's online: Niiue, Yoshi the SSM, BBQ Turtle, Ray Trace, Mirai Moon, LEGOGames1000, MeritC, Keyblade Master, Shy Guy on Wheels, Camwood777, SuperGarfieldWorld, Proyecto N, TowerPowerPokey, Luigi-me, LBlueLuigi, DonMaldonadoCN, StarFighter31, LukeMo
Hey, I'm Giffy. My goal for servicing this wiki is to fix up articles, especially grammar errors, and expanding articles when possible. If you need any help, especially as a newcomer, feel free to message me.
If you wish to edit my userpage, be it for cleanliness or something else, please leave a message on my talk page beforehand, otherwise your edit will be undone by me.
I will only friend you if necessary for a project or if we're just good friends. If you feel these requirements are met, you can leave a message on my talk page asking permission to use my userbox. Once I feel it is a true friendship, I will leave the userbox on your talk page. Only then can you give me yours.
Here's my userbox:
About Giffy, by Random Documentary Presenter
Giffy himself is a peaceful young lad, who is rather shy and never shows his face on the Internet. His hometown is rather rural and his Internet speed is rather slow, so pages take a long time to load for him. He is a cartoonist, and gladly accepts requests. His aspiration is to work in Computer Science, and he devotes himself to the subject. However, he can get rather hotheaded at times, and has a hard time concentrating, jumping from one task to the next.

Sub-Pages
Where else am I found?
Mario Boards: Just search for me.
Favourite Mario Characters
The Userbox Tower. Progress: Just starting out.
Giga12's Userbox Tower
| | |
| --- | --- |
| fr-2 | Cet utilisateur peut contribuer avec un niveau intermédiaire en français. |
| | |
| --- | --- |
| es-1 | Este usuario puede contribuir con un nivel básico de español. |
| | |
| --- | --- |
| en-n | This user is a native speaker of English. |
| | |
| --- | --- |
| Comic Sans | This user hates Comic Sans. Don't use it around them. |
| | |
| --- | --- |
| vg-4 | This user is an expert gamer. |
| | |
| --- | --- |
| prog-2 | This user is an intermediate programmer. |
game
dev
This user is interested in video game development.
| | |
| --- | --- |
| | This user is a (loyal) fan of Nintendo hardware and software. |
| | |
| --- | --- |
| fan-0 | This user dislikes the console Xbox 360 and prefers the Wii and PlayStation 3. |
| | |
| --- | --- |
| fan-0 | This user dislikes the console Xbox ONE and prefers the Wii U and PlayStation 4. |
| | |
| --- | --- |
| fan-3 | This user's favorite console is the Wii U. |
| | |
| --- | --- |
| Nin-3 | This user's favorite Nintendo character is Luigi. |
| | |
| --- | --- |
| Nin-3 | This user's favorite Nintendo character is Mario. |
| | |
| --- | --- |
| Nin-3 | This user's favorite Nintendo character is Link. |
| | |
| --- | --- |
| fan-3 | This user thinks that The Legend of Zelda: The Wind Waker is the best videogame ever made. |
| | |
| --- | --- |
| fan-3 | This user thinks that EarthBound is the best videogame ever made. |
| | |
| --- | --- |
| | This user likes Pokémon, but thinks it's a bit overrated. |
| | |
| --- | --- |
| 40px | This user plays the The Legend of Zelda series. |
| | |
| --- | --- |
| 40px | This user needs more userboxes. |
| | |
| --- | --- |
| * | This user can not be found on any IM network at all! Except Miiverse. |
| | |
| --- | --- |
| Atheist | This user is atheist. |
| | |
| --- | --- |
| | This user thinks the Wii U GamePad is one of the best controllers ever. |
| | |
| --- | --- |
| 1 | This user is an only child. |
| | |
| --- | --- |
| 50 | This user has over 50 userboxes! |
| | |
| --- | --- |
| | This user is random. So random, in fact, that he wants you to click this link! |
| | |
| --- | --- |
| 40px | This user wants trains in a future Mario Kart game. |
| | |
| --- | --- |
| | This user thinks 9-Volt would have an interesting Smash moveset, but knows he will never get in. |
| | |
| --- | --- |
| MP | This user's hovercraft is full of eels. |
| | |
| --- | --- |
| MP | This user will not buy this record, it is scratched. |
| | |
| --- | --- |
| | This user plays the Pikmin series. |
| | |
| --- | --- |
| JB | This user hates Justin Bieber. |