The 'Shroom
:
Issue 185/The 'Shroom Spotlight
From the Super Mario Wiki, the Mario encyclopedia
Jump to navigation
Jump to search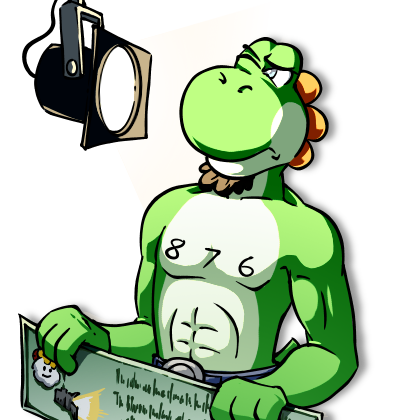 Hello readers of The 'Shroom, and welcome to Spotlight. Spotlight is a community project which aims to fix up the articles on the wiki which have issues. These issues can range from poor writing, to a lack of images, to even just needing a credible source.
Things are hotting up this month, and I don't just mean with the recent heatwaves. Actually, yes, I do... Temperatures are soaring frequently where I am, so perhaps it's wise to use this section to give some helpful advice to staying fine in the sunshine. Drink plenty of fluids to replace those that are removed from sweat, wear lots of sunscreen and even bring some sunglasses and a sunhat out with you. Or better yet, stay inside with an ice cream and a fan and read this month's edition of Spotlight and fix up the wiki.
My return heralded a lot of success for Spotlight, as our readers worked away and improved plenty of articles. ThePowerPlayer (talk) created our glorious Ice Banana Bunch, so now we have plenty of ice-cool bananas to chow down on. ThePowerPlayer also added a tonne of information about the promotion of Yoshi's Crafted World to the article, while also improving the quality of File:RuinedZoo.png. Meanwhile, Yoshi the SSM (talk) and Mario jc (talk) helped us out with Ground Theme (Super Mario Bros.). And when it comes to Toy Tank, Somethingone (talk) redirected it to General Guy. Sadly Kidnapped Components still lacks a map, but five out of six isn't bad innings.
And now onto this month's focuses:
| Article | Category | Focuses |
| --- | --- | --- |
| Boo's Treasure Chest! | Wanted article | This might sound like something to do with Mario Party, but it's actually a mission in Mario & Sonic at the London 2012 Olympic Games. Ten years this has needed an article, let's dig for treasure and make it! |
| Sombrero | Stub article | Referencing our introduction, a sombrero would be a good sun hat. But what would be good is some more info on this item, how much damage does it do, perhaps? I've never played Sticker Star, but the plaque in the quote mentions an angle, is this a thing? And if so, let's mention it! |
| Slidebrella | Rewrite and expansion required | Umbrellas are also good at keeping you cool, and what would be cool for the wiki is mention of all the levels this Super Princess Peach ability is used in. |
| World 2-3 (Super Mario 3D Land) | Rewrite required | Been a while since I had a rewrite, at least it feels like it. The sentences here are very stop and start and really interrupt the flow of the article, longer sentences are really required. |
| File:DropBlock.png | Image quality requested | What we have here is a very tiny and blurry image. Just because it's the GameCube doesn't mean we have to let our standards drop. |
| File:YCW Egg Plant.png | Citation needed | We have a first here, an image that is after a citation, well at least a better one. We've grabbed this off of Nintendo Wikia, let's try for an in-game rip. |
Now just before I leave you, I'd like to tell you about unimplemented proposals. There are currently thirty-four that need to be implemented, dating as far back as 2018, so think of this as a continuous Spotlight goal until they're all completed. Additionally, there are many unresolved discussions that we would love to see come to some sort of conclusion. Some might have already concluded and just need the template removed, others have been waiting for a response for years.
Thanks for tuning in to the newest edition of The 'Shroom Spotlight! Be sure to turn up next month, where we'll be reviewing the progress on the above focuses. If you have any questions or suggestions about this month's set of the article focuses, then please get in touch through the dedicated topic if you have a forum account. If not, then please contact Yoshi876 on his talk page, but you are far more likely to get a quick response if you go through the forums. You are also welcome to make suggestions on what you think we could focus on in our next edition! Thank you, and good luck!