The 'Shroom
:
Issue 185/Critic Corner
From the Super Mario Wiki, the Mario encyclopedia
Jump to navigation
Jump to search

Director's Notes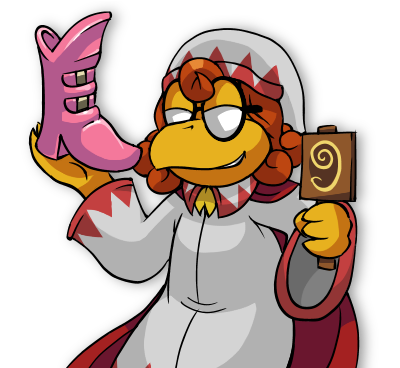 Well, awards season is now over, you know what that means........🎃🕷️🦇🐺🧛👻😈!! Halloween is right around the corner!! Pumpkin Spice is in the air, kids are back in school, Jo-Ann is having doorbusters sales on their spooky decor! Of course, Mustard Machine (talk) and his House of Ghouls is as ready as ever for this, and I'm sure everyone else is, too!
Thank you for voting Half-Baked Reviews as July's Critic Corner Section of the Month!! Be sure to give your love to all of our sections here, and give a shout out to our writers whether in chat or in their forum threads dedicated to their sections. Be sure to vote vote vote!
---
And now for my regular announcements: We've decided to implement in Critic Corner something similar to News Flush over in Fake News, where no formal sign-up application process is required for one-time or limited sections. From now on if you just want to send in a single review for something you just read, watched played, tried, whatever, you just have to send me your review privately either to me directly in chat, or in a message to me on the forum at least one week before each 'Shroom is to be released! There's no commitment or obligation to provide a full monthly section (although you absolutely can shift it into one if you so choose), just send us your thoughts on a thing and we'll feature it here! If you have any questions or curiosities about this, please feel free to ask!
As always, if you would like to help Critic Corner, we always have openings for more writers! You are free to write for sections such as Character Review and Movie Review, or really anything you'd like to do! There's no pressure to have a huge section; they can be shorter and concise! The application process is very simple, starting with reading the Sign Up page, and sending your application to Waluigi Time and Roserade on the forum. Any idea you have is welcome, and if you have any questions or need help signing up, please feel free to reach out to myself or other 'Shroom peeps!
Section of the Month
Thank you for voting Half-Baked Reviews as April's Critic Corner Section of the Month!! Be sure to give your love to all of our sections here, and give a shout out to our writers whether in chat or in their forum threads dedicated to their sections. Be sure to vote vote vote!
---
'Shroom FM
Written by: MrConcreteDonkey (talk)
Happy Awards Season. If there was an award for "Favourite 'Shroom Reader", my vote would go to you!
BLACK MIDI - HELLFIRE
Hellfire
is a lot more dynamic and dramatic than
Cavalcade
, Black Midi's album from last year. It throws you straight in with the title track, with its foreboding strings and dissonant piano, plus a steady snare drum - then Geordie Greep's frantic vocals come in. One of the issues I had with
Cavalcade
when I reviewed it last year
was that there weren't really many standout moments for Greep, and the abrasive elements that made their debut
Schlagenheim
feel really exciting and unpredictable were a bit muted, and thankfully
Hellfire
improves a lot on both of these fronts. It's a concept album featuring a number of different characters, each with specific voices, but I found it a bit hard to pick up this on my initial listen as it all moves so quickly. "Sugar/Tzu" is my favourite song here, the louder and quieter moments blend together and switch really well, and the instrumentation (especially the brass/woodwind) is just sublime throughout. Did lose interest a bit in the last few songs, but still, on the whole it's a consistent, fun and engaging album, and I'd imagine one that's rewarding upon relistening.
CHAT PILE - GOD'S COUNTRY
This Dungeon Earth
and
Remove Your Skin Please
, both of which I liked a lot - effectively loud and powerful, with songwriting that managed to be both macabre and funny. Upon starting this album, the first track "Slaughterhouse" made me worry a bit - not that it was bad, more that it didn't break any new ground; it could've easily just been a less good cut from three years ago. Sad to say that things really did not improve from there - even in its best moments,
God's Country
doesn't innovate or expand their sound at all, and in its worst moments it feels like all the personality of their earlier work has been drained away into random yelling. It barely ever even feels loud or powerful, the vocals are so quiet behind the guitars, and the guitars themselves get monotonous at times. There's some social commentary and sincerity, but they're presented in this annoyingly sardonic way. For instance, "Why" is essentially the singer repeating "Why do people have to live outside?" or similarly dry statements, with no other substance to it; "I Don't Care if I Burn" is basically the singer rambling over ambient noise until he randomly screams, we get the point dude; the closer, "grimace_smoking_weed.jpg" (it's a dark song with a funny name, that's the joke), is a tedious 9 minute song where the singer gripes about anxiety and eventually devolves into yelling. A lot of it's done for irony's sake, but it's nowhere near as smart as they think it is.
JUST MUSTARD - HEART UNDER
Cranes
, a gothic dream pop band most active during the 90s. I think it's a pretty fair comparison - Just Mustard's Katie Ball's vocals have a similar otherworldly, almost childlike feel to those of Cranes' Alison Shaw, and both bands' music has an atmosphere that feels both dreamy and eerie, often with unpredictable and loud industrial elements. Not to say Just Mustard's sound is unoriginal, I think their sounds leans more towards the industrial and post-punk side of things - and it definitely stands out in the current post-punk landscape. So yeah, I like the style a lot - the songs themselves don't often do as much for me, sadly - generally everything was alright but just didn't have many moments that stood out. I can definitely see them growing on me, though, and I'm looking forward to whatever these guys do next.
STEVE LACY - GEMINI RIGHTS
Gemini Rights
feels noticeably weaker than I'd expected. Right from the first song, "Static" - the verses just sound rough, and the harmonies are bland. All too often the vocals lack any real sense of emotion or passion, and it's a shame because these songs are meant to be smooth and laid-back. Not to say that's the only problem here - there's quite a few places where the beats sound clunky and awkward (especially percussion-wise), there's barely any memorable hooks, and then there's songs like "Cody Freestyle" and "Amber" where nothing happens. There are brief moments where Lacy's potential as an artist does shine through, though - "Bad Habit" is by far the best song here. It's fun, it has a fantastic hook, the lyrics and Lacy's performance are really emotive. It's also somehow become a massive hit - I wasn't aware Lacy had the fanbase to pull that off, but apparently it's big on TikTok.
NAKED FLAMES - MIRACLE IN TRANSIT ⭐
Miracle in Transit
has done away with the low-bit style of his last album
247 365
. Without the compression, there's a clear difference - the sound is a lot cleaner, but the sound is still just as lush and exuberant as anything else he's released - it's full of fresh, sleek house/trance tunes, and it takes inspiration largely from 90s/00s nostalgia and video game aesthetics. It's a fantastic album just to sink into the atmosphere of. Big fan of "Carrot Car", very playful, energetic and catchy - and also love the final track, "Tennessee Transit", which progresses gorgeously and ends the album on a soaring, jubilant note.
Van Shoeul's House of Ghouls
Written by: Mustard Machine (talk)
Night of the Living Dead
Genres
Horror
Release date
1968
Starring
Duane Jones, Judith O'Dea, Karl Hardman
Directed By
George A Romero
Runtime
96 minutes
Streaming
Basically all of them except Netflix and Disney +
Good evening, dear readers and welcome to another haunting Van Shoeul's House of Ghouls. I'm your guide through the darkness, Vincent Van Shoeul. For this month's featured performance, we have the granddaddy of all zombie films, Night of the Living Dead, a tale of seven people trapped in a rustic farmhouse and their attempts to fend off the hordes of the undead. Before we begin this classic tale, I must warn you that this tale is not for the faint of heart; for those of you brave enough to stick around, I can assure you this tale will be a thriller!
Featured performers in tonight's act include: Karl Hardman as Harry Cooper, an overwhelmed family man with a sick daughter who clashes with Ben as he attempts to keep his family safe; Judith O'Dea as Barbra, our female lead who is reduced to a state of shock after witnessing one the ghouls kill her brother and narrowly escaping death herself; Marilyn Eastman as Helen Cooper, the wife of Harry who, far from being submissive to her husband's desires, is perfectly willing to help the others even if it means defying her husband; and, finally, Duane Jones as Ben. Calm and resourceful Ben takes charge as the leader of the group determined to protect them (and himself) against the ghouls.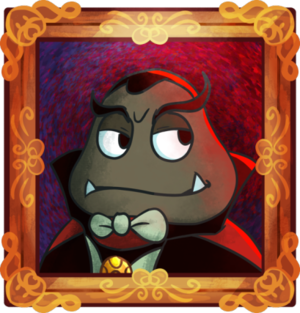 Night of the Living Dead originally started life as a vastly different film. Written by John Russo and George A. Romero, Night of the Living Dead was originally a horror-comedy, with the antagonists being aliens who befriended teenagers before shifting into a story about a young man discovering aliens who eat the corpses of recently dead people. Eventually, though, the two settled on a story about newly deceased corpses reanimating and eating flesh. This idea was based at least partially in concept on the novel I Am Legend, which is a story about a virus that essentially turns people into vampires. Night of the Living Dead plays with the concept by having the recently deceased return to life and eat flesh. Now, one thing that's important to note is that, despite being considered the first modern zombie film, at no point is the word zombie used in this film. Instead, the living dead are called ghouls. This is because, at the time, "zombie" referred to more of a Haitian voodoo concept where the living dead were more like servants to a master, as opposed to these ghouls which serve nobody and instead simply consume flesh. Another interesting thing is that, unlike most zombie films where there's either no explanation or the cause is a virus, Night of the Living Dead has a kind of outlandish explanation that the dead are being brought back due to a radioactive space probe. As you can guess, this explanation has been completely ignored in future Living Dead films.
Besides creating the modern zombie genre, Night of the Living Dead was notable for another major thing. That thing being that it was one of the first films to hire an African-American actor for a role that wasn't written for an African-American. The role of Ben was originally written to be white, but George A. Romero was so impressed by Duane Jones' audition that he gave him the part instead. Duane Jones, who was himself a well-educated man and one of only two trained actors in the crew (the other being Judith O'Dea), changed his character from a blue collar character with rough speech to a more educated and well-spoken character that better matched himself. Judith O'Dea would also make changes to her character, changing her character from a more-strong willed and assertive character to one that instead spends the bulk of the film being in a constant state of shock. There are a lot of people that don't like Barbra in this movie because, despite filling in all the markers of being the final girl, she spends the vast majority of the film being completely useless. But, honestly, I kind of find it refreshing because not everybody is going to rise to the occasion. Some people are going to crack under the strain of it all. I think it's really realistic that a woman who watched her brother get murdered and then was almost murdered herself wouldn't step up and be a badass and rather she instead simply breaks down.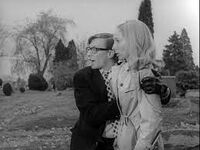 Typical of George A. Romero films, the real threat in the film is a conflict of personality. Yes, in large numbers the ghouls are a threat, but it's shown that if you keep your wits about you it's perfectly possible to survive (case in point, in the film, Cooper mentions his car was flipped by the ghouls and he and his family still managed to escape). So, instead, the film turns into a clash of personalities and ideas. The clash is between Ben and Cooper, who, while having the same goal (surviving the night), both have wildly different viewpoints on how to do so. Cooper simply wishes to fortify the basement door, arguing that, as that heaviest door, fortifying it would make the basement the safest place. But Ben wants to fortify the entire house and believes that the basement would be a death trap if the ghouls break into it. The cool thing is that both sides are making valid points, but the two are so different in viewpoints that they can't come together and work for a common good. What happens is that you have Cooper retreating the basement to be with his wife and daughter and Ben boarding up the house with the help of two of the other occupants, a young couple named Tom and Judy. I think one thing that's really neat is, despite the fact that Cooper is an unhelpful asshole for most of the film, you can understand why he's an asshole. This is a man who is overwhelmed with the situation and he just wants to protect his family (unfortunately for him, his daughter has been bitten and is infected). And, to Cooper's credit, he does attempt to help at certain points, such as helping ward off zombies to protect Ben, Judy, and Tom while they attempt to get to a gas pump that sits on the property. At the same token, Ben isn't portrayed as this all-knowing hero, and his plans do fail, so, while he's definitely the better leader of the two, the movies shows that if they would have worked together things would have been better. But I'll touch more on that later.
I will say this. While Night the Living Dead excels with its three principal characters (Barbra is a good character, fight me), everyone else kind of comes off as a non-factor. With characters like Karen and Judy, it makes sense, since Karen is slowly dying (and has one of the best scenes in the film) and Judy wasn't even a character in the original script but was instead added because the production team liked the actress so much. In fact, George A. Romero liked Judith Ridley so much that she went on to star in George A. Romero's second film, one of his few non-horror films, 1971's romantic comedy There's Always Vanilla. The other two characters, Tom and Helen, are also pretty undercooked. Tom basically exists so that there's somebody to help Ben board up the house. Helen is a little better simply because she's willing to stand up to Cooper, even having one of my favorite scenes where she tells Cooper that she thinks it's more important for others to be punished for going against Cooper rather than for him just being right. But, other than that, she just isn't given a whole lot to do. It kind of stinks because Duane Jones, Judith O'Dea, and Karl Hardman give such great performances and their characters have so much going on that it's just a shame the rest are just a little half-baked.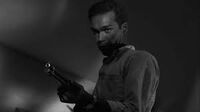 The zombies (or ghouls, as they're called) are really interesting for Romero zombies. You can tell that this is the first in the trilogy because these zombies are quite a bit smarter than the zombies we've come to know and love. These zombies have, for example, the basic usage of tools, which is not something that really shows up in future. One of the kills is the recently-reanimated Karen killing her mom (Helen) with a trowel, which just isn't something you really see in future Romero films.
The music score is classic 60s cinema, a lot of really loud, suspenseful music. It's a pretty good score, but it's not really special. There's nothing in it that you wouldn't really hear outside of any other 60s horror flick. But I do think it does a good job of complementing the film.
Now we get to the real controversial parts of this film. The first part being "who was right, Cooper or Ben?", and, to me, the answer is really simple. Cooper was right. It's honestly kind of weird that Cooper is right, because the whole film spends its time making it seem like Ben should be right and, logically, he is. Because, like, if enough of these things can flip over a car and break down these barricades, logically they should be able to knock down a door, you'd think, right? Well, no. At the end of the film, when the zombies break through the barricade, Ben ends up in the basement and he survives! The zombies can't break through the door and Ben survives the night. Which, again, I don't think makes a whole lot of sense. I don't really see why'd they be able to break through all this other stuff but not the door, but that's not really important. In the context of the film, Cooper was right and, had they simply gone to the basement, everyone would have survived… until Karen fully turned into a zombie, of course. Then they probably would have had to kill Cooper and his daughter, but that doesn't take away from the fact that, defying all logic, Cooper was right and Ben, despite being the film's hero, kind of gets everyone killed.
Speaking of the climax, the movie ends with everything going tits up. After a failed attempt to get the property's gas pump working (they had the wrong key, then Tom tried to shoot the lock off, which caused fire to get in the gas tank because of the torches they were carrying, causing the tank to explode, killing Tom and Judy), Ben retreats back to the house and beats Cooper for not letting him back in. The zombies start breaking through the barricades, Cooper attempts to get the shotgun, and Ben has feeling that he is responsible for everything going wrong (which is kind of true, I guess). Cooper fails and Ben ends up shooting Cooper, who staggers downstairs and is eaten by his daughter. Helen also manages to make it downstairs only to be killed by Karen with the aforementioned trowel. Barbra attempts to help Ben get the barricades back up, but is sadly dragged away by the ghouls (one of whom is her brother Johnny). Ben, the sole survivor, retreats to the basement and, after killing the reanimated Helen, manages to survive the night. Here's where things get controversial. A posse, led by Sheriff McClelland arrives at the house the next morning, having been sweeping through the area. Ben, hearing this, begins to walk up the stairs and is sadly shot by the posse who confuse him for a ghoul.
A lot of people believe that this is was intentionally done and that it's a kind of allegory for racially-motivated violence. But, honestly, I don't really see it. I think it's important to remember Ben was originally written to be white and was always planned to die. So the idea that the posse shot Ben because he was African-American doesn't really make sense in context. I honestly think it's more likely that they genuinely mistook him for a ghoul and shot him because they didn't want to take the chance.
Night of the Living Dead was a real genre turning-point for horror films for one simple reason. Everything is played straight. This isn't a film with a monster in a rubber costume or a Vincent Price flick where you're rooting for the bad guy. No, instead, the ghouls are portrayed as monsters who kill people. There's no comedy. There are no elements besides horror, and I think that people don't realize how different this was for the time. At the time, the majority of horror films were basically like the "scary" rides at an amusement park, a decent little thrill that was still fun for kids. It's also important to note that there was no movie rating system out there yet, so anybody could buy a ticket for this film. There are a lot of reports of small children having bought a ticket to Night of the Living Dead ending up scared out of their minds while watching it because it was just so unexpected for a film to be truly scary. But, as a modern viewer, it can be a little hard to believe because it's so much tamer than most modern horror films. I think you could make the argument that it's kind of a slow film and there's not really a ton of gore. I mean, for the time there was, but I just think, as a modern viewer, it can be a little hard to appreciate just how important this film was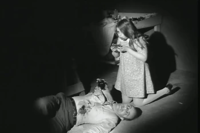 Night of the Living Dead was a very successful film, grossing 30 million dollars on a 125,000 dollar budget. Night of the Living Dead still to this day is a very influential movie, with a lot of releases. Sadly, due to a stunning display of incompetency on the part of Night of the Living Dead's distributor, George A. Romero has seen very little profits from the success of Night of the Living Dead. You see, at the time, in order to maintain a copyright on a film, you had to put a notice of copyright in the film's title (usually seen in the title frame). But at one point, Night of the Living Dead had the title Night of the Flesh Eaters, and when the title was switched over, the distribution company forgot to readd the copyright notice, so Night of the Living Dead immediately went into the public domain and, because of that, George A. Romero never got the true rewards he deserved from this film.
I personally think Night of the Living Dead is a great film, but I kind of think it's the Super Mario 64 of horror films. A lot of it comes from how important this film is in the context of the horror genre, and if you don't really know that or if you aren't factoring that in, Night of the Living Dead is kind of just another zombie film. But I still think, judged on its own merits, it's a really good film with really good character dynamics, though even I think the film is a little slow and shows its lack of budget at times.
So ends another haunting tale. The moral of this month's tale, you ask? A heavy basement door will always beat a fortified upstairs. That will end our time together this month, dear readers. Join us next month when we continue our trek through horror.
A Report on the Effectiveness of Power-Ups
Written By: Generalissimo Shoe (talk)
At ease, troops! After my annual monthly leave, I, the great Generalissimo Shoe, have returned. This month we shall be looking at two power-ups first appearing in the New Super Mario Bros. series.
The first power-up we're going to look at is the Blue Shell. Found in New Super Mario Bros., the Blue Shell, which is primarily found in Flying Red ? Boxes and Toad Houses, turns Mario into Shell Mario. The main gimmick of Shell Mario is that Mario enters the shell when he runs, destroying most enemies he comes across. In addition, most enemies will not be able to harm Mario, but he will still be weak to bosses. The downside of this power-up is that you are bounced in the opposite direction if you hit a wall. Shell Mario also has a secondary power that makes swimming in water easier.
I do not like this power-up very much. It's a neat idea, but most levels are hard to complete as Shell Mario because you're always bouncing around. Using this power-up forces a lot of start-and-stop gameplay as you leave the shell during parts that can't be navigated while spinning and sliding fast. Another downside is the fact that you can't use your regular run with this power-up. Since you basically automatically enter into the shell, you lose access to a lot of different jumps. A lot of people really like this power-up, but I'm just not a fan of the way it works in New Super Mario Bros. I think it would be better if you entered into the shell by pressing down on the d-pad instead of automatically while running; that way the player would have more control and could still run when it benefitted them more.
Surprisingly the Blue Shell never returned in any Mario platformer (it did appear in Mario & Luigi: Bowser's Inside Story, but I don't really consider that the same as the platformer power-up), and honestly I'm okay with it never returning. While a lot of people really like it, with it even finishing second in the 2022 Mario Awards' Most Underused Mechanic Award category in the Fail Awards, personally I just don't really like it.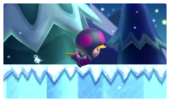 The other power-up we're looking at today is the Penguin Suit. First appearing in New Super Mario Bros. Wii, the Penguin Suit turns Mario into Penguin Mario, making him completely adorable. Penguin Mario basically operates as an objectively better version of Ice Mario, giving Mario the ability to throw Ice Balls, which freeze enemies. The Penguin Suit also has a number of other powers, such as not sliding while running on ice; the ability to slide on the user's penguin belly, which can be used to destroy brick blocks and enemies; the ability to slide on water; and, finally, better underwater controls.
All in all, the Penguin Suit is just a vastly superior version of the Ice Flower, because the Ice Flower only gives Mario the ability to throw the Ice Balls without the other sub-powers the Penguin Suit gives. The game tries to balance that by making the Ice Flower more common than the Penguin Suit, but, considering how much New Super Mario Bros. Wii throws power-ups at its players, that's not really a problem. The Penguin Suit would also reappear in New Super Mario Bros. U, where it functions basically the same. Surprisingly, though, the Penguin Suit does not appear as a power-up in Super Mario Maker 2, which is a shame, because it's a really good power-up. Basically the Penguin Suit is the best Mario ice power-up and it's honestly kind of weird they put the Ice Flower in New Super Mario Bros. Wii when the Penguin Suit is so much better. It's been a while since the Penguin Suit has been in a main game, but I hope it returns someday (also, come on guys. It makes Mario so adorable in his little penguin costume).
With that, another power-up review comes to an end. While the New Super Mario Bros. series might have been stale gameplay-wise, each game did attempt to mix up the power-ups at least. That's all for this section. Join us next month for another review.
K-Pop Album Reviews
This month, Zange reviews ITZY's Crazy in Love! They guarantee you'll fall in love with this month's album and its super cute packaging!
All-Time Smash Merit Ranking
Written by: SonicMario (talk)
Welcome back for another round of Smash Merit rankings! After today we will be past the half-way point, as we now have 40+ characters to rank left. Our non-shroom selections were Sora, Ridley, and Pikachu. Our Top 2 this month are both characters that made their Smash debut in Super Smash Bros. Melee. Without further adieu, let's begin!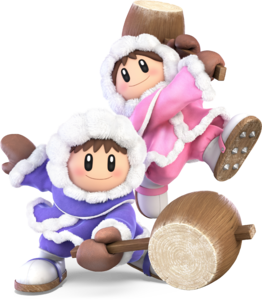 ICE CLIMBERS

| Categories | Fighter Info |
| --- | --- |
| Fighter Number | 15 |
| Fighter Group | Melee Veterans |
| Franchise | Ice Climber |
| Game of Origin | Ice Climber (NES, 1985 (US/JP, 1986 (EU) |
The Ice Climbers are the one fighter in Smash that wants to prove that "Two heads are better than one" is true more than anyone. As the Ice Climbers have the incredibly unique trait of literally being two fighters in one. And needing to have both to be most effective at fighting. The player controls Popo, while an AI controls Nana (Or sometimes vice versa depending on the alternate costume). The whole gimmick of the Ice Climbers is they're an inseparable duo that fights better together than alone.
Though one thing that's sort of a mystery about the Ice Climbers. Is what kind of duo are they? Are they a married couple? Fraternal twins? Inseparable platonic friends? Even Sakurai and Smash has made it rather a confusing conundrum. The opening movie of Melee has a heart appear when their hands meet which would usually imply a romantic angle and the Japanese title for Event 21 in Melee roughly translates to "Those Who Interfere People's Romance" adding more fuel to that fire.
However, on Melee's website. Sakurai has stated that the Ice Climbers are childhood friends with a bond stronger then that of normal friends but also not quite lovers. Adding to the confusion there was a time Sakurai's words may have been mistranslated by saying they're siblings. From what we know, Sakurai views them as childhood friends. But what the relationship between the Ice Climbers are may be entirely up to the individual person because they never made it completely clear. Even at one point they were simply friends, you could say it could develop into romance later and what not. Though a sibling or any similarly related form (Like if in a twist, they're just cousins) may not be entirely without merit.
Another thing about the Ice Climbers though, is the duo mechanic is probably the only thing that brought interest to them bringing them into Smash. As otherwise, the game of Ice Climber is a more obscure game compared to even some of the other retros. If the Ice Climbers have never made it into Smash, it feels like they would have remained in the vault of mostly forgotten NES titles alongside games like Clu Clu Land. As the Ice Climber game wasn't particularly special. The duo mechanic even hardly seen unless you play 2-player mode.
Though obviously the most significant event for the Ice Climbers smash wise was the time they were sadly missing due to the limitations of the Nintendo 3DS. It seems no matter how hard they tried. They simply couldn't get the duo mechanic to work on the 3DS like they could on the Console. And because Sakurai was against the idea of console-exclusive characters, it meant the Ice Climbers were cut.
Sakurai could have changed the Ice Climbers to being only a single climber, which would ironically be more accurate to the one-player version of Ice Climber (Note that not even the game in which they debuted's title acknowledged them as a duo) but I suppose at the same time it would have felt like the Ice Climbers lost everything that made them stand out had they made Popo and Nana a solo character (Buffing them so they could actually fight better alone) and the two would be gendered alts just like Robin and Wii Fit Trainer within the same game. I imagine those who were fans of the Ice Climbers themselves were mixed, and I'm sure many were sad they weren't playable in the game due to the 3DS. It would be interesting to ask if they would have taken the solo Ice Climber if need be or if they would have taken both or none of them at all. It all became moot once Smash Ultimate came down to return the Duo completely. Even having the Switch able to have an 8-player Ice Climbers match with 16 on one screen. (Even a full 4-player Ice Climbers ditto would tend to cause lag in Melee and Brawl)
Regardless of having just one obscure game, and a mechanic that once proved to be too much for a handheld console. The Ice Climbers feel like they've climbed a really high metaphorical mountain to get where they are today…

And now for none other then perhaps the most well-known legendary Pokemon of them all!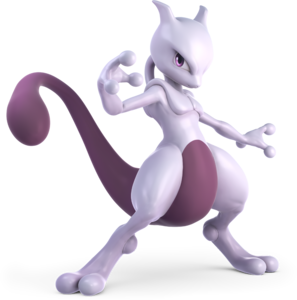 MEWTWO

| Categories | Fighter Info |
| --- | --- |
| Fighter Number | 24 |
| Fighter Group | Melee Veterans/Smash 4 DLC |
| Franchise | Pokemon |
| Game of Origin | Pokemon Red/Blue/Green* (Game Boy, 1996 (JP), 1998 (US), 1999 (EU) |
*In Japan, Pokemon Blue debuted as Pokemon Green
"We dreamed of creating the world's strongest Pokemon… and we succeeded…"
Of the many Pokemon from the first generation of Pokemon that started a cultural phenomenon that the franchise will likely never repeat again. There were a number of Legendary Pokemon that resonated across all of the new fans of Pokemon. And none more so then Mewtwo, starting out as an optional challenge boss in the post-game. Mewtwo really gained his popularity through the franchise's first movie that featured him as the villain. Mewtwo is a creation cloned from the legendary Mew, initially made for Team Rocket in their bid to dominate the Pokemon world.
However, Mewtwo proves too strong for the scientists to handle. the last words of one of the scientists being the quote above (Even if obviously stronger pokemon would be created in future generations when the franchise would get to creating outright Pokemon gods). We should also note that Mewtwo has a bit of tragedy to him too. It wasn't shown in the original release of the Pokemon movie in theatres but there's an entire extended opening that was cut (But was released as a deleted scene on the DVDs). Where Mewtwo befriends a clone of one of the scientists' deceased daughter named Amber (Or well, Ambertwo) along with a few clone Pokemon. However, sadly all the lab clones end up dying because they're not as strong as Mewtwo is, resulting in Mewtwo's only friends up at that point to fade away right in front of him. It takes some memory-wiping serum to calm down the distressed younger Mewtwo.
Years later, he is tested by Giovanni taking on all sorts of Pokemon until the leader of Team Rocket was convinced he has the most powerful Pokemon. However, Mewtwo ends up escaping from the clutches of Team Rocket. And starts his own plans to take an army of cloned Pokemon like him and prover their superiority over human-trained Pokemon. The battle ultimately ending in a stalemate and both clones and actual Pokemon alike don't have advantage over another. It's even clear that Mew and Mewtwo's battle didn't seem like it was going to end anytime soon until Ash's infamous scene where he gets in the crossfire of Mew and Mewtwo's blasts and the tears of Pokemon bring him back. It's known as one of the cheesiest endings of any cartoon film. There's a few reasons here and there the first movie is pretty flawed, but regardless of it's ending. The story of Mewtwo is an interesting one and certainly put him high up the Nintendo antagonist list. He'd even get promoted to Anti-Hero with a few more appearances here and there.
Mewtwo is also notable for having one of the weirder or tedious unlock methods back in Melee. As you need 20 hours of gameplay in matches. People found work arounds such as leaving their Gamecube's on overnight and then finishing the match the next day. And there's also the option to shrink the time more because you could shrink it down to only needing 5 hours if you have 4 idle controllers. No other character got such a particular main unlock method (That is, other then a large Vs. match number) like that before or since.
Though I guess we can't talk about Mewtwo in Smash without getting into the time he was just cut from Brawl despite his status as a very popular Pokemon. He is perhaps the strangest cut to ever happen. As it's not like his supposed "replacement" in Lucario made him obsolete. He and Lucario have a similar neutral special, but that's about it. And for a time it seemed like he was going to miss Smash 4 as well, since he wasn't present in the base game. But then came the first indication of DLC in the Smash Bros. series. And who was our first ever DLC character? None other then Mewtwo himself. A late Youtuber by the name of Etika (Rest in Peace)'s reaction is still one of the most iconic moments in the all-time history of reactions to Smash reveals. While it's disappointing that it took so long for Mewtwo to make his return to Smash, it definitely made it a grand moment when Mewtwo managed to return better then ever as DLC and onwards. Hopefully, Mewtwo fans never have to deal with that again in Smash ever again though. Even if we do have a little too much Gen 1 in Pokemon representation, there's no doubt that Mewtwo is THE Legendary pokemon for those who grew up with Gen 1. No matter how many Pokemon they gave dominion over time, space, and even life itself.
---
Mewtwo belongs with many of the other antagonists. Though what does slightly complicate things is his status as an antagonist might be muddled by his optional boss status in the original games. But we should also put into account the popularity of the Pokemon games. We just recently rated Ridley, and I think where we put Ridley is a good spot for Mewtwo too. I think the mass appeal of Pokemon is enough to put Mewtwo over Ridley, as even though he was a secret boss instead of a recurring antagonist. More people are more likely to be aware of Mewtwo then Ridley, partly in thanks to the hold Pokemon has in the general media sphere with all the movies, merchandise, trading cards, and more. However as with Ridley I can't fathom putting him over Dedede as even with the mass popularity of Pokemon that's larger then the Kirby series for certain. Mewtwo does lose some form of relevance in time between the end of Gen 2 to the end of Gen 5. Where as King Dedede remained a constant in the Kirby series. Mewtwo is nonetheless an important part of the phenomenon that was the early days of Pokemon that will surely stick around more the any other legendary will.
As for the Ice Climbers, I hate to say it but outside of Smash them being just part of one NES game. It's not a good look for their general merit. Don't hurt me Ice Climbers fans, as I don't necessarily hate the Ice Climbers. But the merit rankings are focused on a character's general impact outside of Smash both Nintendo-wise and general gaming. And the Ice Climbers have even less than ROB. Where I'm putting the Ice Climber is just above the Wii Fit Trainer, as at the very least they are the character you play as in the single game. And as I've mentioned many times, it's possible to ignore the Trainer altogether in Wii Fit. (And even aside from that, just trying to copy the trainer's movement isn't really a compelling sort of gameplay. …Even if of course it's better for your body) They are however below even very new characters like Byleth and Min-Min who despite being way younger. Probably has a more general fan-base outside of Smash… keep that in mind for when we get to a certain other Melee veteran
MERIT RANKINGS
1. Mario
21. Bowser Jr.
41. Wii Fit Trainer
2. Link
22. Olimar
42. Chrom
3. Pikachu
23. Rosalina & Luma
43. Dr. Mario
4. Donkey Kong
24. Zero Suit Samus
44. Dark Pit
5. Kirby
25. Toon Link
45. Piranha Plant
6. Luigi
26. Inkling
7. Wario
27. Snake
8. Bowser
28. Shulk
9. Peach
29. Pit
10. Mega Man
30. Ness
11. Pac-Man
31. Captain Falcon
12. Diddy Kong
32. Jigglypuff
13. Banjo & Kazooie
33. Duck Hunt
14. King Dedede
34. Steve
15. Mewtwo
35. Lucas
16. Ridley
36. Mythra
17. King K. Rool
37. ROB
18. Mr. Game & Watch
38. Min Min
19. Sonic the Hedgehog
39. Byleth
20. Sora
40. Ice Climbers

As summer wanes, so does the space in my bladder as I continue drinking more water in rapid succession than I've ever done in my life. How many carbonated waters could there even be?
Gerolsteiner
---
While America has been cyclically returning to the renewed allure of carbonated waters, no other nation approaches the love of it that Germany has. Carbonated mineral waters are woven into German culture in good part due to the western part of the country having high volcanic activity, resulting in many aquifers and thermal springs, which are naturally carbonated, loaded with minerals for people to attach holistic benefits to. To this day, you will need to specify that you want still water served to you at a restaurant as sparkling is the default, much to the chagrin of unknowing tourists, but to the delight of natural water purists. Luckily for us here in the US, Gerolsteiner, the German sparkling mineral water brand that has the most popularity and reach is available at pretty much every non-discount grocery store.
Gerolsteiner's website has a ton of graphs and information, which feels like a common thread with German products I've come across in my reviews. There's a lexicon to help define product-specific terminology, easy-to-digest information describing types of water, and a cool mineral calculator to compare mineral levels of various water brands. What the mineral calculator shows me, especially, is that Gerolsteiner has an incredibly high mineral content, which is what formed the base of its marketed place as a health tonic for hundreds of years. Natural, pure, and the standard upon which other waters have been compared.
Sparkling
Gerolsteiner is used as a baseline for many expectations of a regular sparkling mineral water done well, with fans of it praising its earthy hard-water salinity. When I tried it, I actually got none of that, and it was probably the most neutral-tasting water I've had that just felt clean, with no weird aftertaste except for a little subtle 'how a freshly cleaned highway rest area bathroom smells' sinking its way into my saliva. The balanced and neutral flavor is what is intended by Gerolsteiner, seeing it as a harmonious blend of the acids and minerals to create something that is strong in two opposing aspects so that it provides the qualities of each while mitigating their negatives. Maybe as it settles and flattens, the minerals and acids become more present in the flavor and provide those striking differences everyone else finds, but that goes against my ideal experience for drinking waters: ice cold, fresh, and gulping it down rapidly. I'm not sure if I'd get it again as I prefer the extra effort of consuming something carbonated to also include flavor, but maybe this would be a good vessel for fruit inclusions or to tame a strong drink mix without altering the taste. I would recommend it.
It's important to state that this is the original carbonated water I tried a whole 5 years ago, when I was still a fledgling trying to make a silly section with basically no experience outside of my incredibly small bubble. Please take this as an example of several things, including that your tastes will change as you grow and acquire more experience, and…that your writing will get better…
Sparkling Apple
Sparkling Apple is one of their
very limited flavors available in the US
, which also includes Sparkling and Still, but tucked and hidden away on the
German-language website
are the more vast varieties available in Germany, with several degrees of carbonation, and a couple citrus flavors to round it out. I guess this may be what it feels like to witness from the outside America's unnecessarily vast variety and food choices. This drink quite simply saved my life, as on the way home after I got it my engine started overheating and a light came on that said I need more oil NOW or else I will explode, which I was thinking like, well, yeah, my AC isn't working and it's 400 degrees outside.
Quite simply 50% apple juice (or at least fruit content) and 50% Gerolsteiner sparkling water, evenly mixed, and it tastes just like that. No weird sour candy taste, nothing that comes off unnatural, just tastes like sparkling apple juice. Nice accurate fruity apple taste, enough sweetness but no candy soda flavor, carbonation is refreshing but not enough to strip the paint from walls. Solid product, and it's a pity it's so hard to find, but with how simple it is I'm sure I could just replicate it pretty easily, and already seems to be the thing.
I'm actively planning a trip to Germany, and what does it tell you that I'm making an explicit effort to track down stores that carry the region-locked flavors?
Borjomi
---
As always when I do extensive reviews like this, I like to try to expand into international varieties that may be hard to come by in the US as I understand that my US-centric reviews may not always be relatable to a non-US audience.
barrels of peach tea
. Borjomi is proudly Georgian, nationalized after the Russian Revolution in 1917 and became a top Soviet export.
Its history is notably political wrought
, much more so than other water brands I've seen, withholding the nature of Nestlé. As of right now,
production is suspended
as the majority shareholder of the company is Russia-based Alfa-Bank, which has been placed under international sanctions due to Russia's invasion of Ukraine. The water has a volcanic source in central Georgia in the Borjomi Gorge, naturally carbonated which is what helps push it up to the surface with no need for pumping, still warm. Natural CO2 is still added to it, for whatever mileage that gives them.
Borjomi's claims to taste like nature, and they sure did not exaggerate that. Pure saltwater, like, not even just heavy mineralization, but actual ocean saltwater, tastes like a high surf caught you off guard and you inhaled half a gallon of dissolved rocks. The true taste of Georgia, dirt and all. It's praised for its health benefits, and the fact that it has nearly 2 to 3 times more TDS and bicarbonates than known salt lick Gerolsteiner, I can see why as it could pretty much register as Alka-Seltzer. The bubbles in it aren't remarkable in any way, they are at least present, but the sheer mineral content distracts any assessment of how many bubbles are tickling my tongue.
Their Find a Store feature is woeful at best, really only showing where you can find their products in NYC, which at least validates the worldview of many people who live in NYC. Aside from their main line of sparkling water, they recently added flavored sparkling waters, including citrus & ginger, strawberry & herbs, cherry & pomegranate, and lime & coriander. I'd be interested in seeing how those flavors work with how salty the base product is, and am hopeful regarding that; just not hopeful I'll ever actually be able to get it.
The Mountain Valley
---
Apparently voted The Best Water In The World multiple times, and America's most awarded water. The organization that bestowed these honors is
Berkeley Springs International Water Tasting
, which I can assume from the pictures provided on the website must have excellent bathrooms. This honestly is pretty interesting, as they also rank municipal waters.
The Mountain Valley
spring water is naturally alkaline, which appeals to people who believe that's something that matters, and unfortunately gullibility is a major player in market economics.
Sparkling Water
Their spring water is not naturally carbonated, so the CO2 has been added. They say it's lightly carbonated, but it approaches McDonald's Sprite levels of mouth-searing poppiness. Perhaps this is due to their prized tiny bubbles, an indicator of fewer impurities as there are less nucleation sites, among other factors, which at least lends some tangible credit to their claim of clean and pure water, if the science is solid. Absolutely no flavor, just cold and crisp, no hint of minerals at all in this, and thanks to the glass as opposed to plastic bottle there's not any of that weird leeching background flavor. Seems balanced enough to not have that weird carbonated flavor, but of course, it starts to gain a little of that carbonic acid bitter flavor as it sits and warms up, as not even green glass can stop the flow of physics and chemistry.
White Peach
They also have a few flavored sparkling waters, like Blackberry Pomegranate and Key Lime, but it's their White Peach that I grabbed because it was the only one that was stocked on any shelf in stores that said they stocked it. It's a huge bottle, but still just 1 liter; for some reason bottles of soda that size don't feel as intimidating. Maybe it's the glass? The weight? Definitely strikes first with a 'this is bad water' flavor before you remember that it's supposed to be peach, and only then does it feel excusable. They state on their website that there is but just a hint of natural flavor, perhaps afraid to use much as it would render them impure, but rather than a soapy nonsense LaCroix taste that's just wholly unsatisfying and a waste of everyone's time, this is subtly sweet with a nice and mellow accurate flavor. Don't expect your tastebuds to get punched with flavor here, but you can at least get enough of something to make your preference sated.
I spent this whole review typing in petty but inaccurate things, and kept having to edit them out because I want my reviews to be truthful in tone, and I couldn't figure out why. Was I moody? Was I hungry? As I kept looking at the site for tidbits of info, it hit me: I'm irritated with how a significant portion of their branding has become just how awarded they are. Who cares? Awards from some water snobs? I don't know, I'm just not moved by this, and all of this just for it to be some normal-tasting water that jack-of-all-trades itself into not occupying or exceling at any single niche other than it being in a glass bottle. Maybe it's wrong for me to focus on this in any way, but in a market where all you can do to set yourself apart is the theming, branding, and going all in on a niche, I feel like it's fair for me to be turned off by it. Pretty alright water, glass is cool, ignore everything else.
Uludağ Premium Sparkling Natural Mineral Water
---
Erbak-Uludağ İçecek A.Ş., operating under the name Uludağ, is a Turkish beverage company well-known for their sparkling drinks, sourced from the thermal waters right at Mount Uludağ. This is not my first run-in with this brand, as nearly 4 years ago I reviewed their flavored soda line, Legendary Uludağ Gazoz, with high praises. Their product catalog remains a powerful 60+ page tome of everything they have to offer, giving quick points about what is special about each item. The specific one I'm trying is their Premium Natural Mineral Water. As this is basically the meat of what everyone has to say about any sparkling water brand, I have to say that the bottle is beautiful, a deep blue that appears cut like a gemstone, with a cursive typeface that elicits class and excellence. This luxurious cobalt bottle recalls Ottoman glass art and vintage French Baccarat carafes, and has won several design and package awards. "Uludağ Premium is the number one choice of style-conscious consumers thanks to its unique, elegant design!"
Anyways, it's water, and why is this one Premium as opposed to their Classic? Introduced in 2009, long after their Classic's 1912 beginning, it became Uludağ's first domestic brand of lightly carbonated sparkling mineral waters. Basically the only thing they say about their Premium water, aside from a multitude of bullet points about its stylish bottle, is that it has 'soft taste' and '2.0 French hardness'. It's considered to be very hard and have a very high minerality at 1729mg, placing well above The Mountain Vallery (331mg, as that is a spring water), but below Gerolsteiner (2479mg), and nowhere near Borjomi (6086mg). God, this mineral calculator is so useful! The majority of that minerality is bicarbonate and sodium, which is what lends to its hard mineral flavor. It's notable that there's no weird aftertaste, but there still is one, almost medicinal and, well, Alka-Seltzery. Small bubbles make it feel crisp and refreshing, and linger long enough to couple with the flavor leading to it all just fully emulating a hydrogen peroxide mouth rinse.
Voss Sparkling
---
Artesian spring water sourced from southern Norway, naturally filtered, but artificially carbonated. Voss Still has one of the lowest Total Dissolved Solids among all bottled waters at 44 mg/l, but its Sparkling version is cranked up to 500 mg/l with the addition of sodium bicarbonate, commonly known as baking soda, which also supplies its notable flavor. So, the flavor and minerality is manufactured, the carbonation is manufactured, so why does it matter that the water comes from somewhere in Norway, especially when
its claims of being artesian may be fake
and the documentary
'A Drop of Luxury'
implying that the water is no different than the local tap? Lifestyle aesthetic, of course! Since 1998, Voss has been positioned as the water of the elite, the high class, those with discerning and particular tastes,
served at Ritz-Carltons to the stars
, with its iconic glass bottle shape and design being the lead factor in all of this; and just as equally
has been ridiculed
for the same marketing.
charity programs
to help distribute water to those who need it around the world,
a detail admitted by competitors on their own internal comparison
. It's notable that Voss has a pH of around 5.5, leaning acidic, blowing against the wind that is the
pseudoscientific and profitable assertion
that (naturally) alkaline water is the healthy choice. I think it's key that almost all of the positive talk about Voss is about its bottle design, created by Neil Kraft, a former creative director for Calvin Klein, as once conversation turns towards the actual water it gets muddied fast by conflicting pseudoscientific health trends and claims that everyone impresses upon it, as well as its own controversy; incredibly smart business decision to just lay all the cards in an awesome bottle design because at the end of the day, that's really all that matters.
I do have to say that the bottle design does feel..something. It's not prestige, class, expensive, any hoity-toity feeling, but rare, or special, perhaps because it looks like an ice core sample. I'm not swayed so much by that visual beyond wanting to keep the bottle, perhaps after shaving off the lettering; a shame that the lid is plastic. Make no mistake, though, that this is likely the most bourgeoisie you can feel without reallllllly breaking your budget; $3 for 800mL–not even a full liter–is excessive in terms of buying bottled water, but it's really not that ridiculous or off compared to any other sparkling water for their relative size/price, or even bottled still water. I think if you're someone who has already accepted the concept of buying bottled water rather than being a tap-holdout, you've already accepted the prince range and will not be dissuaded by a can costing $2.50, ESPECIALLY when sales on all of these brands rotate so frequently in every single store. The carbonation in Voss Sparkling is pretty gentle, still has a bite but more just kinda simmers, which lets more of the baking soda flavor come through. While their Still variety boasts that there's no flavor at all, just pure and clear water, the Sparkling tastes like how I wish ocean water did. Lifting the bottle up to your mouth is an excellent way to exercise the muscles in your forearm, as well.
..that is, until I wandered into a Walgreens, delirious from it being 105 degrees outside and just wanting to get something cold to drink, and saw that they had the Sparkling Raspberry Rose in 6-pack cans on their shelf that the store locator program failed to indicate to me. Sensing that this may be a stroke of luck, I blew the cash it cost on it with little concern, yet what I should have had was big concern, enough to have convinced me to just save my time and money. Probably the most foul and potent fake raspberry flavor I've had, which might work if it was a Jolly Ranchers where I'm fully expecting a caustic attack on my senses, but not in a flavored sparkling water engendered with the oft-delicate rose pairing, typically meant for subtle floral notes that were nowhere to be found in this. Absolutely nothing subtle about this as it wreaks havoc in my mouth. The carbonation is rather gentle, which I feel is a detriment in this case as a stronger amount of bubbles would tilt this into feeling like a soda, which would mentally excuse such a strong flavor and perhaps not give me the reaction I had. If you're someone who likes powerful berry flavor that wallops you onto the ground, left confused to what happened and why, then I'd say this is worth your money, but anyone who keeps an Excel Spreadsheet to track consistency in my opinions can tell you that I'm just not here for strong general-berry flavors and I never will be.
---
As I'm ending Part 3 of my fizzy water set of reviews, with an apparent abundance of brands and flavors being left out that can create an endless future of this theme, trying more and more and more of these every day, retrying the same ones, putting them down and coming back to them, an illusion is being broken, and the boomerang of my initial opinion comes back, but changed. The quality of all of these have been entirely dependent on their freshness and (history of) temperature changes, factors that may not be entirely in our control, and are likely entirely unknown. The rise of 'water sommeliers' and attention to specific qualities and hyperfocused detailing of flavors and underlying sensory notes feels a bit silly when simple things like living at a higher/lower elevation, time since opening the bottle, and mostly time spent out of refrigeration before chilling again and just general storage temperature can have such a direct impact on the flavor and overall consistency that it's hard to really monitor. I see this as a massive flaw in the more snobby aspects of this perennial and perpetually rising genre of beverages, and the only way to mitigate it, at least from my perspective, is to load it with other ingredients that offsets or masks those imbalances. Every basic sparkling and mineral water I tried rapidly degraded in quality, with the flavor steadily changing the longer I had it sitting next to me, and I just simply don't think I should have to chug a liter of a product in 10 minutes so I can have the same experience throughout; I eat and drink to slowly and casually for this physical process to make sense for me. That gripe being vented now, I can at least say that I gained a respect for the products with this that I severely doubted I would attain, and have added a few choice selections to my regular purchases, and if that's not the whole point of me doing this, then what is?