The 'Shroom:Issue 178/Fun Stuff
From the Super Mario Wiki, the Mario encyclopedia
Jump to navigation
Jump to search

Staff Notes
Greetings, beautiful 'Shroom readers! I see that the new year beckons you into the Fun Stuff office. That's right, it's our first edition of Fun Stuff in 2022! Another full year towers ahead of us, but we will steel ourselves and continue forward triumphantly! ... or at least, something to that effect.
I don't have much to report in terms of Fun Stuff news, and it's fairly late when I'm wrapping up these notes, so I won't ramble on like you might have seen me do before. I hope the year treats all of you well, though, and I hope you take care of yourselves. Whether you're optimistic or worried about what the future brings, these Fun Stuff sections will always be here to bring you a little more joy.
Section of the Month
Congratulations to Mustard Machine (talk) (Shoey) for claiming first place with his last edition of Trivia! Further congratulations to WildWario (talk) and FunkyK38 (talk) for a tied second place, and thank you to all of our wonderful writers. You help make The 'Shroom into the project it is today.
FUN STUFF SECTION OF THE MONTH
Place
Section
Votes
%
Writer
1st
Trivia
8
32.00%
Mustard Machine
2nd
Musical Quiz
5
20.00%
WildWario
2nd
Where in the Marioverse is Carmen Sandiego?
5
20.00%
FunkyK38
---
Anagrams
Written by: BBQ Turtle (talk)
Hello everyone, and welcome to the first 'Shroom edition of 2022 (No, I'm still not quite used to the year being that yet)! And you know what they say- All toasters toast toast New year, New Super Mario Bros.! ...or at least it's something like that. Anyway, this month's anagram theme is New Super Mario Bros., so be sure to guess things from that game. Also, congratulations to whichever team won the 'Shroomfest this time, good job! And speaking of congratulations, I'd like to give a warm welcome to out incoming director and sub-director, Ninja Squid and Waluigi Time! I'm sure you know them from around the community already, and if you do, you also know that they'll be a great fit for the role and do a good job. I think it's also a good time to thank Rose and Pitohui for the job they've done over the past two years in the directorial seats, they've helped to keep the 'Shroom strong and bring in plenty of new ideas. And speaking of new ideas (Don't worry I'll stop linking things in a slightly daft fashion soon), if you have any ideas for themes for upcoming sections, please let me know on my talk page or in a PM to me on the forums. Alright then, I think it's anagram time!
How it works...
Basically, this puzzle consists of solving the anagrams. Each month has a specific theme, which will give you a clue about what sort of words or phrases the anagrams will be. I've also included the boxes that the anagrams will fit into, so you'll be able to tell how many words it will solve to be and how many letters will be in each word, which should give you a hand too. You'll also notice that within each set of boxes, one of the squares are yellow. As you solve each anagram, note down the letter which appears in the yellow squares, and if you can solve all of the anagrams, you'll also get a bonus anagram to solve from completing all of the others. I've included the letter configuration for this one at the bottom too, just to give you an extra helping hand. Best of luck!
1. IRIS VIOLA MUG
2. ROB CREW
3. YUM MIKE MOP
4. DOUSE OATH
5. ZERO ORB
6. BULL HEELS
7. WORRY BEDS
8. SIN IN CORAL
9. TOWARDS HOT
10. I HUM RIM MOONS
11. KNOT MY ANT
12. ART ICONS
Bonus anagram:
Answers
Mario vs. Luigi
Crowber
Mummipokey
Toad House
Broozer
Blue Shell
Dry Bowser
Snailicorn
Toadsworth
Mini Mushroom
Monty Tank
Star Coin
Bonus anagram: Mega Mushroom
Word Search
Written by: Mustard Machine (talk)
MARIOMORTY YOU DID TWO CROSSWORD PUZZLES LAST MONTH! YOU THINK YOU'RE BETTER THAN ME? YOU THINK CROSSWORD PUZZLES ARE BETTER THAN WORD SEARCHES? HUH? HUH? HUH? NOT IN MY AMERICA! HE DID TWO CROSSWORDS, I'M DOING THREE WORD SEARCHES. ANSWERS CAN BE FOUND FORWARDS, BACKWARDS, AND IN OTHER WORDS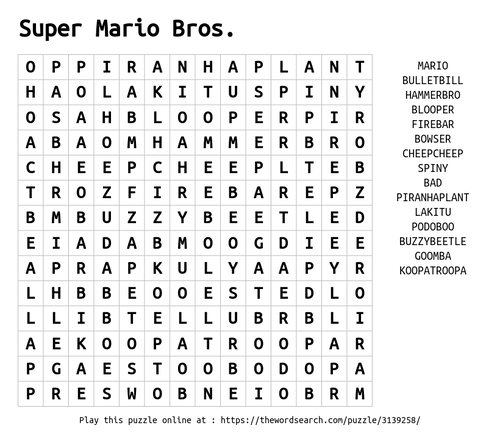 Answers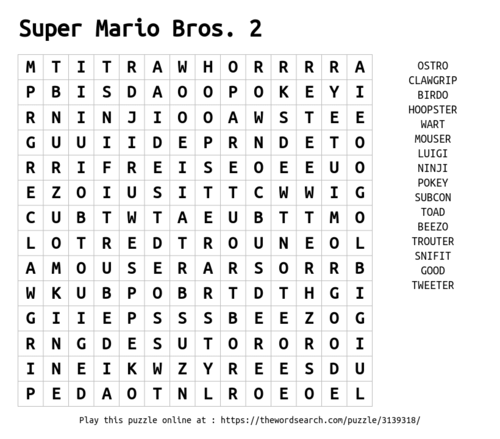 Answers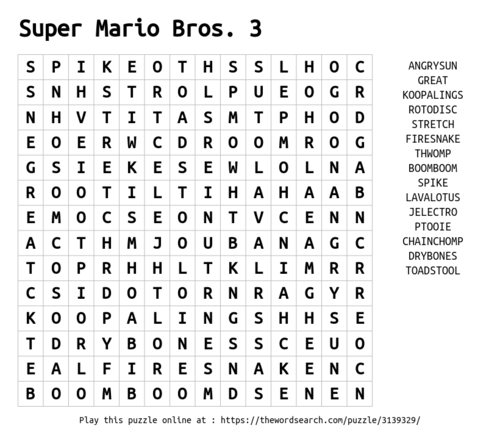 Answers
Crossword
Written by: MarioMorty (talk)
Hello everyone and welcome back to another edition of Crosswords, brought to you by MarioMorty. This month I started a crossword quest. I'm going to start doing every Smash Bros. game as a crossword. How it'll work out, I can't say, but Melee has been published and this is Brawl, so stay tuned.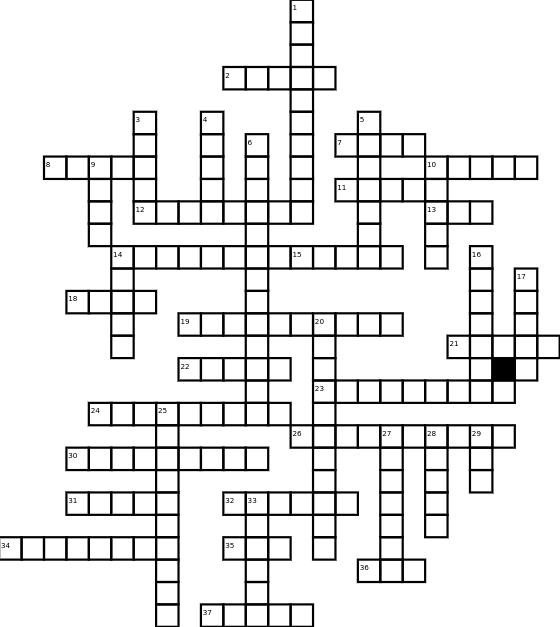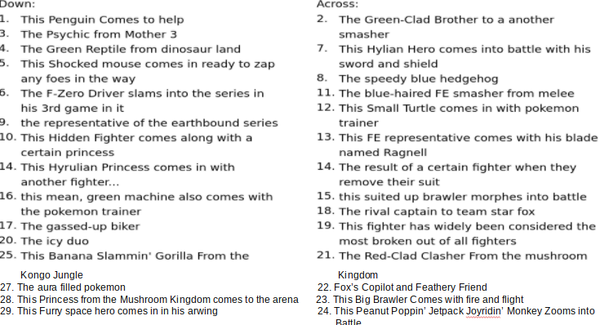 Answers
Hiding Koopa
Written by: Ninja Squid (talk)

Hello there, everyone! Welcome back to Hiding Koopa!
With this very issue, I am celebrating my third anniversary at the helm of Hiding Koopa! Already that long, eh? Well, I must say that I rather enjoy preparing this little game month after month for you. So you know what? I think I will just keep going at it for another year. ;-)
To celebrate the occasion, I decided to go with an artwork of a Mario Party game, which in this case is Mario Party 9. As usual, you will have to find five Koopas hidden in there. Good luck finding them all!

Answer:
Did you find them all? Regardless, thank you very much for your support, and I hope you will come back next month! In the meantime, look at our sign up page, and apply to the 'Shroom!
Picross
It's time for the first Picross of 2022! Back in the August 2021 issue, I had picrosses based on WarioWare characters, for the then-upcoming WarioWare: Get It Together!. Well, this month marks the fifteenth anniversary of WarioWare: Smooth Moves, so WarioWare picrosses make a return! Can you figure out who they are?
For new readers:
For new readers to this section, here's a short explanation about it: Every issue, you'll find two to four picross puzzles based on a certain theme, based on a Mario game, series, character, or item. If you have any ideas for themes, feel free to suggest them here. If you're new to picross, or need a refresher on the rules, here is a step-by-step walkthrough. You can also find many tutorials online. To play, download the picture and print it, or open it in a drawing program of your choice. Happy solving!
Level 1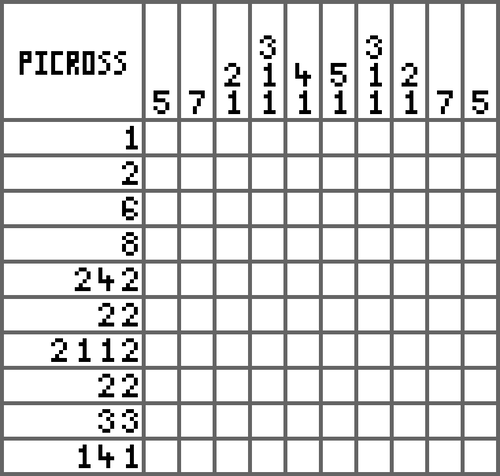 Level 2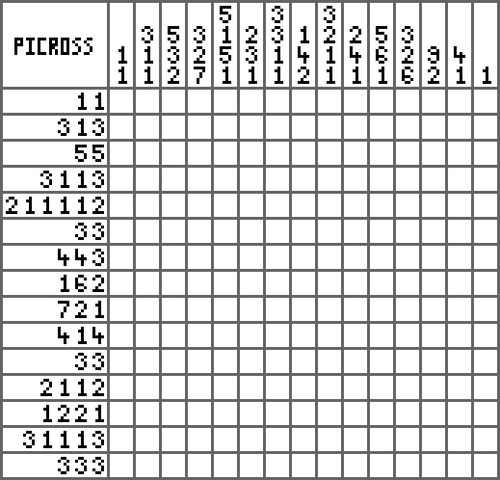 And that's all for this month! I hope you enjoyed, and come back next month for more picrosses!
Where in the Marioverse is Carmen Sandiego?
HOW TO PLAY
Each issue, you will be given a case to solve and clues to use to help you find the solution! Use your Mario knowledge to crack the case!
You will begin each case at the scene of the crime, and you will be given three clues from passerby as to where the next hot spot is and what game it's from. Using your knowledge of Mario games and the Super Mario Wiki, figure out where the crook is and go track them down! There are four locations each round: the crime scene (1) at the start, two locations (2 and 3) with clues, and the hideout for the crook of the month (4). Answers for locations will be given with the corresponding round, for example, the clues from the crime scene will lead you to location 2, and once you open the spoiler bubbles for location 2, you will be given the correct answer. You can open the clues for each location in any order you'd like, but be careful! You may encounter an incorrect clue that could throw you off the case!
Clues offered will give you a hint either about the next location or the game it's in. Unlike a regular Carmen Sandiego game, you do not have to collect information about the crook you are tracking down.
Challenge round (optional):
-Find all locations and games correctly in two minutes or less
-Find all locations and games correctly without using the rest of the Wiki for help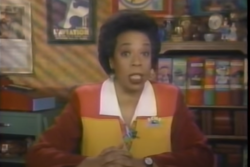 "Gumshoe, we've got a request from Princess Daisy this time. Apparently, someone broke into her castle and swiped all of the patterns for her dresses and fabric samples right out of her seamstresses' quarters! Without those patterns, they can't make more dresses, and Daisy will be stuck in her sports gear for her appearances! Her iconic orange dress features short sleeves and blue gem accessories, and it's been her outfit of choice for games like Mario Party, Super Smash Bros., and Mario Kart. She's furious at the loss of half her wardrobe, and is demanding that we get to work! Apparently, the guards noticed a green Toad maid leaving the seamstresses' quarters without the cleaning supplies she came in with. We suspect that this Toad is working with Carmen to create disguises for the master of disguise herself. With a disguise like Princess Daisy, who knows what kind of havoc Carmen could wreak? Gumshoe, you have to get those patterns and samples back, on the double!"
Crime Scene

The Crime

Daisy's dress patterns and fabric samples have been stolen. You have to find them!

CLUE 1

"Yeah, you'll have to cross the platforms here to get through, but at least you get a nice view of the sunset."

CLUE 2

"Did you enjoy being a baby sitter?"

CLUE 3

"I think I would definitely find this level extremely difficult if I couldn't fly or jump high. Even without tricks!"
Location 2

CORRECT ANSWER

Superhard Acrobatics from Yoshi's Island DS

CLUE 1

Check your case files for a clue. Case 176, Location 1

CLUE 2

"Oh, this is such a long ride! Good thing the view is lovely!"

CLUE 3

"This game featured this course as both a battle stage and a race course."
Location 3

CORRECT ANSWER

Toad Harbor from Mario Kart 8

CLUE 1

"Oh, hey, I remember you from the Cave Hotel! Are you on vacation here, too? This place is much nicer!"

CLUE 2

"This game featured massive amounts of cleaning. I'm sensing a theme with the Mario Bros. and cleaning appliances…"

CLUE 3

"Did you wear your rubber boots? You'll need them for insulation!"
CASE CLOSED
HIDEOUT ANSWER: Hotel Delfino from Super Mario Sunshine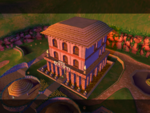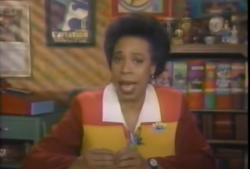 "You've cracked this case wide open, gumshoe! Good work! We were able to corner the mischievous maid, and we also had to hold Princess Daisy back from doing anything rash, as well. She is certainly a fighter! But you've gotten to the bottom of it all. We found the suspect at the hotel, waiting in the lobby with a portfolio full of the stolen designs and fabric samples, seemingly for Carmen to make a trade-off. Unfortunately for her, we interrupted her mid-latte and cuffed her. There was no sign of Carmen. She was surely spooked away when Princess Daisy was stomping through the place! You've done a good job, gumshoe! Time for you to catch up on some paperwork. We'll let you get to it, and we'll let you know when we get another case for you to investigate!"
Musical Quiz
Hi, I'm WildWario, and this is Musical Quizzes. This game is simple, just listen to the music and guess where it comes from. The answers can be found at the bottom of the list. This time, there is no specific theme, so try your best to get them correct.
That's it for this issue's Musical Quiz. See you next issue for another quiz.
Guess This Game's Facts
Written by: BananaBarrels (talk)
Hello 'Shroom readers! My name is BananaBarrels and welcome to Guess This Game's Facts! Unfortunately, I didn't get the memo about last issue being a Yoshi special, which is disappointing as he's possibly my favorite character. As a result, this edition is my Yoshi Special, Super Mario World!

How to play: Simply solve the questions using the clue provided. There are 4 difficulty levels, so enjoy!
Subject: Super Mario World, Super Nintendo Entertainment System (SNES)
Easy: Yoshi makes his debut in this game.. Which level, apart from Yoshi's House, doe Yoshi first appear in?
Hint: It's the first level that is required for beating the game.
Normal: This game has a quite a few powerups, despite it being quite old. But which powerup wasn't included?
Cape Feather
Yoshi Wings
Tanooki Leaf
Power Balloon
Hint: The answer was featured in Mario's previous adventure before this.
Answer
The answer is the Tanooki Leaf, which was featured in Super Mario Bros. 3, two years earlier.
Hard: The final world, World 9, has some infamously difficult levels. Which of these is not a level in World 9?
Rad
Tubular
Mondo
Gnarly
Hint: The levels, not in order, are the second, sixth and first in the world
Answer
Gnarly is first, Tubular is second, Mondo is sixth and Rad is not included.
Extreme: This game features nine worlds, as stated by the Hard question. Can you state which order these worlds are found in?
WORLDS
Forest of Illusion
Valley of Bowser
Donut Plains
Twin Bridges
Answer
Donut Plains is second, Twin Bridges is fourth, Forest of Illusion is fifth and the Valley of Bowser is seventh.
Trivia
By: Mustard Machine (talk)
THE KING IS BACK BABY. SECTION OF MONTH IS BACK WHERE IT BELONGS. IN THE HANDS OF TRIVIA BABEYYYYYYY. Anyways, did you know?
That Paper Mario originally started development as Super Mario RPG 2?
That Luigi technically debuted in the Game & Watch game Mario Bros. (Game & Watch) and not the arcade game Mario Bros.? (The two games aren't related gameplay wise.)
That the Koopalings are all named after musicians except Larry?
That the Sprout Tower from Pokemon Gold & Silver was considered as a stage for Super Smash Bros. Melee''
That according to Super Mario Bros. 2 and Paper Mario, Bob-omb's have rarely seen arms?
That Luigi's cowardice originally appeared in a commercial for the Atari 2600 version of the game Mario Bros.?