The 'Shroom:Issue 178/Critic Corner
From the Super Mario Wiki, the Mario encyclopedia
Jump to navigation
Jump to search

Director's Notes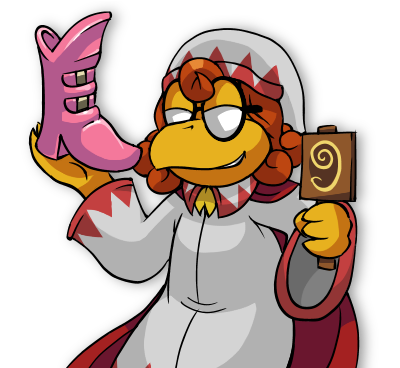 Welcome to 2022! Dreams are renewed, lives are put back into focus, and the northeast US is finally getting pelted with blizzards. With the heavy holiday season suddenly behind us, we must forge a new path, fresh and clean, rejuvenated and ready for the next set of marketable holidays. Luckily there's no shortages here at Critic Corner's shelves, so come and spend some time with us!
Thank you for voting Half-Baked Reviews as December's Critic Corner Section of the Month!! Be sure to give your love to all of our sections here, and give a shout out to our writers whether in chat or in their forum threads dedicated to their sections. Be sure to vote vote vote!
---
And now for my regular announcements: We've decided to implement in Critic Corner something similar to News Flush over in Fake News, where no formal sign-up application process is required for one-time or limited sections. From now on if you just want to send in a single review for something you just read, watched played, tried, whatever, you just have to send me your review privately either to me directly in chat, or in a message to me on the forum at least one week before each 'Shroom is to be released! There's no commitment or obligation to provide a full monthly section (although you absolutely can shift it into one if you so choose), just send us your thoughts on a thing and we'll feature it here! If you have any questions or curiosities about this, please feel free to ask!
As always, if you would like to help Critic Corner, we always have openings for more writers! You are free to write for sections such as Character Review and Movie Review, or really anything you'd like to do! There's no pressure to have a huge section; they can be shorter and concise! The application process is very simple, starting with reading the Sign Up page, and sending your application to Ninja Squid, our Stats Manager on the forum. Any idea you have is welcome, and if you have any questions or need help signing up, please feel free to reach out to myself or other 'Shroom peeps!
Section of the Month
---
'Shroom FM
Written by: MrConcreteDonkey (talk)
Hello and welcome to the first and only ever 'Shroom FM Awards 2021.
2021 is gone. Awful year for music. Let it never happen again. I'm not gonna start complaining about the mainstream music charts because everyone's sick of that, I have just personally found very little stuff I've properly connected with from this year. I think my writing in this section is going to be a bit repetitive, partly due to that and partly due to the fact I'm trying to write this between four 10-hour work days. That second one is my own fault though. Either way I hope the formatting is fancy enough to distract from that.
Honourable Mentions
Firstly, I didn't think memoryland by CFCF was great, but there were a lot of interesting ideas and often the general soundscape was a lot of fun to sink into. Same goes for The Crashing Sound of How It Goes by Cities Aviv - a bit weak in places, but enough unique and cool ideas to make it interesting.
For the First Time by Black Country, New Road - both as solid and as annoying as you'd expect. I can do a great impression of this guy. No I will not be doing it.
Next up, Sympathy for Life by Parquet Courts had a few off moments but the best parts were excellent.
Isles by Bicep - nice, solid, fun, uncomplicated.
I'll also highlight Mabe Fratti's Será Que Ahora Podremos Entendernos, Picnic's Picnic and Portico Quartet's Monument - hadn't listened to any of these artists before but thought these three albums were very nice.
And lastly, Róisín Murphy's Crooked Machine, a remix album based on 2020's Róisín Machine. I reviewed the original last year and was mostly disappointed by it - but I thought this remix album was a big improvement. Definitely surpassed the original for me.
Top 40 Albums of 2020
#40
Magdalena Bay
Mercurial World
#39
Hannah Peel
Fir Wave
Bright and imaginative, particularly enjoyed the instrumentation here.
Interesting ambient/IDM album with a lot of cool sounds.
#38
Proc Fiskal
Siren Spine Sysex
#37
M. Sage
Wants a Diamond Pivot Bright
Fun and bouncy, lot of cool sounds here..
Really interesting concept behind this, and very well-executed.
#36
Dean Blunt
BLACK METAL 2
#35
DJ Sabrina the Teenage DJ
The Makin' Magick II Album
Engaging, often surreal; does a lot in very little time.
Two-and-a-half hours long but plenty of highs.
#34
Igloohost
Lei Line Eon
#33
Natalia Lafourcade
Un canto por México vol. 2
Has a very dense and vivid soundscape, which really shines in its best moments.
Didn't enjoy as much as the first, but still a warm and passionate collection of songs.
#32
Zack Fox
shut the fuck up talking to me
#31
Black Midi
Cavalcade
Not his funniest work but a lot of character and plenty of fun moments.
Enjoyed this more than I was expecting to, does a lot of different things within each song.
#30
Sam Fender
Seventeen Going Under
#29
Nick Cave & Warren Ellis
Carnage
Took a while to check out Sam Fender but glad I did, very endearing album.
Bittersweet and heavy atmosphere, punctuated by Cave's excellent lyrics.
#28
death's dynamic shroud
Faith in Persona
#27
Nas
King's Disease II
Uses samples very well to create a fun, surreal atmosphere.
Late discovery but every song here is very good at least, production and flow both tight.
#26
Skee Mask
Pool
#25
Porter Robinson
Nurture
Over an hour and a half of slick IDM with superb production.
Plenty of huge moments, full of optimism and a lot of fun.
#24
Sufjan Stevens & Angelo De Augustine
A Beginner's Mind
#23
Cassandra Jenkins
An Overview on Phenomenal Nature
Lush; gorgeous instrumentation and vocals, and great songwriting.
Fairly short, but well-written songs with great instrumentation.
#22
Turnstile
Glow On
#21
Arooj Aftab
Vulture Prince
A fun and energetic rock album with some surprisingly dreamy moments.
Very well-produced, ethereal and relaxing. Vocals are superb, too.
#20
Tropical Fuck Storm
Deep States
#19
Genesis Owusu
Smiling with No Teeth
Not my favourite Tropical Fuck Storm album but still a great listen. 'Legal Ghost' (and the song after) give it a superb and rewarding ending.
Didn't gel much with on a first listen, but after relistening so many of the songs clicked with me a lot more. Plenty of odd and interesting sounds, and a ton of engaging and fun moments.
#18
Jeff Rosenstock
SKA DREAM
#17
SPELLLING
The Turning Wheel
A ska retake of last year's NO DREAM which was also very good, and an excellent tribute/love letter to the genre. Some songs even work better here!
There's a huge range of instruments used here, which gives the album this really lovely, lush atmosphere. Cabral's vocals are very rich and complement the whole thing really well.
#16
Silk Sonic
An Evening with Silk Sonic
#15
Armand Hammer & The Alchemist
Haram
Just over 30 minutes of slick and well-produced soul music. Doesn't go much further than that, but what it does do is superb.
Very murky and cryptic production and lyrics, with quite dreamy, jazzy instrumentals and samples. It's an odd combination but it works very well.
#14
Kyary Pamyu Pamyu
Candy Racer
#13
tricot
Jodeki
A huge blast of fun and energy right from the start, very fast and eclectic. Production and vocals are both excellent as well.
On Jodeki tricot try a lot of new things, and they all work really well. Not to say the songs here in their usual style aren't good, but the variety makes it a very fun listen.
#12
Parannoul
To See the Next Part of the Dream
#11
Naked Flames
247 365
Subtle and massive at the same time, with often bright melodies contrasted by heavy drums and very melancholic, anxious lyrics.
An album with a low-bit production style, can be hard to grasp at first but works very well. A lot of nostalgia for 90s/00s game soundtracks, helped by some very recognisable samples.
#10
Lil Ugly Mane - Volcanic Bird Enemy and the Voiced Concern
Lil Ugly Mane breaks a lot of new ground here, and through a wide variety of weird, surreal noises and samples creates an album with a unique vibe. Does a lot of different things, and there's some parts I enjoy more than others, but there's a lot to enjoy even in its weaker moments. His lethargic vocal performance really suits the downbeat nature of the lyrics and album as a whole.
#9
Richard Dawson & Circle - Henki
Forgot to mention this last month, but this is great. I'm vaguely familiar with some of Dawson's earlier work, and this is the first project I've heard from Circle. All seven songs on the album are at least six minutes long, but the depth in the songwriting keeps things engaging, and it rarely feels stale - personally, I think the two longest songs are the best here. All in all it's a brilliant folk album
#8
Tyler, the Creator - Call Me If You Get Lost
Wasn't 100% sure how I felt about it on my first listen, and still a few moments I think aren't as sharp as you'd hope, but on the whole there's a lot to really enjoy here. Tyler is as energetic as ever: his delivery is hard to flaw, and the way he creates this 'Tyler Baudelaire' persona throughout is interesting. Sonically it feels a lot like it combines elements from his Flower Boy/IGOR era and his earlier stuff.
#7
Little Simz - Sometimes I Might Be Introvert
Wasn't too sure if I was going to enjoy this at first - I don't like the opening song much, and most of the interludes feel pointless - but everything else here is superb. It's a hip hop album but it blends with many different genres throughout - there's elements of classical stuff, jazz, afrobeat, straightforward pop. There's even a song which changes from grime to trap halfway through. Very imaginative and a great presentation of Simz's versatility.
#6
Nala Sinephro - SPACE 1.8
Very late discovery but a very, very good one, this is a really beautiful jazz album with a lot of surprises. The instrumentation is just sublime - from the gorgeous strings and light synths on the first track, to the blissful pianos and sax on the second. Throughout the album there's a few subtle moments where things start to pick up a bit and get more intense, and this comes to a head in the chaotic 'Space 6' - before things eventually calm down again. Relaxing and exciting in equal measures.
#5
Japanese Breakfast - Jubilee
An energetic and warm pop album full of bright, warm songs. I really loved 'Be Sweet' the first time I heard it and it ended up being the song I listened to most last year - and there's plenty of other stuff here that's on par with it. Zauner does a fantastic job vocally, perfectly suiting both the energetic, poppy moments like 'Be Sweet' and the slower, ethereal stuff like 'Posing in Bondage'.
#4
Sweet Trip - A Tiny House, In Secret Speeches, Polar Equals
I was very, very exciting for this, both because I absolutely love the other two albums of theirs I've listened to, and because it's been 12 years since their last album. A Tiny House doesn't disappoint at all. It incorporates elements from both the glitchy, jittery velocity : design : comfort despite generally veering towards the dream pop of You Will Never Know Why. This album has such a gorgeous, dreamy atmosphere, and the songs are just sublime.
#3
JPEGMAFIA - LP!
This is the most I've enjoyed a JPEGMAFIA project since 2018's Veteran. There's two different versions of this - an "ONLINE" version (on streaming sites) and an "OFFLINE" one (on Bandcamp) with a few subtle differences - the latter is well worth listening to, as the extra tracks are some of the best, such as 'HAZARD DUTY PAY' and the extended intro of 'WHAT KINDA RAPPIN IS THIS?'. Lyrically he's as sharp and fun as ever, too.
#2
Floating Points, Pharoah Sanders and the London Symphony Orchestra - Promises
A really gorgeous album, essentially one long performance made up of nine different movements. Floating Points - real name Sam Shepherd - does a hell of a lot here, playing a huge and impressive variety of different instruments, Sanders' tenor sax is as superb as you'd expect - and the performance from the LSO is also flawless. This album has a vivid, blissful atmosphere which manages to stay fresh and exciting throughout, and it's a huge achievement for everyone involved.
#1
Injury Reserve - By The Time I Get to Phoenix
What an album this is. I'd probably listened to one or two Injury Reserve songs before this and never really paid much attention to them, but the level of detail and depth they put into everything on this album is immense. This huge, crushing, apocalpytic atmosphere they manage to create largely out of post-punk samples - plus some very emotive and bleak lyricism. There's also something really cathartic about it - especially the final track with its almost triumphant-sounding Eno sample.
Best EPs of the Year
Kero Kero Bonito's Civilisation II
was my favourite EP of 2021 - I thought the first one was good, but the second just blows it away. 'The Princess and the Clock' is probably my favourite song from the entire year, and 'Well Rested' is quite different from anything they've made before, and this experimentation really pays off. Another EP I really loved from this year was
4 New Hit Songs
by
Doss
, a collection of really fresh, bright and fun house tracks. While there's only four songs here
I was also pleasantly surprised by Disclosure's Never Enough - both because I hadn't even realised they'd released a new EP, and I've found a couple of their longer projects a bit subpar on the whole. But thankfully every song here is a banger, really tight production and beats. I've already mentioned 247 365, but I also really enjoyed Naked Flames' Binc Rinse Repeat EP which he came out with earlier this year, not least because it samples Worms Armageddon, the greatest game of all time. Also thought YUKIKA's Timeabout, was a great listen, full of glitzy and fresh pop songs. I'm not sure if Windswept Adan Roots by Ichiko Aoba counts as an EP but I'll drop it here as well, even though as it's just a few rerecordings from my favourite album of last year that's probably cheating. But either way, these songs are gorgeous in this more acoustic style, and these definitely feel like the basis for her live performance I saw in November.
Lastly, I also found Welcome by Daði Freyr a lot of fun - I don't usually like a lot of Eurovision songs outside of the performances at the contest - and even still most of the time the winner sucks (not a fan of Måneskin but I guess they were fine). But last year's contest actually had a few - for instance, 'SHUM' from Ukraine's Go_A. Iceland's Daði & Gagnamagnið's '10 Years' was also a favourite of mine; both that and his group's entry from 2020's doomed concert are on this EP, as are a few other songs - and everything on here is generally very nice.
Worst Albums of the Year
The album I had the worst experience with this year was Cheater by Pom Poko - I didn't have much of an opinion on it at first, but as it went on it just started to feel so grating and annoying. I don't even think it's that badly crafted, I just find it very tedious and repetitive. Also the cover art is dreadful. I think the biggest disappointment has to be Vince Staples' Vince Staples, a dull and flavourless mush from an artist who has done so much better in the past. I'm getting a bit tired of Kenneth's production in general as you probably could tell when my review of this just said "fuck you Kenny Beats" but despite that he can also do a lot better than this.
I really didn't like St. Vincent's Daddy's Home - while it's interesting to see her trying out a new sound, but the way it's handled is very bland and unadventurous. There's points where it nearly feels like it does something interesting but these rarely come to pass, and it ends up as derivative of the 70s lounge sound it pays tribute to. Then we have Lana Del Rey's Chemtrails Over the Country Club also has a real bland vibe, full of cookie-cutter Lana songs, and a real letdown after her last album before was so good.
I think post-punk - particularly from the UK, somewhere around London probably - has been especially dull this year. That includes Dry Cleaning's New Long Leg, Shame's Drunk Tank Pink and Squid's Bright Green Field, most of which seem to be adored by people, but I just got absolutely nothing from. It's a shame about Squid in particular because I thought their Town Centre EP from a couple of years ago was really neat, and I went back to it after listening to the new album and still enjoyed it.
Albums I Wanted To Enjoy More
Aesop Rock and Blockhead
collab,
Garbology
- it was fairly good and there were individual songs I enjoyed but generally as a project I didn't find it that interesting. I'm not familiar with Blockhead's music outside of this so that also didn't really help much. I think Aesop Rock's
Spirit World Field Guide
from last year was a bit flawed in places but liked the theme running through it, whereas the theme here (
garbology
and I guess how it connects to sampling?) bypassed me a bit.
I also found DARKSIDE's Spiral very underwhelming, which was especially disappointing considering I'd enjoyed a number of projects Nicolás Jaar was involved with in 2020. It had its moments, sure, but not a lot of them - and generally far more that didn't add anything to the album. I was also pretty underwhelmed by the project R.A.P. Ferreira released right at the start of the year, Bob's Son. It's definitely solid and there's a couple of really good tracks, but beyond that not a lot grabbed me.
A very big disappointment for me was Madlib's Sound Ancestors - I'd listened to a few of the singles in the run-up to it, and I liked them - beyond one that was a bit dull. But then the album came out in full and it just never went above that level, very little songs that actually tried anything interesting - or anything at all, really. Lastly, Chai's WINK - had the potential to be a lot of fun, but as it went on just fell flat unfortunately.
---
Well, that's it. That's 2021 done. That's a lot of albums, and a lot of bold text. Thanks for reading!

Written by: Ninelevendo (talk)
So after starting what must be my 6th playthrough of Metroid Dread, I figured that maybe I should share why exactly I find it so fun to run through. I think you'll find that the keyword in that last sentence was "run".
Being the first completely new 2D entry in the series in over almost two decades really does make the leap in technology and game mechanics between games feel quite dramatic. The Metroidvania genre and even gaming as whole has changed, so while Dread shares many similarities to previous entries in the series, it much more closely follows on in the more modern Metroid formula that Metroid: Samus Returns started. In many ways, Dread feels more like a sequel to that game than Metroid Fusion gameplay wise, and so that's the game that I will largely be comparing Dread to.
So what makes Dread so much fun? As per usual, allow me to go over the quintessential thing that makes most great games great, the gameplay.
Gameplay
First and foremost, the biggest reason that makes the mere act of playing Dread feel so great is the movement. Flash shifting away from bosses, grapple beam-ing between magnetic walls, sliding under narrow gaps and plowing through enemies with the speed booster feel absolutely fantastic and blend into each other perfectly, giving Dread a wonderful sense of flow and speed. While you don't need to blaze through the game as fast as possible, Dread gives you plenty of opportunities to enter the Zone and become one with rhythm, and you can experience the ease of sliding through each room. With more buttons and more seamlessly designed powerups and abilities, we no longer have the control issues that Samus Returns brought and was only partially able to rectify with the touch screen. Instead, everything fits together so much better that's it like trying to put together a puzzle if it was made out of matching magnets that slotted in as soon as you got the correct pieces close to each other. It just works.
Sliding is probably the biggest new addition to Samus' base kit, adding a sleek new way to traverse under small gaps with the more speed than the morph ball could ever hope of achieving. Instead of finding a small gap, coming to a stop, then pressing down twice to crouch and then go into the Morph Ball, you can now keep moving and simply slide under the crevice with the press of a shoulder button. It feels perfectly natural to perform and also adds a new layer of progression by making the morph ball actually feel like an addition to your kit instead of a standard feature that you're missing out on. It can also be used to dodge attacks from smaller creatures or even bosses and is a very versatile movement option in general. The ease of use combined with the lack of any kind of inconvenience in execution make sliding an awesome addition, and one that I never want to see a new Metroid game go without.
The ability to parry enemies with a Melee Counter is back from Samus Returns, this time with a very nice improvement, the Dash Melee. Essentially just the Melee Counter but performed while running, this new addition might not like a huge deal at first, however the way that's been implemented massively improves on one of Samus Returns' biggest flaws. The main issue present with the Melee Counter in that game was how it would require you to bring Samus to a halt, wait for an enemy to attack you, and then successfully parry it. While slow and slightly tedious, it was so much more effective at killing things that there was barely any reason to bother attacking in any other way. So while the Dash Melee doesn't actually change the fact that it's generally the best option to remove obstacles quickly, having the ability to continue charging into them at full speed then quickly parry makes getting through areas much less tedious and fits with the typical run 'n' gun style of Metroid much better. The fact that Dread is a completely new game and not a remake like Samus Returns also means that the level design much better accommodates the parry mechanics, with rooms typically being much longer horizontally and having less of the cramped vertical corridors seen in previous games, which makes the combat feel more natural. Some weaker enemies are even able to be killed by simply Dash Melee-ing into them adding more variety to the ways that you can choose to progress through the game without dying. (Which happens a lot, by the way, but we'll get to that later.)
Enemies & Bosses
Speaking of enemies and variety, there is also a ton more, well, enemy variety. Unlike Samus Returns where you can count the amount of unique creatures that you see on your hands, Dread features a much, much larger number of critters and machines, each with different sizes and strengths, and different ways to be dealt with. Some larger creatures are much stronger and cannot be parried by a Melee Counter, meaning that you'll have to think about a different way to deal with them, such as attacking from a distance or even just avoiding them entirely. Of course not every enemy exists purely for the purpose of giving you a game over screen, as the role of a lot of enemies is to teach how and when to use your new abilities. For example, you'll see some fiery plants blocking the way right at the point where you gain the Ice Missile ability, or electrically charged enemies before gaining an ability that allows you to hurt them, and etc.. While Samus Returns sometimes did the same thing, the lack of variety made it much less interesting, so I was happy to see that it's been amped up in Dread and is no longer an annoyance.
Likewise, there's also a lot more variety in the types of bosses. And let me tell you, bosses in Dread are HARD. Metroid is the new Dark Souls. (Ok, not really.) Diggernaut was famous for being much more difficult than the rest of the bosses in Samus Returns, and it seems that MercurySteam has used this more difficult style of boss as the standard for Dread. And for what it's worth, I think that this is for the better. A lot of Metroid bosses in old games came down to "how fast can I spam missiles into their face", and while that's still partially true in Dread, Bosses do a lot more damage and have much more health, so if you want to beat them you'll really need to study their movement and learn their attack patterns. While it is challenging and sometimes even frustrating, the satisfaction when you finally conquer them is real and makes bosses feel really rewarding.
Although I will say that the difficulty of the bosses does seem like it might be a bit of a turnoff for newcomers, and unfortunately it doesn't seem like there's any kind of easy mode for accessibility. While it personally didn't affect me in a negative way, I do feel that this might be something to consider if you get frustrated easily, so it's something to keep in mind. With that being said, the first boss does a good job of preparing you for subsequent monsters by giving you an idea of how much health and how long the phases for bosses usually are, and if you can beat the first boss (and I'm sure that anyone who's reading this can), you already have the ability to beat every boss after it. So if you do get stuck on a boss, don't let the difficulty scare you, you can do it! It might take a few tries, but your patience will pay off, and hey, that's a life skill right there. Who knew that Metroid could make me feel better about my current lack of success in the work force.
While we're still on the subject of bosses, I would like to specifically mention two of the most influential new abilities that Dread introduces, the Flash Shift and Storm Missiles, and how they radically change how boss fights are approached. The Flash Shift allows Samus to warp a set distance horizontally up to three times before needing to be recharged. It might not seem to have much purpose outside of going through certain doors or goofing around by going stupidly fast (which is fun btw), it actually also acts as a much more effective way of dodging and manoeuvring around bosses, allowing you to start a counterattack almost immediately without having to turn around. Likewise, the Storm Missiles might not be any stronger than regular missiles, but the speed with which you can fire them makes them the optimal choice to deplete a bosses health quickly. As a result, these upgrades allow the later boss fights to feel very different and provide a new layer of strategic depth for that hasn't been seen before in a Metroid game.
Level Design
Arguably the most important and defining aspects of a Metroidvania game is the level design. Dread doesn't stray too far from Metroid tradition, and as such if you've played a previous game in the series you'll know what to expect here. Hidden breakable blocks, pitfall blocks and bomb blocks all litter the hallways, thankfully with none of the more annoying things from previous games, such as false walls. Progression is based on obtaining upgrades, which will then unlock doors, clear obstacles or otherwise provide new ways to explore and interact with the environment. While I'm not going to go over all of them, I'll let you discover most of them for yourself, I will say that the progressive arc that they take you through and the abilities themselves are probably the best that they've ever been on the series. There aren't any annoying ones that feel like they should have been part of your base kit already like the Power Grip or Spring Ball, and previous abilities have been tweaked to feel more natural, as seen with the new Spider Magnet and Spin Booster. The only real downside here is that none of the upgrades really feel like they were used to their fullest potential. Most of the movement-based ones are only notably used one or two times before becoming obsolete by a later upgrade or have properties that just go completely unused. It's a shame, and I would have liked more varied puzzles based on them, but it's not a huge deal.
The map design itself is probably one of the harder points to describe, even when compared to previous Metroid games, as it's both very similar yet very different, ending up as somewhat of a mix between Super Metroid and Metroid Fusion in terms of linearity. (Yes, polar opposite sides of the spectrum, I know, but bear with me.) In usual Metroid fashion, Dread features a large, interconnected map with several larger sections to explore, with each area having its own general theme and distinct environment. Like Super Metroid in particular, backtracking to previously visited sections with new abilities that unlock new paths to even more new abilities is required to progress through the game. This is notably different to how Samus Returns worked, which limited any progression-based backtracking to whatever section you were currently up to. So essentially what I'm trying to say is it's like Super Metroid in that we have a big, open area to explore, and can go wherever we want whenever we want.
However it's not exactly like how Super Metroid works either. Super was more like a memory puzzle, were you would usually see a lot of areas that you can't yet access and then subconsciously make a mental note of them, and then when you finally got a new upgrade that opened those pesky green doors, you have this moment of personal realisation where you remember the spot that you've seen before where you can go back and use that new ability, and so the cycle repeats. It's these kind of "Metroid moments" that make the Metroidvania genre special, and one of the reasons that Super Metroid is so highly regarded, even today. Dread on the other hand… doesn't have these moments nearly as much, and that's mostly because of two factors. Firstly, the map is so much larger than Super that it makes any unreachable areas much more common and forgettable. Secondly, the path forward to progress is pretty much always right in front of you, so you're never left wondering where to use your new ability for long. Which sort of leads into why I find Dread's progression more similar to Fusion.
Fusion is generally considered to be the most linear game in the franchise, and it's easy to see why when you consider that it forces you into a specific area, followed by telling you the exact spot that you're aiming to reach. While it's very different to Super, it still manages to work by not telling you exactly HOW to get to that location, so you still have to use your classic Metroid deduction skills of bombing everything and backtracking to other areas in order to reach your destination. So why am I bringing this up? Well, despite Dread being much more open by not always restricting you to a location or telling you where to go, the way that you progress still feels very similar to Fusion. To give an example of what I mean, I'd like to highlight the Teleportals, a fast travel system similar to the Teleport Stations found in Samus Returns. The main difference here is that these Teleportals are colour-coded, and will only let you travel back and forth between each individual pair, instead of being able to choose any previous Teleportal that you've seen. In Samus Returns, the Teleport Stations were more of an added convenience to minimise backtracking to previous areas if you wanted to find optional collectibles. Meanwhile in Dread, these Teleportals will generally take you straight to the point in a previous area where your new upgrades will open up a new path. So it's kind of like if Super Metroid just took you straight to where you needed to go instead of giving you the opportunity to find out yourself.
So while you can go anywhere that you want, there's really no need to, as the path is pretty much always straight ahead of you. As a result, we have something that feels like something of a mix of Super's openness and Fusion's linearity. Sometimes I do wish that the game would tell me where to go instead of having me waste of minute of my time staring at map looking for the obvious path forward, and that there were more setups that allowed me to have "Aha!" moments and make me feel smart when I make a connection and work something out myself, but I understand that it's hard to balance these two things. Overall, the map design in Dread isn't bad, quite the contrary. It's just different. This is the first time that I haven't had to consult a guide on a blind playthrough of a Metroid game, and that's definitely a good thing. I just wish it could have been done without taking away so much of that sense of discovery.
Map
As per usual, once you've collected all of the essential upgrades, there are still plenty of optional power ups scattered throughout the map for you to find and collect to 100% completion. There's a certain Zen-like aspect to finding them all, it's got that certain combination of tedium and low level of engagement that somehow isn't boring but rather relaxing, sort of like Animal Crossing. Of course, the guiding factor to every treasure is a map, and Dread certainly has that well covered.
The map, an essential element for a fun Metroid experience (keyword was "fun", Metroid 1 & 2), has undergone quite an upgrade compared to the previous entry. Gone are the vague white dots and blocky room shapes from the SNES days, instead being replaced with a much more detailed and geometrically accurate depiction of areas and rooms. Each type of upgrade or interactable objects now have specific icons telling you exactly what they are and whether or not they have been obtained or used. A section of the map will now flash when there's a hidden item in the area, giving you a general indication of where to look, a welcome improvement over the white dots used in previous games maps that would either tell you pretty much exactly where it is or wouldn't help until you were literally standing on it. There's also a new ability to highlight objects, allowing you to see every other instance of that object on your current map, which makes it much easier to find other missile upgrades or new paths that have opened up. Like Samus Returns, markers of various colours can placed on the map to help make a note of something that you would like to return to later, however with the ability to instead highlight multiple objects, I never found myself using the markers. It's nice that there's still the option for those who want it I suppose.
However with all the improvements and modern quality of life updates, the map system still isn't perfect. While highlighting objects is nice, you can't select anything from a list, meaning that you'll first have to find a similar object on the map first, which can be a pain, especially with rarer objects. It would have been really nice to have an option to highlight all unobtained items instead of having to find each individual type of upgrade and manually select them. While very few, there are some items that are found out in the open but are located in hidden parts of the map, thereby not triggering the telltale flash, and as a result you could end up not being able to tell where it is at all, even when having a mostly complete map. It is possible to see reveal these sections of the map by being in very specific spots that are in close proximity to them, meaning that if you completely fill out the map you will eventually find them, however this is just a frustration and not particularly great design. Fortunately, this doesn't happen very often, but it would have been nice if it never came up at all.
DREAD
Now you might have noticed that I haven't even mentioned the most dread-enducing part of the game with a subtitle of Dread yet, by which I of course I mean the E.M.M.I.. With a cold, robotic demeanour and equally terrifying spider-like way of movement, these killer death robots will hunt you down and kill you. And no, that's not a joke. If they catch you, it's instant death, apart from a brief glimmer of hope from a very slim randomised parry window that you will probably fail most of the time. This is the most high stakes game of hide and seek that you've ever played.
Based on the concept of the SA-X in Fusion, the E.M.M.I are extremely powerful enemies that have one goal; hunting down Samus. They will immediately investigate where you're standing if they sense even a slight movement near them, and if they see you they will relentlessly chase you until you somehow run away fast enough to evade their detection. They are only encountered in specific sterile-looking areas called E.M.M.I. Zones, with a fairly distinctive door to mark them. These areas are specially designed to be mostly barren of enemies and powerups to instead give Samus more areas to hide or loop around the E.M.M.I., and this allows Dread to have much more freedom and tension when using stealth than Fusion ever did. Using the new phantom cloak ability, you'll cling to ceilings or cower in dead end corners and hope that the E.M.M.I. doesn't decide to move forward and bump into you. It's terrifying, but also exhilarating. Successfully evading an enemy (or ever parrying one, if you're lucky) feels great and is a very nice change of pace the usual shooting at walls that normally transpires in Metroid gameplay. It does get a little more tiresome after a while or on repeat playthroughs, however it's still fleshed out enough that it's still able to make an impact.
Now Dread isn't a horror game, there's no blood or gore on display here, and the E.M.M.I. aren't quite scary enough to induce PTSD every time that you see one. However after you've narrowly escaped from the clutches of one only to then later see an E.M.M.I. Zone door and realise that you're going to have to go through all of that all over again, you'll come to understand what "Dread" truly means, and I wouldn't have it any other way.
Speedrunning
Now if there's one downside to Dread, it's that it's fairly short. My first playthrough took me about 10 hours to complete, with a few hours added on for 100% completion and probably a few more from the deaths that the ingame timer doesn't count. If you haven't played a Metroid game before, it'll probably take a bit longer, but you're still only looking at roughly 15 hours.
However, while it might be short in length, the one thing that it isn't short on is replayability. Between running away from E.M.M.I. and rushing through the game when speedrunning, Metroid: Run would have been a equally descriptive (although admittedly much less cool-sounding) title. Speedrunning isn't something that I've ever been super interested in, but Dread's movement made it too hard not to try. And let me tell you, it's pretty fun. Focusing on the best aspect of Dread, the movement, allows you to try out all kinds of things, and at its core, it's just fun to run through.
Dread also has a large number of possible sequence breaks that can radically change how you play the game. If you don't know, sequence breaking is essentially playing parts the game out of order, which results in some interesting scenarios where you can get upgrades early or even skip some of them. It might sound like a strange thing to do or sort of like cheating, however Dread has been so meticulously designed that the developers had already worked out most of the possible sequence breaks and designed some things to reward it. While I probably wouldn't recommend trying it on your first play through, sequence breaking allows you to learn a lot of new things about the game's mechanics and gives you new challenges that you now have to solve differently then before. You might now be able to go to a certain location earlier, however will you need to come back and get something later? Getting some upgrades earlier can make certain bosses much easier, while some bosses might be much harder if you've skipped something.
Sequence breaking also allows speed runs to be more interesting. Which path can you take that's faster? Will going out of the way to get a certain upgrade be more time saving? These are the kinds of things that you need to consider in order to minimise time wasting, and it leads to many different ways to approach the game. I think it's also worth mentioning that Metroid: Zero Mission on the GBA also had a large number of intentional sequence breaks that made speedrunning more interesting, however I personally never really had much interest in sequence breaking it, and I wasn't sure if I was going to feel the same about Dread. After playing through it however, the need for speed kicked in I realised that there's just a certain joy to be found with blasting through as fast as possible, and I think it's the increased fluidity in the movement options that made it click. Being able to chain a speed boost into a slide into a wall jump to collect an upgrade that makes boss battles faster is simply bliss, and I would recommend at least giving it a go.
There's also an unlockable hard mode that makes basic enemies and also bosses hit harder and have more health. Considering how most of the difficulty in the bosses comes from learning their attack patterns, once you've worked them out the first time they become MUCH easier to deal with, and so being able to equalise things a bit on subsequent playthroughs is much appreciated. There's ALSO an unlockable gallery that adds new images depending on how fast you beat the game and on what difficulty, so there's actually a completionist incentive to play through multiple times!
AESTHETICS
Presentation wise, this game is simply gorgeous. I'd even go as far to say that it's one of the best looking games on the Switch. Admittedly, I wasn't super impressed with how the game looked in the initial E3 trailers and showcases, however now that I've had the game in my hands, I've definitely retraced that stance. The HD graphics really let all the metallic surfaces shine, from Samus' armour to the large machinery in the background. I was honestly impressed by how clean it looked, even when in handheld mode, and at the same time also being able to keep a steady 60fps, with only very specific exceptions. Sure, it might not match some of the powerhouse games seen on the PlayStation or Xbox, but what we have is still incredibly detailed and drives home the cold, metallic feel of the E.M.M.I. Zones or the solitary emptiness of the underwater depths. Even the backgrounds, something that I barely notice while blazing through areas, are incredibly detailed, and once you take a moment to stop and take in the secenery, it really sells the setting of planet ZDR. I can definitely see why Nintendo decided to release this game alongside the OLED Switch model as it is probably one the best games to graphically showcase besides a Mario or Zelda, and if I ever got my hands on one, Dread would easily be the first thing that I would want to try on it.
There has clearly been a lot of effort put into polishing every minor detail in the overall presentation as much as possible, even outside the graphical quality of the game. Even the HD rumble, something that you've probably forgotten was initially a selling point for the Switch, has some really nice effects, and some of the cutscenes from when you acquire a certain powerup really make you FEEL like you're getting more powerful. There's also a ton of little different interactions within the background or even during gameplay that enhance the experience just that little bit more, and I find myself learning something new about the game every time that I play through it. Did you know that Samus does a kick when she counters when sliding? Did you know that Ice Missiles revert to Super Missiles when used in Lava, with an ice melting effect to boot? Did you know that Samus never goes into her idle animation when in an E.M.M.I. Zone, indicating that she's constantly on alert? I could go on and on about all the small details that I've picked up, but to avoid creating an essay over it, I'll assume that you've gotten the point that's its very impressive and move on.
The music is one of the more hit-or-miss aspects here, because while the soundtrack definitely isn't bad, it isn't particularly memorable. It fills the need for non-repetitive atmospheric music well, however there aren't any tracks that have me head banging like Surface of SR388 in Samus Returns does or any that give you that Lo-Fi chill beat like Lower Brinstar does in Super. One thing that I will commend it on though is that every track in the game, outside of some cutscenes and the title screen, is completely new. For a series that that has had more remakes than new games in the last two decades, it's a refreshing change. The developers must have felt that there was no need to resort to an overabundance of nostalgia pandering to make their game good, and I respect that.
As a final point, I wanted to briefly mention the story. While Metroid isn't a story-focused series, (expect for that one OTHER time, and we all know how that went) Dread still has a plot which follows on from Fusion and all the other games before it. While I won't go into any detail in order to avoid spoiling anything, I will say that I did appreciate the narrative elements. It's not super indepth and in my opinion didn't provide enough closure for what was described as "the end of the story arc" of all prior games, but if we keep my biased expectations out of the way, it's a fun time that adds to the experience in a positive way. You also don't need to play any other games in the series to understand what's going on as the story is fairly self-contained, and every relevant plot point from other games is brought out in the opening sequence, so you won't have to worry about beginning a Metroid-marathon to catch up.
Conclusion
Metroid Dread might not be long enough to completely take over your life or reinvent the Metroidvania genre, but it does offer a heart racing, sometimes terrifying, very well polished experience. And really, what more can you ask of a game? Metroid Dread is an excellent entry in the already fantastic Metroid series that brings it flash shifting straight into the modern era with plenty of momentum to bring us even greater entries in the future. The only question left is; Does it take the spot from Super Metroid, often considered as one of the best games of all time, as the best Metroid game? All I really need to say is that this question is a hard one to answer.
K-Pop Album Reviews
This month, Zange reviews Dreamcatcher's Dystopia: Lose Myself! They will not shut their mouth when it comes to this album, so come see what all the talk is about!
All-Time Smash Merit Ranking
Written by: SonicMario (talk)
Welcome to the 2nd of my Smash merit Shroom rankings! 5 more characters were voted for back in December. The three characters covered on the forums were Pit, Ness, and King K. Rool. Click the hyperlinks in the names to see those posts for those characters. But I'm particularly excited for BOTH characters that were voted for the Shroom this time. Cause one is my personal favorite inclusion (And my main ever since they've been in Smash) and the other is what I believe to be the best overall inclusion out of all the Newcomers in Super Smash Bros. Ultimate.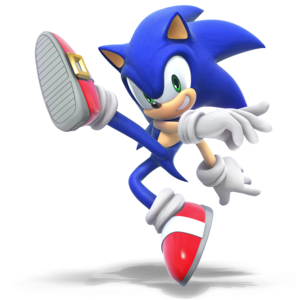 SONIC THE HEDGEHOG

| Categories | Fighter Info |
| --- | --- |
| Fighter Number | 38 |
| Fighter Group | Brawl Veteran |
| Franchise | Sonic the Hedgehog |
| Game of Origin | Sonic the Hedgehog (Sega Genesis, 1991 (US/JP/EU) |
Sonic the Hedgehog. Sonic. The. Hedgehog. Sonic the freakin' Hedgehog. Anyone who's known me long enough in the community knows that I'm a big fan of Sonic. While I go by Northern Verve most of the time now, my original username (Though you can see I still have that name on the Wiki as well as the forums) was SonicMario. I originally used that username for the first ever internet community I ever joined back when I was only 14. That was Smashboards, all the way back in the thick of the Brawl speculation days. Brawl speculation was wild, we of course had fake leaks then too, and then there was the drip-feed on the Smash website. The best case scenarios being characters, though often it was just a minor thing like an item or something else that probably made too many people upset that they stayed up far past bed time just to see the update would be something they don't care about. I'll probably talk about that more when we get to some of the characters that were first revealed via the DOJO. Because right now we're focusing on Sonic.
On Smashboards, I helped set up a name for the group of Sonic fans in the Summer of 2007. We called it Smashing at Sonic Speed. I don't remember much of the Sonic thread in Brawl despite how invested I was in hoping Sonic was in the game. But Sonic was without a doubt one of the biggest supported characters, if not the most at the time. I remember a troll making an Anti-Sonic thread calling himself the Anti-Christ of Smash. Geez, How edgy. It was generally agreed that if there is another 3rd party character in the game, it would be Sonic the Hedgehog. The only reason to doubt is if perhaps Sega said no (And as it would turn out, they almost did, before changing their minds last minute. If this had happened in Smash 4 or Ultimate instead, Sonic probably would have been the first DLC character instead) or for some reason they just decided to stick with only Snake despite the immense hype of non-Nintendo characters being added to Smash.
Believe it or not, there was a moment on Smashboards where Sonic was… kind of leaked? Though it was sort of a word of mouth sort of thing 3 days before the reveal. It was a user named NyaseNya. Where we hope the person that told us what was happening was right but we were cautiously careful in case they were BSing us. It was a claim that Sonic was going to be revealed on the Wednesday of October 10th. From there, we just waited patiently for that day. For many of us Smash geeks on the internet, we remember where we were when we found out Sonic the Hedgehog was going to be in Smash. I was in High School, on most mornings before it was time for class I hopped on a computer to check news on gaming and that includes of course Super Smash Bros. Brawl. It was through Google news that I saw the headline and the first picture, detailing that Sonic the Hedgehog. The character I'd been pining for only literally months online but years in my head offline, the only character in Smash history that for me was my very own dream come true character, was in the game. Because I was at school, I sort of had to muffle myself. But I was so happy! I think I just about smiled that entire day. As corny as it sounds, the day I knew Sonic was going to be in Super Smash Bros. Brawl… was one of the best days of my life.
For the exception of the E3 2006 trailer, the Sonic reveal was technically the first trailer for a specific new character on the same day they were announced (Snake kind of had his before, but Snake had been already known at that point). And while it certainly didn't have the fanciness of the CGI reveal trailers that started in Smash 4 and became really prominent in Ultimate. Starting with fast-stepping footsteps and Mario smashing goombas in Subspace before he's suddenly ran over by the blue blur himself. Sonic taunts and says "Sonic's the name! Speed's my game!". Followed by none other then Live & Learn, the theme of Sonic Adventure 2.
They couldn't have picked a better song for me personally. Sonic Adventure 2 is what made me the Sonic fan that I am. I love that game, no matter how much anyone tells me it didn't age well. I won't be blind to it's flaws, but for me SA2 defined everything I've hoped the Sonic games would continue to be. That's naturally came with quite a bit of disappointment since, having the first game you played in the franchise be your favorite sometimes is a curse more then a blessing because it might mean that the series is just never going to go back to the hype of that first game. A classic tune certainly could have made sense too, but I am so glad they used Live and Learn.
If I may go more on the music used for Sonic in Smash, I do think it's a shame that the only remix we ever got specifically for Smash was the on Jun Senoue made for Brawl for Angel Island Zone. And everything else is just original music. Not that I think the choices they made for Sonic music representation was terrible. Though I'd like to hyperlink here some tracks that I would have loved to have been able to Smash to.
Sonic Adventure 1: Speed Highway, Egg Carrier, Icecap Zone Snowboarding, Red Hot Skull, Tricky Maze (Lost World)
Sonic Adventure 2: It Doesn't Matter, Green Forest, Supporting Me, Metal Harbor, Pyramid Cave, Crazy Gadget, Pumpkin Hill, Meteor Herd, For True Story, E.G.G.M.A.N.
(tbh if I had been Sakurai I would of tried to ask for as many tracks from the 2 Sonic Adventure games. SA2's soundtrack in particular I'd still say is one of my favorite video game soundtracks of all-time.)
Sonic Heroes: What I'm Made Of, Mystic Mansion, This Machine
Sonic Riders: Egg Factory, Sonic Speed Riders
Sonic and the Secret Rings: Unawakening Float, The Palace That Was Found, It Has Come To This
Sonic Riders Zero Gravity: Catch Me If You Can
Sonic and the Black Knight: With Me
Sonic Lost World: Frozen Factory, Hidden World, Final Boss
Sonic Forces: Infinite
There's probably alot of other good tracks plenty of others would like to add but I figure this is enough sharing of the kind of music from the series I would have liked to see added to Smash.
I've once said that often the Smash games are sort of time capsules of the previous Nintendo console. SSB64 had largely characters relevant on the SNES and the Game Boy. Melee had many characters that had an N64 game, Brawl celebrating the Gamecube, Smash 4 celebrated the Wii. I think Ultimate doesn't necessarily celebrate the Wii U outside of adding Inkling but Ultimate was a special case that for the most part it was fulfilling fan requests and including some recent successes on the Switch. But going back to Brawl, Sonic Adventure 2 Battle was the first Sonic game on the Gamecube. It signified the end of Mario and Sonic as a console rivalry, it's only fitting that they used a theme from the first Sonic game to get on a Nintendo home console.
Speaking of the ending of the rivalry, you could say the moment that Sonic and Mario taunted together in Smash also was that moment the personal rivalry ended…well ok, we did kind of get Mario & Sonic at the Olympic Games announced before Sonic was announced for Smash that became the actual first time Sonic and Mario was officially in a game together. But Smash was certainly the bigger deal (If anything, we only took the Olympic Games as optimism that perhaps it was part of the deal of Sonic getting in Smash. There were some worried no doubt that they'd half-ass it by having them together in this mediocre sports game on the Wii (If you have any interest in the Mario and Sonic series. I can only really recommend Vancouver 2010 and London 2012. I think Tokyo 2020 is fine for what it is too. But I wouldn't say it's a must buy.) and not in Super Smash Bros. But luckily that never came to pass.) But getting back to that shot of Sonic and Mario together. I wasn't a Sonic fan during when the rivalry between Sega and Nintendo was at it's peak. I was at least aware that the rivalry ran deep enough that there were Nintendo fans wanting Sonic to get in Smash… so they can beat him up. But I became a fan through Sonic Adventure 2 Battle, AKA I probably wouldn't have become a Sonic fan as early as I did if Sega had not gone 3rd party. I played many Mario games before I played a Sonic one, but despite that, I attached pretty quickly to the Sonic franchise. Even now I'd tell you that I slightly prefer what I like about I see as the best of the Sonic franchise over the best of Mario. Even if course Sonic has a lot more low moments then Mario ever will. Perhaps part of it is that I know Mario will always be a good time, but nothing that runs the risk of going too far most of the time. While Sonic took risks, which while more often then not ended up with the game falling on their face. But when Sonic was good at least in my opinion, it struck a chord with me more then any Mario game gave me. I loved both franchises though, it's why I went with the completely uncreative name of SonicMario when I was 14. My thought going into joining the community was the hope to one day see Sonic and Mario together in Smash Bros. And that's exactly what I got. With them together, I was actually more excited of being able to have them on the same team together more so then fighting each other. As boring as it is, I don't think Sonic and Mario would ever choose to fight one another to hurt the other. At most they'd be competitive rivals, but in the end they'd shake hands with each other. I'm more invested in a friendship between the two characters then who would win in a fight.
But on another subject, I should probably mention some 2 elephants in the room regarding Sonic. The fact that he was actually pretty last minute, and his moveset not exactly being all that popular (Especially when it comes to the competitive crowd). For the former, I mentioned earlier that Sega almost stupidly said no to having Sonic in Brawl despite how popularly he was wanted at first. The 2002 EGM April Fools prank was one of the most infamous pranks since it was still early enough in the days of the internet for people to believe such hoaxes. Where it claimed that defeating 20 opponents in Cruel Melee would unlock Sonic and Tails. I'm sure in some way that had to have become a motive for many Sonic fans to eventually get him in to the next game. (On a side note, if you could ask me what character I'd personally add before anyone else. It'd be Tails, not only to make that April Fools issue come full circle, but Tails happens to be my favorite Sonic character.). So for Sega to almost deny that, is painful to hear. But luckily they managed to change their mind just quickly enough to manage to get Sonic in. It did mean that he couldn't get much of a role in Subspace, so they kind of crammed him in as a deus ex machina to take down Tabuu's wings. Obviously we know it kind of comes out of nowhere, but it's still funny to say "Sonic canonically saved Nintendo's fighters" in the Smash Bros. mythos.
And as for moveset.. I can understand the frustrations that he has two moves that for the opponent is hard to tell the difference. Not to mention being the fastest fighter on the ground is naturally going to make him annoying to fight. The optimal high-level Sonic play is to get a stock lead, and then time out the opponent by running away with Sonic's ground mobility. Which is looked down upon by the crowd who wants to see how much a user has mastered how to combo as a character, not run the time to extend a match longer then most want, you are bound to see a round of boos from a live audience or swears in the chats if a Sonic main dares goes for a time-out win. In the same way that say in an American Football game, most fans would like to see a thrilling shootout with touchdown drives back-and-forth rather then a slogfest where the only points are field goals. Sometimes there may even be pre-emptive boos if someone chooses Sonic even if they have no intention of timing out. I'm not a competitive player, and I never will be. I like to play as aggressive as I can with Sonic, that probably results in getting my butt kicked against any skilled player. But I think Sonic is at it's most fun when you go aggressively. The time-out method or what some competitive players call "lame" isn't all that fun for the person doing that either. I understand that Sonic's moveset in Smash is not going to win any awards for best crafted moveset. Sakurai went with more classic references in the moveset. He has acknowledged that Sonic could have been very different if he based him on some different games. maybe they could of gave him a boost side+B while he keeps the same down+B at the very least. I sometimes wish Homing attack was capable of chaining in a free-for-all fight so you can hit all the opponents but I understand how that might be hard to balance. I also wish more of the moveset came out of Sonic Battle, though most of his A moves do have an origin that they're moves from Sonic the Fighters. Which was essentially a full-on Sonic Virtua Fighter.
But while Sonic perhaps doesn't reach the moveset potential he could have had in Smash, I'm just happy that he's in Smash at all. And even if he's not quite as fun as other characters can be. I don't care. Sonic was my dream character. For me, Sonic getting in Smash back in Brawl is the same feeling many Kingdom Hearts fans had 3 months ago with Sora getting in. The same feeling that Ridley, K. Rool, and Banjo fans got to have throughout Ultimate's cycle. It's the one time my #1 choice actually made it, Sonic will always be the character I intend on playing most of the time (The only exception would be if Tails ever made it, Yes, I'm aware that my new #1 wish for Smash is another Sonic character. But hey, if Sephiroth made it, I don't see why not).
I suppose I'll end this off by talking a bit of Sonic's future. I am very aware as a Sonic fan that Sonic's game history ever since the mid-90's have been quite the roller coaster. The adventure era as much as it's what introduced me to Sonic and part of the series I loved the most isn't quite the peak Sonic had in his heyday, and then Sonic hit the ultimate low when Sonic 06 came out. It's because of Sonic 06 that I don't think Sonic ever will ever reach the heights he once had. Sega themselves went pretty scared after Sonic 06 having mostly spin-off games, and once they found a formula that was somewhat popular they stuck to that for a while now. The Unleashed day stages were popular so they made games that expanded on that idea. Generations becoming the most popular 3D Sonic game since Sonic Adventure 2. Though afterward came a rather awkward phase where while I don't think anything after Generations hits anywhere close to a low point like Sonic 06 did (Yes, even Rise of Lyric I don't think should be compared much at all to what Sonic 06's done to the franchise) it's left the future a bit uncertain. There came a decent high point for the classic fans with Sonic Mania, though what came after was another boost game that was at best pretty average.
I think after Sonic Forces it was time to take Sonic in a different direction. And from what we know of Sonic Frontiers, it looks like its exactly that. I know they haven't exactly shown much other then the vast open world Sonic will be in. And I understand how that can be cause for concern. But for a fan like me that's favorite part of the franchise is the Adventure games, it feels like this is the most ambition they've had for a Sonic game in a long while. While the style that was introduced with the Day stages of Unleashed has it's appeal in terms of the sheer speed you can see yourself go on. The actual 3D sections of the boost formula games were pretty short or in tight hallways. Now I'm not saying the Adventure games didn't have their moments of linearity, as most levels surely were. But the controls felt more free, and there were places in the Adventure games you could conceivably explore even in Adventure 2 that had no hub worlds like Sonic Adventure 1 did. I actually feel having both a sense of speed and being able to explore a world as Sonic, could be a boon for the future of 3D Sonic. Cause assuming every single location shown in that Sonic Frontiers trailer is a place Sonic can run in, that promises more freedom then even the Adventure games had. I understand having caution when it comes to being excited for a Sonic game. But this is certainly feels like an interesting change that I hope pays off in some fashion. I won't be surprised if it has some rough edges, I don't expect this to be straight-up and unanimous best Sonic game of all-time nor the game to change the narrative around the Sonic franchise since 2006. But as long as there's a good core to follow, it could be a step in the right direction.
Through good times and bad, I'm a Sonic fan that looks forward with cautious optimism for the future. And even in the times that the Sonic games fail, there's always the comfort that barring either a Sega bankruptcy or Sega having some sudden huge falling out with Nintendo that breaks their relation forever. Sonic has had a place in every Smash Bros. game since Brawl. And I hope he continues to do so regardless of where the future of Smash is taken (Hoping one day, a certain two-tailed fox follows suit too!)

And now on to who was voted #1!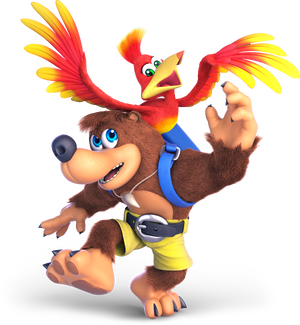 BANJO-KAZOOIE

| Categories | Fighter Info |
| --- | --- |
| Fighter Number | 73 |
| Fighter Group | Ultimate Newcomer/Fighter's Pass 1 |
| Franchise | Banjo-Kazooie |
| Game of Origin | Banjo-Kazooie (Nintendo 64, 1998 (US/JP/EU) |
To have the long lost back again… while I've never been a fan of Banjo-Kazboie (I think I've rented Tooie for a little bit but that's all I remember). His appearance in Smash Ultimate was the absolute peak when it came to the newcomer inclusions in the game. The Banjo-Kazboie games were once regarded as a Nintendo franchise as much as any other that's been in Smash. You want to know how much? The very wiki that this review is on used to cover Banjo-Kazboie as if it counted as a Mario-related series akin to the Donkey Kong Country games. It was later voted by a near unanimous margin of 31-2 that the series be removed in nearly all instances except relevant character pages and/or crossover mentions.
It's only due to the unfortunate circumstances of Microsoft buying out Rare did it become a seeming impossibility for Banjo to ever return to a Nintendo console. (…Well I guess technically there was still Banjo Pilot that came out in 2005 afterward. Though it should also be noted that was originally going to be called Diddy Kong Pilot, but of course the buyout meant they lost rights to the Donkey Kong characters. Though I also get that there was a Microsoft employee that initially thought they had taken the rights to Donkey Kong away from Nintendo when they bought Rare)
If not for the Microsoft buy-out, it's possible Banjo could have gotten in as early as Melee or at the very least Brawl cause Banjo is the kind of franchise that just fits seamlessly into Smash Bros. alongside with the many other platforming mascots. There's two things that Banjo fans have to be thankful for at this very moment, Phil Spencer for being very open of allowing Microsoft to make such deals with Nintendo despite Nintendo and Microsoft being competing console makers. And the Smash Ballot for getting Banjo high enough to get noticed. It's been reported that while Banjo wasn't higher then Sora, he certainly was among the most requested. Wonder which of him or fellow highly-requested Rare related character K. Rool got more requests in the end.
Banjo's moveset even is simple enough that if feels like that aside from the addition of the side-special could of very well fit in Smash 64. Banjo looks and feels like a Smash veteran, and there may just be a beautiful symmetry that the character who started on the N64 feels like their moveset match with other veterans. As much as it may make them seem a bit boring compared to some of the pretty wild movesets that many Ultimate newcomers have.
Banjo also came at a grand stage at Nintendo's E3 presentation. We had just gotten the Dragon Quest heroes, which was no doubt very hype for the Japanese audiences. However, we had practically known Dragon Quest may be coming since the January of that year due to a leak of a codename in the files. So when they showed up we were more like "About time…" but as with most Smash E3's there were usually a 2nd character provided. And at the very end of that presentation, we got what oddly looked like a re-run of the King K. Rool trailer down to it beginning with the same DK Yawn, but this time K. Rool's there sleeping with the kongs. Suddenly something is thrown before DK awakes, and nearly anyone familiar with Banjo-Kazooie figured it out. That was a puzzle piece, otherwise known as a Jiggy that went across the screen, a main collectable in the Banjo games. A repeat of the fake-out with Dedede but with Duck Hunt this time before the bear and bird duo came on down for real with the tagline "Banjo-Kazooie are Raring to go!", with Donkey Kong, Diddy, and K. Rool cheering for their grand return! (Though if I may have one nitpick, why they'd have K. Rool go through the way Gruntilda is defeated in the first game when K. Rool was just as happy to see them? That seems like it would have worked more if say DK and K. Rool after the events of the K. Rool trailer were still fighting when Banjo suddenly came-in to help out.)
An epic moment on an event usually considered the biggest stage for gaming news. With many happy fans of the Banjo-Kazboie games cheering the long-lost return of Banjo back in Nintendo's biggest crossover yet. Also despite Sakurai telling you to play Banjo on Xbox, the first Banjo game actually is coming to the Switch this month…. albeit that does have the caveat of the rather hefty price for the expansion pack (I think I've decided that I'm not getting the expansion pack until all 3 (…Or at least both Mario Party 2 and 3 if they still have cold feet about the first Mario Party and the control stick spinning) of the N64 Mario Party games are on the service. Which may be a while if they're going by a one game per month sort of thing). Who knows if Tooie will also follow, but aside from the hefty price tag that goes along with it, it's at least good to see just how amicable Microsoft has become to sharing with Nintendo knowing that there's still many fans of the old Rare games that find it hard to get an Xbox for the only official way to play their games. (Even if of course Xbox is probably going to still be the only place you can officially play Conker, as I doubt Nintendo ever plans on bringing that back in an official fashion).
Anyway, I could gush on forever about how strong the merit of this inclusion is and the bonus x-factor of being an inclusion that was able to transcend console wars more then even the characters that are generally regarded as characters that would fit in a Playstation All-Stars 2. I sort of wish Crash Bandicoot had made it into Ultimate to really put nearly all the hit platformers of the 90's all-in one place. But as is, I'd gladly take Banjo as what I believe to have been the absolute best inclusion in Smash Bros. Ultimate merit-wise. Welcome home, old friends.
---
While Sonic is my personal favorite inclusion of Smash Bros of all-time. That however does not mean I think he's the most merited Smash inclusion of all time. He's in fact not even the most merited of our first 10 characters. I think both characters made famous by Rare outrank him, K. Rool tops Sonic in merit for being the big bad for the classic Donkey Kong trilogy (The 2nd game of which even had a bit of a knock at Sonic with his shoes next to Earthworm Jim's blaster next to a trash can). Sonic's been on Nintendo consoles for just a little longer then I've been a fan of Sonic. So K. Rool has more history, the only argument otherwise that Sonic merits more then K. Rool is saying how he was pretty much distinctly designed to be the Anti-Mario who didn't go to save a princess (Or well… at least not in any other game then the worst one in the franchise). Meanwhile, Banjo started out as a Nintendo franchise. If things hadn't gone the way they did, it's possible Banjo could have been in Melee or even alongside Sonic when Brawl came around. Sonic obviously has more of a future then Banjo at this point still, but I've said before that x-factors like characters getting into Smash over seemingly impossible odds are factored. And as I probably mentioned already, the fact that a current console competitor to Nintendo played ball enough for Banjo (And Steve for that matter) to get in Smash is mind-blowing enough to give the Bear and Bird an edge over every character ranked thus far. Banjo is a 3rd party character, but he almost still feels like a 1st party one even after all this time.
1. Banjo-Kazooie
2. King K. Rool
3. Sonic the Hedgehog
4. Pit
5. Ness
6. Steve
7. Wii Fit Trainer
8. Chrom
9. Dr. Mario
10. Piranha Plant
Book Review
Once Upon a Broken Heart
Author
Stephanie Garber
Release date
2021
Genre
YA, fantasy, romance
Pages
416
Available From
Greetings, readers, welcome to another edition of Book Review! This month, I will be reviewing Once Upon a Broken Heart by Stephanie Garber!

Once Upon a Broken Heart is a fairy tale romance, if you couldn't tell by the title. We begin with our protagonist, Evangeline Fox, seeking the help of the magical Fate, the Prince of Hearts, for help with her broken heart- her beloved, Luc, has fallen in love with her stepsister Marisol, and the two are to be wedded that day. Evangeline seeks out the Prince of Hearts' help to stop the wedding and in exchange for his help, the Prince, Jacks, requires her to kiss three people at a future time when he decides- if she refuses, she dies. Desperate, Evangeline agrees, but Jacks ends up turning the entire wedding into stone in the process. Horrified by this turn of events and wracked with guilt, Evangeline drinks poison in order to take the place of the wedding party and is turned to stone herself. When she is revived a few weeks later, she is hailed as a hero for saving the wedding, but her stepsister is deigned the "Cursed Bride" after both the first disastrous wedding and an attack on Luc that leaves him injured and disfigured and unable to marry her. We follow Evangeline through her journey to fulfill Jacks' three kiss request and to see if her broken heart can ever be mended after losing Luc.

This story is lovely, truly. Garber has such talent for describing environments, creating compelling characters, and spinning a plot with twists and turns. Evangeline is a headstrong protagonist, she is full of hope and she still believes in true love. But she is also naïve, and this gets her in trouble on more than one occasion where she is maybe a little too trusting of others, not sure of what to make of their true intentions. My favorite part of the book, however, has to be the environment. After Evangeline is cured of the poison, we move the setting to the great North, where magic is everywhere, massive trees grow, and everything feels right out of a book of fairy tales (appropriate.) There is a ball in a quiet, secluded place with balconies overlooking the dance floor, we must travel to a den of evil creatures to grapple with another one of the fates, and a tour of the royal palace of the North. The settings that Garber creates are where this book truly shines, and I find myself almost wishing I could hop into the book and live in the North.

Once Upon a Broken Heart is a whimsical journey to a magical land, where old legends are real and you must keep your wits about you, lest you be taken by magical creatures. There is only one thing I must caution you on: this book ends on a rather nasty cliffhanger, so if you'd rather wait for more to come before you dive in, I can't blame you. But if you're a fan of fairy tales, give this one a read- you might get enchanted yourself.

That's it for me this month, readers! Tune in next time for a new Graphic Novel Review, and happy reading!

While it's true that the availability of eggnog on the retail level is pretty tightly kept between late October through the end of December, with nearly all of them but a few holdouts no one wants to buy vanishing from shelves and displays the moment Santa deposited his first gift. Easter eggnog sure is a thing, and makes sense given that it's a pretty egg-iconography-heavy holiday, so maybe we'll see more around then. Regardless, it is still winter and my fridge is still full of eggnog. It's kinda weird that winter starts only 4 days before people decide that it's over, with there being 3 entire months left of it with all of its blustery blizzards and frigid chilliness waiting just beyond the new year. So, bundle up and get ready for Part 2 of my eggnog reviews: alternative eggnogs!
Blue Diamond Almond Breeze Almondmilk Nog
As one would come to expect with many of these alternative dairy beverages,
Blue Diamond Almondmilk Nog
features less of what it does have and more of what it doesn't: dairy, soy, lactose, cholesterol, peanuts, saturated fat, MSG, casein, gluten, eggs, and carrageenan. Without much of anything, one would wonder what core features of eggnog must exist to adequately mimic one without being one?
guar gum
, and
gellan gum
, which are all plant-based gelatin alternatives that no one should be scared of unless you're looking to make a good impression on a first date without gassing up the place. To mimic the warmth and earthiness of eggnog's traditional nutmeg, cinnamon, vanilla, cloves, etc., Blue Diamond tucks that away in a general 'Spice' on its ingredients.
As with many of these alternative eggnogs I'm including in here today, I have reviewed their dairy alternatives of the same brands in my milk reviews from two years ago. Blue Diamond was one of the almond milks that I rated pretty highly across the board, except for their banana one which was just AWFUL, so I'm unsure if I should be anticipating higher quality, or bracing for a terrible experience. Luckily for me the two collided for what the actual outcome was where it really just felt like eggnog for people who don't like eggnog. It's basically a gentle cinnamon smoothie, mild and velvety, without any persisting thickness. It glides down easily without any gummy aftertaste and nothing that felt offensive. By no standards is it mind-blowing other than if you're still someone who just can't believe that alternative dairy products can't taste and feel alright, but I would choose this if I was forced to decide between real eggnog or this, and there's really no way to tell that this isn't real eggnog if you're not looking at the carton.


Chobani Oat Nog
For a brand that specializes in greek yogurt, they sure have expanded fast into the alternative plant-based and oat market, so big credit to whichever staff member within their company made the push for that. New as of November 2021, Chobani Oat Nog, with its no lactose, nuts, or gluten, and using only gellan gum and dipotassium phosphate as emulsifiers, seeks to set itself apart by making the largest words aside from the brand name on its front 'LIMITED BATCH'. This doesn't really give me much information, as this is already a seasonal product to begin with, so I'm left to assume that there really isn't much going for this product other than what is naturally expected from alternative dairy. Luckily, as this is something I've brought to a get-together with my brothers and close-extended family, I need to present this to them as something that's rather unremarkable and worth not being scared to try.
It tastes suspiciously correct with the only possible source in the ingredients being concealed in 'natural flavors'; acceptable level of sweetness, and a recognizable spices that tell you this sure is trying to be an eggnog. What I'm more glad about is how the underlying oat flavor is kept at a minimum, which otherwise is a problem I have experienced with other oat milk brands and products. A lot of other reviews that are placing high in search engine results are knocking Chobani Oat Nog for being watery, which might be why this was the only brand I saw last on shelves during shortages as well as beyond Christmas while every other eggnog was swiped, but, I don't know guys, 'watery' evokes a much more crisp and refreshing kinda thinness, whereas this is pretty much like a french toast flavored milk. Yeah, it's not as thick as it really needs to be to fully satisfy a nog titling, but it's still creamy, smooth, and gets the job done.
Califia Farms Holiday Nog
I tried Califia Farms Unsweetened Almondmilk a while back and didn't have much good to say about it beyond the bottle shape being pretty neat. A lot of what I griped about was how it smelled like cardboard and tasted not like much more than just watered down milk
the website for their Holiday Nog
, when giving its bulleted list of why to get this, pretty flatly saying "BOX-CHECKING GOODNESS: Non-GMO, Kosher, Vegan, Free of dairy, soy, gluten, carrageenan, BPA, and preservatives", like, yeah that is the list of things for checking off, and I'm glad it's given that exact status. The spices are very visible in it, and especially at the bottom as they sink rather quickly, so be sure to give it a good shake not just once you open it, but between pours if you're doling out samples to several family members pleading with you 'enough, enough, how many eggnogs did you even bring over???'. Not too creamy or sweet, but the spices pack quite a surprising punch, with the ground ginger making itself well known. The thickness of the liquid is on par with a genuine whole milk, if just a tad thicker towards like a heavy whipping cream, and as a result was pretty gulpable. I'd probably push this more towards being an eggnog-flavored almond milk than towards a truer eggnog substitute, which, I guess, is true for all of these alternatives in reality, but this one's spirit just isn't fully there. The coloring is from fruit and vegetable juice, rather than turmeric, annatto, or various Yellow [number]s, and this seems noticeable in the flavor as there's something a bit more fermented about this, making it feel more like an alcoholic version in flavor and feel. The Blue Diamond one also used fruit and vegetable juice, but I absolutely did not get the same experience, so this is just kind of a guess that I feel is at least in the right direction.
One thing I'd be wary of, though, is that reviews for this across the internet seem wildly varied, kinda more so than normal. For every good food thing there's always one person who just absolutely hates it, but this one has some more variability across the whole board, and all I can think of that would do that is that quality control is lacking in production, or that the product is susceptible to changes across its shelf life, which I'll bring up again may be a result of the fruit and vegetable juices within. If you get this, drink it soon.
Twin Pines Farm Dairy Holiday Nogg
I can't find much on this product, but I can say that I found it at one of those local-ish kinda produce stores that always stocks funky stuff no one else carries. Through an extensive Google investigation I was able to find that it's a product of C.F. Burger Creamery located in Detroit, Michigan. They have several other kinds of actual eggnogs available under their own company name, and, while their website has a find-a-store feature, it doesn't appear to display which products are available where. Searching through this definitely made me aware of other grocery store brands in the area, so maybe I'll give them a try sometime in the future.
'Ultra-pasteurized non-alcoholic egg nog flavored beverage, cholesterol free, no animal fat', with the top main ingredients being water, sugar, whey, coconut oil, and then several thickeners and artificial colors that are banned in many places that made it look like it could be made from just egg yolks After shaking it all up and everything, I've found that the initial pour is where most of the first impressions become accurate predictors, and what I got with this was that it's alarmingly yellow with more and larger chunks than I would've liked to see. Suspicious of just how chunky the chunks were, I stuck a fork into the drink to stir around and figure out what was going on only to discover actual solid gobs of something, which I did not find very pleasant as it's labeled as homogenized. Admittedly it did say 'shake well', and I did, but I didn't expect to have to throttle the life out of the thing just to break up gooey blobs. Because I was prepared for the experience to be more textural, I ended up being placated somewhat by how it tasted like regular eggnog that got watered down and diluted, then artificially thickened back up. I understand that it's supposed to be a thicker drink, but I draw the line at my body's natural reaction sending me 'spoiled cottage cheese' alerts; it should be smooth, almost batter-like at most. I ended up being way too suspicious of it to continue beyond a few sips, and the really fake chemically aftertaste started settling in, and just dumped the rest. I don't regret the cost as the value here is me telling you all about its goop, but I'm pretty doubtful that there's any party that this is a favorite at.
You may be thinking, 'huh, why is a dairy product included in the alternative section?', which is a fair question to be projected on to be wondering! The answer is that it's not real eggnog. It all goes back to the avian flu. Egg shortages resulted in companies, such as for Lactaid, needing to scramble and change up their recipes, and, as 'eggnog', along with many food products, has a specific set of necessary ingredients at certain percentages to qualify as 'eggnog', they had to refer to their product now as something vague but close, like 'holiday nog'. Not many people were fans, citing an unexpected and terrible taste, and years later now I'm just simply not seeing many dairy brand egg-free eggnogs, and this is likely because a new legitimate market, free of the perception of making concessions, has sprung up making faux-nogs out of dairy-free products that customers are actively searching for instead of settling with.
Trader Joe's O' Nog Non-Dairy Oat Beverage
With Trader Joe's beloved Almond Nog out for the season, naturally another must take its place, and in late 2021 it was O' Nog, an oat-based eggnog alternative. The unfortunate thing with Trader Joe's constantly rotating out items is that they're often not represented on their website with information or anything, and if so are prone to being removed after not much time, but at least at the moment of writing this review, this link works.
Trader Joe's absolutely does simply remove the branding from a lot of otherwise known products, but I can't identify what this one is, even assuming it's not a proprietary item in the first place. The ingredients are pretty different from the Chobani, so I at least know it's not that, packed with all kinds of emulsifiers and thickeners, boasting that it all provides the same noggy experience but now with all vegan ingredients. It's a massive improvement already from their regular eggnogs thanks to the bottle design coming with a resealable cap, allowing me to have confidence that it's sealed as well as shaking it with the required force after it's opened without splattering it all over the place. First impression upon pouring is it's unnervingly chunky. Regardless, it has a smoothness I'd expect from a product attempting to mimic dairy, but not the richness and creaminess, so it still feels thin even though it's pretty gloopy. Very visible spices, but that doesn't end up translating much to flavor. Certainly not the most bland, but I just expected more.
Realistically this one would probably be great for adding rum, or mixing into a recipe, or for satisfying the desires of hardcore eggnog drinkers requiring their raw egg slurry to have a viscosity approaching Nutella. I can tell an honest effort was made, which is respectable, but there's just simply better oat nogs out there.
Whole Foods 365 Almond Nog (and Aldi's Friendly Farms?)
I certainly tried hard to locate Whole Foods' famed eggnog, as it graced many listicles for best ones over the years, but I just never found it. Between three separate Whole Foods stores around the city, more than most people will ever see in their life, I couldn't find any eggnogs at all, regardless of what brand they were, for reasons that escaped me. Did I just not have luck? Bad timing? How could a company owned by Amazon not have apparent access to a hotly desired item? Only once I resigned that I wouldn't get it this year did I see an endcap display pop up, on December 21st, with some Califia, So Delicious, and their store brand Almond Nog. Despite already having so many, I couldn't pass it up, an act of opportunity I'm sure their algorithms predicted.
has an almond nog
that I picked up to review, and has exactly the same ingredients, and pretty much the same notes I gathered upon tasting each, enough to where I feel confident that
they are the same
. Cinnamon is the main flavor here, and is noticeable with the smell. Definitely thick, but feels less viscous, instead kinda light, crisp, and refreshing which is not something I feel is the ideal for an eggnog; this being the time finally where 'watery' would be an apt description. The whole thing isn't too subjectively bad, but it's just objectively wrong. Market it as cinnamon milk and sell it year-round.
Good Karma Plant-Based Holiday Nog
Good Karma Flaxmilk is one of the few brands of alternative milk I just haven't gotten around to yet, both for my series of reviews a couple years ago, or for just general curiosity outside of reviewing, so I don't even know what to anticipate. To begin with, flaxseed and flaxseed oil are meant to have a nutty taste, approaching grassy. Healthwise, they're good for lowering cholesterol levels, blood pressure, and blood sugar, as well as aiding digestion. On the flipside, it can have several negative interactions with medications and give you gas.
Is it possible to go lower??
Elmhurst Oat Nog seemingly only available for order online with a required pack of 2 at $12 and minimum shipping cost of an additional $10, Silk Nog being who knows where, plus many more brands that are both familiar and new to me having their own eggnog alternative, so I guess I'll continue to be on the hunt as time goes on for more and more to try.