The 'Shroom
:
Issue 139/The 'Shroom Spotlight
From the Super Mario Wiki, the Mario encyclopedia
Jump to navigation
Jump to search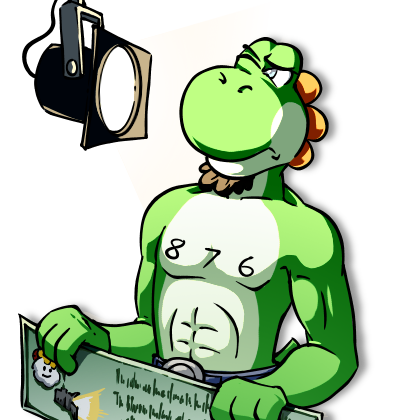 Hello readers of The 'Shroom, and welcome to Spotlight. Spotlight is a community project which aims to fix up the articles on the wiki which have issues. These issues can range from poor writing, to a lack of images, to even just needing a credible source.
Welcome to this spooky October edition of The 'Shroom Spotlight. We have a lot of spooky focuses this month from haunted mansions to ghosts, but we also have something a lot more scarier than those is the fact that we have so many unimplemented proposals. There are currently 17 that need to be implemented, and think of this as a continuous Spotlight goal until they're all completed.
We had a very successful month last week. Owencrazyboy9 (talk) and Mario jc (talk) worked on Living Room Rally, so the article is now less vague, and actually focuses on what the microgame actually is. Marbleq (talk) scoured the internet for a source for the claim on Nintendo 64DD and after no source cropped up, the information was removed, Yoshi the SSM (talk) also looked for a source and gave us an update in the forum topic. YoshiEgg1990 (talk) reuploaded File:Going after Guppy.png, and Doomhiker (talk) uploaded an image for Kingdom of Bask.
It needs to be noted that TheFlameChomp (talk) heavily expanded the article on Victory Parade, but after some discussions it was decided that the article would work better as a list, and this has yet to be accomplished. Meanwhile, Sumo Slap Stick wasn't created.
And now onto this month's focuses:
| Article | Category | Focuses |
| --- | --- | --- |
| Luigi 1 | Wanted article | Luigi is often placed in the number 1 spot in our annual Awards, but this isn't a reference to this. No, this is a reference to a series of levels in Mini Mario & Friends: amiibo Challenge, and unfortunately none of the four levels have articles on the wiki. Although I'm only highlighting the one article, it'd be a treat if all four of them were created. |
| Secret of the Inverted Pyramid | Stub article | Pyramids house mummies, so this counts as spooky. The article is also incomplete, as it lacks a layout section. There is no such thing as the "mummy's curse", so get playing and add it. |
| Black Chest Demon | Rewrite required | The writing here is pretty clumsy, and could use some tidying up, but its main issue is that because of all the paragraphing the article doesn't flow. I'm not saying put it all in one paragraph, but the information that's there could easily fit within two or three paragraphs. |
| Paper Dry Bones | Citation needed | A trivia point on this article notes that the enemy appears in the Paper Mario: Sticker Star Prima guide, but doesn't give a page number for where it's found in the guide. I think you can see where I'm going with this. |
| File:Yoshi and Grim Leecher.png | Image quality requested | The Grim Leecher is pretty spooky, but this image is spookier. Not only is it a .jpg converted to a .png, which is against policy, there plenty of rough edges, and it is an incredibly dark image. |
| List of Mario & Luigi: Paper Jam pre-release and unused content | Image requested | Again, this might not necessarily seem like a spooky focus, but Peepas are spooky, and what we're looking for at the Peepa sprites that didn't make it into the final cut of the game. |
Now just before I leave you, I'd like to tell you about the NIWA Spotlight. This is a project being run by Alex95 (talk) and can be found in this paper's Pipe Plaza section. Much like this Spotlight, the NIWA Spotlight aims to fix up articles across various Nintendo franchises, that are all part of our NIWA group.
Thanks for tuning in to the newest edition of The 'Shroom Spotlight! Be sure to turn up next month, where we'll be reviewing the progress on the above focuses. If you have any questions or suggestions about this month's set of article focuses, then please get in touch through the dedicated topic if you have a forum account. If not, then please contact myself on my wiki talk page. You are also welcome to make suggestions on what you think we could focus on in our next edition. Thank you, and good luck!