The 'Shroom
:
Issue 182/The 'Shroom Spotlight
From the Super Mario Wiki, the Mario encyclopedia
Jump to navigation
Jump to search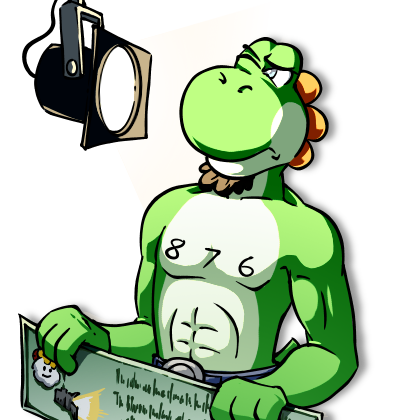 Hello readers of The 'Shroom, and welcome to Spotlight. Spotlight is a community project which aims to fix up the articles on the wiki which have issues. These issues can range from poor writing, to a lack of images, to even just needing a credible source.
Things are starting to heat up as we begin the summer months, even though it is still May as opposed to June. But it's close enough to still count, right? And if we want to keep celebrating, this is now my 101st issue as Spotlight manager, but I do fear I may be flogging a dead horse to keep bringing that up. So let's take a peek at how things went for my milestone, while also highlighting in the closing moments of 'Shroom 180, All-Star Summit was made, thanks to 7feetunder (talk).
It may not have been a clean sweep, but there were plenty of successes. We now have an article on Vegas Trip thanks to Long John Spaghetti (talk), while Somethingone (talk) made Piranha Grove look amazing, it's definitely no longer a stub now! Meanwhile, WildWario (talk) did the same for Harry Hedgehog's Labyrinth and the trivia section on Metro Kingdom was tackled by RHG1951 (talk) and PanchamBro (talk). Thanks for all that helped on our last issue!
And now onto this month's focuses:
Now just before we leave you, we'd like to tell you about unimplemented proposals. There are currently forty-three that need to be implemented, dating as far back as 2018, so think of this as a continuous Spotlight goal until they're all completed. Additionally, there are many unresolved discussions that we would love to see come to some sort of conclusion. Some might have already concluded and just need the template removed, others have been waiting for a response for years.
Thanks for tuning in to the newest edition of The 'Shroom Spotlight! Be sure to turn up next month, where we'll be reviewing the progress on the above focuses. If you have any questions or suggestions about this month's set of the article focuses, then please get in touch through the dedicated topic if you have a forum account. If not, then please contact me on my talk page, but you are far more likely to get a quick response if you go through the forums. You are also welcome to make suggestions on what you think we could focus on in our next edition! Thank you, and good luck!