The 'Shroom
:
Issue 182/Blooper Race
From the Super Mario Wiki, the Mario encyclopedia
Jump to navigation
Jump to search

Written by: Roslind Bush (talk)
BREAKING NEWS: 'Shroom Staff Announces Isle Delfino Blooper Tournament
In preparation for their upcoming Special Issue 183, which will be focusing on esteemed title Super Mario Sunshine, staffers at The 'Shroom have confirmed that they will be collaborating with the Isle Delfino Blooper Racing Board to host a Blooper racing event for fans of the paper.
The announcement was first leaked earlier this week, when an anonymous source made a post on internet forum 4Chuck detailing the event. Though mostly written off by internet-goers as wild speculation, this claim was proven correct when, at 8:25 this morning, 'Shroom staff members Ninja Squid and Roserade made a public statement regarding the event outside of 'Shroom HQ.
"We are excited for the opportunity to work with the Blooper Racing Board," said Ninja Squid, "and we hope that this event will inspire our readers to engage with the tourism and activities found on Isle Delfino."
For more details, we have reached out to Roserade, who had the following to say: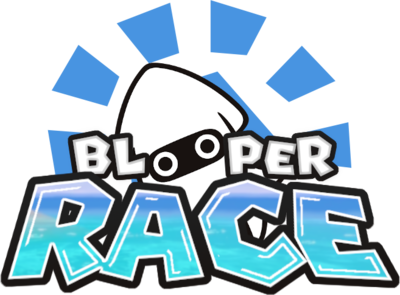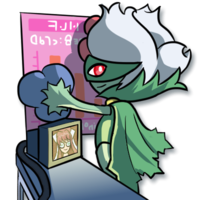 Greetings, beautiful 'Shroom readers! Welcome to this edition of Fu- wait.
That's right, I'm here to detail The 'Shroom's exciting new event, the Blooper Race! We are looking to host a thrilling racing event, and we need your help!
What can you do to participate? Well, you can't have a race without racers, can you? That's right! We are looking for sixteen Bloopers to line up at the starting line and compete for our tournament's grand prize, a special limited-edition Shine Sprite and a surprise vacation for the person who enters them! But just how will this process work?
We need to know all about your Blooper entrant! In this thread, please post your own Blooper to submit for the races, and include the following information:
Their name
Their racing number
An image of their appearance
Optional: a short description or bio, letting us know what your Blooper is all about
Your Blooper can be named or appear in any way you'd like them to be! They can have sponsorships or a special history, any kind of outfit, a fun number - anything goes, so long as standard forum/Wiki rules are followed.
For this event, we are asking that your Blooper character be drawn. However, we are not looking for pieces of modern art; what truly matters to us is simply knowing what your Blooper's design generally looks like. Please don't let this component be a deterrent. In addition, you can feel free to use and directly edit one of the following two template designs, drawn by the wonderful Waluigi Time:

If you're needing some inspiration or sense of direction, take a look at our own staff samples!
DJ Inky Fresh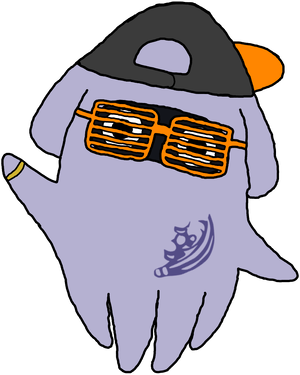 DJ Inky Fresh
Racer #: 59
A nightlife regular of Isle Delfino, and providing the best sounds during beach parties on the island, DJ Inky Fresh is always willing to play the daredevil when he has free time. Therefore, it is not surprising if he is jumping on the occasion to win the Blooper Race to prove he is the coolest squid dude of the island!
Sweet Blooelle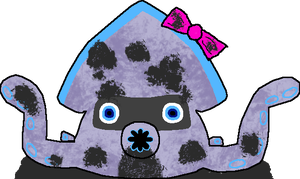 Sweet Blooelle
Racer #: 44
Sweet Blooelle is the daughter of a now-retired racing Blooper hailing from Gelato Beach and a Poison Blooper from The Bafflewood. She's a Poison Blooper herself, but she has the heart of a racer. Polluted waters that sicken other Bloopers are no problem for her! She may like to make a mess, but don't expect her to make a mess of this race. She's here to win!
Blooper Arrow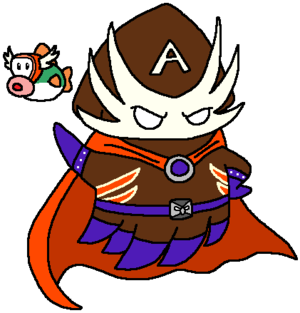 Blooper Arrow
Racer #: 20
Taking inspiration from one of the all-time racing greats, Blooper Arrow is one of the most skilled racers on the F-Seafloor circuit, locked in a fierce rivalry with his eternal arch-nemesis, The Draqen. Now, he brings his racing prowess (and his Blurp buddy) to Isle Delfino to win the grand prize!
Each user is allowed one Blooper submission. We will accept any number of total submissions, but please note that our limit for this race will be sixteen, which means that if we exceed this number, we will go to random selection to determine who will be racing. If your Blooper isn't selected, then all of us at The 'Shroom extend our deepest apologies and will give you a complimentary ticket to the races as consolation. Submissions will close on June 4th.
Once our sixteen racers are selected, they will be placed in a bracket with five rounds. The first four rounds will be four-Blooper races, and the fifth round will be the final round for former winning Bloopers. Like with the Blooper selection process, the selection of winners will be random. During our special summer Issue 183, you'll be able to read these results and see who came out on top!
That's all I have to say right now. If you have any questions, do not hesitate to contact me, Ninja Squid, or Waluigi Time. We'll be happy to answer any clarifying inquiries in private or in the thread.
Take care, everyone, and happy submitting!