The 'Shroom:Issue 181/The 'Shroom Spotlight
From the Super Mario Wiki, the Mario encyclopedia
Jump to navigation
Jump to search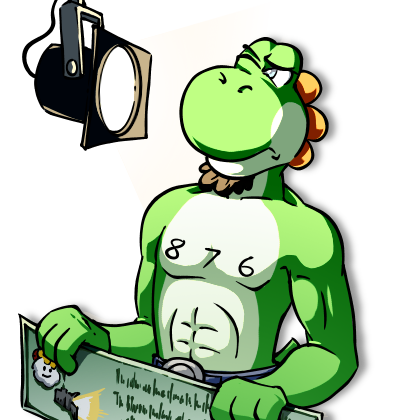 Hello readers of The 'Shroom, and welcome to Spotlight. Spotlight is a community project which aims to fix up the articles on the wiki which have issues. These issues can range from poor writing, to a lack of images, to even just needing a credible source.
And it's back to this being for everyone's favourite numbered dino to be taking charge again. And what a milestone issue for me, 100 issues as Spotlight manager, I can hardly believe it, and of course I'm sure you'll have read all my musings about this special milestone over in our staff notes, and if not, perhaps take a gander over there. April is where things start to hot up a little bit for us in the northern hemisphere, I'm looking forward to temperatures that might just make double figures if I'm lucky, triple if I'm not...
A 50/50 success rate for March is certainly no mean feat, so as always I thank our diligent readers and writers who took the time out of their day to help us improve some of the articles around this here wiki. Wildgoosespeeder (talk) fixed up the quality on BeanstalkWaySub2.png, while Somethingone (talk) helped out on some expansion for Prince Bully and fixed the trivia section for Sonic the Hedgehog - and that's not all as they also cleaned up the dreaded Nintendo article. No idea why it was dreaded, perhaps me being melodramatic with a rewrite template.
And now onto this month's focuses:
Now just before we leave you, we'd like to tell you about unimplemented proposals. There are currently twenty-five that need to be implemented, dating as far back as 2018, so think of this as a continuous Spotlight goal until they're all completed. Additionally, there are many unresolved discussions that we would love to see come to some sort of conclusion. Some might have already concluded and just need the template removed, others have been waiting for a response for years.
Thanks for tuning in to the newest edition of The 'Shroom Spotlight! Be sure to turn up next month, where we'll be reviewing the progress on the above focuses. If you have any questions or suggestions about this month's set of the article focuses, then please get in touch through the dedicated topic if you have a forum account. If not, then please contact me on my talk page, but you are far more likely to get a quick response if you go through the forums. You are also welcome to make suggestions on what you think we could focus on in our next edition! Thank you, and good luck!