The 'Shroom:Issue 180/The 'Shroom Spotlight
From the Super Mario Wiki, the Mario encyclopedia
Jump to navigation
Jump to search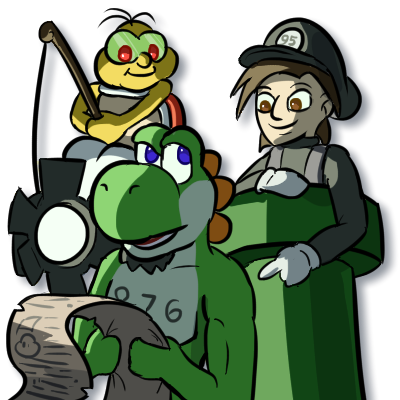 Hello readers of The 'Shroom, and welcome to Spotlight. Spotlight is a community project which aims to fix up the articles on the wiki which have issues. These issues can range from poor writing, to a lack of images, to even just needing a credible source.
Gonna take the intro for a third month in a row so Yoshi876 can use this space properly next month with his 100th Spotlight anniversary issue! I'll say some words about him myself next month, so for now, we just have articles. And rain. Lots of rain. We're already in March? This year's going to be over tomorrow. Next month will also be my 20th Spotlight issue btw :D
Last month went pretty good! The only focus that wasn't handled was List of references in animated television, but that's expected, there's probably more that needs to go into fixing that than just a simple rewrite. For the other focuses, Mario jc (talk) created Yuka Tsujiyoko and WildWario (talk) handled the rest, fixing The Great Gold Coin Rush, List of Puzzle & Dragons: Super Mario Bros. Edition characters, Crystal Caves, and File:Peach Frying Pan Smash.png, with that last one being improved further by Wildgoosespeeder (talk). Thank you all!
And now onto this month's focuses:
| Article | Category | Focuses |
| --- | --- | --- |
| All-Star Summit | Wanted article | We still got some course pages left to create for Mario Golf: Super Rush, this one being one of two that were released in the most recent update. You know you've made it big when you have golf courses made in your image. |
| Nintendo | Rewrite required | While this could easily fall under a different focus, we really could do with some citations around this section, especially in regards to quotes used. We're also talking about a successful business here, so some formality is also required. |
| Prince Bully | Rewrite and expansion required | Super Mario-kun might not be familiar to everyone, but I'm sure this Bully had more of a role than this one-line section suggests. What does he do? How's he beaten? Is there some brilliant comedy moment? We'll never know unless it's put in. |
| Sonic the Hedgehog | Long trivia section | Many of these points deal with references within games that are better suited to the reference articles that deal with them, whereas others just might not be relevant to the character itself. Gotta go fast to clean this section up, we only have a month! |
| File:BeanstalkWaySub2.png | Image quality requested | For some reason, a lot of our Wario World images are low quality. Focus here is on Beanstalk Way's sub areas, but any improvements on our images for the game is welcome. |
| Ella | Citation needed | Along with her partner, Neil, Ella's voice actress is provided, but we don't see where this information comes from. Is it in the manual or credits somewhere? If so, are we sure this is who the actress voices? |
Now just before we leave you, we'd like to tell you about unimplemented proposals. There are currently twenty-five that need to be implemented, dating as far back as 2018, so think of this as a continuous Spotlight goal until they're all completed. Additionally, there are many unresolved discussions that we would love to see come to some sort of conclusion. Some might have already concluded and just need the template removed, others have been waiting for a response for years.
Thanks for tuning in to the newest edition of The 'Shroom Spotlight! Be sure to turn up next month, where we'll be reviewing the progress on the above focuses. If you have any questions or suggestions about this month's set of the article focuses, then please get in touch through the dedicated topic if you have a forum account. If not, then please contact us on Yoshi876's talk page or Alex95's talk page, but you are far more likely to get a quick response if you go through the forums. You are also welcome to make suggestions on what you think we could focus on in our next edition! Thank you, and good luck!