The 'Shroom
:
Issue 180/The 'Shroom Mafia 4
From the Super Mario Wiki, the Mario encyclopedia
Jump to navigation
Jump to search

Today was an important day for the newspaper of New Wikisburg. The newly appointed Director and Sub-Director Ninja Squid and Waluigi Time were getting ready to make the announcement of the annual budget to the 'Shroom Congress. As Ninja Squid was reassuring Goombuigi who was nervous about giving the opening speech in front of a large audience, Waluigi Time was reading a piece of paper while also being on a call with Shbig Changes regarding some cereal production. Usually, Ninja Squid was in charge of being the judge, but since he became Director, there were concerns that he might lack objectivity. Therefore, to silence such concerns, the devious squid has decided to temporarily appoint Goombuigi off the cuff.
The Court Room in the 'Shroom HQ was filling up. Goombuigi, Waluigi Time, and Ninja Squid took their respective positions in the room and were about to start the session. Goombuigi then asked who was going to act as the representatives of the committee that would have the responsibility of studying the budget. A few people stood up, getting ready to sign up.
Introduction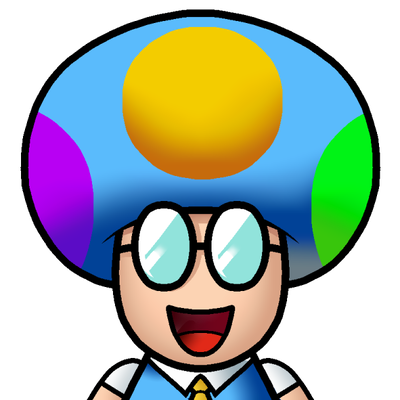 Oh, hello there! It is the first time that I see you here in the 'Shroom Headquarters, so surely you must be one of the new members of the 'Shroom Congress, correct? My name is Wright Forde 'Shroom, and I am an advertiser for the 'Shroom. I know this place like the back of my hand, so let me assist you in finding your surroundings! The 'Shroom HQ can be somewhat tricky for newcomers, after all!
Today, there is a session for the annual budget of the newspaper that will be presented by His Honor, Goombuigi. There will be a sign up session for members of the Congress to take part of a committee that is responsible for studying the budget thoroughly. If you ask me, there is much paperwork involved, but that is simply the proper functioning of the Congress. Between you and me, members of the Congress don't exactly appreciate being tricked over certain details. By the way, did you know that our Director is also a ninja? Things can be made more complicated with a schemer such as him. Hold on, perhaps I shouldn't have said that...
My, I almost forgot to tell you the most important bits! The Court Room is where you will have to go, and luckily it is not far away from here. Follow me, I will take you there since this is your first time around. I will even arrange for you to be a part of the study committee, for it will give you a great first experience as a member of the 'Shroom Congress.
There we go, the sign up form is here! Below that, there is additional important information that might be useful for you concerning the whole operation of the 'Shroom Congress. So much paperwork, wouldn't you say? That is all I could do to help, so have fun and enjoy your stay!
Goodness, another newcomer over there, wait!
—Wright Forde 'Shroom

Gameplay
A new investigation is about to start and The 'Shroom will be in need of your help.
The 'Shroom Mafia 4 is a strategy game that will be a complete reboot of the 'Shroom Mafia formula seen in the past as we have strived to ensure that this game is fun for veteran players and newcomers alike. In this game, players will be split into three different groups: Innocent, Mafia, and Independent. Every faction's goal is different. The Innocent faction's goal is to eliminate all of the Mafia members, accomplishing such things through deductions from their role powers, clues, and discussions. The Mafia's goal is to equal or outnumber the Innocent faction, accomplishing this through deceiving, lying, and sabotaging the progress of the Innocents. The Independents all have their own unique objective in order to win the game. This will be a Role Madness Mafia game, and roles in play will not be revealed at the start of the game.
As briefly mentioned above, some of our gameplay elements are in line with the basics of a normal mafia game. However, we are also adding some interesting gameplay mechanics to provide an overall fun and unique experience to our players, both for veterans and newcomers alike. Here are some details about the gameplay mechanics of The 'Shroom Mafia 4:
Actions
This game will feature the usual Day and Night cycles. During Day phases, players will debate the identities of players and vote to eliminate a suspect. During Night phases, players will be allowed to submit one role action (when it applies), and one quest action. Role actions are based upon a player's role (e.g. a player with an Alignment Cop role will be able to learn the faction of another player during Night phases), while Quest actions are based upon which quest a player decide to achieve on a map (see Quests below for further details).
Quests
A unique feature of this game is that players will have to complete a certain number of quests to win points for their team, which in return will allow them to upgrade their role powers (see Upgrades and Teams below for further details). To complete quests, players will have to navigate a map and visit locations during Night phases that are required to complete quests assigned to them.
Upgrades
Every player (excluding Independents) will have a default role that can be upgraded by successfully accomplishing Quest actions. This means that during the course of the game, players will have the opportunity of getting roles that are more powerful than what they might have originally had!
Teams
Every player (excluding Independents) will be part of one of the 'Shroom teams (e.g. Palette Swap). By accomplishing successful Quest actions, a player will be able to gain points that will fill a Team Gauge for every players on the same team as them (e.g. if you are a player on the Pipe Plaza team, gaining points for accomplishing quests will fill the Team Gauge for every player on the Pipe Plaza team). Once the gauge is filled, every player of that team will be able to upgrade their default role ability. However, take note that players on the same team don't get to know each other's identity or have any special chats (e.g. It doesn't work like Masons).
Sign Up
We are looking for around 18 to 22 players for this game to start, and any additional sign-ups after reaching the maximum number of 22 players, will be listed as replacements. Sign-ups will stay open for one week, closing on March 26, 2022 at 7PM EDT. To sign up, and for the rules, please go to the sign up thread here.