The 'Shroom:Issue 175/The 'Shroom Spotlight
From the Super Mario Wiki, the Mario encyclopedia
Jump to navigation
Jump to search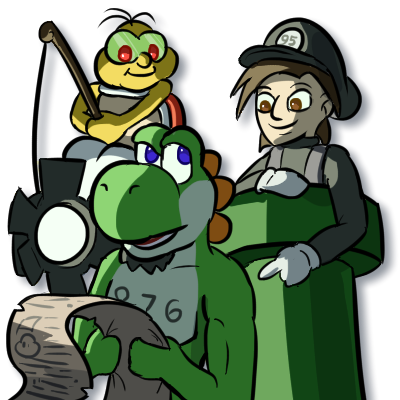 Hello readers of The 'Shroom, and welcome to Spotlight. Spotlight is a community project which aims to fix up the articles on the wiki which have issues. These issues can range from poor writing, to a lack of images, to even just needing a credible source.
Hope you guys are all doing alright. September was a chaotic month for me, but I'm looking forward to October. And you should be, too, we got Halloween coming up! Speaking of, we got some spooooooooky themes for this month! So it's time to break out whatever Poltergust you have and clean up the cobwebs in these articles!
Well, well, well what have we here? I am delighted to announce the incredible news that all of our focuses last month were fixed! All six of them, a 100% completion rate, perhaps it'll be enough to earn the Spotlight pages some sparkling stars! A special thanks to those who helped us here, including 7feetunder (talk) who created Iceburn Circuit, WildWario (talk) who added the missing info for Gold Goomba and found the source for Konga Coliseum. WildWario (talk) also helped fix the trivia section on Super Mario Galaxy as did Somethingone (talk). Meanwhile RHG1951 (talk) added an image for Mexico City. A special mention to BMfan08 (talk) for his work on Wobbly Bobbly - this article is now incredibly detailed and presented in such a good manner. I audibly gasped when I saw it.
And now onto this month's focuses:
| Article | Category | Focuses |
| --- | --- | --- |
| Dark Chao | Wanted article | These spooky evil-looking Chao are frequent figures in Sonic games. But for our coverage, they appear to only be in Mario & Sonic at the London 2012 Olympic Games. Do they have any relevancy there, or should our links to them fade away? |
| Professor Elvin Gadd | Rewrite and expansion required | At first look this article may be complete with detailed sections on all his game appearances, but we seem to have forgotten to actual write anything about the good professor himself. This article would really benefit from a personality and (physical) appearance section. |
| The Enigmansion | Long trivia section | I feel like the main enigma here is why is this trivia section so long? There are plenty of parts that could be incorporated into the main article, and some points that really could just be done away with in general. |
| Mr. Luggs | Articles that need more images | The Super Mario-Kun series covered Luigi's Mansion, showing off some of the ghosts there. Mr. Luggs makes an appearance, but we don't know what he looks like there. Additional missing images of the other portrait ghosts in Super Mario-Kun would also be grand. |
| File:ZombigGuy.jpg | Image quality requested | Zombie Shy Guys are enemies in Yoshi's Crafted World, but the image quality for this shot is downright spooky. Let's try and capture a clearer image. |
| Fang | Citation needed | Fang is a common sight in areas like caved and haunted mansions, usually in the Yoshi series. We have names for them in other languages, but we're not too sure about their German and Italian names. |
Now just before we leave you, we'd like to tell you about unimplemented proposals. There are currently sixteen that need to be implemented, some of which date back to 2018, so think of this as a continuous Spotlight goal until they're all completed. Additionally, there are many unresolved discussions that we would love to see come to some sort of conclusion. Some might have already concluded and just need the template removed, others have been waiting for a response for years.
Thanks for tuning in to the newest edition of The 'Shroom Spotlight! Be sure to turn up next month, where we'll be reviewing the progress on the above focuses. If you have any questions or suggestions about this month's set of the article focuses, then please get in touch through the dedicated topic if you have a forum account. If not, then please contact us on Yoshi876's talk page or Alex95's talk page, but you are far more likely to get a quick response if you go through the forums. You are also welcome to make suggestions on what you think we could focus on in our next edition! Thank you, and good luck!