The 'Shroom
:
Issue 162/The 'Shroom Spotlight
From the Super Mario Wiki, the Mario encyclopedia
Jump to navigation
Jump to search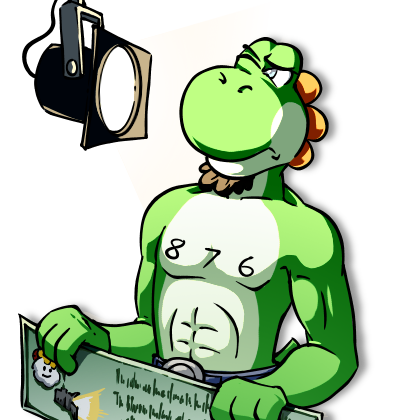 Hello readers of The 'Shroom, and welcome to Spotlight. Spotlight is a community project which aims to fix up the articles on the wiki which have issues. These issues can range from poor writing to a lack of images, to even just needing a credible source.
Welcome to September's edition of Spotlight! For the past few months, I've been thinking about how warm it is, certainly warmer than what I've experienced during my life. But as I write this, I've got a chill around my arms, and I can feel the Autumn coming in (see if you can guess which co-host is writing this introduction today). Sadly, unlike on New Horizons I won't be getting acorns and pinecones, as I don't often go out shaking trees, but on the bright side I won't get caught by any wasps.
We had a pretty good month, all of our focuses were improved! The Mansion (talk) created the Legendary Hammer article, as well as added the Puzzle & Dragons information to Small Mario, Doomdorm64 (talk) uploaded the requested image for the Pepper article, and Flavio's improvement was a combined effort by ZelenPixel (talk), DarkNight (talk), and Alex95 (talk). For e-Reader, ChompworksEngineer (talk) and Yoshi the SSM (talk) found some of the missing citations, though there are still some remaining, and The Mansion (talk) gave improving File:DKCR King of Cling Letter K.png a good attempt, but it's still a bit blurry and larger than it should be. Overall, great work everyone!
And now onto this month's focuses:
| Article | Category | Focuses |
| --- | --- | --- |
| Ring (Sonic the Hedgehog) | Wanted article | Much like how Mario collects Coins, Sonic collects Rings. As far as our coverage is concerned, we could use information on how these Rings are used in the Mario & Sonic series. Are they used as currency, used to determine your ranking, or just a shiny thing you can collect? |
| Kremling Dock | Stub article | Compared to some articles from DK: Jungle Climber this isn't a bad article, but when compared to the best articles about the series, it is seriously lacking. Unless it starts looking like other articles from the series, it wouldn't pass a dock inspection. |
| Floater | Rewrite and expansion required | Sometimes in life, we're happy to float on by, but on this occasion we need to take a bit of action. The Floater quote mentions that it can change direction with a bash on the head, but is this randomised or does it go in a clockwork fashion, and how exactly do you perform the move? And what are the exact levels that the Floater appears in? |
| Nintendo DS | Citation needed | The Nintendo DS was a massive success for Nintendo, outselling all of Nintendo's other consoles thus far. They say all good things must come to an end, but with the DS's discontinuation dates unknown, we can reasonably assume the original models and DS Lites are still in production. (The Nintendo DSi is missing a similar source as well.) |
| Kick | Articles that need more images | Let's see if we can't kick this article up a notch. We need more images of characters kicking things. Artwork, screenshots, sprites, whatever works. By the end of it, this article will look pretty aggressive. |
| File:SweetDreamStoryArt.jpg | Image quality requested | I have not been having sweet dreams lately, and this is the reason why. Not only is this image a bit low-quality, but it has watermarks all over it, and has since 2009! Let's try and help a Spotlight co-manager sleep better by clearing this image up. |
Now just before I leave you, I'd like to tell you about unimplemented proposals. There are currently eighteen that need to be implemented, one of which dates back to 2015, so think of this as a continuous Spotlight goal until they're all completed.
Thanks for tuning in to the newest edition of The 'Shroom Spotlight! Be sure to turn up next month, where we'll be reviewing the progress on the above focuses. If you have any questions or suggestions about this month's set of the article focuses, then please get in touch through the dedicated topic if you have a forum account. If not, then please contact myself or Alex95 on our respective wiki talk pages, but you are far more likely to get a quick response if you go through the forums. You are also welcome to make suggestions on what you think we could focus on in our next edition! Thank you, and good luck!