The 'Shroom
:
Issue 162/Fake News
From the Super Mario Wiki, the Mario encyclopedia
Jump to navigation
Jump to search

Director Notes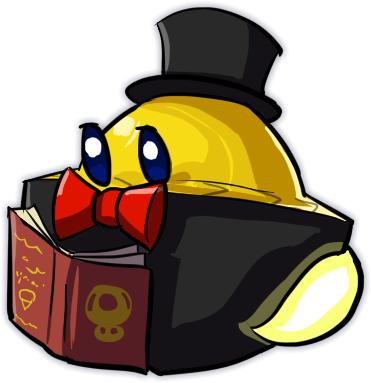 Summer's coming to a close with autumn falling on us. This is a pretty quiet month for the 'Shroom, though the second 'Shroomfest is happening. Make sure to check it out! Like last month, a large amount of sections are missing. However, we do have a brand new writer in the form of Trab Pu Kcip, who is writing the section Hot Records. Be sure to check this section out.
Next month is the spooky scary October, so feel free to make your sections Halloween themed. Speaking of sections, if you want to write a one-time section or write more regularly for Fake News or any other part of The 'Shroom make sure to check out the sign up page.
Section of the Month
Goombuigi (talk)'s Monthly Inquisition did extremely well this month, getting first place with 40 votes, which is nearly half of the total amount of votes. Quizmelon (talk)'s TV Tomorrow and Yoshi876 (talk)'s Obituaries both did pretty well too, with 27 and 14 votes each. Once again thanks to all our writers and voters, and don't forget to vote again!
FAKE NEWS SECTION OF THE MONTH
Place
Section
Votes
%
Writer
1st
Monthly Inquisition
40
49.38%
Goombuigi
2nd
TV Tomorrow
27
33.33%
Quizmelon
3rd
Obituaries
14
17.28%
Yoshi876
---

Wiggler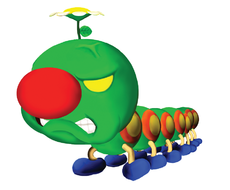 Hello, all! I have recently returned from my little holiday away on the sunny Isle Delfino. Well, at least it was partially sunny, it actually started off quite cloudy and almost entirely covered in some sticky goo, which is not what I was promised in the brochure! I was promised sun all day round, and only moderate amounts of goo. Plus, if I was lucky, I might get thrown in jail for a crime I didn't commit.
But only mere hours after I arrived back in the Fake News offices, I was dispatched back to Isle Delfino as a death had occurred there. Could they not have been a bit more considerate and died like halfway through my vacation? I can only fly by Toad Air so many times, and landing in Sunshine Airport always scares me after I was nearly hit by a racing driver at the baggage carousel. At least it gives me the change to look for my missing Wiggler repellent.
Anyway, the deceased is Wiggler, a giant green caterpillar who lived on the island and prevented any annoying Red Coin missions from hatching. Local authorities had already died many obituaries ago, so local Nokis and a fruit juice vendor told me that the being collapsed into sand, I'll admit that I'm not an insect expert, but I am aware that this is not normal for caterpillars. Near Wiggler's body was a can of Wiggler repellent labelled 'Property of Yoshi876, do not touch.' However, it is inconclusive as to whether this unknown felon's can could have done this to Wiggler. We'll never know, as the tide came in and washed the sand away, and no one was going in that water; they have fish that eat people.
Although Wiggler was reviled on Isle Delfino, locals told me that his slumbering prevented the Sand Bird of their local legends hatching, although some are secretly pleased about this, he was somewhat of a celebrity back on the mainland. Some cities even modelled their bus services in his likeness, they even copied his actions in life by making sure to flatten racers who may be snaking through the city streets.
Many mourners gathered at the Gelato Beach to grieve for the loss of Wiggler. While there, I stumbled across a man in red overalls who told me that Wiggler exploded into sand and a Shine Sprite after he ground-pounded him multiple times. I did catch this fellow's name, but he did scream 'WAHOO' as he vaulted off into the sunset.

Written by: Trab Pu Kcip
Welcome back to the Mushroom Kingdom Single Chart. This week, we can reveal that The Wario Dance Company have taken No. 1 with their hit single, Dance Wario Dance!, after spending 2 weeks at No. 2. This is their 2nd No. 1 hit, having seen fame in their self titled track in 2007. Wario, the manager of the group, says that he is thrilled with the number one and that the success was mostly contributed to his recently released Collab with the WarioWare cast.
Lakithunder has slipped down to No. 3, with their song, Every Cloud Has A Silver Spiky Egg, and SHOCKWAVE is now at No. 17, after the hyped follow-up for Buzz turned out to be a flop. Most songs did make it to the list, with many scattered at the bottom half.
Meanwhile, Mario has 2 songs in the top 5, with Dance Bros (credited with Luigi) taking No. 5 after being at No. 11 and his hit single Jumping For Glory making No. 2. Ludwig von Koopa's latest release, Symphony No. -2 sees him in No. 13, with his Symphony No. -1 down to No. 32. LiREAL, with his track, Luigi Is Real, has dropped down to an lowly No. 39, being our biggest drop in the month. Bowser's cover of Parklife sits at an respectable position of No. 10 After the album WarioWare: Hits For The Decade's' release, many WarioWare songs, including Turn It Up! has returned to the list. The highest of them, a new track by all of the cast, WarioNow! is at No. 8. Rainbow Road 64 returns to the list at No. 40.
MUSHROOM KINGDOM SINGLES CHART - TOP 40
#
Artist
Single
Last Week
1
Wario Dance Company
Dance Wario Dance!

▲ 2

2
Super Mario
Jumping For Glory

▲ 6

3
Lakithunder ft. The Lakitu Bros.
Every Cloud Has A Silver Spiny Egg

▼ 1

4
Toadette
Loving A Toad Tonight

▲ 7

5
Mario & Luigi
Dance Bros

▲ 11

6
Star Powerplant
Power Star 2000

▼ 3

7
The Shy Mario Party Guys
Gotta Roll It

▼ 5

8
Cast of WarioWare
WarioNow!
NEW
9
The Funkylamers
Do A Funky (Kong)

▲ 12

10
Bowser
Parklife
= 10
11
Koopalings Rock Sound
Protest The Kingdom

▲ 17

12
The Yoshi Islanders
The Story Of Birdo

▼ 4

13
Ludwig von Koopa
Symphony No. -2
NEW
14
Kart Kountry
3 Laps, One Shell
NEW
15
DaisPeach
Princess Tales

▼ 14

16
Jimmy T
Getting Jimmy With It

▼ 8

17
Lakithunder
SHOCKWAVE

▲ 28

18
Jimmy T and Jimmy P
Shake Your Boogie

▲ 294

19
Lemmy Koopa ft Bowser
Lemmy Time

▼ 18

20
Dr. Crygor and Mike
Turn It Up!

▲ 62

21
Princess Peach
I Need A Mario

▲ 22

22
Lakithunder
The Thunder God

▲ 23

23
Wario
WAA: The Song
NEW
24
Kirby
I'm A Superstar

▼ 9

25
Bowser Band
It's Falling Bowsers
= 25
26
Hammer Bros
Hammerin' The Beats

▲ 27

27
Ashley
Cookin' Up An Spell

▲ 73

28
The Thompers
Thompthomping
= 28
29
Professor E. Gadd
Poltergust

▲ 51

30
Princess Daisy
Singing My Heart Out

▼ 15

31
Super Mario
The Plummer Song

▲ 32

32
Ludwig von Koopa
Symphony No. -1

▼ 24

33
Super Mario Charity Song
Isolation Heroes

▼ 31

34
Prince Peasley ft The Villagers Of Beanbean
Bean Bean Rap
= 34
35
Waluigi
WAA-Do You Like Me?

▼ 13

36
9-Volt
Goin' Retro

▲ 100

37
Rosalina and the Lumas
Dance Star

▼ 33

38
Lakithunder
The Shock Of Truth

▼ 37

39
LiREAL
Luigi Is Real

▼ 16

40
The Super Mario Kart Remasterers
Rainbow Road 64

▲ 43

Written by: Coffee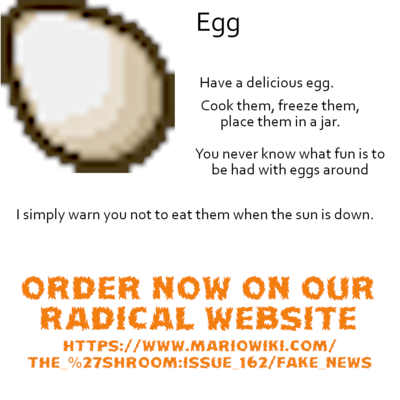 The world is a complicated place. There is happiness and sadness, laughter and crying, concord and conflict, peace and war. There are treasures waiting to be discovered, and horrors that can never be avoided. There are things that remain the same for hundreds of years, and things that change turbulently every second. There is generosity, greed, virtue, sin, hope, despair, life, death. And in the middle of it all, probably in the corner of a dark, dark basement somewhere unidentifiable, a lonely soul writes reviews of fictional television programmes set in the universe of a popular video game franchise, and writes pointlessly dramatic and utterly irrelevant introductions purely because he can. So, with that out the way, let's get on with September's TV Tomorrow!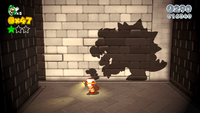 The Shroomlock Files: The Shadow of Death
MKBC2, 10pm
Genre: Murder mystery
Time again to revel in the annual tradition of a Shroomlock Files special, following the previous three's immense success. A mysterious shadow has been appearing around the kingdom, bringing murder with it wherever it is seen. Amidst rumours that it is the shadow of Death himself, the famous detective, Shroomlock, is brough out of retirement to uncover the devious trickery behind the monster - and the motives of the mastermind behind it.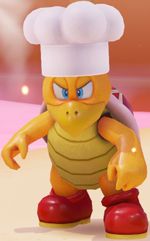 If You Can't Take The Heat, Get Out Of The Kitchen
Koopa Troop TV, 6.30pm
Genre: Cooking competition show
Though its title may be a mouthful - diehard fans often abbreviate it to IYCTTHGOOTK (pronounced ee-kth-goo-tuk) - there's no beating Fire Bro's high-tension cooking show for heated thrills and manufactured jeopardy. Each week, five new contestants compete to cook the best meals under various forms of intense pressure - and the often scathing comments of the fiery host himself. Not a good show to watch if you're looking to calm down, though.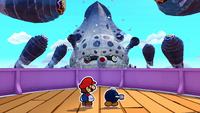 Film: Bloop 2: Terror from the Deep
SmashFilm, 10pm
Genre: Monster B-movie
If murder mystery isn't your thing, switch over to SmashFilm for the sequel to the cult monster movie Bloop. Just as low-budget and poorly-acted, Bloop 2 has virtually the same storyline as the original, but with a completely new cast. The film - like the other seven in the series - has gone down in history as the epitome of 'so bad it's good' filmmaking in the Mushroom Kingdom. Don't expect a cinematic masterpiece, but that doesn't make it any less fun to watch.
I hope you enjoyed this month's edition of TV Tomorrow. And always remember, if the world gets too complicated, and you need a break from all the generosity, greed, virtue, sin, hope, despair, life, and death, you can always find refuge in one lonely soul's reviews of fictional television programmes set in the universe of a popular video game franchise. (Though some would argue that they are not free from sin.) Or at least, you can find refuge from them in October, when the next one comes out. See you then!