The 'Shroom:Issue 152/The 'Shroom Spotlight
From the Super Mario Wiki, the Mario encyclopedia
Jump to navigation
Jump to search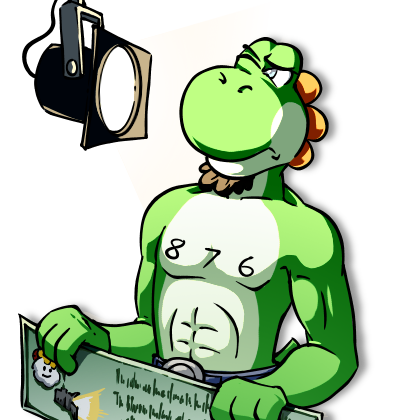 Hello readers of The 'Shroom, and welcome to Spotlight. Spotlight is a community project which aims to fix up the articles on the wiki which have issues. These issues can range from poor writing to a lack of images, to even just needing a credible source.
Welcome to November's spooky edition of Spotlight. Last month is traditionally a spooky month, and this month is traditionally the edition following the spooky month. And what that means is our focuses are back to normal, so if you were too afraid to tackle them last month, these should be a lot tamer for you. Although you might want to avoid the recap section if it was too spooky.
We had a pretty high success rate last month, another to get us a silver frame in Luigi's Mansion. Well, maybe a cross between the silver and gold ones, sild, or perhaps gover? Anyway, King MacFrights - not King MacFright as I erroneously called him - was created by Weedle McHairybug (talk) - fitting with all the 'Mcs' about. Scare-Oh! was expanded quite a it by Bye Guy (talk). Alex95 (talk) managed to verify and specify how Luigi's Ghost Mansion inspired the ScareScraper in Luigi's Mansion 2 and Toadette the Achiever (talk) uploaded a new version of File:YWW Wik.jpg. Additionally, The Mansion (talk) added in some additional images for Stone (Luigi's Mansion) and arranged some of the information into tables. It would be good to see some images in those tables, but fundamentally the goal was achieved! The only focus that wasn't completed was Boo Valley, which remains a stub.
And now onto this month's focuses:
| Article | Category | Focuses |
| --- | --- | --- |
| Windward Way | Wanted article | Yoshi's Crafted World ironically still needs a lot of articles concerning it to be crafted. One of which is Windward Way, the third level of Sky-High Heights. So, get your head out of the clouds and get this article on its way! |
| Jack Peg | Rewrite required | Grammatical errors plague this article, as do sentences that seem to run on forever. I am none the wiser to what this article is meant to be telling me, so it's high time we got that fixed! |
| Piro Dangle | Rewrite and expansion required | As the Winter months start coming in, we all need ways to warm up. And one way is with the invincible Piro Dangle, but only if we can add some information in on its Yoshi's New Island appearance. Are there any differences in its behaviour than from before? What levels does it even appear in? |
| Franklin Badge | Citation needed | The claim on the article that the badge was named after Benjamin Franklin, the discoverer of the power of electricity, could hold water give its name and the lightning bolt on it, but we need a source to verify this, even if it comes from an Earthbound one. |
| Prickly Goomba | Articles that need more images | Although we have a nice piece of artwork for this prickly creature, I think it'd be good to have at least one screenshot of the enemy in game. But given the size of the article, don't overdo it. |
| File:Blue Spike Top.png | Image quality requested | This Super Mario Maker images looks fine from way away, but is actually quite blurry. A direct capture as opposed to a cropped and expanded version would look much better on the site. |
Now just before I leave you, I'd like to tell you about unimplemented proposals. There are currently twelve, which is one more than last month, that need to be implemented, some of which date back to 2015, so think of this as a continuous Spotlight goal until they're all completed.
Thanks for tuning in to the newest edition of The 'Shroom Spotlight! Be sure to turn up next month, where we'll be reviewing the progress on the above focuses. If you have any questions or suggestions about this month's set of the article focuses, then please get in touch through the dedicated topic if you have a forum account. If not, then please contact myself on my wiki talk page, but you are far more likely to get a quick response if you go through the forums. You are also welcome to make suggestions on what you think we could focus on in our next edition, and as the next one is Halloween, we will be focusing on spooky focuses only! Thank you, and good luck!