The 'Shroom
:
Issue 142/The 'Shroom Spotlight
From the Super Mario Wiki, the Mario encyclopedia
Jump to navigation
Jump to search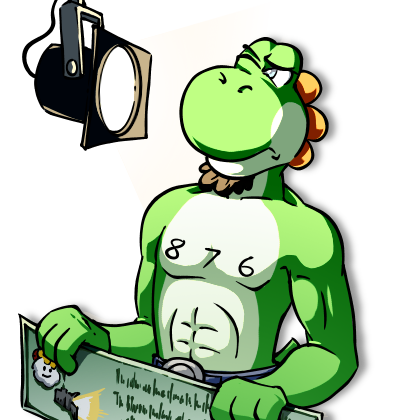 Hello readers of The 'Shroom, and welcome to Spotlight. Spotlight is a community project which aims to fix up the articles on the wiki which have issues. These issues can range from poor writing, to a lack of images, to even just needing a credible source.
Welcome to the first Spotlight of 2019. There are plenty of article across the Mario Wiki that need fixing up, and hopefully by the end of the year we will have made a small dent in the mountain. Whether that's by creating articles to fill coverage holes, rewriting articles so they look professional instead of pure fancruft, or adding images to articles that have none.
2018 was signed off with some style, although unfortunately some errors have carried over into 2019. Bobsledding Peaks has yet to be created, Fire Breath could still do with some additional images, and Snowball Valley was untouched. If I'm honest, those don't really surprise me, barring Fire Breath, but we had a lot of successes that can't go unnoticed. Fire Breath's main focus was improved on, and Alex95 (talk) managed to add what the move actually does in Super Mario Strikers. 7feetunder (talk) added a comprehensive layout section to Vanilla Lake 2, Char-Char was moved to its official name by Toadette the Achiever (talk) and Scrooge200 (talk) added improved the quality of File:PMTTYD Luigi in audience.png.
And now onto this month's focuses:
| Article | Category | Focuses |
| --- | --- | --- |
| Bowser's Castle X | Wanted article | I'm aware we all have troublesome Xs we'd like to avoid, and these boss fights were no exception. But sadly, that's no excuse to not have the articles on the wiki, so let's get this giant boss an article. |
| Grinding-Stone Tower | Stub article | I know I've been giving you guys a lot of layout stubs recently, but we get these done so they're the perfect ones to highlight. It's nice that the level has Grrrols and Boom Boom's last boss fight, but what is the actual layout of the level, which is what the section is meant to give? |
| Piper (Paper Mario: Color Splash) | Rewrite required | This article focuses way too much on Piper's sidequest, as opposed to Piper. Prune the story details on where to find Piper's friend, and actually make this article about the plant. |
| Sweet Sweet Galaxy | Citation needed | It would be sweet sweet if we could find a source for the claim that this galaxy was originally called the Cookie Factory Galaxy. Is there any pre-release footage of the game that supports this? |
| Sticker (Paper Mario: Sticker Star) | Long trivia section | Two Paper Mario focuses in one Spotlight? Yes, the trivia category actually has an article in it for once. So let's prune and relocate some of the unneeded boring tidbits, like that first point, and see if others can be relocated. |
| File:BlueBulletBill SMS.png | Image quality requested | A recent addition to our wiki, it was uploaded nearly a year ago, but look at those eyes! And if you don't know what set I'm referring to, neither do I. It'd be best to recapture this image so it's not so blurry. |
Now just before I leave you, I'd like to tell you about the NIWA Spotlight. This is a project being run by Alex95 (talk) and can be found in this paper's Pipe Plaza section. Much like this Spotlight, the NIWA Spotlight aims to fix up articles across various Nintendo franchises, that are all part of our NIWA group. I'd also like to tell you about unimplemented proposals. There are currently nine, which is four less than last month, that need to be implemented, some of which date back to 2015, so think of this as a continuous Spotlight goal until they're all completed.
Thanks for tuning in to the newest edition of The 'Shroom Spotlight! Be sure to turn up next month, where we'll be reviewing the progress on the above focuses. If you have any questions or suggestions about this month's set of article focuses, then please get in touch through the dedicated topic if you have a forum account. If not, then please contact myself on my wiki talk page. You are also welcome to make suggestions on what you think we could focus on in our next edition. Thank you, and good luck!