The 'Shroom
:
Issue 142/Fun Stuff
From the Super Mario Wiki, the Mario encyclopedia
Jump to navigation
Jump to search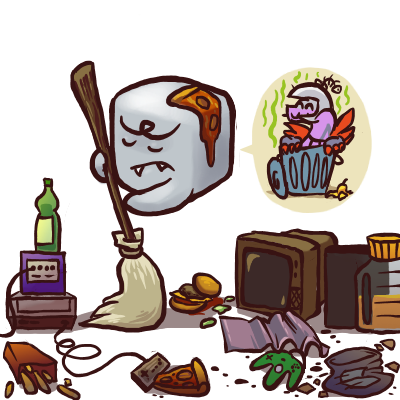 Staff Notes
Hello, 'Shroom readers! Yes, it's me, Superchao. One last time, doing the ol' fill in for someone routine to see out my term as sub-director. Compared to writing seven sections last month, this was a piece of cake! Thanks, LTQ.
Not much to say, other than Hiding Koopa is back! That old classic that kept winning SOTM returns, now done by LudwigVon (talk). Give him a hand while you try to find these stealthy koopas! Unfortunately, this is also Yoshi876 (talk)'s final Quiz section. We thank him a ton for his contributions, and wish him the best moving forward!
Section of the Month
FUN STUFF SECTION OF THE MONTH
Place
Section
Votes
%
Writer
1st
Where in the Marioverse is Carmen Sandiego?
9
31.03%
FunkyK38
2nd
Quiz
8
27.59%
Yoshi876
2nd
It's aMAZEing
8
27.59%
Lakituthequick
---
Mind Games
---
Carmen kicks off the new year with a crystal-clear heist!
[read more]
Anagrams
Written by: BBQ Turtle (talk)
Hello everyone, welcome to the first 'Shroom issue of 2019! Let's hope that this year goes just as smoothly as last year and we see lots more interesting 'Shroom sections. And I believe that this is Meta Knight and Superchao's last issue as director and sub-director, so thanks to them for doing such a great job, and the best of luck to those who follow after them! Anyway, this month's issue is Super Princess Peach themed, so I hope you enjoy these anagrams and I hope to see you all again next month!
How it works...
Basically, this puzzle consists of solving the anagrams. Each month has a specific theme, which will give you a clue about what sort of words or phrases the anagrams will be. I've also included the boxes that the anagrams will fit into, so you'll be able to tell how many words it will solve to be and how many letters will be in each word, which should give you a hand too. You'll also notice that within each set of boxes, one of the squares are yellow. As you solve each anagram, note down the letter which appears in the yellow squares, and if you can solve all of the anagrams, you'll also get a bonus anagram to solve from completing all of the others. I've included the letter configuration for this one at the bottom too, just to give you an extra helping hand. Best of luck!
1. PANDAS AID ILL
2. MAKE INK TAG
3. TOOTH WARDS
4. COOL NAVY FUR
5. LIAR BUZZ US
6. RELABEL LIDS
7. ICE PET VERBS
8. HAVE BY CAW
9. ALLERGIC GAME
10. HARM BORE MY ARM
Bonus Anagram:
Answers
Ladida Plains
Giant Kamek
Toadsworth
Fury Volcano
Blizzaurus
Slidebrella
Vibe Scepter
Wavy Beach
Gleam Glacier
Army Hammer Bro
Bonus Anagram: Vibe Island
It's aMAZEing
Written by: Lakituthequick (talk)
Hello all, and welcome 2019's first It's aMAZEing!
It is January, and that means it's my birthday month! Birthdays = time for cake! Have a delicious (I hope) slice of cake!
Do you have an idea for a maze you'd like to see? Leave a message on my talkpage or find me on the forums and send me a personal message, and your idea and name may be featured in a future episode!
How to play:
Copy the image into your favourite art program (like Paint, Photoshop, GIMP, etc.)
Click the line, pencil or brush tool and adjust the size as needed
Draw your line though the maze from start to finish
Zoom in and out as needed
Alternatively, print it out and use a pencil!
To view the answer, click here!
Hiding Koopas

Good to be back to Fun Stuff! Anyway, welcome 'Shroom gamers (well you are in Fun Stuff to play games right?), your Stats Manager is here today to deliver a new Hiding Koopas. There's one simple rule, and it is to find Koopa Troopas who have hidden themselves in the artwork below of the recently release Switch game New Super Mario Bros. U Deluxe. There are five of them. Are you able to find them all? Good luck!
Hiding Koopas
New Super Mario Bros. U Deluxe
Answer:
Did you do well? In any case, I hope you enjoyed this little Koopa research. See you again next issue!
Where in the Marioverse is Carmen Sandiego?
HOW TO PLAY
Each issue, you will be given a case to solve and clues to use to help you find the solution! Use your Mario knowledge to crack the case!
You will begin each case at the scene of the crime, and you will be given three clues from passerby as to where the next hot spot is and what game it's from. Using your knowledge of Mario games and the Super Mario Wiki, figure out where the crook is and go track them down! There are four locations each round: the crime scene (1) at the start, two locations (2 and 3) with clues, and the hideout for the crook of the month (4). Answers for locations will be given with the corresponding round, for example, the clues from the crime scene will lead you to location 2, and once you open the spoiler bubbles for location 2, you will be given the correct answer. You can open the clues for each location in any order you'd like, but be careful! You may encounter an incorrect clue that could throw you off the case!
Clues offered will give you a hint either about the next location or the game it's in. Unlike a regular Carmen Sandiego game, you do not have to collect information about the crook you are tracking down.
Challenge round (optional):
-Find all locations and games correctly in two minutes or less
-Find all locations and games correctly without using the rest of the Wiki for help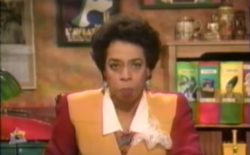 "Carmen's got a lot of tricks, gumshoe, and now she's stealing stars! No, not the stars in the sky! Crystal stars! The crystal stars were introduced in Paper Mario:The Thousand Year Door, and they were used as a kind of key to open the door to the shadow dimension. Mario and co. fought hard to keep the world safe, and now Carmen's troop of Paper Paratroopas has stolen the entire set! We need you to get those stars back before Carmen can get her hands on them for good. Get cracking on this case, cadet!"
Crime Scene

The Crime

Track down the Crystal Stars before they can be used for evil!

CLUE 1

"Hope you brought enough money; you have to pay for all your information here."

CLUE 2

"Don't bump into anything. Don't even move. Or breathe. The price is too high."

CLUE 3

"You're not looking for a heart? You're in the wrong game then, hon."
Location 2

CORRECT ANSWER

Merlee's Mansion from Super Paper Mario

CLUE 1

"You're looking for crystals? We only have spirits. You're in the wrong game."

CLUE 2

"Ah, what a lovely cloudless day it is today!"

CLUE 3

"Bring your seeds! You'll need every one."
Location 3

CORRECT ANSWER

Flower Fields from Paper Mario

CLUE 1

It appears to be a torn train ticket...

CLUE 2

"We don't have any crystal stars now! You're in the wrong game!"

CLUE 3

"Privacy is very important. Don't go around reading anyone's secrets, got it?"
CASE CLOSED
HIDEOUT ANSWER: The Excess Express from Paper Mario: The Thousand Year Door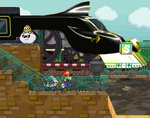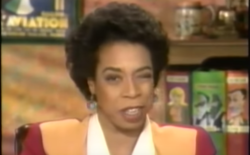 "How crafty! Returning to the game of the crime... Just another one of Carmen's many tricks. Well, this one has been solved today! We found the entire set of Crystal Stars tucked safely away on the train, and the gang of Paper Paratroopas in the dining car. Perhaps Carmen should get some better minions. Either way, cadet, you were in the right game all along! Good work! "
Quiz
Howdy 'Shroom readers, welcome to the Quiz! As you may have figured out from the name, this is a section where I quiz your Mario knowledge.
Now I have a big announcement to make here. It won't say this on my other sections, but this is the last quiz that I will be at the helm of, as well as the last character and movie review that I will do. Be prepared to see less and less of me over the coming months. So, as this is my final quiz, let's make it on something that I love, and you guessed it, it's going to be on my favourite green dinosaur.
Easy
In what game does Yoshi have Stampede! as his Final Smash?
What was the first game that Yoshi appeared in?
Where did Yoshi's New Island take place?
Medium
What Yoshi colour did Orange Yoshi replace in Yoshi's Island DS?
What is the first Galaxy that Yoshi is found in Super Mario Galaxy 2?
Which boss does Yoshi have to defeat in Super Mario 64 DS so the player can unlock Mario?
Hard
Who is Froggy partnered with in Tetris Attack?
Not including Winged Yoshi, how many different Yoshi colours are in Puzzle & Dragons: Super Mario Bros. Edition?
What fighter is Don Bongo possessing in Super Smash Bros. Ultimate?
Answers:
Easy
Super Smash Bros. Ultimate.
Super Mario World.
Egg Island.
Medium
Brown.
Yoshi Star Galaxy.
Goomboss.
Hard
A Clawdaddy.
Five.
A giant King Dedede.