The 'Shroom:Issue 142/Fake News
From the Super Mario Wiki, the Mario encyclopedia
Jump to navigation
Jump to search

Editorial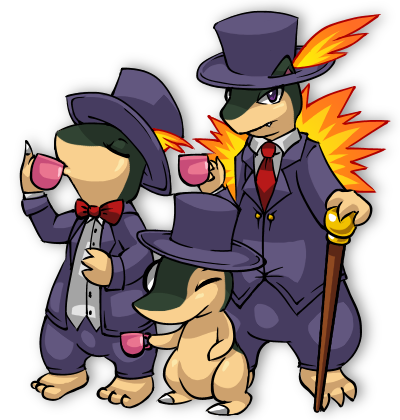 It's 2019! And as with every new year, congrats to the new Director and Sub-Director of The 'Shroom!
We have a few less sections than last month - as always with this time of year - and I've had a horrifically busy week so I can't say much here, but I hope you enjoy the section nonetheless!
Section of the Month
FAKE NEWS SECTION OF THE MONTH
Place
Section
Votes
%
Writer
1st
Travel Guide
14
29.17%
Koops
2nd
TV Tomorrow
11
22.92%
Quizmelon
3rd
Police Blotter
7
14.58%
Superchao
---
Entertainment Features
---
Quizmelon tells us what to watch on the telly.
[read more]

Goombetty

Anyone remember Mario Party Advance? No? Don't worry I'm in the same boat, but the game did have some characters, and in the past month one of them has sadly passed away, and that is the beautiful – please note subjective depending on your species – Goombetty.
Goombetty died in the glorious Goombob Manor, however I was disappointed to learn that she wasn't killed with a dagger or a candlestick and she was killed in neither the study nor the kitchen. Instead, she died in her bedroom, which I don't think was even in a room in Cluedo surprisingly enough, and it appears that she had a seashell allergy.
The news of her allergy shocked all of those close to her, as she loved collecting seashells in some way or another. In fact, her beloved Goombob used to give them to her as presents whenever they spent time together. He is currently being questioned by the police, while I rummage through his things trying to find anything interesting to write about Goombetty.
Like did you know, that despite Goomnuts being a Goomba delicacy, Goombetty was ambivalent toward them? She was also having an affair with a wealthy… hang on maybe I shouldn't write about that last part. Um, she owned four different necklaces?
Goombetty is due to have a funeral soon, and as per Galoomba tradition, her coffin will be thrown into the ground, then removed and thrown back in. Much like how Mario used to defeat them.

As the old television of 2018 rolls away, the new television of 2019 rolls in. Just as it always is, some of it is really awful, but some of it is good quality, and finding the televisual gems of the New Year is effectively what my job is every January. So for the benefit of those who seek such talent in the world of Mushroom Kingdom television, here are tomorrow's top three shows!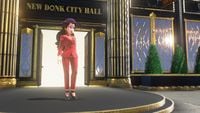 New: The Mayor
MKBC1, 8.30pm
Genre: Political drama
Lighthearted yet compelling, The Mayor is a new five-part drama, starring Pauline as herself, the new mayor of New Donk City who is forced to compete with devious opponents, insect infestations, grumpy residents and rumours of political corruption. With excellent acting from the majority of the cast and some stunning visuals, this is one new show that is not to be missed.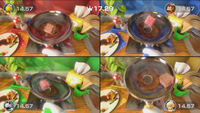 Chef Mario's Cooking Extravaganza
MKBC2, 6pm
Genre: Cooking competition
Chef Mario, Mario's alternate personality triggered when he puts on a chef's hat, returns to host the fifth series of his Cooking Extravaganza competition. In the first week, Koopa, Diddy Kong, Dry Bones and Rosalina compete in wacky challenges that see them stuff eggs, fry meat cubes, shave various kinds of fruit, and throw chocolate mousse at each other, repeatedly. Not for those looking for a serious cooking competition.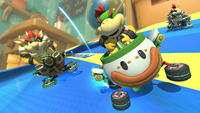 Koopa Kart Championships 2019 Live
MKBC Sports, 2.30pm
Genre: Kart racing
The Koopa Kart Championships, held every five years, is a ten-race grand prix open solely to members of the Koopa species. After a couple of exciting races earlier this month, the third race takes place at Ribbon Road. Bowser Jr. is expected to take victory for the third time, but Bowser and Dry Bones will challenge him, and don't count out Iggy Koopa.
Remember, don't feel you have to confine yourself to these televisual gems. There are plenty of television spectacles across all 120 channels of the Mushroom Kingdom broadcasting system. Of course, in order to find them you have to wade through all the rubbish first. So you may find it best to confine yourself to my picks. Your choice. See you in February!