The 'Shroom:Issue 133/The 'Shroom Spotlight
From the Super Mario Wiki, the Mario encyclopedia
Jump to navigation
Jump to search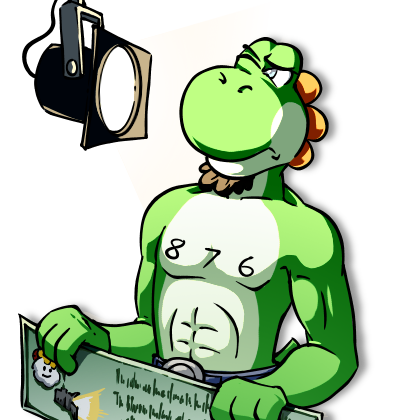 Hello readers of The 'Shroom, and welcome to Spotlight. Spotlight is a community project which aims to fix up the articles on the wiki which have issues. These issues can range from poor writing, to a lack of images, to even just needing a credible source.
Welcome to this April addition of the project. We're currently in the middle of a heatwave where I'm where at, although I wish I'd known we were going to have it when I started planning Spotlight for this issue, because if I had then perhaps I could have thrown in some fire-related focuses. As it is, we shall have to wait for those.
Spotlight continued its recent strong showing, as many of our focuses were completed last month. Canoeing was created by BBQ Turtle (talk), and she also created Canoe Sprint 1000m to go alongside it. Sgt Jack V (talk) was able to add a significant list to Crazy Kong, which means that it's no longer blighted by a section-stub tag. Toadette the Achiever (talk) scoured the internet for a source for the claim on Superball, but as no claim has ever found the information has been removed. And finally LudwigVon (talk) was able to upload an image for File:Subwarine.jpg, this new image not only gets rid of the pesky logo, but also includes what the screen actually looks like, instead of a cropped version.
Sadly, not all of our focuses were able to be completed, but that's not to say that they weren't worked on. Toadette the Achiever (talk) and TheFlameChomp (talk) worked incredibly hard on Red Flagpole, removing much of the poor writing and improving the article tenfold. I'm sure the pair of them will be able to complete the rest of the work shortly. Meanwhile, Baby Luigi (talk), PhGuy12 (talk) and Doc von Schmeltwick (talk) were able to add multiples images to Klepto. For the most part, the article has enough images, but I feel that it could benefit from a gallery at the bottom of the page.
And now onto this month's focuses:
| Article | Category | Focuses |
| --- | --- | --- |
| World 1-1 (Super Mario Land) | Wanted article | Whatever one's feelings on Super Mario Land, its level still all need articles. And where better to start than with the game's first one? |
| Mini Mr. Mini | Stub article | Not only is the name mini, but so is the whole article! Something that could benefit this article is saying where it can be located in game, and whether it itself can be used to create anymore recipe items. |
| Lakitu Valley | Rewrite and expansion required | Someone better want to hit the golf courses, and if you do, could you please bring back information on the holes you played on Lakitu Valley, as the article is completely lacking in those? |
| Goop Generator | Citation needed | Well, I might not have had any fire focuses planned, but at least I got something in from Super Mario Sunshine. We call them Goop Generators, but where are they actually called that? Is there a name in a guide, an in-game text box? |
| File:NSMBU Yoshi Flagpole.png | Image quality requested | It probably won't surprise you to learn that I am a massive fan of Yoshi, but you can barely see him, or Mario, in the picture. What it needs is to be resized, or recaptured in the Wii U's native resolution. |
| Tap-Tap | Articles that need more images | The article mentions how many games this spiked funball manages to appear in, but it fails to include images of many of them. I think you can see where I'm going with this one... |
Thanks for tuning in to the newest edition of The 'Shroom Spotlight! Be sure to turn up next month, where we'll be reviewing the progress on the above focuses. If you have any questions or suggestions about this month's set of article focuses, then please get in touch through the dedicated topic if you have a forum account. If not, then please contact myself on my wiki talk page. You are also welcome to make suggestions on what you think we could focus on in our next edition. Thank you, and good luck!