The 'Shroom
:
Issue 133/Fake News
From the Super Mario Wiki, the Mario encyclopedia
Jump to navigation
Jump to search

Editorial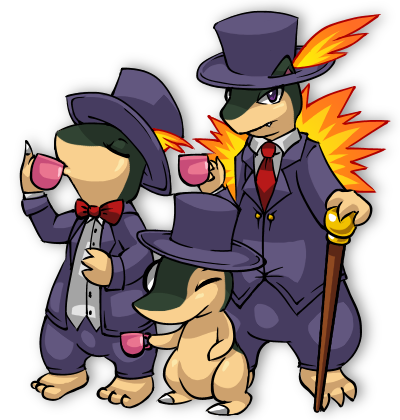 Hello, I currently very busy so cannot say much here except pls enjoy the Fake News as always
Unless you don't always enjoy it, then now could be a good time to start! :)
~ MrConcreteDonkey (talk)
Section of the Month
FAKE NEWS SECTION OF THE MONTH
Place
Section
Votes
%
Writer
1st
Game Corner
28
47.46%
YKMR3000
2nd
TV Tomorrow
11
18.64%
Quizmelon
3rd
Shop Scout
9
15.25%
Hooded Pitohui
---
News Report
---
A look at the weather for the upcoming week.
[read more]
---
Animal Crossing over to the next life (I tried)
[read more]
Entertainment Features
---
Quizmelon tells us what to watch on the telly.
[read more]

Good evening, viewers, from MKBC6, with your weather forecast for the week ahead.
| Day | Predicted | Temperatures | Forecast | Chance of Precipitation |
| --- | --- | --- | --- | --- |
| Monday | | High: 30 Low: 18 | Snow mixed with rain. Colder temperatures overnight. | 90% |
| Tuesday | | High: 28 Low: 15 | Icy conditions with more snow. Skies clearing late. | 80% |
| Wednesday | | High: 33 Low: 19 | Temperatures rising. Snow melt may refreeze into ice overnight. | 30% |
| Thursday | | High:37 Low: 22 | Windy and warmer. Chance of frost overnight. | 10% |
| Friday | | High: 40 Low: 24 | Temperatures continue to rise. Less of a threat of overnight frost. | 40% |
| Saturday | | High: 45 Low: 28 | Clear and sunny. Breezy in the afternoon and clear overnight. | 0% |
| Sunday | | High: 53 Low: 31 | Sun with patches of clouds. Look for light breezes. | 40% |
Although a cold start is predicted for this week, temperatures will rise gradually and we should expect to see the 60s sometime next week. Snow and rain will make streets and sidewalks icy early this week, so be careful when you're traveling around town.
We will also be providing you with the tourist's report of Lake Lamode.
| Day | Predicted | Temperatures | Forecast | Chance of Precipitation |
| --- | --- | --- | --- | --- |
| Monday | | High: 64 Low: 52 | Sunny with clouds developing late. | 10% |
| Tuesday | | High: 62 Low: 52 | Breezy with afternoon clouds. | 20% |
| Wednesday | | High: 63 Low: 54 | Clouds early. Rain showers moving in after midnight. | 70% |
| Thursday | | High: 57 Low: 49 | Rain showers on and off all day. | 90% |
| Friday | | High: 59 Low: 51 | Thunderstorms will start by lunchtime. Rain through the night. | 100% |
| Saturday | | High: 60 Low: 50 | Rain will slow by midday. Breezy and cloudy. | 50% |
| Sunday | | High: 60 Low: 48 | Patches of sun, but mostly cloudy. | 0% |

Isabelle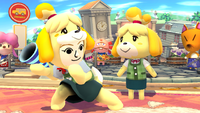 The world of Animal Crossing just got a whole lot sadder, following the death of resident secretary, Isabelle. Mystery surrounds her death at the moment, but we do know that it is liked to the Mario Kart tournaments.
It is thought that Isabelle drowned after her Kart was knocked into the sea during a race on Animal Crossing. Her engine flooded, but for unknown reasons she was unable to doggy paddle back to the shore. Perhaps it's because she wasn't wearing a wetsuit. Police are shaky on suspects, saying that these sorts of incidents are "normal" when it comes to go-karting, and that she should "consider herself lucky" she wasn't knocked into lava or a bottomless pit. However, they have confirmed that they are treating this person as a person of interest.
Those who participated in the race questioned why they hadn't seen her at the finish line, although race winner Wario thought he'd just finished so far ahead of her that she hadn't finished by the time he left. It was later discovered that Wario had tampered with engine settings on various Karts, leading to an instant disqualification.
Lakitu, who was supposed to save any racers if they fell into track hazards, said he was distracted at the time, but he would sorely miss Isabelle. "Most racers try and hang onto their coins when I come to rescue them, but Isabelle would always kindly hand hers over."
Isabelle will be given a Viking's funeral in the coming days, although some have questioned whether this kind of funeral is in poor taste considering the manner of her death. Mayor Villager said nothing when I asked him to comment. He just started at me… deep into my soul… with telling eyes… unnerving my very essence…

If you're reading this, you've made it to the TV Tomorrow column, the only monthly television column that only covers programming from a single day. Tomorrow there is some excellent programming, so we're lucky that this column was published today. So, without bothering to add a fourth sentence to this introduction, let's start right away with the top three Mushroom Kingdom shows that will air tomorrow!
New: The Magician's Journey
MKBC2, 9pm
Genre: Sci-fi drama
Kamek stars as himself in this grippingly interesting sci-fi drama. He escapes his home planet to journey to the tower of Zaukam, a mystical wizard who lives far across the cosmos, who Kamek wishes to attain guidance from. But the journey will not be easy. This first episode begins with his departure, and is thrilling throughout - a must for any science fiction fans.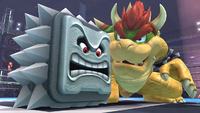 Bowser and Thwomp's Challenge Base
Koopa Troop TV, 6.30pm
Genre: Game show
Bowser hosts this tough game show with his Thwomp assistant, named Thwomp. Two families - the Koopson family and the Bones family - compete against each other in the titular Challenge Base in a variety of physical challenges. There will be some pain, but Bowser and Thwomp provide some interesting comedy to lighten the mood a bit, which is nice.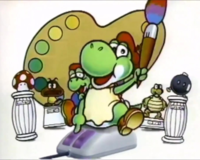 Film: Yoshi Yoshi! The Great Painting Competition
Party Channel Kids, 3pm
Genre: Children's film
The fifth film in the now largely forgotten Yoshi Yoshi! series of animated films, where the quality got steadily worse as the films went on due to budget problems. Despite the blurriness, the film, which hasn't been shown anywhere for a while, is still fairly amusing, with a lot of fun for the kids mixed in with some subtle jokes for the parents watching at home, like pretty much all animated films.
This is just a sample of the television on tomorrow, as there are plenty of other old favourites and new additions to keep an eye out for across all channels throughout the month. But this is all I have room for at the moment, so you'll just have to wait until May. Without bothering to add a fourth sentence to this conclusion, see you next time on TV Tomorrow!

Written by: Hooded Pitohui (talk)
I have always stressed how I will sacrifice all for my devoted readers, but I must make an admission. Flavio is cutting corners. Flavio is being frugal. Flavio is lowering production costs. However one puts it, I am keeping this month's edition of Shop Scout as low-budget as possible. This is a self-financed venture, made possible only by Flavio's great generosity and altruism, after all. Unfortunately, this means I must lower my usual standards and visit the verifiable dump which is Hino Mart.
To get to my destination, I had to enter the caverns of Barrel Volcano. I have conquered the treacherous Keelhaul Key and faced down the dreaded Cortez. I have mapped new lands and built a lucrative trading empire. Of all the challenges which Flavio has so bravely faced, Barrel Volcano has been the worst. I felt as though I might pass out from heat exhaustion at any moment, a sensation which was not helped by all of the running I had to do. Yes, Flavio got his cardio in. I had to tactically retreat from encounters with Pyrospheres and other assorted beasts. One must always recognize their limits, after all. Between the flames and the ashes, my trademark clothing was in utter ruins by the time I reached my destination. Do you know how long it takes to create brand identity like Flavio's? My clothes are a part of my brand; such damage is intolerable.
After grueling hours in the caves of the volcano, I finally reached Hino Mart. I expected sanctuary, a respite from this wretched mountain. I instead found a third-rate establishment with amenities more akin to a prison than an item shop. Flavio is not ignorant. Flavio does not have over-inflated expectations. He demands, however, that even a store in a dungeon provides a certain level of quality for its guests. No patron, no matter their status or the establishment they visit, should be forced to sleep on storage containers. Yet, with no beds to be found, the inn service at Hino Mart requires guests to sleep on wooden crates.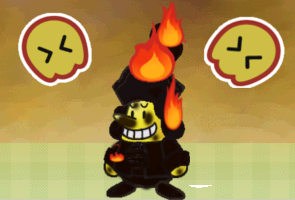 While the items offered are of decent quality, they do not make up for the prices nor the shifty proprietor. Yes, this Hinopio character is not to be trusted. Who in the right mind would come out to this cave, choking on smoke and blinded by ash, and decide to set up an establishment here? This place certainly cannot see much traffic, which would explain the exorbitantly high prices for its items and services. This Hinopio seems to be an unethical business owner. He preys upon the weak and weary travelers who find themselves in the Volcano's depths. He is the very antithesis of Flavio, who has always pursued noble and ethical goals through his business and philanthropy. I look upon him with scorn for sullying the reputation of those with the entrepreneurial spirit.
To my dearest readers, avoid this sham shop and the horrors of Barrel Volcano altogether. Never before have I been subject to such poor service. To Hinopio and his tainted associates in the business world, Flavio hates you all.
Selling Out
Selling Out Issue III: A Geno-rus Offer
With all the hustle and bustle of life nowadays, the pace can just be overwhelming. Sometimes more than just some time away is needed, and instead, a change of career or locale can bring about the desired change. Luckily for you, Realah T. the petaler of properties has found a wonderful place for doing both business and leading a restful life. After filing for bankruptcy the owner of the old Rose Town Inn has started to lead a new life, and like always has left its doors wide open.
After a fire demolished the old property it was rebuilt a few years back and was rebuilt as a one-floor bed and breakfast. Upon entering the lobby you first cedar front desk which was made by a local craftsman using trees from the Forest Maze. The majority of the property is built from pine in order to fit in with the rustic air of the town. Concealed, but right next to the front desk is the kitchen where the guest's meals are prepared. It contains state of the art preparation and storage facilities. While it is lacking in storage, your stomach will always ready for more.
The dining room contains four tables each made from the different trees native to the region pine, cedar, hemlock, and spruce. Each table can seat up to 6 guests at a time. The wall the bars off the lobby also ensures the privacy of diners as they eat from the rose gold platters also contained in the hidden kitchen. In order to spruce up this already pine room, a variety of paintings from the local landscapes have also been added to enhance the atmosphere.
As for the other end of the bed and breakfast, the guest quarters contain 4 beds for up to 8 people at a time, but can easily fit more accommodations. Storage is also provided in small trunks at the foot of each bed. More life in the room has been added by window plots of roses watched over by local garden tenders as well as a grove of trees tended to by the local arborist.
Nearby the bed and breakfast is also a house the previous owner used to live in, however, another agency has claimed the property to be sure to visit www.rosetownpropaht.com/rosetownhills for more information. This property won't be bedded down for long, so be sure to be the early worm and call Realah T. a call at (868) 259-7325.