The 'Shroom
:
Issue 133/Palette Swap
From the Super Mario Wiki, the Mario encyclopedia
Jump to navigation
Jump to search

Director's Notes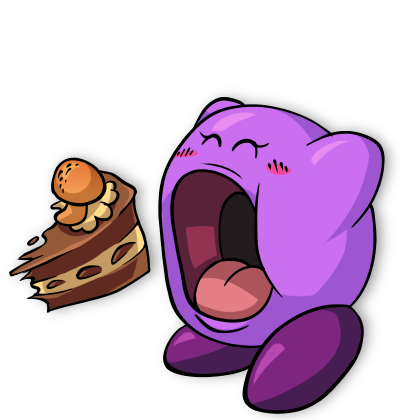 Happy April, everyone! I hope your weather is better than mine has been. Recently I started a new job, and it's kept me pretty busy, but not too busy for the 'Shroom!

Last month, I told you about my experiences with Bayonetta, the NG+ of Xenoblade 2, and an early review of Kirby: Star Allies. Well, I've beaten the main mode of Star Allies now, so I'll give you my thoughts on this game. It's not exactly what I expected, to be honest. There's a lot of good things about this game, but I have mixed feelings about it. The levels feel too long, but the game itself feels too short. I would have preferred a larger number of shorter levels rather than the small number of long levels that the game gave me. It made the whole experience a little too short. Now, I haven't played any of the extra modes yet, and I'll probably go back to do those sometime. Right now, though, I'm busy getting HYPE for Donkey Funky Kong Country: Tropical Freeze.

We've got a lot of great sections for you this month, including our two musical sections, so I won't hold you up any longer. Enjoy! ~FunkyK38
Section of the Month
Lots of votes again this month! Thanks so much for showing our writers so much support, and keep it up! Yoshi 876 (talk) cops another win for his What's on the Box? section on Mario & Luigi: Bowser's Inside Story!
---
Art Sections
---
Pyro updates on artistic endeavors around the community!
[read more]
Music Sections
---
Listen to some covers involving the good Sir Elton John
[read more]
What's on the Box?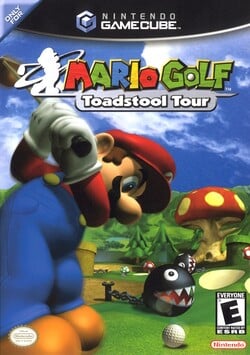 Hello readers, and welcome back to What's on the Box.
For the past few months, we've been stuck in a rut with looking at boring boxarts, but this month we may have potentially broken the trend. I'm not saying that this boxart is amazing, but it certainly has a lot more going on in it, then most of the recent boxarts we've looked at have.
Despite this being the 33rd outing of this section under my stewardship, we've never actually taken a look at the boxart for a Mario Golf game, I also think this might be the first time where we've actually taken a look at a GameCube game as well.
On the game's boxart, Mario can be seen hitting a golf ball, presumably on Peach's Castle Grounds, as that course features the tall mushrooms and Chain Chomps that we can see on the boxart, but unfortunately that's all it manages to feature. And that is a shame, because from looking through the game's own wiki page it could have potentially featured more.
Peach's Castle Grounds is an odd choice to have as the cover course, considering how far into the game it is actually unlocked, perhaps it might have been better to have feature Lakitu Valley or Cheep Cheep Falls. That said, I do understand why Peach's Castle Grounds was used instead, as the two aforementioned courses don't seem to have many obstacles, and plus Peach's Castle Ground does have massive toadstools on it, which coincide with the game's actual name.
The main issue I have with this boxart however, is that it only features Mario. The game has 16 different characters, 18 if you count the two you can transfer over, surely it wouldn't hurt to feature some of them on as well? I can understand missing off Bowser Jr. or Petey Piranha as they weren't series stalwarts at that time, although their popularity was rising as they continued to appear in many GameCube games, but surely characters like Luigi or Princess Peach, or even Princess Daisy could have appeared on the boxart. This is especially noticeable since Mario Golf for the Nintendo 64 managed to feature various different Mario characters on its boxart, although looking at the previous Mario Golf boxarts, it was more commonplace to just feature Mario.
Ongoing Fan Projects
Written by: The Pyro Guy (talk)
| User | Thread | Description |
| --- | --- | --- |
| Fawfulthegreat64 | FTG's art | A collection of Mario-themed artpieces. His latest posts have been of Waluigi, Baby Fawful, and art of a Mario & Luigi: Dream Team scene. |
| Alex95 | Alex95's Thread of Stuff (Power Master/The 'Shroom/YouTube) | A thread all about Alex95's various creations, from his Power Master games to his YouTube videos. Recently, he has created and posted sprites of a new boss named Powerbird. |
| Koops (Iron Man) | Koops' Fanmade Paper Mario: plot twisted thread. (Sprites and explanations too). | A thread where Koops writes and draws for his Paper Mario fangame idea. He is rewriting the script and story, and has reached the twelth chapter and interlude. |
| GBAToad (Star-Lord) | gbatoad's gb-art-thread | A collection of GBAToad's pencil artworks. He has drawn a mugshot of Lewyn, from Fire Emblem: Genealogy of the Holy War. |
| Turboo (Izuku Midoriya) | The Chair (MW10T) | This is Turb's art thread. He's recently made art of a character from the same Fire Emblem: Genealogy of the Holy War, otherwise known as FE4. |
| Mewta | Mewta's Voxel Requests | A new thread of some voxel artpieces Mewta has made, such as a Koopa or Fawful. |
| Tabuu (Contra(dictory)) | R-132: Episode 5 is out! please read me | This is Tabuu's written fiction, R-132. Tabuu has updated the thread showing off the 10 new episodes he has made. |
| The Pyro Guy | The Py-art Guy | A thread where The Pyro Guy posts his art. Recently he has made fusions of users as knights from Shovel Knight. |
| Snack | Rideable Minecart High School, and other short stories | A collection of stories and art about minecarts and high school. The most recent story involves Nico, Nico and Nii. |
| (Mario and) Baby Luigi | Mario and Baby Luigi's Garry's Clustercrowd Pics | A thread back from the dead, containing giant images of many, many characters. Try and name them all! |
| Nano (Ash Ketchum) | Nano's drawings. | A thread containing NanoRim's drawings. He has recently shown off some images of a Mario. |
| Fawfulthegreat64 | FTG's videos and such (Recent: 5 Mario newcomers I want in Smash 5) | Here's a collection of videos that FTG makes, such as his most recent work, a list of 5 newcomers he wants for Smash. |
| Koops (Iron Man) | Koops' 'Shroom sections (Travel Guide, open for suggestions) | A thread where Koops writes and draws for his Paper Mario fangame idea. He is rewriting the script and story, and has come up to the seventh interlude of the tale. |
| Doc von Schmeltwick | Doc von Schmeltwick's SMAS SMB3 expanded sprites | This is a thread containing DvS' original spritework based on the games of old. The most recent post shows off a lot of sprites. |
| Kingboo10 | Spunks Spooks: Archipelago Adventure (Fangame) | A platformer fangame starring a boo. |
| Lakituthequick | Lakituthequick's occasional art | A thread where Lakituthequick posts things he makes. He's recently posted sprites of users for his interviews, and a Berry. |
| Anton | Anton's Half-Baked Reviews / Dear Anton | A thread about Anton's 'Shroom sections- Half-Baked Reviews and Dear Anton. In Issue 132 he reviewed some breads and a toilet. |
Mario's Boombox
Written by: Hooded Pitohui (talk)
Fans of Super Mario are likely to know the works of Yoko Shimomura, who composes the music for the Mario & Luigi RPG series and composed the music for Super Mario RPG: Legend of the Seven Stars. Much of her work has become well-known and respected, but her piece from the Forest Maze in Super Mario RPG stands out as one of the most memorable. The Forest Maze theme is one of those compositions that just gets stuck in the heads of players, which may have also been the case for the creators of this month's featured song, "Waltz of the Forest". It's a clever take on a famous piece which takes the Forest Maze theme and adds lyrics and an animation to it.
"Waltz of the Forest" began, oddly enough, as a meme. The video's creation in 2011 was preceded by an early remix of the Forest Maze theme created in 2004. In that year, Newgrounds user DJ XBrav posted a remix of the Forest Maze theme with lyrics, calling his song "Geno's Forest". This version of the song was simple but charming, with just a few verses which were somewhat related to Super Mario RPG and a few rap sections which listed some of the game's items. The song began to spread around the Internet, earning a number of parodies, remixes, and edits. In 2007, Martine Hagwall created his own version of the song with extended lyrics and Grant Kirbopher created an animated video to accompany. Out of this collaboration was born "Rawest Forest". After a few years, Kirbopher returned and, with support from a few other collaborators, created an updated song and video entitled "Waltz of the Forest". If you want to squeeze out a little more information about the song's history, check out its article on "Know Your Meme", the site where I shamelessly gathered my information for this article.
That being said, I didn't decide to showcase this song based off of its history. The song and accompanying video pack in quite a few references to Super Mario RPG and, to be honest, turn the Forest Maze theme into even more of an earworm than it already is. The lyrics contain numerous references to the game which inspired the song. The rap sections in the older versions of the song have been trimmed down, and the only major rapping section in the song is a summary of the game in four lines. Some of the vocal sections make reference to the elements of exploration and mystery throughout the game. Having had a chance to play through the game on Virtual Console, I understand the statement that "There are many secrets in this land, / up in the clouds or beneath the sand." From Grate Guy's Casino to hidden equipment, the game has secrets and hidden items everywhere, sometimes requiring obscure sequences of events or highly creative players willing to look for not-so-obvious secrets. This mystery is a part of the game's charm, though it can be understandably frustrating at times. This is reflected well in the statement that "Deep within this labyrinth there is place, / if you go looking you might go insane."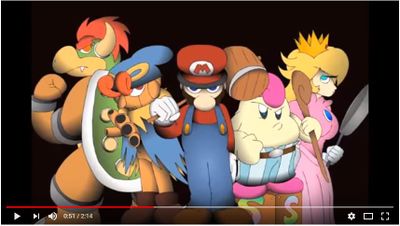 Of course, with this song, focusing on the lyrics alone don't do it justice. There's an amazing animation that accompanies this song. The animation is just packed with references to the game, some obvious and some obscure. There is a section of the animation which includes large numbers of the game's friendly characters, while another has the entire lineup of the game's major bosses. To understand some of the references, like the sudden appearance of a Hidon, viewers may have had to have played or watched the game, but even viewers with only a secondhand knowledge of the game will pick up on at least a few of the references. Overall, the animation is packed with great references to its source game and is often paired with the lyrics in such a way that those references are enhanced.
All of that said, give a listen to "Waltz of the Forest." If you know Super Mario RPG, you'll absolutely love how well this video expands on the Forest Maze theme and incorporates reference after reference to the game. Even if you've never heard of the game, listen to the song; you'll still find it difficult to get out of your head.
Take Cover!
Written by: Henry Tucayo Clay (talk)
HI, everyone! I'm your unique writer, Tucayo, here with the April installment of Take Cover!. We have two great covers up ahead, so turn your volume up and read on.
This year, the great Sir Elton John announced he would be saying goodbye to the stages after a massive farewell tour set to start this September and last three years, with more than 300 concerts planned around the world. Naturally, such a legendary singer and performer retiring has been big news in the world of music and well-deserved tributes have been planned to celebrate Elton and Bernie Taupin's iconic songs spanning more than half a century. Two of this homages took form as tribute albums, named Revamp & Restoration; Revamp has a diverse set of artists reworking some of Elton and Bernie's most famous songs along with some deep cuts, while Restoration is a full-on country tribute, with artists like Willie Nelson, Miranda Lambert, and Lee Ann Womack giving their takes on the duo's works. I will start with the former, as I find it to be the most interesting for this piece. As its name implies, Revamp does not feature simple covers, but it rather has each artist revamping the songs here included; we go from Pink and Logic's electro-hip-hop version of Bennie and the Jets to Queens of the Stone Age's psychedelic rendition of Goodbye Yellow Brick Road, passing through Coldplay, Miley Cyrus, Mary J. Blige, and more. My two personal favorites are definitely The Killers' take on one of the deep cuts in the record, Mona Lisas and Mad Hatters (a song which I did not know until now and I just can't stop listening to), and, perhaps surprisingly, Alessia Cara's rendition of I Guess That's Why They Call It the Blues. To your left you can hear Florence and the Machine performing the 1972 classic, Tiny Dancer; I chose to highlight this specific song as, being objective, I find it to be the best song in the album; Florence sings with such a dreaminess and power that makes it immediately stand out, even among other great covers. Only now, after having listened to it at least ten times, I am noticing the song is slightly over six minutes long, but it doesn't feel like it drags on at any point, and when we get to the chorus it's just so... perfect. For me, it's simply put one of the best-achieved covers in recent years.
We now move on to Restoration; whereas Revamp was a multi-genre effort, Restoration is an all-country tribute, including legends and new artists alike. To me, my favorite track in the album is Little Big Town's Rocket Man, seen to your left. The harmonies are simply brilliant and it's a wonderful opening track for a very well-rounded tribute album. Bernie Taupin came up with the list of people he wanted to include in this album, while Elton selected the performers in Revamp. To give some background into this legendary duo's history, Elton and Bernie met back to 1967, when they both atended an audition in London; Elton told the people doing the auditions that he could not write lyrics, so he was matched to a random person in the opposite situation - someone who could write lyrics but not sing. That person turned out to be Bernie Taupin, and since then they have worked together on more than 30 albums. Most of their biggest hits are found in either of the two albums (with Mona Lisas and Mad Hatters being the sole song on both); and if you want even more covers of the duo's works, look no further than the Grammy tribute concert (US only) held earlier this month. It included several of the covers already seen in the albums, but it had some additional ones, like John Legend performing Don't Let the Sun Go Down on Me, a song which was performed by Miley Cyrus in Revamp, but in the concert she performed her Restoration cover, The Bitch Is Back - it should be noted Miley was the only artist appearing in both albums. The concert ended with an ensemble performance of I'm Still Standing, which I would absolutely love to link to, but CBS has taken down all videos.
Now, to say on-topic, I will leave you with one of my favorite covers of Elton's Your Song, that of the late, incredibly-talented Christina Grimmie. Enjoy.