The 'Shroom:Issue 105/Fun Stuff
From the Super Mario Wiki, the Mario encyclopedia
Jump to navigation
Jump to search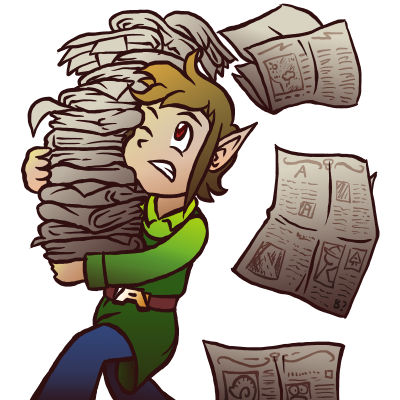 Staff Notes
Written by: Super Mario Bros. (talk)
Hello, this is SMB! I did not direct Fun Stuff this month — Superchao (talk) collected the sections, and Henry Tucayo Clay (talk) formatted them and posted the SOTM — but I am the only one who wrote some notes here. I hope you have a Happy Christmas, a Merry Holidays, and a Merry New Year!
Section of the Month
FUN STUFF SECTION OF THE MONTH
Place
Section
Votes
%
Writer
1st
Guess Who!
32
60.38
Andymii
2nd
It's aMAZEing!
11
20.75
Meta Knight
3rd
Guess That Game!
2
6.06
Super Mario Bros.
Tropical Freeze Contest
This month, we are having a contest! Henry Tucayo Clay (talk) kindly offered to host Hiding Koopa - Find the Differences!, which is a cross between the two hyphenated sections. Be sure to check the rules in his section below and PM him with your submissions! As per the last contest, there are gift cards to win and Shroom Tokens; so go ahead and see if you can win!
---
Graphic Activities
---
Pyro Guy offers some challenging Picross puzzles!
[read more]
Quiz
Welcome to Quiz, a place where I... quiz you, on Mario stuff of course though.
Easy
What two things is the Shy Guy Lion a cross between?
Which Super Smash Bros. game featured Young Link as a playable character?
What is the objective of the card game Pair-a-Gone?
Medium
What world in Donkey Kong: Tropical Freeze is Shipwreck Shore found in?
Which castle stage in Super Smash Bros. Melee is very similar to one found in Super Smash Bros.?
What colour is a Mad Pokey?
Hard
What island does Yoshi's Safari take place on?
What is the name of the mole enemy found in the Tree Zone of Super Mario Land 2: 6 Golden Coins?
Which YouTuber released a parody series called Mario Warfare?
Answers:
Easy
A Shy Guy and a Lion.
Super Smash Bros. Melee.
Match pairs of cards.
Medium
Lost Mangroves.
Princess Peach's Castle.
Red.
Hard
Jewelry Land.
Ragumo.
Beatdownboogie.
Guess Who!









Happy (late) Christmas! Besides being a holiday issue, this edition of Guess Who is very special, being the 1-year anniversary of the series. It may not sound like a long time, but I never thought I would stick to Guess Who this long when I started. In fact, I would have probably given up by now if I didn't have this much support. So thank you! Enjoy the warm look of this issue that I worked hard on.
You may recall last month I was considering writing a new section; based on what you all voted, you wanted the "Fan Fiction, by You!" I have not yet had the project green-lighted yet, but I am planning to start February.
Anyhow, it's the holidays, a time to sit back, relax, and take a break from Mario for a while.
Or you could run to GameStop to get Mario ornaments like me:
Well, just like 12 months ago, the theme will be Snow and Ice. Think snow levels, cold enemies, and the like. Pick your level, and get started!
Guess Who! Holiday 2015
Theme:
Snow and Ice

Level 1: Easy
The body needs helping finding its lost head!
In order to do so, the body rolls and follows Mario.
After its head and body are reunited, the full character graciously rewards Mario with a Power Star.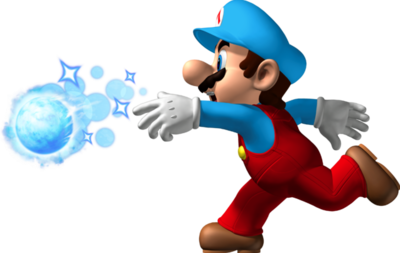 Level 2: Normal
This enemy is the ice counterpart of a Lil' Cinder.
Spin-attacking it removes the ice cloud surrounding this enemy.
"Baron ***" is a member of the species.
Level 3: Hard
It plans to present an "Iced Mario" gift to Bowser, probably as a tasty hors d'oeuvre.
Unfortunately, Bowser must instead forgive him, after he frees the last Star Spirit.
He's on of the near-final bosses in its game.
BONUS: What's the Power-Up?
It can throw ice-balls!
The power-up is blue-colored.
It didn't appear in Super Mario Galaxy.

Answers:
Well, how did you do? Regardless, thank you for playing Guess Who, where you could just as easily be making Mario snowmen (unless you live in the East Coast like me, where it's 70 degrees for some reason). Well, I hope you learned some things about icy Mario things; I'm sure it's a skill you'll need later in life. Check back in January, and Happy 2016!
Guess That Game!
Written by: Super Mario Bros. (talk)

Think you can solve this month's Guess That Game! puzzle? We have three challenges to solve: the first one is a Mario series video game, the second is a non-Mario Nintendo franchise video game, the third is a non-Nintendo video game. Give it a go!
Challenge 1: Mario Game
This game barely made it as a 2013 game – at least in the United States.
The doctors is out... but his brother has stepped in!
The game was released exclusively for the eShop on Wii U.
Challenge 2: Non-Mario, Nintendo Game
This game started a new franchise on the Wii U.
It received high marks from most reviewers.
The playable characters get inked.
Challenge 3: Non-Nintendo Game
A series composed of three main entries, released throughout the 1990s.
Although initially hyped up, the first two games are considered mediocre and the third is critically panned.
The first games come in a two-fur one package, now that they've been revived by Steam.
That's all for this month! Be sure to check your answers and check back next time!
Did You Know
Written by: Marshal Dan Troop (talk)

Did You Know...
That for reasons unknown Orb Users hate Kinklinks
That Geno's real name is ♥♪!?
That Punchinello was originally going to be called James Bomb
That the Ice Cilmbers were taken out of Super Smash Bros. 4 because they wouldn't work with the 3ds version?
That Donkey Kong appears as a hidden fighter in the Wii version of Punch Out
That the only thing Wario loves more than money is his pet chicken Hen?
Picross
Written by: The Pyro Guy (talk)

Hey everyone! I'm The Pyro Guy, and today I've got some merry new picrosses for you guys.
Or is it picri? Or picrae?
For an explanation on how to play, see here. This time, the theme is;

Christmas!
In case the big text above is too big to comprehend, I've prepared some great new puzzles for you to solve. Enjoy!
| | |
| --- | --- |
| EASY: | |
| HARD: | |
If you managed to successfully complete these picrosses, then well done! Check your answers with the table below.
Answers (click show, then click the pictures)
EASY

A nice Super Star for the top of your Christmas tree.
HARD

The Christmas tree that the Star can go on.
I hope you did well! Make sure you stay tuned for the next issue for a new picross for you to solve! And on that bombshell, happy holidays from me, and see you all later!
It's aMAZEing
Written by: Meta Knight (talk)

It's December, a time where people are filled with joy as the holidays approach. However, it's also fairly chilly, so I can only imagine people of any age sitting by the fire sipping a mug of hot chocolate. At least that's what I do. How could anyone resist? To celebrate, this issue's maze is of an Ice Flower. We may not see many trees with leaves, but this flower's pretty cool!
How to Play:
-Copy the image in an art program (such as Paint, Photoshop, paint.net, etc.)
-Click the line tool and adjust the size as needed
-Use the line tool to get from arrow to arrow
-Zoom in and out as needed
Good luck!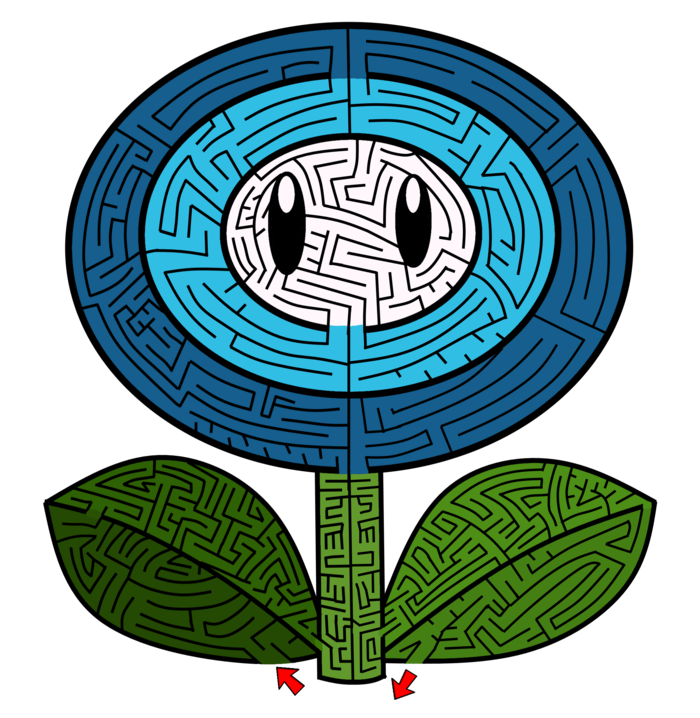 Hiding Koopa - Find the Differences!
HI! I'm your chilly guest writer, Tucayo, here with a very special Hiding Koopa - Find the Differences winter special contest extravaganza 3000! All you gotta do is simple, the next image has twelve Koopas and eight differences in it. Find them, circle them in Paint (or whatever), and then PM them to me! The first one to do so will get a prize! Please note, objects that come in pairs count as one difference.
Here's the original image: (you can click on it to enlarge)

And here's the modified one: (same, you can click to enlarge)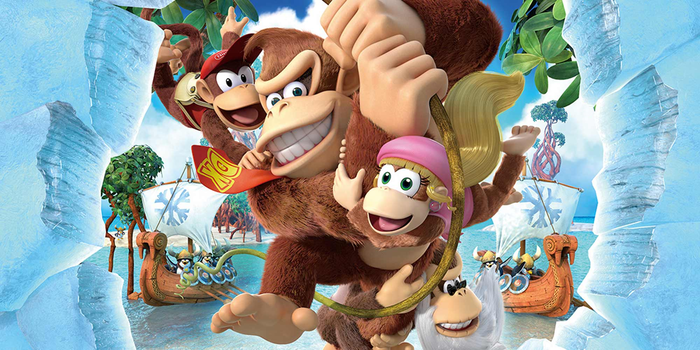 Good luck!