The 'Shroom
:
Issue 105/Holiday Super Mario Maker Challenge
From the Super Mario Wiki, the Mario encyclopedia
Jump to navigation
Jump to search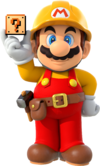 Ho-ho-hello readers and avid
Super Mario Maker
creators! As this is our last issue of The 'Shroom for 2015, we're going out with bibbangs and hosting another
Super Mario Maker
contest, following the success of our last one (the results of which can be viewed
here
)! The premise is simple: submit the most creative
Super Mario Maker
course you can design that expresses the theme of the contest in some way. The theme for this month, keeping consistent with the theme that was chosen for our 2015 Holiday issue, is the lovable, barrel-breaking
Donkey Kong
! Alas,
Donkey Kong Maker
has yet to move past the pre-alpha planning stage at the house of Mario, but while we wait with bated breath for its official announcement, we can still create unique Donkey Kong-themed courses with
Super Mario Maker
in the meantime, right?
Like last time, the prizes for placing first, second, and third are varying amounts of 'Shroom Tokens, which can be exchanged for Awards tokens after next year's MarioWiki Awards, which can in turn be exchanged for items such as Steam games and more. Anyone who participates receives 'Shroom tokens for submitting an entry, so no one misses out! Additional details on how you can enter and what you need to submit can be found on our forums!
Sign-ups for the contest open today, but we're accepting entries right up until the deadline of January the 11th! Go check out the rules and be sure to sign up if you're interested. Happy Mario making!