The 'Shroom
:
Issue 105/Opening Statement
From the Super Mario Wiki, the Mario encyclopedia
Jump to navigation
Jump to search

Credit to Edofenrir for the banner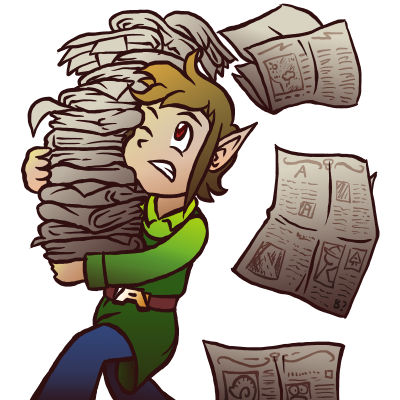 Hello everybody! Thank you for reading our 105th edition. I hope you had Merry Christmas and are enjoying the season so far!
We have plenty of features in store this month for your viewing pleasure! Firstly, we are honoring our writers with our annual End-of-the-Year Awards; they have worked hard throughout the year and have earned the recognition. We are also having another Feedback Survey which, like last time, is only seven questions; please be sure to quickly fill it out and help the Core Staff improve the paper! Otherwise, we have several special features throughout the edition and some contests as well. I hope that you enjoy this holiday special; I will have final comments in the Closing Statement.
— Super Mario Bros. (talk), Director

Staff Section of the Month for November 2015
STAFF-VOTED SECTION OF THE MONTH
Place
Section
Writer
Reasoning
1st
Composer Spotlight
Crocodile Dippy (talk)
Dippy's Composer Spotlight gave us a very interesting look into Yoko Shimomura's work with a vast amount of useful information that proves the great effort she puts in every section and how much he loves the topic. You could feel the love all through the section and that's something you don't get every day.
2nd
Peddler's Place
Toadbert101 (talk)
A hilariously simple take on Mafia from an outsiders perspective, Toadbert's strategic use of WALUIGI WAAA made the already amusing premise just that much more effective. Peddler's Place was and entertaining and an original reaction to a game that could easily scare off potential newcomers.
3rd
Dear Anton
Hypnotoad (talk)
Dear Anton always gives us great answers accompanied by fantastic drawings. Last month's cross-team promotion was excellently done and the "FuzzTea" sponsorship was great.
4th
The Adventures of Little Mario
Walkazo (talk)
Walkazo's Adventures of Little Mario was a very funny and cute look into the professions of many of our beloved characters. It's impossible not to smile all the time while reading it.
4th
It's aMAZEing!
Meta Knight (talk)
A new section, Meta Knight's It's aMAZEing! brings a cool new game to Fun Stuff, and the effort put into it really paid off.
4th
8-Bit Amphitheater
Stooben Rooben (talk)
Stoob always delights us with his chiptunes, and last month was no exception. Which other section gives you Guns 'N' Roses and Banjo-Kazooie? Definitely worth a listen if you haven't done so already.
5th
Trivia
Marshal Dan Troop (talk)
Month to month Shoey gives us great facts from the Marioverse, and last issue's abundance of was certainly appreciated.
Congratulations to everyone on their fantastic submissions! We really appreciate all your work.