The 'Shroom:Issue 105/Palette Swap
From the Super Mario Wiki, the Mario encyclopedia
Jump to navigation
Jump to search

Director's Notes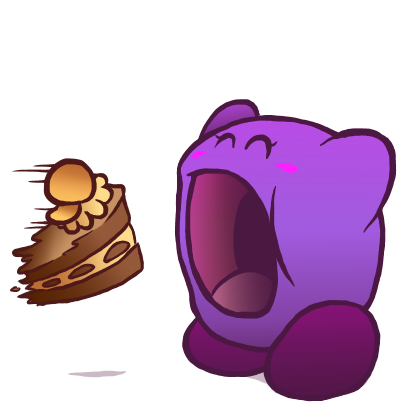 Greetings, everyone, and Happy Holidays to all of you, no matter what you do or don't celebrate! Welcome to our very special Holiday 'Shroom! We've got a lot going on in this issue, so let's dive right in!
Okay, first off: I'm happy to announce that we have a new writer working with us! Baby Luigi (talk) has joined on to bring us her custom game mods and give some basic tutorials! Give her new section to read and let us know what you think!
Next on the agenda: We are currently restructuring Palette Swap to feature more user-generated content, especially in sprite art, fanart, fanfictions, and mods. This means, however, that we are bringing Featured Sprite and What's On the Box to an end this issue. If you would like to fill these spots with your custom artwork, please send me a complete application with a sample of your work on the forums! I look forward to seeing what we have to offer!
Last on my list, we are starting another fan art contest, based on our theme, Donkey Kong Country:Tropical Freeze! See below for more information!
Thank you for reading, and let's get to the art! ~FunkyK38
Section of the Month
Do I even need to say it? Congrats again to Walkazo (talk) for yet another consecutive SotM win! Be sure to check out her new comic this month!
Tropical Freeze Art Contest
Hello, everyone, your friendly MC FunkyK here announcing another art contest for y'all to enter! Since we are celebrating Donkey Kong Country: Tropical Freeze, we're posting an art challenge for this challenging game! This contest will run pretty much the same as the Flag Design contest did, except I'll be moving the official board on the forums to the Fan Creations board there instead of The 'Shroom's board. For the uninitiated, here are the rules!
Your art can be any size, there's no size limit this time.
Any medium is accepted. Hand-drawn, computer generated, sprite work, game mods, comics, we'll take them all.
Your art must follow the guidelines in the Manual of Style to be accepted. Since we're not working with mature games like we were in the Flag Design contest, we'll be more strict on this.
Your art should have an accompanying explanation of what it is. Give a paragraph or so explaining what's going on, what your inspiration was, etc. We'll be posting these in the voting, so keep it clean!
You have until January 26th, 2016 to submit your art to the official board.
If you have any questions, leave a message on the official board, or you can PM me directly. We'll mainly be using that board to communicate with everyone, so if you have a question that could apply to everyone, be sure to post it there!
Best of luck to everyone! Happy creating!
---
Music Sections
---
Stooben creates remixes of popular and video game music!
[read more]
---
Walkazo provides a few of her favorite AMV tributes!
[read more]
---
Dippy pokes into the wonderful world of indie composers!
[read more]
---
What's on the Box?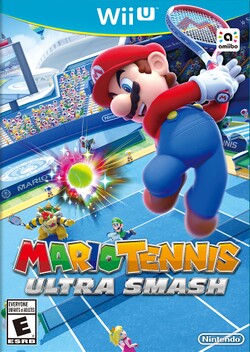 Hello readers, and welcome to What's on the Box? I am incredibly sorry for not being around last month, but I am here this month. Though this time, I bring slightly sombre news. I have decided to step down as writer of this section, which means that you folk are free to give it a spin in its new guise. In sincerely thank you all for reading these sections, and hopefully you enjoyed my over-analysis of the various boxarts of the Mario games. I'd also like to thank all of you who helped this section win 10 Section of the Month awards.
This month, I'm hitting the tennis courts to look at the North American boxart of the most recent sports game to hit the Mario series: Mario Tennis: Ultra Smash!
The boxart features Mario and Princess Peach playing against Bowser and Luigi on the hard court. In the boxart Mario is preparing to return either Bowser or Luigi's shot (probably Bowser's given his stance), and to return the shot he's utilizing the new Jump Shot mechanic. Other than that, there's nothing really to note about the boxart. It has the same standard crowd as the other previous Mario Tennis games with Toads, Koopa Troopas, Shy Guys, Goombas and Spikes being visible within the crowd. One thing to note about the boxart is that it lacks the main new feature of the game: Mega Mushrooms. I can't see any hint of them at all, the characters all look their standard sizes.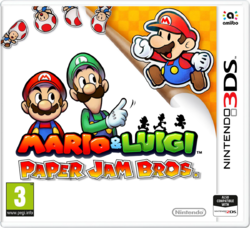 Now, because this is my final issue, I also thought that I'd feature a second game: Mario & Luigi: Paper Jam, and to represent it I have chosen the European boxart. This boxart continues the tradition started with the boxart of Mario & Luigi: Bowser's Inside Story, in which it features the Bros. stood behind the name of the game, with both of them noticing the main gimmick of the game. It also features the shadows of the Bros. (this time joined by Paper Mario) running across the name of the game. As I mentioned previously the Bros. are distracted by the gimmick of the game, and in this boxart Luigi is pointing at the top corner of the boxart, as it resembles a page of a book turning, as well as having Paper Mario pop out of it. Now here comes some analysis that I made this section famous for, the fact that Luigi is pointing at Paper Mario could be just be following on from previous boxarts (Luigi being afraid of Bowser, or being asleep), but it could also be that Luigi is pointing at Paper Mario because he is the one who released him, so it could be a "Look at what I've done" sort of thing. You'll also notice across the top of the box art that there are various Paper Toads. They're probably there because the start of the game has you rescuing them.
Featured Sprite
Hello, everyone, as you read above, Featured Sprite is closing down this month. How long have I been writing this section again? Long enough for a change, I suppose! But I would like to thank you all for reading with me for so long and putting up with my nonsense! If you want to keep reading my rambling, I'm still writing for Critic Corner, so you can go check me out there!
Okay, for my last issue, I'll be pulling together a collection of characters from Bowser's Inside Story, which if you've been reading with me, you'll know is the only game I've played in this series. I have Mario, Luigi, Bowser, Peach, Fawful, and Midbus!





Although I didn't get too far in this game, have a lot of good memories with it. Mainly, the beautiful graphics, the lovely music, and Fawful's constant Engrish. Mustard of your Doom indeed... Oh, and those Pokeys made out of teeth. They were adorable.
Game Mods
Written by: Baby Luigi (talk)
Hello, Baby Luigi here! In this month's Game Mods section of Palette Swap, I'll show you that replacing the two darned recolored Toads in New Super Mario Bros. Wii IS possible. However, replacing them is tricky: they share one model file, meaning that most of the time, you have to fill out the second Toad with a recolored character, unless you can cleverly use alphas and modifying animations to your advantage.
Very few character replacement mods for this game exist. Some are really, really cool. I've seen Toad and Toadette and Wario and Waluigi mods. However, we won't focus on those, we'll focus on this sweet creation I have, uh, created the summer of 2015 ago.
Presenting you......... Baby Mario and Baby Luigi over Toads in New Super Mario Bros. Wii: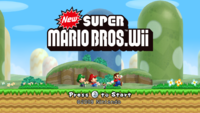 So, if you want a Partners in Time-esque style adventure, this mod achieves exactly that, at least in the character temporal paradox section of things. Shroobs and Shroob-like landscapes aren't included, unfortunately. It also comes with power-ups. Many girls (who even like the babies in the first place) would go "awwwww" at the thought of Baby Luigi in a penguin suit. And you can take it to the skies as Baby Mario in a Propeller Suit. Or just blast 'em with Fire balls and Ice balls with your lovable baby duo.
Unfortunately, because of how tricky it is to work with Toads, Baby Mario is a red-colored Baby Luigi (I have created Baby Luigi first) for now, unless I can get a way around this by making the heads have interchangeable textures (something which is most definitely possible...and not too hard as you may think it could be because the heads are their own model file from the bodies).
Getting shaders to look correct is also a step model replacers tend to miss. Luckily, the shaders work.....90% of the time that is. Baby Luigi's small form body tends to flicker where it shouldn't, especially in cave-like areas, and the Propeller Suit shader doesn't completely work, so I had to settle with the default shader.
The sounds they make....are Toad sounds. There is a way to replace their sounds, but it involves .brsar hex editing and BrawlBox, which is an extra step needed compared to sound replacements in Super Smash Bros. Brawl and Mario Kart Wii. I haven't gotten around to making them sound different, and it won't be included with the file, because the .brsar itself contains every single sound effect in the game. Yes, every single one of them is stored in that file!
One more probs: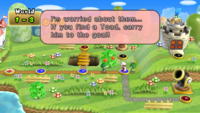 Oh noez! That Toad that comes out here to tell you has mutated into a Baby Luigi! Unfortunately, this cannot be fixed. As well as the Toad you get to carry throughout the level. It's because, as I said, everything's stored in one file, the Toads essentially share their model files. Unless I make a three-headed monster that clips through each other and make the textures specific to a character, but I need to think how I can pull that off. As I'm sure, there's probably a poly-limit, and I'm not sure if it will exceed the poly limit.
Fortunately, though, the Toad house Toads and the Enemy Course Toads are free from this Baby Luigi infection.
Here's a video of my mods in action!
https://www.youtube.com/watch?v=5fHOOyAHf9k
Music not included in this hack.
That's all I have for this month. Stay tuned to see what else I am cooking up/will cook up for next month! Thanks for reading!
Community Advertisements
Written by: Baby Luigi (talk)
Merry Spooky Christmas from Baby Luigi (talk)!
8-Bit Amphitheater
Written by: Stooben Rooben (talk)
Seasons' greetings, 'Shroom readers and listeners! Welcome to 8-Bit Amphitheater, where I share some chiptunes with you that I have created. Each chiptune's melody is based on a popular song or established soundtrack. This month, I have done a Christmas-themed song, as well as one with a wintry title and feeling. Due to technical difficulties, I was only able to get those two chiptunes completed. There are no video game tracks this month, sorry!
And now, on to this month's tunes!

First up, is a holiday staple on classic rock and top 40 radio stations alike. "Please Come Home for Christmas", by Eagles, is actually a cover of a song released nearly 20 years prior, in 1960. This particular track moves to a swaying piano rhythm reminiscent of Fats Domino's signature style. Because of this, it has a really sweet dancing beat throughout the whole song. The rock influence in this track is very subtle, and as such, sees the guitar take more of a backseat than in most of the Eagles' songs. A neat little fact about the Eagles' cover that many people probably don't know is that the lyrics were altered slightly — the original song opens with the words, "Bells will be ringing the glad, glad news", while the Eagles' cover sets the song up with, "Bells will be ringing this sad, sad news". From the start of the song, the Eagles' version has a more prevalent theme of loneliness (or, rather, not wanting to be alone for Christmas), which makes it rather distinct among popular Christmas songs. It's a very short song, at under 3 minutes, and it's definitely worth listening to if you've never heard it before. It's really a cool little ditty.
Our other chiptune this month isn't something that's directly about the holidays or winter, but its title and musical elements bring some chilly thoughts to the table. The song is "Snow (Hey Oh)", and it's one of the more recent releases from Red Hot Chili Peppers, currently being a little under a decade old. Like much of the group's alternative rock material, this track is actually quite mellow — even when the song reaches it's loudest parts with crashing drums, it's still very somber. The song's subject matter is somewhat vague and could be open to interpretation, but it seems to be about coming to terms with mistakes you've made or fallen victim to, and starting anew with that knowledge at your side. OK, maybe that's a bit deep. Mostly, I just chose this one because of it's title, though. "Snow". I'm so original, aren't I? I must say though, that main guitar riff at the start of the song turned out to be one of my favorite chiptune sounds yet. And I also preserved that wicked guitar warble at the end of the original song. There was no way I could leave that out.

I guess those are all the chiptunes I'll be showing you this year! Don't worry, though: I'll be back against next month (which is also next year, imagine that) with a brand new batch of chiptunes. Until then, I hope you enjoy this month's content! Happy holidays~
Mario's Boombox
Hello, and welcome to Mario's Boombox! Last time, I asked for reader submissions for songs that you think fit the Mario series (or other videogames), or which you've already seen used for fan videos or something, and now can't un-associate in your mind. Well, it's a good thing I'm here to recommend these sorta of VG-related music to y'all, since nobody else could think of anything. It's truly a tragedy, but despair not, for I am here to educate you.
On my own free time I watch AMVs and slideshows all the time, but there's only really one Mario tribute I knew of off the top of my head going into this - and it was "Toxic" by Britney Spears, of all things, set to a montage of Mr. L x Daisy pics. Pretty sure I ran into it by way of Tokyo Mew Mew? Another song I found through that anime was a eurodance cover of "Poison", which is relevant because the rockin' Alice Cooper original version was used in a different Mr. L x Daisy slideshow. Poison and toxins... sensing a theme here. Although for me, the song that always screamed "Mr. L" was "The Stranger" by Billy Joel:
Well we all have a face
That we hide away forever
And we take them out and show ourselves
When everyone has gone
Some are satin some are steel
Some are silk and some are leather
They're the faces of the stranger
But we love to try them on
In fact, come to think of it, the parts later on about not letting one's lover see the stranger could work for a Luigi/Mr. L x Daisy pairing too... As for a healthier relationship, Mario & Peach is the most obvious choice when it comes to YouTube videos, generally in the form of montages of fanart ranging from crap to decent to pervy (the aforementioned Mr. L & Daisy tributes were in the same boat). I guess special mention should go to the one with Carly Rae Jepsen's "Call Me Maybe" earworm, since it intersperses the pics with clips from my beloved Super Mario Bros.: Peach-hime Kyūshutsu Dai Sakusen! anime, making it half-AMV, half-PMV ("anime movie video" and "picture movie video", respectively, for those who missed last month). But my favourite Peach video that I've found so far is this AMV/GMV ("game music video" - a rarer term), which has clips from both Dai Sasuken and the OVA anime, as well as the western DIC cartoon trilogy, a couple game trailers, and lots of cutscene and gameplay footage. Plus, the song it's set to, "Hurry Up and Save Me", by Tiffany Giardina, has a title perfectly suited to Peach.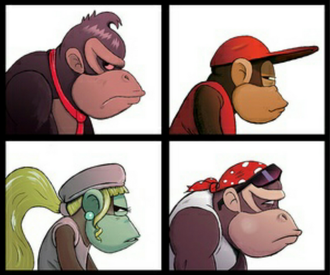 And speaking of rescue songs, one tune that I found multiple videos for was "Holding Out for a Hero". There's this version, which uses the Jennifer Saunders cover from Shrek 2 for an uninspired fanart slideshow, and then this gameplay-only one, which has less-than-stellar video and sound quality - but the version of the song it's using is kinda gritty terrifying in and of itself as Bonnie Tyler snarls away and hams it up, so it kinda works. Meanwhile, her original take of the song is also used in a video - but this one's using actual video footage from the Super Mario Bros. film, and I love it for that. Of course, I grew up listening to the song in the Paramount Pictures film montage on my The Hunt for Red October VHS, and to this day, it still sounds kinda weird without "I love the smell of napalm in the morning", helicopters, explosions and other assorted chunks of sound effects and dialogue in the background, but I'm not so set in my ways that I can't get behind the association between the song and the heroic Mario Bros. too.
One really good Mario tribute is this one, set to "Unbreakable" by Bon Jovi. The footage is sometimes grainy, but the editing's amazing, there's a whole host of games represented, and the song's really fitting (and awesome). There's a few other Bowser GMVs that get kudos for choosing cool songs, even with visuals that are more "chunks of videos mashed together" than a nice, tightly editing feature, from this one that starts out promisingly, with Bowser laughing along to "Feel Good Inc." by the Gorillaz, but never measures up to that intro again, to this one that's mostly blah but ends perfectly, set to "The Good Life" by Three Days Grace. Others, like this one set to "Sound of Madness" by Shinedown, have a few inspired moments that reflect the words, mood and/or melody of the song spread throughout mostly ho-hum footage dumps. All three examples also showcase the tendency for a lot of Mario GMVs to be absolutely saturated with Subspace Emissary footage, although in fairness, it's not like there's tonnes of cinematic Mario gameplay to choose from, so I can't really blame them.
One of my fave examples is actually a dedicated SSBB video set to "Monster" by Skillet that uses only SSE, but edits it really well, with lots of short, on-topic, on-beat clips that match the music well. But the part I really like about it is that it's the editor's second attempt at that specific game/song combo, with their first just being the sort of aforementioned, half-assed "jam long chunks of cutscene together" efforts: just goes to show that practice does pay off. And they're far from the only one making SSB videos, with 3DS and Wii U games providing lots of extra, non-SSE footage for newer videos like this one, featuring "Phoenix" by Fall Out Boy, among many others - including many other Fall Out Boy songs, actually, which happens with a lot of fandoms, as certain artists (or even single songs) get used over and over. Not so much in Mario, however: there's a couple things that recur, but for the most part, it's pretty varied. And this was only one small preview of that variety - but hopefully it was a good one. But before I let you go, I just wanna bring up one other song I know of that's totally perfect for Mario, but tragically unused in any videos: "You're Gonna Get Your Fingers Burned", by The Alan Parsons Project:
Watch me closely, be aware
That all I do is only to surprise you
Every move is slight of hand
And every word is planned to mystify you
Ask me why, I don't know
I swear, it fits Dimentio to a T, and the rest of the song is similarly perfect: "what you see is only an illusion", "I will light your darkness with confusion", "chances are you're playing with fire" - at this point, I can't not think of Dimentio when I hear the song. And it's not the only tune that does this to me: from "Mamma Mia" by ABBA (for obvious reasons), to "Mountains and Molehills" by Flashpan Hunter (Mario & Luigi: Bowser's Inside Story boss fight memories), to "Anti You" by Blue Stahli (happened to be listening to it when I looked at that Waluigi crotch chop gif, it synched up perfectly, and now I CANNOT UNSEE), to "Come to Light" by Arkells (it just seems like an upbeat Mario & Luigi adventuring song, idk), I could go on forever about unofficial game, series and character anthems. But I won't. So thanks for bearing with me with what I did talk about, and I'll be back with less tangential boombox entries in 2016!
Composer Spotlight
Written by: Crocodile Dippy (talk)
Danny Baranowsky
Born
April 5th, 1984
Genre
Electronic, hard rock, heavy metal, chiptune, orchestral
Let's talk indie, shall we? You know, independent games, those projects made by small studios with barely any cash that normally can't afford big advertising budgets or flashy graphics so have to settle for unique art styles (or awful faux-NES visuals) and cute gameplay gimmicks to sell themselves to hordes of pretentious art school students that desperately need a way to justify their choice of career. Go to hell, mum, it's ART, you just don't GET IT! But more accurately, we're here to talk about indie video game composers, specifically Danny Baranowsky, who lords over all the other indie musicians in the gaming sphere as the undisputed King of Independent Game Music. Danny B, as he's prominently known as, is a name that many a PC gamer has seen at least once in their time on the interwebz, and so let's take a gander into the rich tapestry of his humble, low-budget career.
Danny Baranowsky was born on April 5th, 1984 in Mesa, Arizona[1], America's shithole, where he grew up on classic rock, vidja game music, and of course, the timeless comedian "Weird Al" Yankovic.[2] Baranowsky initially didn't see music as much more than a hobby, but warmed up to the idea when he began to see a possible lucrative future in the industry, pursuing music theory studies in his senior year of high school, following through with four years of community college where he learned everything from aural perception training to Latin instrumentation.[3] After graduating, he first got his start creating the soundtracks for a variety of independent films in the Arizona area (presumably sometime around the late 90s or early 2000s, it's hard to get details on that period of his life. Although this allowed Baranowsky to advance his compositional and performance skills and evolve his style, financially, he was going nowhere; the bright future he saw working on music seemed but a pipe dream, as he has said that for the seven years he spent scoring local indie films, he made a total of $2000USD. In seven years. That's... rough.[4] Around the same time as his attempt to break into the film scene, he took to composing remixes of video game tracks on the side starting in 2001, submitting them to the now-highly prominent game remix database OverClocked Remix, where he even became a moderator for a short time. In this position of authority, Baranowsky was tasked with running quality control, evaluating the cohesiveness of a track and providing constructive critique gave him a variety of useful lessons; it helped him further develop his ear for song structure, it taught him there are so many alternate ways a song can be designed to be engaging, and he learned how to remove your ego from the equation when composing so as to be able to absorb feedback without getting defensive. There's a list of his contributions to the site on his profile page, if you're at all interested.
He felt in his heart that, since film hadn't worked out, maybe OCRemix would prove as a gateway for him to enter the video game music scene... although everyone told him that no, it would not lead to a stable career for him. That was until he met Adam "Atomic" Saltsman, a very small-time developer at the time who was in the process of developing his first original game outside the modding community titled Gravity Hook. The two had become friends through a mutual acquaintance and fellow OCRemix contributor, Jared Hudson, and so Saltsman showed Baranowsky the game to which DannyB responded "It's cool, it just needs music." To his disappointment, Saltsman was planning on going silent for the game since he felt it fit the tone better, but Baranowsky was having none of that; he insisted, outright stating "Fuck you, I'm writing music anyway."[5] This is where it all started for him. This initial collaboration would turn into something more when Saltsman would proceed to work on a little game for Newgrounds called Canabalt in 2009, a one-button parkour platformer with a very striking visual style. Saltsman personally asked Baranowsky to compose a few tracks for the game, and he gleefully agreed to do it for free, proceeding to create three energetic tracks designed to be easily mouldable to the procedurally-generated levels the game was built on.[6]
Canabalt proved to be a surprising success, being ported to iOS, Android, and even the PlayStation Portable, and is often credited as creating the endless-runner platformer.[7] It therefore came as no surprise when a friend of Saltsman's, Edmund McMillen, grew interested in Danny Baranowsky's unique style and made a request to use some of his unused music in a Flash game he was working on on Newgrounds called Meat Boy; Baranowsky tossed about 12 tracks at McMillen - of which four were chosen - and they soon became the basis for the first few level tracks in what would go on to be Baranowsky's first major success, Super Meat Boy.[8] Released in 2010, Super Meat Boy was a comedic fast-paced platformer that put you in the shoes of a cube of meat trying to save his girlfriend made entirely of bandages from an evil fetus-in-a-jar scientist... it's one of those games, yea. Unlike most developers, McMillen granted Baranowsky full legal rights to their music, believing that the composer having the ability to sell and distribute their work freely without legal hassles from the main studio would motivate him into putting his absolute best into the soundtrack:[9]
"It seemed logical that an artist would put more into his work if he felt it was his and it represented himself. We wanted Danny to receive 100 percent of the profits from his work, and it only made sense that he would be that much more personally invested in his work if this were the case."

—

Edmund McMillen
Due to its very exaggerated, energetic style, Baranowsky designed the soundtrack with the intent on revving up the player and getting them moving but still being catchy enough to not get frustrating after constant repetitions (due particularly to the game's difficulty), with fast drum and bass beats, powerful hard rock guitar, and even bombastic orchestral pieces. On total, McMillen composed roughly 50 minutes worth of music across almost 30 tracks, a massive effort for an independent video game, but the effort payed off big time as the soundtrack was applauded by fans and critics alike, being nominated for IGN's Best Soundtrack Award in 2010.[10] It was popular enough to inspire a special edition release for both digital and physical purchase called Nice to Meat You, with 78 tracks total on it across over two hours, including remixes and bonus contributions from other independent artists and OCRemix contributors such as C418 of Minecraft, Mattias Häggström Gerdt of Cobalt (Mojang's other game), and Benjamin Briggs.[11] Almost unheard of for an indie video game! Three remixed tracks from the Super Meat Boy soundtrack even made their way into Rock Band 3 as downloadable content, with Danny B's intention being "[...]to have some stuff in there for the people who delight in 100-percenting expert DragonForce."[12] Not bad for a small game.
This wouldn't be the last McMillen game Danny Baranowsky would be involved with, of course. The very next year, McMillen would release The Binding of Isaac[13], a dungeon crawling game with one of the more, er... fascinating thematic designs in the medium, to say the least. Working almost symbiotically with McMillen, he and Baranowsky shared art and music to build on and work off each others material, creating a very cohesive, intertwined audio-visual experience that Danny B has expressed great satisfaction with. He wishes all developers could work with their composers like this. With a dark, brooding atmosphere looming over the game's twisted narrative of religious fanaticism and infanticide, Baranowsky wanted to go in a different direction from the excitable sounds of Super Meat Boy into a very unsettling, paranoid feel, with haunting synth waves, irregular time signatures, and tribal rhythms and chants (created with a Voxos voice studio software), but still try to avoid taking himself or the game too seriously less he go too heavy-handed with the melancholy, hence the occasional orchestral or rock piece.[14] The soundtrack certainly struck a chord with players, who continue to whinge and argue to this day about how the remake - Binding of Isaac: Rebirth - is just not the same without Danny Baranowsky at the helm of the music direction. Indeed, Baranowsky's working relationship with McMillen collapsed in 2013 when McMillen was disappointed in his contributions to McMillen's newest game-in-progress Mewgenics[15], which led into a downward spiral in their friendship that hasn't been repaired to this day, with McMillen even suggesting he'll probably never work with Baranowsky again.[16] This was further aggravated when McMillen's company, Team Meat, insisted he license his music for the PlayStation 4/PlayStation Vita remake, which went against the original promise they gave him that he'd have %100 legal rights to all his music for them.[17] Maybe their relationship will repair down the track, but for now, don't expect to see Danny B appear in another Team Meat game.
Also in 2011, Baranowsky would be enlisted by Nicalis to compose for a Nintendo 3DS remake of beloved indie darling Cave Story[18], which sounds like a simple task given the very simplistic midis that the original game used (and honestly, it couldn't have been worse than the WiiWare port's music...), but Danny was terrified due to the obsessive loyalty of the fanbase. He was scared that he wouldn't be able to do the game's soundtrack justice, and would have rabid fans leaving letter bombs at his doorstep, so while he still injected his techno beats and detailed synth solos into the mix, he still made sure to be as careful as possible to not deviate too far from the core chiptune element of Cave Story, working closely with original developer Daisuke "Pixel" Amaya to ensure his work suited his vision as closely as possible. Reception to the score has been largely positive, in contrast to the WiiWare port, so all-in-all a positive result, I would say. The same year, the roguelike RPG Desktop Dungeons was in a very lengthy beta phase but drawing a fairly decent crowd among nostalgic gamers pining for a blast of the past - as this was before roguelike revivalist games started spreading like a plague throughout the entire industry - and Baranowsky was among these fans. He gave the team, QCF Games, a quick call asking them who was composing the soundtrack for the final version of the game... to which they replied "...you are?", which is the weird story of how Danny got roped into that project. What made this one stand out in his career is that about a year after he started working on Desktop Dungeons, he had his second chance meeting with legendary Rare composer Grant Kirkhope, famous for scoring Banjo-Kazooie and Perfect Dark, at MAGFest, who was one of the emblems of Baranowsky's childhood. During an otherwise normal conversation, the ever-ambitious Baranowsky went full "notice me, senpai" and asked Kirkhope if he wanted to contribute a track to Desktop Dungeons... to which he said yes, presumably because he was bored as hell working on the soundtrack for Kingdom of Amalur: Reckoning at the time.[19] The one track he initially composed, "Desktop Destiny", would then go on to be the main theme song (which Baranowsky jokingly refers to him as an upstaging jerk for), and this evolved into a full collaborative project between the two that managed to win a Cue Awards Show award for Best Video Game Music when the game finally released in 2013, which was actually the very first award Kirkhope has ever won.[20] The power of the Danny!
Danny Baranowsky's latest major work has been the independent rhythm-themed dungeon crawler game Crypt of the Necrodancer which was released just this year, a project where he proved absolutely central to the development of the game. As the entire gameplay revolves around moving to the flow of the beat, Baranowsky's high-octane score had to be in perfect tune with the feel of the game itself, much like Koji Kondo's philosophy of synergised game music. As typical of Baranowsky's work, Crypt of the Necrodancer is built primarily around various forms of active electronica, with hard rock peppered in where necessary; of particular note are the Ice/Fire levels in Zone 3, where the music changes depending on whether you're on a tile associated with Ice or one associated with Fire, shifting from melodic dance music for the former to guitar-driven metal for the latter, with guitar pieces contributed by the very talented Youtuber, FamilyJules7X (who had previously contributed guitar work for the expansion DLC for The Binding of Isaac a few years prior).[21] Utilising the same software he employed for The Binding of Isaac to create synthetic operatic vocals, he was able to simulate vocals for the Shopkeeper character, who alerts the player of his presence by singing along to the music, which makes several tracks (read: all of them) twice as fun to listen to. Baranowsky worked with both FamilyJules and another remixer, A_Rival, to create official DLC music packs to replace Baranowsky's original score, the former being purely heavy metal while the latter is driven by deep synth.[22] Sorry, I just really love Crypt of the Necrodancer a lot. Danny B also contributed the backing music for prominent game critic and pundit Jim Sterling's ongoing video series, The Jimquisition, titled... err... "Jim's Dick 2".[23]
A very expansive career for a bloke who used to do fan-remixes in his off-time, which just goes to show that dedication and talent can go a long way to getting you noticed and getting your work out there. From his first game project on a small, casual Flash game, to a full-on collaboration with one of gaming's most beloved and iconic composers, Danny Baranowsky has managed to accomplish so much in his short time working in video games with just a keyboard, some recording software, and a few good mates willing to pitch in whenever needed. I wanted to write this as a sort of... holiday gift to all aspiring video game musicians that may be reading this (including myself, ehehe...) that if you keep practicing, keep pushing through the anxiety, keep getting your work out there, it will amount to something, as the tale of Danny Baranowsky can most certainly attest. Danny B has expressed little interest in going the way of Austin Wintory and transitioning into a triple-A composer, but has stated that he would absolutely love to try his hand and making an original score for a Star Wars video game, or even a Legend of Zelda game.[24] Maybe your chance will come, Danny B! Until then, keep on keeping on with your hectic, catchy rhythms.
References